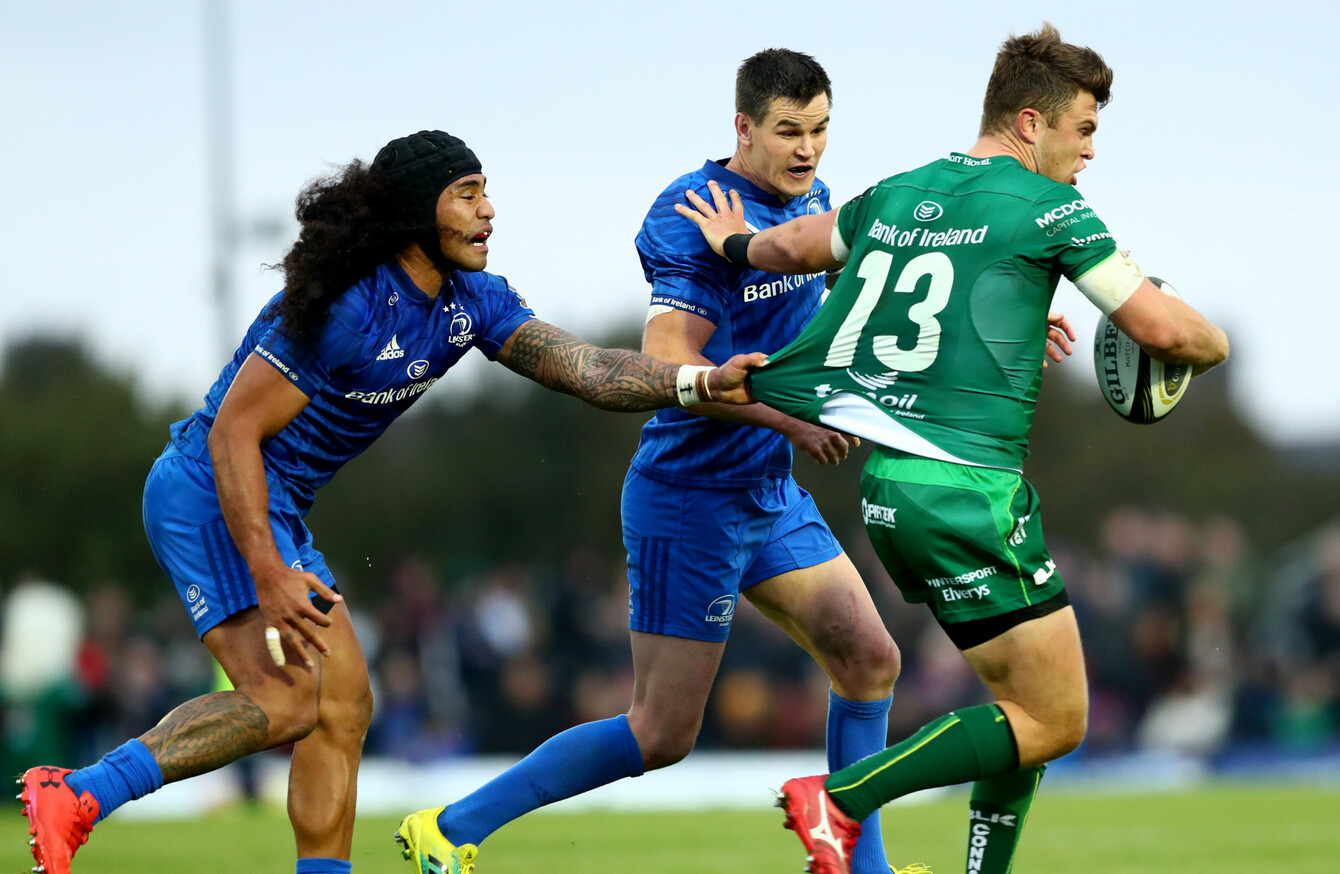 Image: James Crombie/INPHO
Image: James Crombie/INPHO
Sean Farrell reports from the Sportsground
ON THE BACK of two home wins and Johnny Sexton at the wheel, Leinster felt confident that they were quickly building cohesion into their game before the weekend trip to Galway.
What followed – a 3-20 inter-pro victory built on ferocious defence, adroit game management and ruthless timely try-scoring – made them look like the finished article again.
The defensive shift was the jewel in the crown on this occasion. At least three times, Connacht built up what seemed an irresistible bout of pressure with phases in the 20s at a pulsating pace.
Each time, Leinster ended up back-slapping and celebrating as though they had grounded a crucial try.
The summer appointment of Hugh Hogan as contact skills coach sounded like an innovative tweak to the training week at the time. But after holding firm to repel so many waves of attack, with superb footwork in the tackle batting carriers backward, his influence was on the mind of players and coach post-match.
"Hugh Hogan has been working with us a lot," began Josh van der Flier after adding 19 of Leinster's 160 completed tackles, "at the start of the season especially we were soaking tackles and giving them yards, but we're just trying to get more impact and a better hit in the tackle.
"It sounds very simple and it doesn't always happen, but it's something we've been really focusing on.
"The better the tackle, the slower the ball is. Then you can hit them back, if you have a dominant tackle you can get back up and slow down the ruck and stuff.
"I think it's working and Hugh has worked unbelievably hard all through pre-season and especially this week it was something we knew we had to focus on."
The man of the match added: "In theory, it's probably what you teach kids: trying to get your shoulder in close, hit them and drive them back. Sometimes you can get complacent and just be happy to tackle and let them fall over. But it is something Hugh has really put focus on. It was pretty good this evening and it's something we can build on this week."
Head coach Leo Cullen also shone the spotlight towards the newest member of his backroom ream (though Hogan has lived and breathed the Leinster setup for years, most recently as elite player development officer).
"We are making decent tackles which is important," said the former lock, "the system was generally pretty good. To be able to manage some of the contacts on our terms, that helps us build the line and make good decisions around the ruck.
There are so many different components to building a good defensive system that can be effective on the day. We leaked a lot of points here last year, so it was nice we had a better day in terms of our defence."
"The work in contact areas is huge, ultimately it decides the game more often than not."
The returning Sean O'Brien stuck himself into many of those areas and aided the cause too. The 31-year-old was called into action earlier than expected due to a hip knock for Rhys Ruddock O'Brien lapped up his 15 tackles (none missed) and nine bullish carries.
The Carlow man will be moved gently along the road to full fitness, but he James Ryan and Dan Leavy ought to have a part to play in the Aviva Stadium against Munster on Saturday. Jordan Larmour, who like Ruddock took a bang to the hip, may well be put on ice until Europe rolls around. Sexton too, you expect, after three straight starts.
"He's a big player," says Cullen of O'Brien, "his presence alone on the field is great, he probably got onto the field earlier than we would have planned, but now he has come through, it is great to have 55 minutes under his belt this early in the season."
"He's worked hard to get back. He's unbelievably passionate about getting back involved with the team so delighted for him to get in there again."
This being Leinster, and Cullen being Cullen, a 17-point inter-pro win with no points conceded after the third minute doesn't mean the 'areas for improvement' column will be blank when players return to work this morning.
"It is a different type of place to play here, the crowd are into everything, and they make it uncomfortable for teams to come here, hence the fact they have a pretty good home record.
"So it was good for us to get a win, but even at that, I still think there are lots of aspects of our performance we can improve upon, because there is not much room for margin for error in the next few weeks, we have Munster and then the two European games (Wasps and Toulouse)."
Those aspects include 18 missed tackles, attacking efficiency and somewhat harshly, ceding momentum to Connacht early on.
(Defensive) system wise I thought guys were not quite connecting with each other on a few occasions, so there is still plenty of things for us to get better at."
"A little more composure. There were times, I am not sure if our heads were fully focused where we needed to be in the first 20 minutes. I mean there is a lot of emotion with the game, always the way when the Irish teams play against each other, but it is important we are in control amid the chaos of the game.
"Some of our composure in terms of taking our chances, whenever we were getting a little bit anxious, snatching at balls, forcing things a little too much, but generally there was a lot of good stuff as well."
A lot of very good stuff.
The42 is on Instagram! Tap the button below on your phone to follow us!