Leinster Schools 32
Ulster Schools 22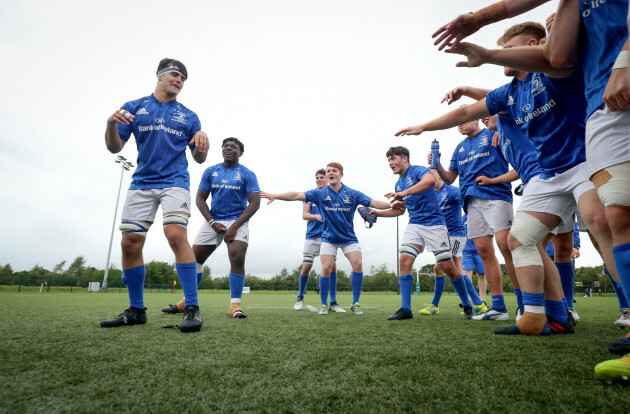 Oisin Keniry / INPHO Oisin Keniry / INPHO / INPHO
IT CAME DOWN to a duel in the rain in a winner-take-all conclusion as Leinster claimed the U18 Schools Interprovincial Series at the University of Limerick on Sunday.
The greasy ball and blustery wind made life difficult for all the players but this did not prevent Leinster from looking to move the ball into space where they were met by a stonewall Ulster defence built on aggression and the refusal to commit numbers to the ruck.
That was all fine for the first 20 minutes as Leinster schemed without profit to unlock Ulster.
The first real chance of the game came from centre Justin Leonard's block on Conor McKee, the ball bouncing away from the attackers.
Ulster never looked too worried in keeping to their game plan and eventually moved downfield where they found out what it was like to be on the receiving end of a physical defence.
Still, Ulster moved ahead from a Nathan Doak penalty in the 26th minute.
Leinster went more direct, probing the edges until Ben Murphy spotted a gap which the scrum-half shot through for a try converted by Chris Cosgrave for 7-3 in the 31st minute.
It was then Ulster struck for two quickfire tries from scrum-half Conor McKee's support line, which was converted by Doak, and hooker Tom Stewart's control at the back of a maul to take a 15-7 lead at the interval.
Leinster were revived by Alex Soroka's burst from 30 metres, converted by Cosgrave, to make it 15-14 in the 38th minute.
Second row Soroka was back on the premises for his second soon after.
Suddenly, Leinster were ahead and Cosgrave notched a penalty for 22-15 in the 52nd minute.
Oisin Keniry / INPHO Oisin Keniry / INPHO / INPHO
Ulster responded from Conor Rankin's sublime finish and Doak's conversion to level it up.
The Leinster forwards rolled up their sleeves for the grind again and centre Justin Leonard found room enough to cross on the right for Cosgrave to add two in the 65th minute.
Centre Cosgrave then tacked on a penalty to put a seal on a titanic tussle.
Leinster scorers:Tries: Alex Soroka [2] Justin Leonard, Ben Murphy
Conversions: Chris Cosgrave [3]
Penalties: Chris Cosgrave [2]Ulster scorers:Tries: Tom Stewart, Conor McKee, Conor Rankin
Conversions: Nathan Doak [2]
Penalty: Nathan Doak
Leinster's best:
Alex Soroka - The Leinster lock supplied two quick tries just after the break to turn the match on its head.
Ulster's best:
Nathan Doak – The halfback played with composure in kicking Ulster out of trouble inside his 22 and into position outside it.
Leinster:
15. Ed Kelly (St Michael's)
14. Matthew Grogan (Belvedere)
13. Chris Cosgrave (St Michael's)
12. Justin Leonard (Belvedere)
11. Josh Pyper (Pres Bray)
10. David Wilkinson (Clongowes Wood)
9. Ben Murphy (Pres Bray)
1. Hugo O'Malley (Blackrock)
2. Lee Barron (St Michael's)
3. Levi Vaughan (Terenure)
4. Jonathan Fish (St Michael's)
5. Alex Soroka (Belvedere)
6. Jack Barry (Gonzaga, captain)
7. Aaron Coleman (Belvedere)
8. Will Hickey (St Michael's)
Replacements:
16. Calum Dowling (Clongowes Wood)
17. Barry Dooley (Clongowes Wood)
18. Sam Illo (Wesley)
19. Jack Guinane (St Michael's)
20. Tom Gilheany (Clongowes Wood)
21. Rob Gilsenan (St Michael's)
22. Niall Carroll (St Michael's)
23. Tim O'Brien (Clongowes Wood)
24. Simon O'Kelly (St Michael's)
25. Arthur Henry (Gonzaga)
26. Gavin Meagher (Cistercian, Roscrea)
Ulster:
15. Conor Rankin (Campbell College)
14. Robin McIlveen (RBAI)
12. Ben Carson (Wallace HS)
11. Jude Postlethwaite (RBAI)
10. Nathan Doak (Wallace HS)
9. Conor McKee (Sullivan Upper)
1. Adam Hanna (Banbridge Academy)
2. Tom Stewart (BRA, captain)
3. Oscar Egan (Coleraine GS)
4. Will Hopes (Regent House)
5. Gareth Wells (Bangor GS)
6. Rile Westwood (Bangor GS)
7. Jonathan Agnew (RS Armagh)
8. Reuben Crothers (Wallace HS)
Replacements:
16. Joel Dundas (Wallace HS)
17. Ben McCrossan (Bangor GS)
18. Patrick McAlpine (Campbell College)
19. James McCormick (Dalriada)
20. Jack Gamble (Ballyclare HS)
21. Jude Roberts (RS Armagh)
22. Charlie Worth (RS Armagh)
23. Luke Graham (Methodist College)
24. Brandon Hassan (BRA).
25. Jack Harte (Friends School)
26. Ben Moxham (Larne HS)
____________________
Munster 27
IQ Rugby 34
IQ Rugby made good on the promise they have shown to secure their first win at the third time of asking at that University of Limerick.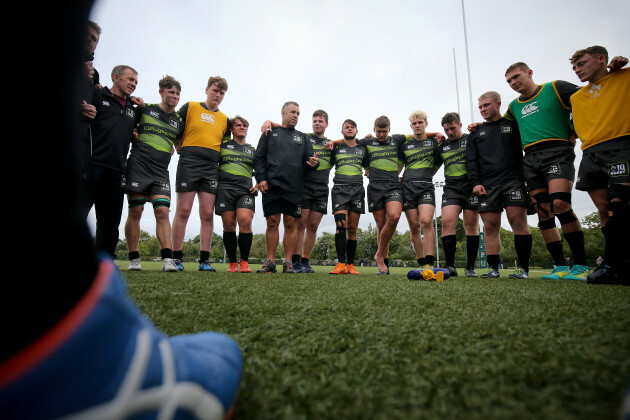 Oisin Keniry / INPHO IQ Rugby finished with a win, Oisin Keniry / INPHO / INPHO
The Exiles began brightly on a miserable morning with centre Hayden Hyde causing problems for out-half Michael Cooke to strike a fifth-minute penalty.
They managed to repel a sustained period of pressure before hitting back with a try by full-back Benedict Quinn, converted by Cooke, for 10-0 in the 20th minute.
The gap was reduced by Jack Delaney's penalty and wiped out by centre Will Twomey's nicely constructed try and Delaney's conversion in the 28th minute.
The home province moved ahead for the first time from hooker Ronan O'Sullivan, Delaney's conversion making it 17-10 at the break.
Centre Hayden Hyde burst clear from halfway to put IQ back in the game and they were soon back in front from flanker Tomas Donnellan's try and Cooke's extras for 22-17 in the 42nd minute.
The to-and-from continued with Daniel Hurley making the left corner to level it in the 48th minute.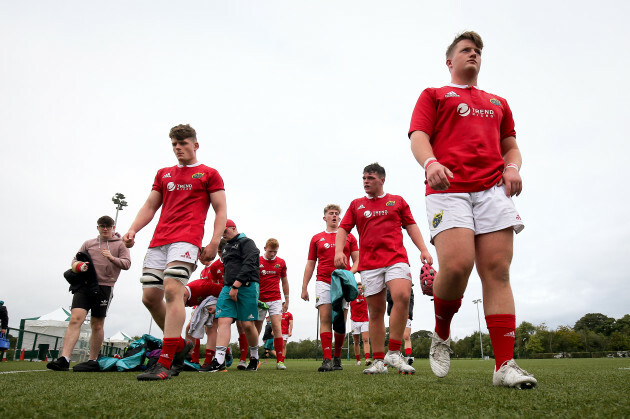 Oisin Keniry / INPHO Munster were left dejected. Oisin Keniry / INPHO / INPHO
IQ reclaimed the advantage from Cooke's cross-fed kick and Quinn's cool finish and Cooke's conversion in the 58th minute.
Quinn's hat-trick quickly followed before Hurley's responded with his second in the 66th minute that was too little, too late.
Munster scorers:Tries: Danial Hurley [2], Will Twomey, Ronan O'Sullivan
Conversions: Jack Delaney [2]
Penalty: Jack DelaneyIQ Rugby scorers:Tries: Benedict Quinn [3], Hayden Hyde, Thomas Donnellan
Conversions: Michael Cooke [3]
Penalty: Michael Cooke
Munster's best:
Jack Delaney – The centre-turned-out-half looked sharp and evasive on the ball to repeatedly beat defenders.
IQ Rugby's best:
Benedict Quinn – The diminutive back three strike runner collected a hat-trick in a spectacular attacking performance.
Munster:
15. Aaron Leahy (CBC, Cork)
14. Michael Hand (PBC)
13. Killian Dineen (Ardscoil Ris)
12. Will Twomey (Glenstal Abbey)
11. Daniel Hurley (PBC)
10. Jack Delaney (Crescent)
9. Mark O'Connor (CBC Cork)
1. Donagh Hyland (Glenstal Abbey)
2. Ronan O'Sullivan (CBC)
3. Mark Donnelly (CBC, Cork, captain)
4. Will O'Callaghan (Ardscoil Ris)
5. Luke Obersby (Midleton College)
6. Jack Kelliher (PBC, Cork)
7. Niall Queally (Glenstal Abbey)
8. Daniel Okeke (Ardscoil Ris)
Replacements:
16. Joachim Clohessy (St Munchin's)
17. Darragh MacSweeney (PBC, Cork)
18. Corey Hanlon (CBC)
19. John Forde (PBC, Cork)
20. Jack Ward Murphy (Ardscoil Ris)
21. Jake Connolly (Crescent)
22. Cian Whooley (CBC, Cork)
23. Harry O'Riordan (CBC, Cork)
24. Conor Sheahan (St Munchin's)
IQ Rugby:
15. Benedict Quinn (St Peter's, York)
14. Matt Ward (Park View School)
13. Hayden Hyde (Cranleigh School)
12. Niall McGann (Whitgift School)
11. Zach Kavanagh (SGS Filton)
10. Michael Cooke (Sedburgh School)
9. Tom Durkan (Newhall School)
1. Caleb Douglas (Ellesmore College)
2. Owen Chaplin (Durham Johnston)
3. Liam Bishop (Doncaster Knights Academy)
4. Shane Cawley (Munster)
5. Darragh Gleeson (Freemans School)
6. Raef Murphy (St John's School)
7. Tomas Donnellan (Hills Road College)
8. Alastair Merrill (St Ambrose College)
Replacements:
16. Monty Royston (Hartpury College)
17. Ollie Newey (Christ College, Brecon)
18. George Addington (Epsom College)
19. Ollie Norris (Whitgift)
20. Albert Dwan (Wellington College)
21. Pierce O'Toole (Harrow)
22. Michael Dykes (Victualler's School College)
23. Dan Aldwinckle (RGS Guildford)
24. Sean Bundy (St Joseph's, Ipswich)
The42 is on Instagram! Tap the button below on your phone to follow us!