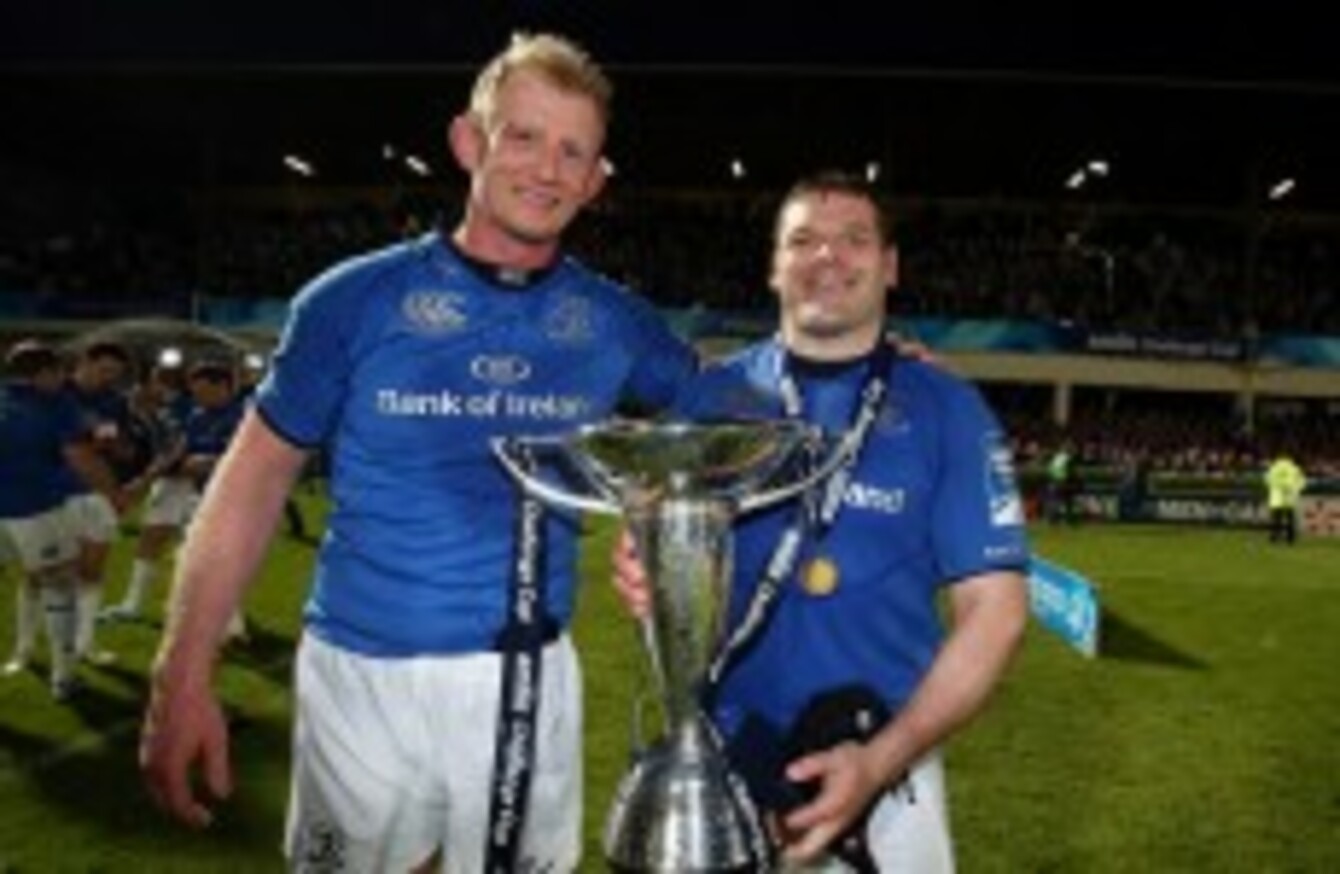 Leo Cullend and Mike Ross with the Amlin Cup.
Image: ©INPHO/Dan Sheridan
Leo Cullend and Mike Ross with the Amlin Cup.
Image: ©INPHO/Dan Sheridan
FOR THE FOURTH year in succession, Leinster have the opportunity to end their season as league champions. For the third time in four years the Pro12 Grand Final will be played out at the RDS but, this time, Ulster have chosen the Dublin ground as their 'home' venue.
Rebuilding work is underway at Ravenhill so the advantage gained by Mark Anscombe's men in topping the regular season standings has been negated somewhat. Ulster supporters have taken up their share of the allocated match tickets and will scavenge for any spares that might be knocking around on matchday next Saturday.
The club has spoken openly and honestly all season about their desire to finish the season with silverware. If journalists, fans, rival players and coaches want to label them favourites, so be it.
Leinster captain Leo Cullen was not the first to toss the favourtism ball into the Ulster court, following his side's 34-13 Amlin Cup win over Stade Francais. He paid credit to fringe players, such as Jack McGrath and Quinn Roux, for getting the province into a winning position but warned that winning form has meant nothing to Leinster in the past when league finals come up.
"If you want to be successful on two fronts, you've got to have the faith to do [use the squad]," he told TheScore.ie. "We've relied on the squad all the way through the year and it shouldn't be any different at this stage." Cullen added:
Time will tell. I thought we were in good shape last year and it didn't turn out that way. We came up against a good Ospreys team last year and, again, we're coming up against a very good Ulster team that finished top of the league. I know it is [at the RDS] but, essentially, it is their home game and you'd have to say they are favourites as they've stepped up their standards in the league this year."
Mike Ross was one of the first Leinster players to emerge from the post-match, dressing room celebrations on Friday night. After receiving on-field treatment during the win, the prop allayed any fears that he might be an injury doubt ahead of Saturday's final.
He commented, "I took a heavy knock to it and thought it was gone but, thankfully, it wasn't."
After having 'a night of it' on Friday night/Saturday morning, Ross is grateful for the eight-day turnaround before the Ulster clash. The extra 24 hours for bodies to heal may prove crucial. "It's really something we want to win," he said of the Pro12 trophy.
"We've been on the losing end of three finals and we're determined that it is not going to be the same this time."