LEO CULLEN DOESN'T usually do the Monday press conference in Leinster. So when he walked into one of the meeting rooms at the province's training base in UCD yesterday, you sensed that things might be about to get interesting.
That proved to be the case as Cullen took aim.
Firstly, he's not happy with the hype around his team. Cullen seems concerned that so many people are suggesting Leinster are on course for the Champions Cup and URC double this season, given that they have a brilliant squad of Ireland internationals and how they have home advantage all the way into and including both finals.
"It's just disrespectful to everyone we play against, isn't it?" said Cullen ahead of Saturday's Champions Cup semi-final versus five-time champions Toulouse at the Aviva Stadium. Leinster are seen as eight-point favourites.
"I'm sure it's just winding up the narrative in their minds. The hype, it's week on week on week. We're up against the best teams in Europe, Toulouse are the most successful team in the competition, they lost at this stage last year.
"What do you think their motivation is? It's through the roof.
"If you play them at home, does it make a difference? Well, it's just less variables to worry about." 
To those who have been lauding his team in recent weeks, Cullen has a reminder:
"We won nothing last year."
Usually, head coaches bemoan the fact that the media and fans are talking their teams down, but Cullen's issue is the reverse. In that sense, he echoed Limerick hurling boss John Kiely's argument that the hype around his back-to-back-to-back All-Ireland winning team is "a softening-up exercise" from those outside the group.
"Limerick won last year, we didn't and that's all I remember," said Cullen as he flagged Leinster's defeats in last season's Champions Cup final and URC semi-finals.
"All I remember is the disappointment of losing in Marseille and losing at home in the RDS against the Bulls so that's what is freshest in my mind."
Dan Sheridan / INPHO Leo Cullen and Richard Wigglesworth. Dan Sheridan / INPHO / INPHO
Lots of recent chat around Leinster has centered on their big budget, particularly when Leicester head coach Richard Wigglesworth suggested that "the gulf is what you have available to spend" after Leinster hammered them in the Champions Cup quarter-finals.
Unprompted, Cullen brought it up again yesterday.
"Interesting, obviously, Richard Wigglesworth had some comments the last day about us.
"Obviously, he's come through with Saracens," said Cullen, alluding to the English club breaking the Premiership's salary cap for three consecutive seasons and being relegated as a result.
"That's what you're up against, you're up against the top teams. It's so hard to win."
This was a theme Cullen was keen to hammer home yesterday – how tough it is for Leinster to beat the other big teams.
For example, last season's champions La Rochelle.
"Everyone is going on, waxing lyrical about the semi-final [when Leinster hammered Toulouse last year] and it was as if we had to just turn up for the final.
"But again, you're going up against a team like La Rochelle in the final, unbelievably heavily-resourced, top French players, top foreign players. That's what you're up against. You're up against the top teams and they only lap up all that media stuff that all you guys have delivered. The hype is… you've got to control it. That's the game."
While praising the might of Toulouse again – highlighting how they used to be "on a different stratosphere to Leinster" in the early Heineken Cup days – Cullen even flagged their most recent Top 14 opposition.
"Watching Toulouse at the weekend against a team like Stade Français and you see their owner in the stand and he has pumped millions and millions and millions into his team to get to that level because he wants Top 14 success, he wants European success I'm sure. That's what you're up against."
Cullen also recalled the glory days of Saracens and Toulon, remembering how Leinster "wondered how you were going to compete with any of them because it seemed like they were just streets ahead of us. But we battled away, battled away, tried to figure it out."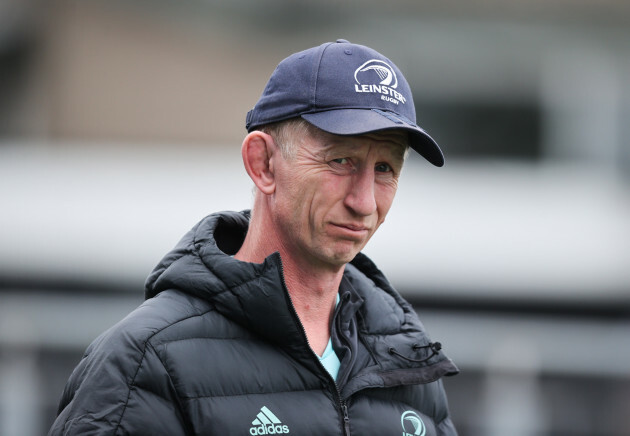 Tom Maher / INPHO Cullen and Leinster face Toulouse this weekend. Tom Maher / INPHO / INPHO
The reality now is that Leinster have the financial might that is the envy of others.
Cullen is asked if Toulouse and La Rochelle have bigger budgets than Leinster.
"I don't know, I haven't got the calculators out, so I don't know," was his answer.
He highlights how the models in Ireland and France are different, with a centralised system operated by the IRFU in contrast to the private Top 14 and Pro D2 clubs. 
French rugby is "huge business," said Cullen.
"We're little old Ireland, small demographics. We're fighting as a minority sport here for young talent and all the rest."
Given everything he had said about Toulouse's quality and pedigree, there was a tongue-in-cheek suggestion to Cullen that Leinster shouldn't even bother turning up for this Saturday's.
"Forfeit the game, will we?" joked Cullen.
"But that's what we're up against, it's the top teams in Europe and the world you could argue."
He was insistent that Leinster's fans can be a point of difference this weekend and beyond.
While on that topic, Cullen was keen to stress that this weekend's semi-final is an EPCR event rather than a Leinster event, meaning the province aren't in charge of ticket sales.
"In theory, it's a neutral game that's run by EPCR," said the Leinster boss.
With tickets starting at €75, Cullen seemed concerned that the Aviva Stadium might not be full this weekend.
"It's an EPCR run event, the week doesn't flow quite the same as per the participation agreement that we signed up for… it's just so that supporters know that.
"I really would plead to all Leinster fans out there to come out and support the team because that has to be the point of difference for us." 
Clearly, Cullen is doing his best to manage outside expectations. He is more aware than anyone that Leinster haven't won the Champions Cup since 2018.
Indeed, his focus on flagging potential dangers even extended to Leinster's home quarter-final in the URC at the Aviva Stadium in two weekends' time.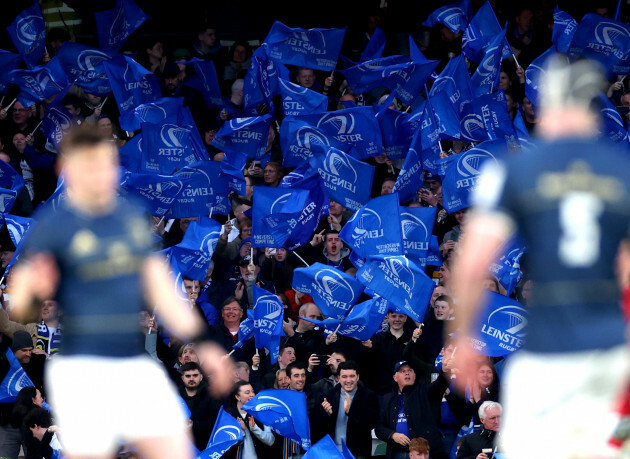 James Crombie / INPHO Cullen hopes to see the Leinster fans out in force on Saturday. James Crombie / INPHO / INPHO
"We have the Sharks who finished eighth, they can rest up this week because they're out of the Champions Cup and already have an advantage because what are they doing this week? They are getting ready to play us while we're getting ready to play Toulouse.
"They've got a week lead-in, so again that's the challenge, isn't it? It's a great challenge, but we're massively excited. Fresh energy, that's what's needed." 
As for Leinster's recent two-game tour of South Africa in the URC, Cullen was also determined to get a couple of points across.
Having already sealed top seeding in the league, Leinster left their frontliners at home to prepare for the Toulouse clash. While Cullen was in South Africa for the first game against the Lions, he flew home before last weekend's hammering at the hands of the Bulls.
"It's not something we take lightly, we're not trying to disrespect the competition," said Cullen as he explained that he had "felt a bit disconnected" when staying in South Africa for the full fortnight in a similar-ish scenario last season.
Again, he clearly felt that the reaction to Leinster's win over the Lions in the first game was disproportionate and that his young players didn't handle it well before the Bulls clash.
"It is trying to control the hype word because we were pretty realistic," said Cullen. "Even in the dressing room, we were like, 'Lads, we need to be really clear about what is to come with the Bulls.'
"But sometimes, as much as you tell guys about the threats, they still have to face the Bulls in Pretoria at altitude."
He believes the young Leinster players will have learned a huge amount from the tough experience and Cullen also pointed out that the province had done their best to prepare that inexperienced side for the South Africa tour by arranging a Leinster A game against London Irish before they left.
That Leinster A fixture angered some in Irish club game given that it clashed with an important All-Ireland League weekend.
"I know there was a bit of commentary at the time about us pulling players for a meaningless A game but it was an A game with meaning because we were trying to get guys ready to play for Leinster," said Cullen.
The Leinster boss concluded a remarkable 30-minute press conference by reminding everyone that rugby games can be decided in the blink of an eye.
He returned to last season's Champions Cup final to do so.
"You think back to the end of the game and there's a couple of decisions," said Cullen.
"Mike Ala'alatoa is on the poach [close to a breakdown turnover] but it's in the La Rochelle end of the ground and the influence that has on the officials, it's just the tiniest, tiniest margins, isn't it?
"It just gives players that last ounce of energy that's required, so when it comes down it there's such fine margins in all the games."