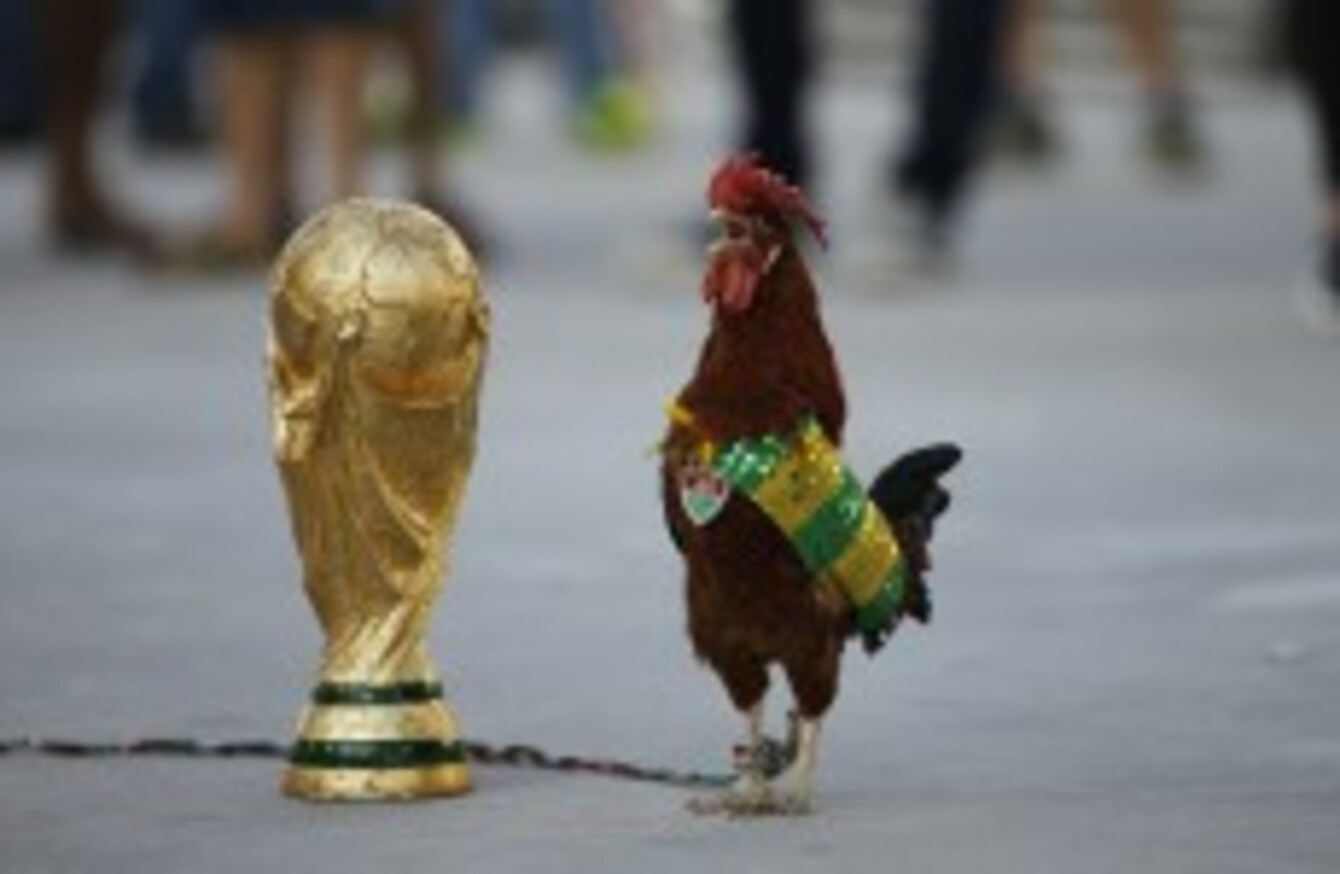 A pet rooster named Paquita Fred stands next to a replica of the World Cup trophy in front of Maracana stadium, in Rio de Janeiro yesterday.
Image: AP/Press Association Images
A pet rooster named Paquita Fred stands next to a replica of the World Cup trophy in front of Maracana stadium, in Rio de Janeiro yesterday.
Image: AP/Press Association Images
EVEN IF YOU had not been waiting for this day for the past four years, it was obvious World Cup 2014 was upon us this morning — it was as plain as fireworks at dawn, as clear as the sound of drums at 6.30am.
Salvador has woken up to the tournament and an exceedingly vocal portion of the population are excited.
São Paulo metro workers may have called off their strike but there is still much unhappiness with the vast amounts of money the government is spending on FIFA's tournament. That, however, is not the same as claiming Brazilians are not looking forward to the first World Cup on home soil in 64 years.
The hackneyed old cliche that all Brazilians are beach soccer-playing, futsal-loving, football fanatics is ridiculous and I've met plenty of people with little or no interest in the beautiful game. But the world's greatest sporting event on your own doorstep? Even the sport agnostics are curious about that.
And then there is everyone else, those who do love football, play the game and support a club or, at least, care about the fortunes of the Selecao for the next month.
A colleague flew to Salvador yesterday afternoon from Rio with an airline that offers live television on even the shortest of flights. Every screen he saw bar one was tuned into watch Neymar and Luiz Felipe Scolari's press conference ahead of this afternoon's Group A opener against Croatia.
The one dissenter was watching Pirates of the Caribbean. It's a two-hour flight from Rio and my reluctant memories of that Jerry Bruckheimer extravaganza have it dragging on for a lot longer than 120 minutes.
Big Phil and his No10 were on stage for about a third of that time and neither did anything to dampen expectations. They know the nation expects a sixth World Cup and pretending otherwise would be counter-productive at best.
"I don't want to be the best player in the World Cup, I don't want to be the top scorer, I want to win the World Cup," declared Neymar, putting aside is not inconsiderable ego for the good of the country.
That country is getting in the mood. Market stalls are doing a great trade in anything canary yellow, the flags are everywhere and the children, anticipating a day off school every time Brazil play, are running through the streets cheering. And a ball has not been kicked yet.
There may be lots to be unhappy about but World Cup fever is spreading. So, Brazil are the neutral's obvious choice then, aren't they? Ireland are on a beach somewhere trying to erase the memory of Hugo Almeida and his moustache, so we all need to pick a team. Not the team you think are going to win it, but the team who stir your soul and bring a smile to your face at the thought of them lifting the trophy aloft on  13 July.
Of course, Brazil tick both boxes and it would be the easiest thing to get swept along by the yellow tidal wave that will hopefully take us all the way to the Maracana. Then there is the prospect of the mother and father of all victory parties, which I think influenced my girlfriend's decision.
She shelled out for her Brazil top yesterday on Salvador's version of Moore Street, Avenue Jose Joaquim Seabra, and while she was in the changing room the staff tried to push a matching number on me.
I demurred, explaining I was supporting a team other than Brazil and that is where the conversation, conducted through pidgin English and wounded-pidgin Portuguese ground to a halt.
How could I explain why I'm backing Bosnia? How, with my 100 words of Portuguese, could I express my admiration for a country, barely 20 years old, qualifying for a World Cup?
How could I express to these Brazilians how much any level of success this month would lift the spirits of Europe's poorest country, a nation born out of war that was last month put back on its arse by catastrophic floods, which left 50 people dead and 150,000 homeless between Bosnia, Serbia and Croatia?
The landslides caused by the floods even unearthed previously undiscovered mass graves, a grim reminder of the terrible atrocities wrought on the country during the Balkan War, a conflict that forced the parents of Asmir Begovic, Vedad Ibisevic and other Bosnian internationals to start a new life in North America? I don't have the Portuguese to express such rationale.
Nor can I wax lyrical about the attacking moxey of coach Safet Susic, which yielded 30 goals in qualifying, and the creative threat carried by Roma's Miralem Pjanic.
In the end I just say, "Edin Dzeko" and give the hawkers a thumbs up.  Bosnia play Iran here in their final Group F encounter and I sincerely hope the Manchester City striker who grew up dodging mortar fire in the besieged Bosnian capital of Sarajevo has fired a few salvos of his own by then against Argentina and Nigeria.
Brazil need to win the World Cup for it to be considered a success but, having qualified for the first time, Bosnia just need the world to take notice.
See Sport
Differently
Get closer to the stories that matter with exclusive analysis, insight and debate in The42 Membership
Become a Member