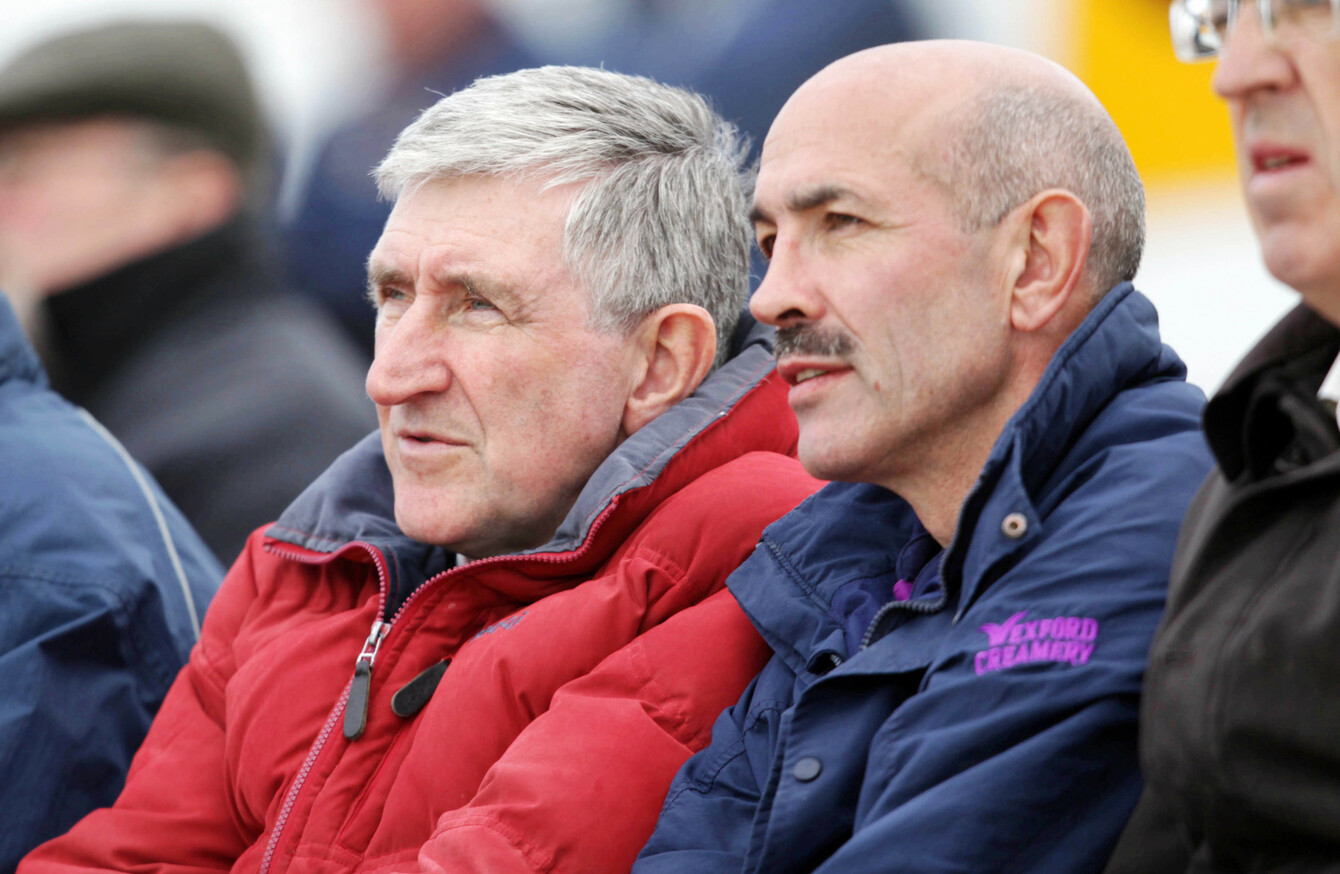 Former Wexford manager Liam Griffin and captain George O'Connor (file pic).
Image: Donall Farmer/INPHO
Former Wexford manager Liam Griffin and captain George O'Connor (file pic).
Image: Donall Farmer/INPHO
FORMER WEXFORD MANAGER Liam Griffin has spoken out about how player dropout rate in Gaelic games across the board is a 'crisis'.
Presenting the Club Players Association's (CPA) new fixture proposals at a press conference yesterday, he outlined that these plans would be a step in the right direction in rectifying the issue.
The Model county's 1996 All-Ireland winning boss noted how great things are happening in the GAA and there have been improvements, but radical reform in terms of the calendar is needed.
"The bottom line is, we have an underlying problem within the game and that's player dropout," he said. "The other underlying problem is dissatisfaction with our fixtures.
"Since I was a child, fixtures have been a massive problem in the GAA. I've seen it in my father's generation, I've seen it through mine, through my son's.
He referred to the GAA's 2013 ERSI report 'Keeping Them In The Game,' which revealed that dropout rates were 75 per cent between the ages of 21 and 26 in football and 60 per cent in hurling and camogie because of loss of interest.
"Our sport has the highest dropout," he continued, as he insisted that more needs to be done to address the issue.
"Some 24,000 people joined our association (CPA) because they were frustrated. Why did 24,000 people just join?
"Intermittent games and indefinite and irregular intervals [in fixture planning] will not suffice today. We know that since 2004 according to our own documentation. That's surely a crisis.
"We're not looking for trouble, we're just looking for fair play. The stats don't lie — 24,000 people."
One of the three "innovative changes" outlined at the press conference yesterday was the need for the All-Ireland club championships to be played in the one calendar year.
Clare and Ballyea star Tony Kelly was the main example Griffin alluded to when arguing this point.
"I just hear people in various places, say in Cork on Sunday, complaining that Tony Kelly is not performing, and if he had been performing better, Clare might do a lot better.
"His season hasn't finished from last year. Ballyea finished in club championship in March and he's straight back into the final [league] games with Clare and he's straight back into championship.
"His season has not stopped at any stage. Then , there has been residual resentment in Armagh towards Crossmaglen. It causes a friction that is totally unnecessary and it does happen."
In his search for a solution, Griffin touched on the American Football NFL, and how 'they have 32 teams interestingly enough in their system'.
"They have conferences and things, sure that couldn't make any sense?" he challenged. "Munster and Leinster makes much more sense.
"But the conferences are based on sensible systems and you can win the Super Bowl. That's in the whole of America — 32 teams, eight groups of four.
"Look around the world. You won't see Yeovil Town playing Chelsea anytime soon in the first round of the championship, that's not going to happen."
The changes that the CPA look to implement do not require a motion to go to Congress. They can be routed through Central Council, and if agreed there, the onus is on Croke Park to schedule them accordingly.
St Mary's Rosslare clubman Griffin stressed that these proposals were a 'request' to the GAA, and that now is the time to act.
"I'm telling you now, all we need is time. The plans that we have here are up to the GAA, they're just suggestions.
"Our request is two main things — the time allocation for clubs and to finish the championship in the calendar year.
"At the end of the day, it can be done. It's doable, it's not perfect. But it's a matter of working together to see what can happen."
The42 is on Instagram! Tap the button below on your phone to follow us!