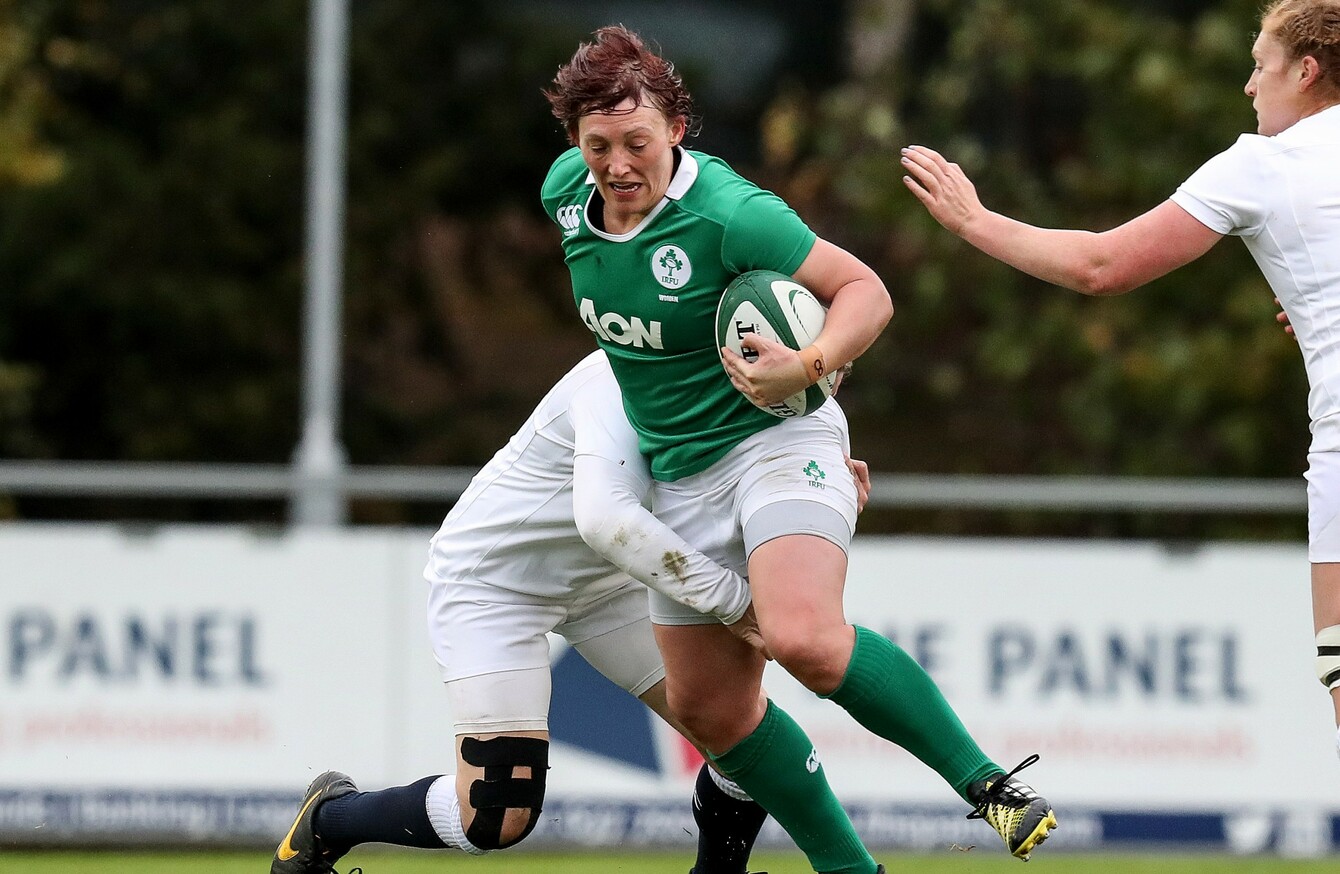 Lindsay Peat can't believe it but she's where she's meant to be.
Image: Billy Stickland/INPHO
Lindsay Peat can't believe it but she's where she's meant to be.
Image: Billy Stickland/INPHO
IF YOU SEARCH for Lindsay Peat's Twitter account, a lyric from The Beatles' 'All You Need Is Love' will be the first thing to greet you: "There's nowhere you should be that isn't where you're meant to be".
It's a philosophy she tries to live her life by but when she thinks about how far her rugby career has advanced since last year, she can't help but wonder how she's come to be in this position.
Peat, who has also represented Ireland in basketball and underage soccer, in addition to winning an All-Ireland football title with Dublin, is no token inclusion in the Irish side and has duly earned her crust, but she's still humbled by the experience.
"I suppose when you're pinching yourself going 'what am I doing here or what do they see in me?' I don't know what the lads see, but hopefully it's something positive that I can build on and offer something for the team. Whatever way it ends up, I've an important job to do, as with every other member of the squad, to go and do the best they can do.
If my best is enough to get on a World Cup squad or shorter term on a Six Nations squad, or even the next game against Canada or the one against New Zealand, they're all big bonuses and I'm meant to be there."
There were some inaccurate reports about this being her first competitive start for Ireland but she doesn't mind that. Her first official start was actually against Italy during the Six Nations, but she laughs off the confusion. "Maybe I didn't make much of an impact," she tells The42.
That modesty is a defining trait in Peat's character. Every time the Irish jersey is handed to her is a blessing and the appreciation that comes with it never diminishes. She made her international bow off the bench last year, but adapting to a new environment seemed to gobble up the months that followed. There was no time to drink in the experience but she's trying to enjoy it more these days.
"It's still extremely surreal," she adds. "It was probably one of the first times, not that it was never real before but I suppose when you have an understanding and there's been a bit more work and you're a bit further down the road, you definitely don't want to be making the mistake and you form a lot deeper friendships and things mean a lot more.
"That's not to take away from last year, it's just everything happened so quick, (I was) riding on the crest of a wave and just going with it. I probably didn't have time to take it in so I have this year. To play in front of 1,400 people against the world champions in an Ireland jersey was just fantastic."
Standing for the Irish anthems before their first November test last weekend, Peat began to feel emotional. It's not an unusual reaction for her, those songs always causes a stir in the former Dublin footballer, but the feelings last Sunday were particularly poignant.
"Last weekend, especially it was very emotional," she begins, "because these girls mean a lot more and it always means a great deal to be in an Irish jersey when you're in with players that you really respect and you're willing to lay your body on the line for, that makes a huge difference. That's been a big thing for me this year.
"I just get goosebumps… to belt it out and be proud to know every single syllable of Amhrán na bhFiann and Ireland's Call. It gives you goosebumps and that tear in your eye and that little quiver in your voice. You take that big breath after and you're ready to go to work."
She adds:
It's Ireland, it's your country, it's where you're from, we're representing our nation. I'm proud of where I'm from. I'm proud to be from Dublin and I'm extremely proud to be Irish. I think if I ever moved abroad, I'd want my body to be brought home to Ireland and laid to rest."
Her understanding of the technical aspects of the game is an ongoing exercise. As she puts it herself, she's on a 'crash course' and doesn't feel ready to pick up the certificate of completion just yet. Reflecting on the match last weekend, however, she can see improvements in her game that are all geared towards putting her in Tom Tierney's favour when he selects his squads for the Six Nations and World Cup tournaments.
"The big thing for me, was that I gave away no penalties. In the other sports that I played, I definitely would have lived on the edge but you can't necessarily get away with it in rugby, and especially against world champions if you're gonna give away penalties in a kickable area.
"I feel my understanding of the game is very much down the road compared to last year. It's hugely technical, we've gotten individual stats so I have stats from everything – they're ok, obviously I'm still learning.
It's a crash course," she adds. "And it will still be a crash course no matter how far I go, hopefully as far as the World Cup.  Each week, each game, each training session at a time but that would be the goal long-term. Short-term it's just getting as much games as I can. It's technical but I definitely have a better understanding now, I think I had two chop tackles against England which I think resulted in turnovers off that."
There's been pivotal changes in her life away from the pitch aswell. Peat and her wife Claire welcomed their first baby last November, some three months ahead of the due date and just over two weeks after Peat made her first appearance for the Irish rugby team.
They named him Barra to incorporate the names of Claire's father Finbar, and brother Barry, who passed away shortly after being born. Fionn was another candidate when naming him, but when Barra arrived, the decision was instant.
"We wanted a short name and we were looking through Irish names and we saw Barra and the translation is Barry. We knew we had a little boy, no-one else knew. When we saw him (for the first time) he looked like a Barra. They say you're able to know a child's name when you see them and when we seen him he was definitely a Barra."
The pair discovered they were pregnant three weeks after the marriage referendum produced a 'yes' vote last year, and in just the first year of his life he was diagnosed with, and recovered from viral meningitis. Despite that setback, Barra is thriving.
"He's flying and giving us trouble" says a delighted Peat. "Once they're mobile they're trouble so he's up and crawling and standing on things. It's a year on and off the rugby pitch, it's very different to what it was last year.
Claire wasn't due until the 10th of February but he arrived on the 29th of November so he arrived two and a half weeks after I made my debut off the bench against England. Between making the Irish team and him arriving early, they were two big surprises last year."
It's back to the UCD Bowl today for Peat and the Irish women's team today. The player rotation system that's currently in place means the prop will take a seat among the replacements while Tierney continues to formulate a squad. She's played herself into his plans in the past and looks likely to be a strong candidate for the squad next year. Even if she has another while to go before accepting it, she's exactly where she's meant to be.
The42 is on Instagram! Tap the button below on your phone to follow us!