Ferencvaros  4-0 Shamrock Rovers
Hello, and welcome to today's liveblog.
As it stands, Shamrock Rovers are just two games away from the Europa League group stages.
Man United, Arsenal, Roma and Real Sociedad are among the teams they could potentially face if they progress to the group stages.
However, qualifying won't be an easy task.
Tonight, they face a tricky first-leg tie against Ferencvaros in humid conditions out in Hungary.
Their opponents have won their last four consecutive domestic titles, while they made it all the way to the Champions League group stages as recently as the season before last.
In the pre-match press conference yesterday, Rovers manager Stephen Bradley said it would be a "level above any team we played this year," and adding to the challenge is the fact that Rovers are without as many as six first-team players.
The Hoops have pulled off some impressive European results in the past and winning this tie would be up there with the best of them.
The kick-off is set for 5.30pm Irish time.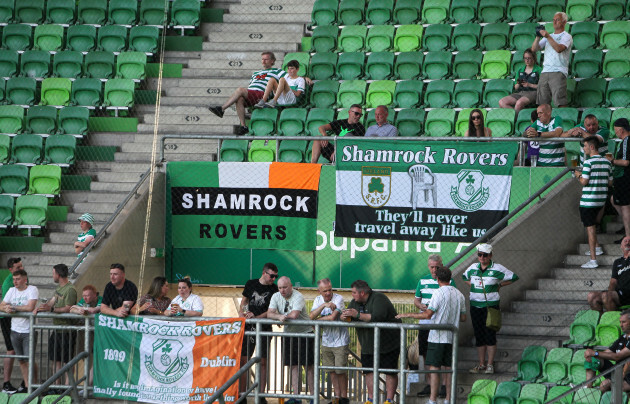 Aleksandar Djorovic / INPHO Shamrock Rovers fans ahead of the game. Aleksandar Djorovic / INPHO / INPHO
Who do you think will progress?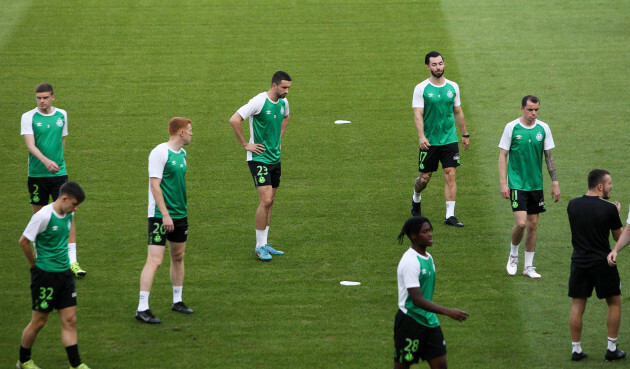 Aleksandar Djorovic / INPHO Rovers players during the warm up. Aleksandar Djorovic / INPHO / INPHO
It's been a fairly uneventful opening.
Ferencvaros started on the front foot and won an early corner, but it was easily cleared.
A worrying moment for Rovers, as Hoare is dispossessed allowing Ferencvaros to counter.
However, Traore is then flagged offside after being played through on goal.
Moments later, Moroccan footballer, Ryan Mmaee, hits the post with an effort from distance.
As expected, Ferencvaros are dominating possession and territory.
But for now, Rovers have some respite, as Greene wins a free kick about 30 yards from goal.
FERENCVAROS 1-0 SHAMROCK ROVERS (AUZQUI 13)
Shamrock Rovers go behind.
The Irish side fail to really deal with a cross into the box. It falls favourably for the hosts and Carlos Auzqui is on hand to slot home from close range.
Rovers have been a bit more positive since the goal.
They've got more bodies forward and enjoyed greater possession without seriously threatening their opponents' goal.
The goalscorer Auzqui has just been booked for a late challenge on Lee Grace.
Prior to that, the game was stopped momentarily for a water break.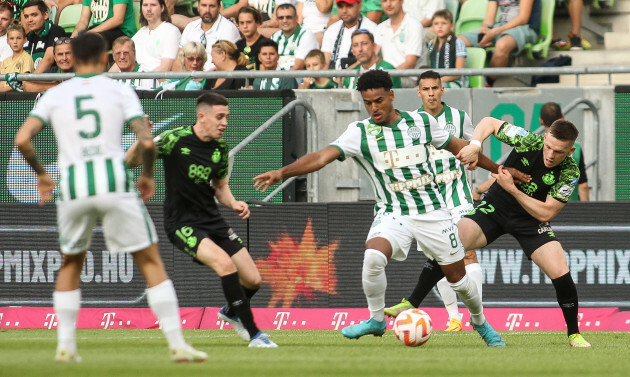 Aleksandar Djorovic / INPHO Rovers' Andy Lyons with Ryan Mmaee of Ferencvaros. Aleksandar Djorovic / INPHO / INPHO
The hosts almost make it two!
Dylan Watts loses the ball in a dangerous area before Ryan Mmaee hits the post from the edge of the area.
FERENCVAROS 2-0 SHAMROCK ROVERS (TRAORE 35)
The Hungarians double their advantage.
Ryan Mmaee's low cross is tapped home by Traore.
Moments later, Mmaee is sent through but his tame finish is easily saved by Mannus.
Rovers are really under the cosh now.
Tunisian footballer Aïssa Laïdouni tests Mannus with a shot from distance.
Rovers are really struggling. Perhaps the heat is a factor, but they already look tired and sloppy passes have put them in danger on several occasions.
Sean Kavanagh's set piece is headed over by Grace.
It would have been offside anyway.
Rovers haven't offered much in attack, their final ball has let them down on the few occasions they have found themselves in promising positions.
Another poor ball, this time from Grace, allows the hosts to counter.
However, Cleary ultimately does well to avert the danger, shepherding it out of play with Mmaee in close proximity.
Lyons does well to get the ball into the box.
But Gaffney can't really get a decisive touch on it and it's subsequently cleared.
HALF-TIME: FERENCVAROS 2-0 SHAMROCK ROVERS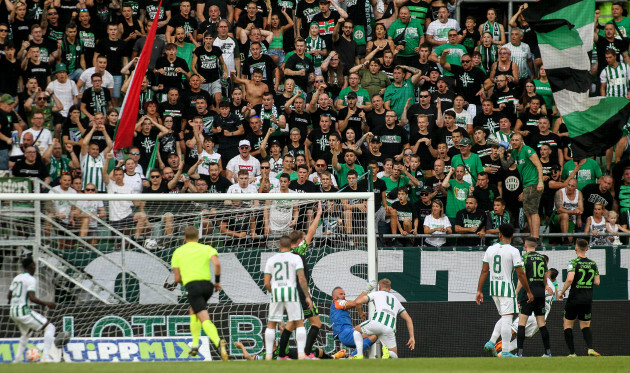 Aleksandar Djorovic / INPHO Ferencvaros' Carlos Auzqui celebrates scoring his side's first goal. Aleksandar Djorovic / INPHO / INPHO
Half-time and it's been a disappointing opening 45 from a Rovers perspective.
So far, Ferencvaros have made their superiority on the day count, with two clinical finishes.
Defensively, Stephen Bradley's side have looked shaky at times, while their passing has been poor, unwittingly setting up Ferencvaros counter-attacks on many occasions.
They've only threatened sporadically and the hosts have dominated midfield and controlled the game as a consequence.
The only positive for the Premier Division leaders is that they haven't conceded more.
You would think a change is needed to stem Ferencvaros' dominance.
Jack Byrne may not be fully fit but Rovers could do with his technical prowess in midfield and it would be no surprise to see him introduced in the second half.
Aleksandar Djorovic / INPHO Rovers' Sean Kavanagh with Aïssa Laïdouni of Ferencvaros. Aleksandar Djorovic / INPHO / INPHO
The second half has begun…
FERENCVAROS 3-0 SHAMROCK ROVERS (TRAORE 48)
Disaster for Rovers!
The hosts counter and Ryan Mmaee plays through Tokmac Nguen, whose initial shot is saved by Mannus.
However, Gannon's attempted clearance goes straight to Traore, who slots home confidently.
Aïssa Laïdouni flashes a shot a few inches wide.
This could get ugly for Rovers. A fourth Ferencvaros goal would surely end what little hope remains of the Irish side progressing.
Another big chance for Ferencvaros.
Tokmac Nguen squares it to Ryan Mmaee, whose shot forces a good save from Mannus.
Moments later, the same player blazes over from close range.
It's one-way traffic at the moment.
Triple change for Rovers.
Gaffney, Kavanagh and Gannon are replaced, with Jack Byrne, Neil Farrugia and Richie Towell coming on.
Now it's the hosts' turn to make changes.
Auzqui, who got the opening goal, is replaced by Marquinhos.
Boli also comes on for Mmaee.
Farrugia does well to go past Besic before winning a free kick on the edge of the area.
Greene's subsequent set-piece goes straight into the wall and is deflected out for a corner.
Another change for Ferencvaros.
Vecsei comes on for Besic.
And for Rovers, Watts is replaced by 17-year-old Justin Ferizaj.
Rovers have been better in recent minutes.
The substitutions have made a difference, with Byrne, in particular, seeing plenty of the ball.
Another nervy moment for Rovers.
Mannus fails to hold onto Marquinhos' ball into the box, but Rovers eventually clear it.
Boli plays through Marquinhos, but his first-time effort is saved with relative ease by Mannus.
Just under 15 minutes of normal time remains. Rovers could really do with a goal to give them some hope going back to Tallaght, but they don't really look like scoring one.
Another change for Rovers.
17-year-old Tetteh comes on for Greene.
Aleksandar Djorovic / INPHO Ferencvaros' Endre Botka with Aaron Greene of Rovers. Aleksandar Djorovic / INPHO / INPHO
Marquinhos forces another good save from Mannus, but the referee blows his whistle anyway for a foul on Greene in the build-up.
Given the balance of play, Rovers will be happy if they can keep it to 3-0.
Byrne sets up Farrugia on the counter-attack.
The former UCD man could possibly have squared it to the better-placed Tetteh, but he elects to go it alone and after a driving run, shoots over the bar.
Farrugia slips through Towell, who can't get a shot away.
That said, the midfielder was taken out with a strong tackle as he attempted to shoot, but the referee waved away appeals for a penalty.
FERENCVAROS 4-0 SHAMROCK ROVERS (CIVIC 90)
A miserable night for Rovers is complete.
It falls for the substitute Civic, whose shot from the edge of the area bobbles into the corner of the net.
Mannus was slow to react and was perhaps unsighted, as the effort went through a couple of bodies.
FULL-TIME: FERENCVAROS 4-0 SHAMROCK ROVERS
So that's that.
It looks like the tie is all over, as a minor miracle would be required for Rovers to win by four or more at Tallaght.
They will have the consolation of playing in the Europa Conference League group stages but will be disappointed with how tonight panned out.
The heat was likely a factor in an error-strewn display, with individual errors contributing to Rovers' downfall.
In truth though, Ferencvaros were a level apart and made their dominance count with some clinical finishes.
The Hoops were largely overrun in midfield but did improve slightly in the second half with the introduction of a couple of substitutes, most notably Jack Byrne.
Richie Towell might have had a late penalty but overall, the result was a fair reflection of the difference in standard between the teams.
The fourth goal in stoppage time will be especially galling from Stephen Bradley's viewpoint, as it all but assures the Hungarians' place in the next round.
Right, that's all from me.
Thanks for reading and commenting.
You can read our match report here and we'll have more reaction to come.