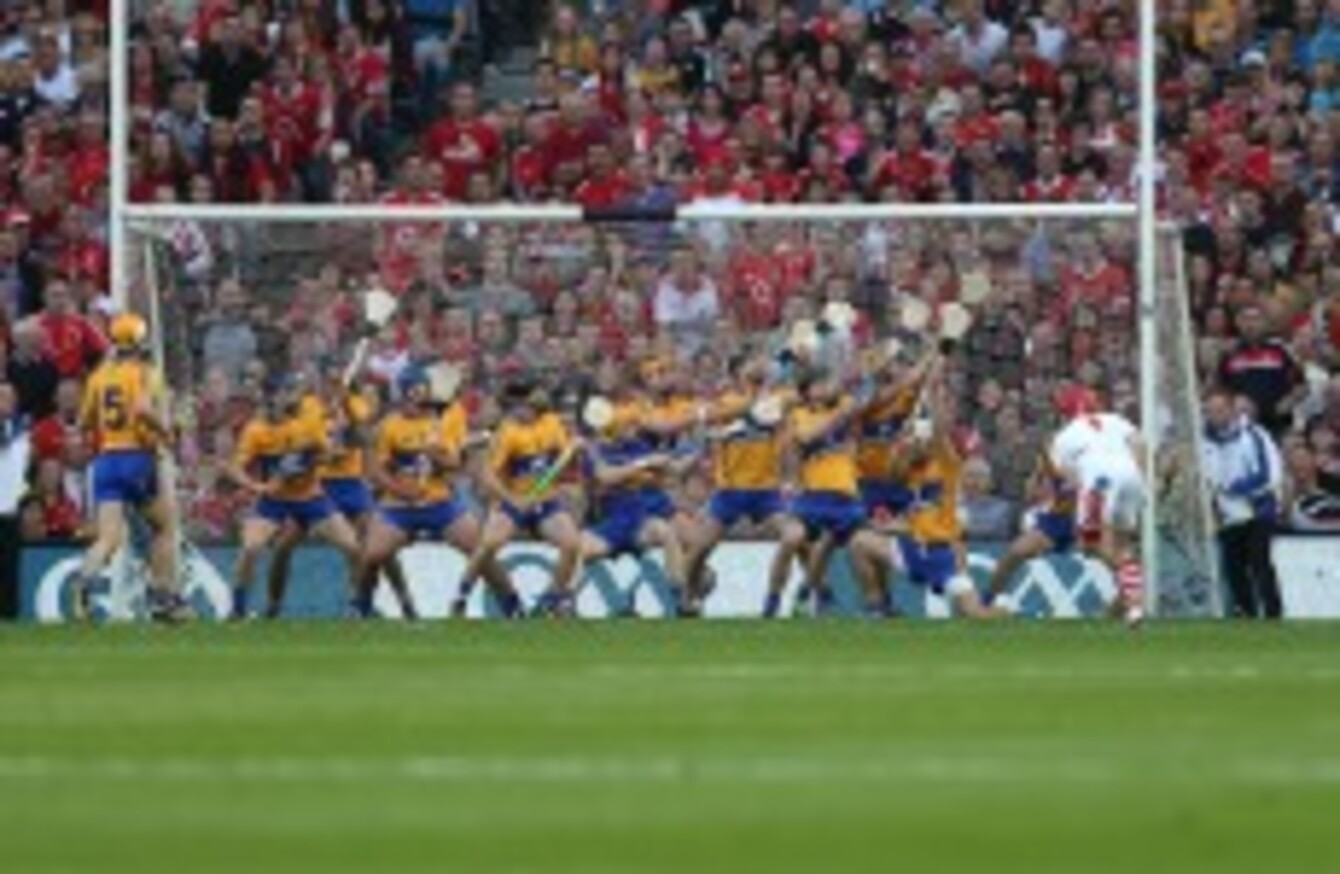 Anthony Nash scores for Cork in last September's All-Ireland SHC final replay.
Image: Donall Farmer/INPHO
Anthony Nash scores for Cork in last September's All-Ireland SHC final replay.
Image: Donall Farmer/INPHO
CORK HURLING STAR Lorcán McLoughlin is a big fan of Anthony Nash's swashbuckling free-taking style – even if former Rebels goalkeeper Donal Óg Cusack isn't.
Nash, who's also a clubmate of McLoughlin's, has come under renewed criticism from Cusack, who believes that supporters of his successor between the sticks are guilty of "small town politics."
Cusack was a member of the committee that devised the 'Anthony Nash rule', aimed at stopping players from gaining yards from 20m frees. GAA chiefs kicked for touch at Annual Congress and again at a recent Central Council meeting ahead of a proposed hurling forum to discuss all aspects of the game.
But McLoughlin, 24, doesn't believe that Nash should be singled out just because he possesses a unique skill.
Speaking at a promotional event ahead of Sunday's Allianz Hurling League quarter-final against Tipperary, Kanturk man McLoughlin said: "With the 21-yard (20m) free, as a team we haven't dwelled on it too much.
"We've looked after our side of things but it's an art that I suppose Anthony has perfected. It's a great addition for us to have something like that available to us because, you know, more often than not he finishes the ball. He gets goals from it.
"But in the league so far Patrick Horgan has hit 21-yard frees and scored them as well."
McLoughlin also leapt to the defence of Aidan Walsh, another Kanturk and Cork teammate, who has decided to play both intercounty hurling and football this year. Cusack, however, believes that combining both codes cannot be done, insisting that it is a "fanciful" concept.
But McLoughlin insisted that Walsh, Eoin Cadogan and Damien Cahalane have been huge additions to the hurling set-up.
He added: "From my own personal point of view I think they're definitely an addition to the panel.
"They've added competition to the set-up and fellas have to work harder in training because they know they're under pressure.
"From their point of view, maybe they'd have preferred to get more game time.
"Injuries, when they are trying to commit to two different codes, are an aspect that can affect it but no, they've been an addition. Aidan has strengthened up the forward line and added a different dimension and Cadogan's physical presence is another option.
"Damien Cahalane came on the last day (against Wexford) and I thought he was effective.
"They're more options and they're adding to the panel. In the long run, we'll see the benefit. At the moment, they've picked a few injuries which haven't helped their progress but it will only be later on in the year when we see their real benefit to the panel."
McLoughlin, named in the half-back line for Sunday's clash, is a dual player himself at club level for Kanturk and with divisional outfit Duhallow.
And he conceded: "From underage I would have found it difficult but it's down to the players themselves. If they feel they're up to it, they're young, flying fit and physically they'll add to the panel.
"They're young enough so they might as well try it. Careers are short enough so if they don't try it now, it will have passed them by. Fair play to them – they should try it and I think they will be big additions to the panel."