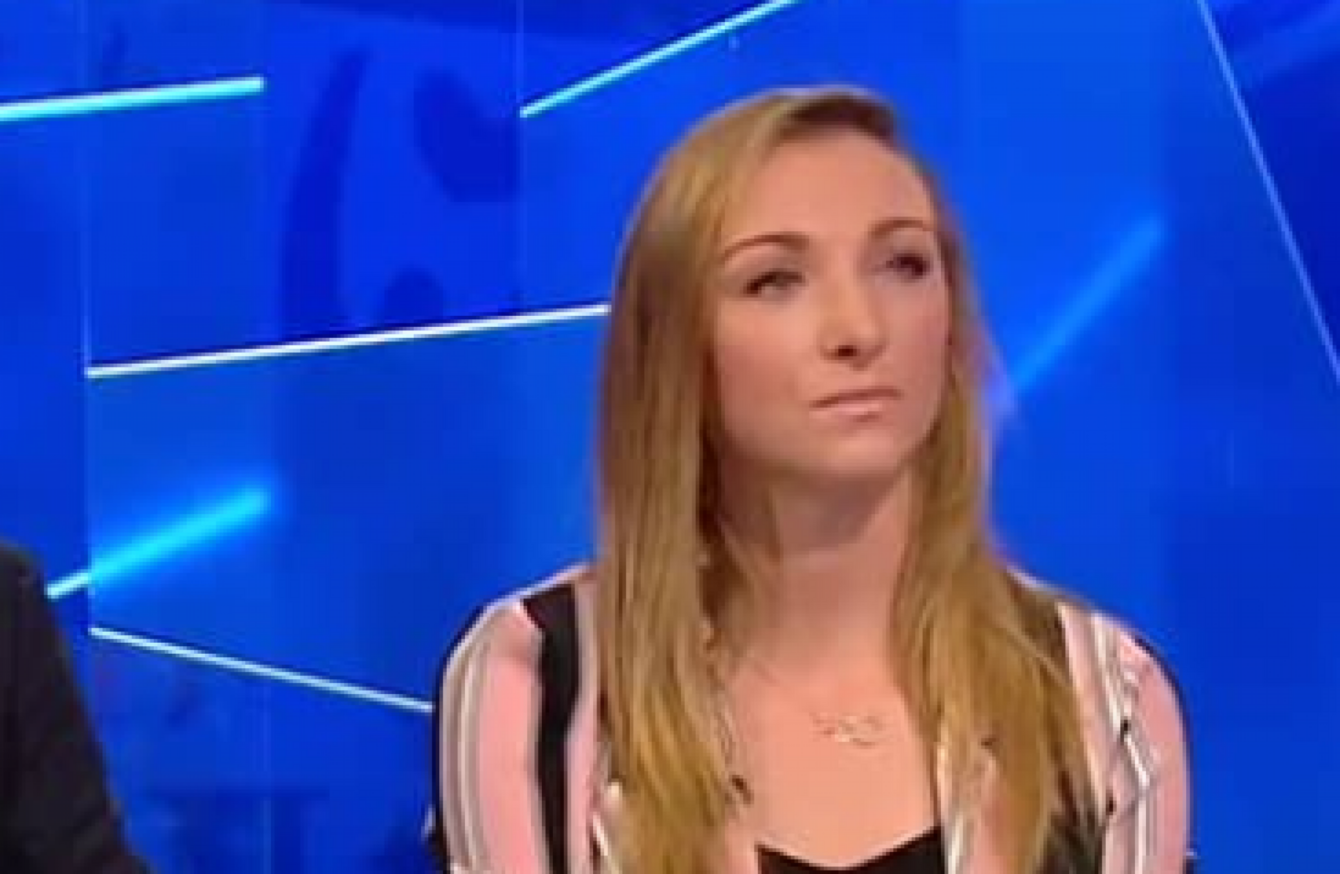 Louise Quinn has appeared on RTÉ's 2018 World Cup coverage.
Image: RTÉ/Louise Quinn
Louise Quinn has appeared on RTÉ's 2018 World Cup coverage.
Image: RTÉ/Louise Quinn
Updated at 22.05
NOT SO LONG ago, the idea of a female pundit analysing a high-profile men's sport on national television in Britain or Ireland would have been unthinkable.
Yet there has been evidence of progress and attitudes changing in this regard of late.
Ex-Ireland international Fiona Steed was among the contributors for TV3′s coverage of the 2015 Rugby World Cup, while former Arsenal goalkeeper Emma Byrne was an analyst for RTÉ's coverage of Euro 2016.
There have been more encouraging signs for the 2018 World Cup too. For RTÉ, as well as presenter Jacqui Hurley, Ireland internationals Stephanie Roche and Louise Quinn have featured, as has USA legend and World Cup winner Hope Solo.
Across the water, the coverage has included Juventus forward Eniola Aluko and former England and Arsenal footballer Alex Scott among others.
There has inevitably been the occasional ignorant comment in response to this relatively new approach. Former Tottenham and Chelsea player Jason Cundy recently claimed female football commentators are too "high-pitched," before later apologising for the remarks.
But for the most part, various TV stations' attempts to make their coverage more female-oriented have been well received.
One of the new faces on our screens has been Quinn, the accomplished Ireland and Arsenal defender. Not part of RTÉ's original announcement of analysts, she received a few days' advance notice via a Football Association of Ireland media officer in anticipation of her punditry debut.
Before the talented centre-back knew it, she was appearing alongside Damien Duff and Michael O'Neill on a programme presented by Peter Collins.
"I wasn't sure what to expect," she tells The42. "I was very nervous. The thought of going on TV talking about these things — I didn't know the process, the way you go through it, how you pick your clips, analyse and just was really going into the unknown.
I tried to get a bit of advice from [RTÉ presenter] Jacqui Hurley the night before, gave her a call. I'd know her a bit just through everything — she was brilliant, she just gave me little tips. As soon as I got in, I was lucky enough to be with Damien Duff and Michael O'Neill.
"They were great and talked me through it. Duffer really knew the process of how to go through it and he was like: 'Maybe you could do a bit of this, this is the defending bit, maybe you want to do a bit of that. I can do this. And do you feel comfortable doing that?' It's easy then and when you're on camera, you don't actually see the cameras, they're pointing away, but we were looking at Peter.
"Maybe you have to be a little bit more specific about your point [than in a normal conversation], but I really enjoyed it.
"It's just so easy to pick out something you want to talk about. Duffer could be talking about a certain player and just from watching it, I was like 'that player keeps doing that, it would be good to touch on' — something that he didn't pick up on that I could."
And while to some people, the idea of talking about football for a few minutes between matches and ad breaks may sound and look relatively easy, plenty of effort generally goes into this work. Quinn and the other analysts arrived in at around 10am to prepare, with the show starting at 12.30pm.
"They have newspaper articles from the day before, the lead up to it, so they just have information. They have all the player stats, who they played for, the last game that they played. You're given a big chunk of a folder. But you think about yourself and you're like, if someone was commentating on one of our games, it's about: 'What would you find interesting?' I think it's about going through football without [resorting to] the clichés — just going for it and being honest about it.
"[Former Wexford Youths player] Ruth Fahy was doing a lot of stuff for Soccer Republic. I just saw her the other night, and said: 'I thought you were absolutely brilliant.' We were watching her when we were in camp one time. I then wanted to take a leaf from her book, she knew all the players' names, as if she'd been doing it for years, but at that stage she'd been doing it for not too long at all."
Quinn was part of the analysis for the Belgium-Panama and South Korea-Sweden games. A stint playing in the latter country helped her give an insight into the Swedes' footballing culture that none of the other analysts could have provided. Similarly, Michael O'Neill's knowledge of Panama came in handy, with the Northern Ireland boss' side having played them in a recent friendly.
I don't know how well I did, I think it went okay,"she says. "It was an enjoyable experience and something I definitely feel can be improved and worked on, and hopefully there's something like that [opportunity] in the future."
An opponent Quinn has come up against on more than one occasion, Hope Solo, also recently made her RTÉ debut. This interview took place just before her inaugural appearance on the station.
"I'll be very interested to see how she approaches it. I'm not sure who she's doing it with, but there could be a good [debate]. She's just going to get stuck in. It's just going to be a different experience seeing it. Americans have such a different vocab in how they talk about football, even in just how they approach it, and I wonder how the Irish public will take it.
"When it came out [that she was appearing], it was: 'Wow, impressive, they've done their homework to figure out who they wanted to get.'
"At the same time, I would have liked to have seen Emma [Byrne] in there as well, because she's got great experience with it. I'm not sure what happened there, but that was our first thought. We were in camp when we first heard.
"I really like Emma's punditry and she's very good at the commentary. She did stuff for Eurosport there, maybe it was the last women's World Cup or the Euros. I just thought Emma was brilliant at it, better than some of the other commentators. She's talking through the game and it's all just very natural. I was comparing her to other people they had on and to me, she was a lot better."
With the women's game more high-profile than ever and recent Irish attendance records for matches being broken, does Quinn feel this arrival of a new generation of female pundits is another sign of progress?
"I think it's going through this transition now where there are a lot more [female pundits] popping up. It's only right. If they've knowledge of the game, why does it matter who is talking about this sport?
"And I get it. I know there is that bit of change, hearing a different voice commenting on it. I'm even watching Match of the Day and then a different male commentator is on and I'm like 'ooh, he's new'. But it's just because it's a new voice and that's what people have got to get used to, because it's only going to keep growing and getting better, and we can see as well that BBC and ITV have done so much.
"Alex Scott is everywhere, doing everything, she's brilliant. In the last year, how she's done so much and grown into the commentary is amazing. There's Eni Aluko, a very honest and knowledgeable pundit.
"[There are the presenters] Jacqui Hurley, Jacqui Oatley and Gabby Logan. To me, it's going to be normal and it's the same thing, whoever's suitable for the job be it male or female. Sometimes you can even just have a different opinion and side of things coming from a female pundit.
A lot of stuff I see in the men's football, I think they're soft, diving on the ground and I can't bear it. And that's just what goes on in men's football. I don't like it, it's not helping the game or helping kids growing up seeing that."
Many will empathise with Quinn's view, particularly having spent the last few weeks watching Neymar among others seemingly try to con the officials at every available opportunity. But is such behaviour really absent from women's football?
"It is rare in women's football. There's none of the rolling around, the exaggerating, going down screaming. There will be [instances of players] trying to make the foul happen, which is kind of intelligent.
"We have a team-mate at Arsenal, who's very good at it. It obviously does annoy me sometimes. But she's drawing the foul where it is. She's one of the Dutch players who got the penalty in the second game [against Ireland] at home. Daniëlle van de Donk, who I'd be good pals with anyway at Arsenal.
"Even when you just see the guys, they're able to fall on top of the ball and hug it and want the free kick. If you're getting fouled and falling, there's no way that can happen. I don't think I've ever seen that in the women's game, where somebody was able to fall, catch the ball and hold it.
"Hopefully, it's not going to turn into something like that… Men's football was like that years ago, where it was more rough and tumble. It was rare to see a dive, but there are so many good role models everywhere in male and female football. But sometimes watching bits of the World Cup, I'm like: 'Soft!'"
Quinn's season ended following Ireland's elimination from World Cup qualifying at the hands of Norway last month. Since then, in addition to her punditry stint, she managed to get away for a few days on holiday to Portugal. This week, she is due to recommence pre-season training with Arsenal. Even on her break though, she has been visiting the gym, but mainly, she admits, so "you can eat a bit more, enjoy yourself and not feel as guilty".
The 28-year-old centre-back is savouring being back in Ireland briefly having spent most of the last few years away from home, moving to Swedish club Eskilstuna United originally in January 2013.
"It helps being in London, it's a 50-minute flight, people are able to see me a lot more, when I was in Sweden, it just was a lot harder," she explains. "Double flights or long flights, long trips to the airport, collecting people or dropping them off [was difficult].
"Even just to hear voices or accents that you recognise, or to hear a conversation — sometimes I'm in Sweden in a café and all I'll hear are voices. But you have no idea what's going on.
I think I'll always be a homesick person and I'll be coming home when I'm done [with football]. What hurts the most is I can't do what I love here as my job, I have to do it abroad. But I really love London, going into the city is brilliant."
Be part
of the team
Access exclusive podcasts, interviews and analysis with a monthly or annual membership.
Become a Member
One factor that will certainly help with Quinn's homesickness is her excellent recent form. Ireland boss Colin Bell recently stated that she was "playing the football of her lifetime" at club level.
Nevertheless, last season had begun in a less-than-promising fashion. Arsenal were struggling and she found herself out of the starting XI. However, it all changed after Australian coach Joe Montemurro took over from Pedro Martinez Losa as manager back in November.
With the team having previously played in a more attacking fashion, Montemurro went back to basics, helping to shore up the defence in the process.
This change in approach naturally suited Quinn, who subsequently won her place back in the side.
"I'm a very committed, dedicated, it was a different experience being a sub, but I kept the right mind frame for it. Work hard for the team so the training sessions are good. And work hard then so I can get on the pitch.
"I wasn't used to being a sub, but it has given me a bigger perspective on everything. When I come into the Irish team, I know how the subs feel now. And it's really rough. Be pissed off, but use that to push you on and prove people wrong. That's what happened and I think people didn't expect me to do as well as I did at Arsenal. I had a really consistent second half of the season and just grabbed it by the scruff of the neck."
The Wicklow native finished the campaign on a high, scoring the crucial goal that got Arsenal into the FA Cup final, before suffering the disappointment of being part of the side that lost to Chelsea at Wembley.
GOAL! A last-gasp header from @louise_quinn4 sends @ArsenalWFC into the #SSEWomensFACup final! 😯 pic.twitter.com/XQ1qFrLYy3

— The SSE Women's FA Cup (@SSEWomensFACup) April 15, 2018
Nonetheless, confirmation of a successful season came with the news last month that both herself and fellow Irish international Katie McCabe had each penned new contracts at the club.
The Ireland star has made progress on the pitch too. A defender more in the style of John Terry than John Stones, since joining the Gunners, Quinn has "had to learn how to want the ball more, enjoy it more, be comfortable on it".
She adds: "It hasn't shown fully with the Irish team yet, but we're getting there and trying to get that transition to be more comfortable.
"It's not forever that we're going to be able to play the football that we do at the moment, even though it is relatively effective when it goes well.
"Even in the second game against Norway, if you're comparing four days' difference, from the first to the second game, it just worked out so much better.
People in that game wanted the ball more and we executed things better. So when we have those elements like wanting the ball more, I think it's going to add to our confidence."
Quinn has come a long way since a previous interview with The42 last year. Back then, the club she had only recently joined, Notts County Ladies, had just folded due to financial issues and she was facing an uncertain future as a result.
"I wouldn't have been in any way high-profile," she explains. "The team that wants me would really have to go look for my quality – I'm not one of those like Steph Houghton, Jordan Nobbs or Kim Little, if something was to happen, they could get to any team they wanted. Whereas at the time, I probably wasn't the player I am and didn't have the profile I [now] have. Everything I've done, I've always been a hard worker for it.
"Obviously, I have a natural talent, but I'm not a Lionel Messi or a Jordan Nobbs, they have it, whereas I have to graft extremely hard to get it.
"One of my mates, a while ago, sent me a couple of pictures, the difference of me in Peamount or Irish gear years ago to now. It was like a 'Transformation Tuesday,' I completely turned everything around in terms of my fitness and my body shape. I just became more athletic and more professional."
And while Quinn was fortunately able to land on her feet following the Notts County debacle, life as a female footballer remains a perilous occupation for many of those involved.
The Irish system has lost so many players," she explains. "Players I used to play with. The year I graduated from 19s to seniors, I think I'm the only one from that year [to still be involved]. Obviously, I then would have played with the likes of Karen Duggan, Megan Campbell and a few others. Méabh De Búrca would have been a bit older, Diane Caldwell would have been a bit older. I even saw a couple of those players the other day.
"It's mad when you talk about it. Every time we come into camp, some sort of chat like that comes up. You think about a couple of the players that could have been, but they just didn't have the opportunity, or sometimes, GAA brings you in. Obviously, dead right, you could be playing county in GAA. But maybe, they just thought there's more opportunity there and more about it.
"I just find it so tough to see the Women's National League girls at the moment, struggling at times — there are no crowds or people coming to watch games. It's almost strange to me now. One thing is that the teams are getting stronger, which is so important. New teams are coming in and then teams go just as quick sometimes as well. But it's great to see Limerick in there as well.
"[The WNL] needs a great sponsor and someone that's willing to dedicate their time and money to something that may not flourish for a few years, but it will."
There is scope for optimism, however, with the Irish team making significant improvements over the last year, resulting in greater interest from fans and sponsors.
"Even the other day, I had an 18 or 19-year-old girl come up to me and ask: 'Are you Louise?' For that to happen in Ireland would be rare. It just shows that the work being done is starting to pay off and players can get recognition for their hard work."
In addition, the success abroad of players such as Denise O'Sullivan and Megan Campbell is another bonus that was far less commonplace 10 or 15 years ago, thereby increasing the likelihood that a new generation of young Irish footballers will strive to maintain and build on this progress. Education doesn't necessarily need to suffer either — Quinn secured a degree in Sports and Exercise Management at UCD before turning pro, while she is currently combining her footballing commitments with an online personal trainer course.
And although potential careers in personal training and media work are avenues Quinn may explore further in future, for now, she is firmly focused on doing as well as she can for both Arsenal and Ireland. The defender cites the appointment of Bell as key in rejuvenating the latter in recent months.
"We were staying at the same level for quite a few years and other smaller nations or teams on a similar level to us were just [advancing].
I think what we needed was a change of management. The person they've brought in is a winner, that's his mindset. Irish people are sometimes like 'oh, that was so close, but you did great'. It's a slightly similar thing with the men's team sometimes — they may have a different mindset.
"But as the women's team, we were sometimes fuming at results and how everything was then: 'Oh, you were so close to drawing with Germany.' But it didn't happen. He's starting to change that mindset of 'you were so close'. Getting that result [away] against the Dutch was brilliant, but then we lost to them and the Norwegians. It's just not good enough, but it drives you on for the next campaign.
"When Colin first came, we were like 'it would have been great if it was the Euros and we could go through that campaign with him,' but I think going through a World Cup now has been better — it gives you that experience of big qualifiers, how he deals with it and how he manages teams.
"Already, we feel far more prepped going into Euros qualifiers, even though it's not for over a year that they're starting. And we've still got this game against Northern Ireland, which we'll still be taking as serious as all the rest of the qualifiers.
"When you look back at the team that was there — there were some great players. We definitely underachieved because we had a team there. You'd look at the squad now and it'd be 'who's that?' or 'how young is she?' But it's what you have there — the coaching you get and the mindset all the players have that's been the biggest change."
With Ireland no longer able to qualify for next year's World Cup in France, Quinn and her team-mates have been forced to watch on enviously as similar-sized nations such as Wales and Scotland edge closer to qualification.
It's more evidence from the years previous that they've really built something," she says. "We kind of just fell behind, but I feel like Colin could get it done in double time, he works that hard and we work that hard for him. So it is definitely looking way more positive, even as the campaign has gone [disappointingly towards the end] and everything that's happened, I think it's been one of the most enjoyable that I've been involved in, and I've done a few now.
"You were wondering how it's going to be fixed, but now, there are solutions and ways to turn it and change it."
Given the many obstacles she has had to overcome, such sentiments could equally apply to Quinn's own career as a footballer.
The42 is on Instagram! Tap the button below on your phone to follow us!