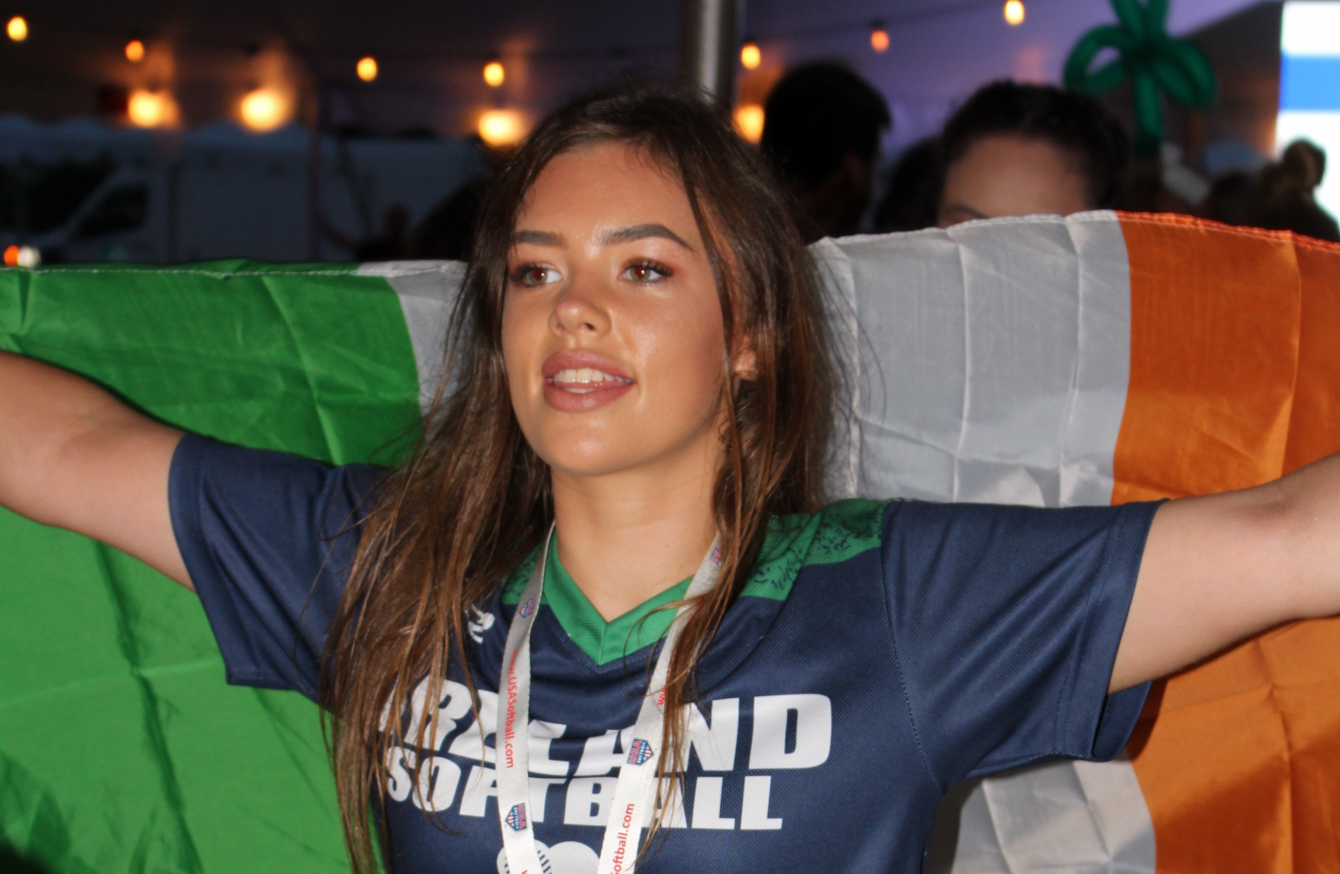 Maeve Óg O'Leary: 'I just live for it.'
Maeve Óg O'Leary: 'I just live for it.'
"THIS YEAR IS going to be my year, I'm going to give everything a try."
As Maeve Óg O'Leary walked through the doors of St Anne's Community College in Killaloe for her first day of Transition Year, those were the words running through her mind over and over.
She had always had a keen interest in sport and had played camogie for years. An opportunity to start playing rugby and follow the family tradition soon popped up and she grabbed it with both hands
But then came something completely different — softball.
Within 18 months of picking up the sport, O'Leary was starting for Ireland at the Junior World Championships in Florida.
***
From the moment she picks up the phone on a dark Friday evening, 17-year-old Maeve Óg O'Leary is full of chat and energy. Softball, camogie, rugby, her family, her upcoming Leaving Cert, that experience of a lifetime in Florida; everything is discussed, and at length.
At the time of our conversation, she was yet to return to school after the Christmas break but kept busy with study and grinds.
"It is busy," she tells The42. "This year, so far, it's been a bit calmer but last year I was up the walls. It was madness. I was training an awful lot but I loved it."
She's always loved it, sport has always been a massive part of her life. First off, she remembers was camogie. From Ballina, in Tipperary, she was destined to grow up with a hurley in her hand and started playing at U4, she laughs.
Rugby then, was a central part of family life in the O'Leary household. Her grandparents and her dad played for all of their lives before her brother Shane — who spent three seasons at Connacht before crossing the water to Ealing Trailfinders, and plays for Canada — carried the legacy on.
"Rugby and softball, they're relatively new to me," she explains.
"Rugby for women was never really in our community. It was there for men, my Dad used to coach the boys but the girls started up about three or four years ago now. The programme has been growing so much.
"I decided I'd start it in TY because I've always had such a keen interest in playing but there was nowhere for me to go to play. I just used to throw the ball around the garden with the boys and Shane. It just went from there."
In fact, it took off from there. Not long after picking up the oval ball, she went for Munster trials and made the Munster Sevens squad.
"It was was such an amazing experience and it brought on my rugby no end," she adds, on the new venture which she balanced with both club and county camogie, and the softball when that opportunity arose.
Congrats to Maeve og O Leary 4th year on receiving her first caps for Munster today in the Interpros pic.twitter.com/ZSzXsjAnJB

— St.Annes CC Killaloe (@stannescck) April 22, 2017
So how did that all come about?
She speaks glowingly of her teacher Grace Kearney, who's part of the Ireland senior national women's fast-pitch softball team, and how she first introduced the sport at school.
"There was no one aware of it," O'Leary recalls.
"The first time she mentioned softball to us, I honestly straight away thought of volleyball or spikeball. I was like, 'What is this sport?'
"The explanation I'd give for softball is it's baseball for women and it's a bigger ball. The pitching is different and it's a smaller pitch. That's literally it."
Kearney organised an Open Day in the school and invited Melanie Cunningham, head coach for Team Ireland and her husband, Colum Lavery, the director of softball in Ireland, down for a look.
All of the Transition Year students — boys and girls — were put through a workshop where they learned about the sport. Throwing the ball, catching the ball, all basic stuff.
"This was like the weirdest thing when we started. It was crazy. We'd never even heard of the sport yet it was so big and they had so much equipment, it was madness. I'd naturally be a sporty person so I kind of took to it straight away and I really enjoyed it."
O'Leary made a lasting impression of sorts over those few hours as Cunningham and Lavery organised to return and monitor a group of players once again. In that group, there was Ellen Lane, Eithne Walsh and Bríd McMahon, and that quartet would find themselves in Flordia donning the green jersey of Ireland just months later.
"Grace worked so hard to teach us the game and to help our throwing and pitching and batting," O'Leary continues. "She did so much for us, took so much out of her own time.
"When Melanie and Colum came back down, they were amazed at the progress that we had made. We were the first ever junior team and younger women that they had looked at. It was almost even a shock to them.
"They realised then like, 'There's something boiling here, we have potential here.'"
And so it snowballed. Kearney kept them on their toes with two to three training sessions per week while there was a Christmas training camp organised at University of Limerick.
"Obviously our ability wasn't huge, we'd only been playing for a very short amount of time at this stage, probably three months, but we kept going.
"Patterns started building in the sport. We started watching these American teams. Softball in America is like GAA here. You look left, right and centre here and there's GAA fields, you can see goal posts and whatever but over in America and you turn left and right and there's baseball and softball fields. It's crazy big over there."
As the junior players from St Anne's in Killaloe perfected their throwing and batting more and more, it was confirmed that Ireland would field a first-ever junior women's team.
Trainings were integrated and they started to work alongside the senior national team in Dublin. They were nervous at the start, O'Leary remembers, but those nerves soon turned to excitement as all involved were warm and welcoming towards the newbies.
"I remember thinking going up to one of the trainings, 'What am I doing?' I was like, 'I just started this for a bit of fun in TY, I said I'd give it a try and now I'm here, traveling up to the national training'.
"It was such excitement that there was going to be a junior women's team, Team Ireland. It was something that was once not seen.
"The coaches took us aside and they said to us, 'Look girls, we want a junior women's team to put into the World Championships in Clearwater, Florida for the summer of 2017′ and honestly, when we heard it we were like, 'Ok, hold on a second now…. we've just been playing this sport for four or five months!'
"I certainly jumped at the opportunity though. I was like, 'Right, this is it. I'm getting a passion for the sport, loving it and everyone in the sport is helping me and improving me. There's potential here.
"We kept going training, getting up at 5am, 6am in the morning and leaving to go to training marathons in Dublin which were six or seven hours of training.
"It was really intense but when you have a passion for something, you're willing to work for it. The hard work, dedication and the commitment that we put in and that our coaches put into us was something else."
The time soon came for selection of the traveling party who would compete Stateside. There were Irish-Americans based that side of the Atlantic in contention for spots and O'Leary wasn't overly optimistic about being chosen.
There was that sense of being behind in terms of knowledge, ability to play the game, facilities to improve. They still loved the game, they'd continue playing and work towards the next year.
But low and behold, the four from St Anne's were selected.
"It didn't even seem real to be honest," she grins. "I just kept going training, I didn't think about going to Florida. I'd never been to America or so far away in so long.
"I didn't ever expect for it to happen. Florida was this dream of mine that I had. I did jump at the opportunity but I was like, 'It's not actually going to happen'.
"Walking into that room when my coaches were sitting there, I didn't think they were going to tell me that I was going to America. I just thought that they were going to say, 'Work hard for next year and you'll make it next year'."
The next few months saw softball prioritised, understandably. There was a stop brought to the county camogie, but trips to Cork twice-a-week continued for Munster rugby.
It was crazy busy. Softball Ireland receive nothing in the way of government grants so the players and management were faced with the task of fundraising.
"We worked really really hard, especially the girls from Killaloe. We raised €4,500 just in our small, little town and it took so much time but that was ok. People were learning about the game, people around our community now know what softball is.
"There's young girls in TY and the years below who want to start this new sport that has come to Ireland. Even my sister has started, some girls on our rugby team have started, some on the camogie team have an interest.
"It's definitely growing but it needs more recognition in Ireland. People need to be more aware of what this is."
July soon rolled around and the alarm clock in the O'Leary house went of at 3am one morning. Dublin-bound, the first leg of the journey to the Junior World Championships. This was actually happening.
"I think that's when it hit me. When we landed in Florida and this wall of heat hits you and there's palm trees everywhere, you're like, 'Oh my God, this is so surreal.'
"We were so so nervous. We were going to meet these girls who had been playing since they were four years old and we had just started 18 months before. I mean like…. We were so scared to go over to them. But it was such an amazing experience."
Straight away, she says, the group clicked and the team bond was formed instantly. The seven strong contingent that traveled from Ireland — the St Anne's four, joined by Catriona Atkinson, Rebecca Atkinson and Brona Mitchell — were on edge, but made felt right at home from the get-go.
Their first three competitive games brought losses against China, Canada and Great Britain before O'Leary was dealt her first start. Surreal, she recalls. The moment is as clear as yesterday in her mind.
"They were like, 'Ok we're just calling out the team' so everyone gets up and we clap for every player that's called out.
"Melanie calls out 'Maeve Óg, right field' and looks over. I was like, 'Me?! Mel, is that me?' I don't even know what ran through my body, I was so nervous but I was so excited.
"Then I was like, 'Ok, you've worked your way to get here. Melanie and Grace have put so much into you so you're going to now give your time to them and Team Ireland.'"
As she processed what would happen in the coming minutes and hours, she remembered telling her parents — who were on holidays in Kerry at the time — not to bother watching because she wouldn't be playing.
"I was running out and thinking 'Oh my God, none of my family are even going to know that I'm out here. This is ridiculous!' I was so annoyed. But it was fine, they were all watching at home and when I went back to the hotel I had tons of messages."
There was a shaky start, she grins, as she tells of how she missed her first ball. Disappointed, she felt like she'd failed herself, her team and her coaches after all of her hard work. But then she settled, and caught her next ball.
"From then on, it was amazing. I started four more matches and I got five caps for Ireland. Honestly, it was a dream come true. It was so amazing.
"Obviously we were the first-ever junior women's national fast-pitch softball team for Ireland so it was quite special that we got the opportunity to go over. Especially girls from Ireland, representing Ireland."
As the tournament progressed, Team Ireland grew into it more and came away with three wins which left them ranked pretty highly against the best of the best.
"I think for the first few matches we lacked a little bit of belief. When we won our first match against Korea we just got that little boost of hope and we went on to beat Peru and Isreal.
"We were on a winning streak, we were so good and we ended up ranked number 18 in the world which was crazy for us. We were up with different countries who we thought we could never be up with."
And she was capped for Ireland before her older brother Shane, what was that like?
"Ah stop! I know," she giggles.
"Honestly when they told me I was going to Florida I was like 'Yes, oh my God, I'm on Team Ireland'. Shane didn't make U18 Ireland or anything and I was like 'God, I could almost go and play softball for Canada!' But obviously, Team Ireland is where it's at.
"Shane got a right slagging, not only from me but from Colum (Lavery)! He was like 'You know you can slag your brother now that he hasn't played for Ireland and you have!'
"I gave Shane a right good slagging, he took it well. It was all grand. He still has played at such an amazing level as well."
***
With golden memories to treasure for a lifetime, O'Leary — like any success sportsperson — keeps her focus on the future.
2018 is another big year for the junior teams in Irish softball. There's the U19 European Championships in Italy in July and straight after that is the U22 European Championships in Slovakia.
"Obviously my goals would be to make the teams for that, or one of those competitions," O'Leary adds.
"And then, in the long-term for Softball Ireland, the goals are to spread awareness about the sport, to get this sport out there, to bring it into different schools and clubs. It's amazing but it's not known anywhere.
"Then obviously, the big one is the Olympics in 2020. We want to get Team Ireland into the qualifiers for the Olympics in 2020. That is the ultimate goal."
Camogie-wise, she's looking forward to getting stuck back in with her club Ballina, and hoping to add to their 2017 junior county final win while she'll keep plying her rugby trade with Ballina Killaloe and trial for Munster once again.
Off the field, there's the small matter of the Leaving Cert in June but her maturity and confidence shines through as she speaks of how she'd love to study Communications and work in the media down the line.
"At the end of the day, education isn't everything to me at all," she concedes.
"I absolutely adore my sport, I know education has to come first sometimes as well but I think it's so important, especially for young people in school, to play sports. Even if you're not a sporty person, just to do a little bit of exercise every day, get out of the house and go for a walk.
"Sport definitely takes me away to another place. It takes me away from the stress and worry of school and study. It totally calms me down, I love it. It's such a positive place.
"Team Ireland, that was a positive place for me. The thing actually that I noticed about softball over a lot of other sports, is in softball, everyone is for you. You go out and you make a good catch or you miss a ball, everyone is like, 'It's ok girl, you got the next one'
"Everyone is so supportive and so behind you, every single person. I think we need to do that more in sport definitely. I think we need to praise each other more because that gives you confidence, that boosts you up, that's what you thrive on and what you want to keep going on."
As we wind down the conversation and prepare to hang up and go our separate ways, there's another quick work for the roller coaster few months ahead.
"Definitely a few busy months but I can't wait," she concludes, and you can almost hear her smile through the phone.
"I cannot sit still, I can't be in my house for more than a day, I have to get out and do something. Keeping me busy, I have no problem with it. I love taking the whole days of Saturday and Sunday to go that training, to go do trials, to watch matches, compete in matches.
"I just live for it. It gives me adrenaline."
And that's that, a natter of well over 30 minutes covering a range of subjects draws to a close. I commend her on how well she spoke over the half-hour and wish her luck going forward.
She does likewise, and adds: "It's my story, so who can tell it better than myself?"
Well that's certainly true, and it's one that she'll surely keep adding to.
The42 has just published its first book, Behind The Lines, a collection of some of the year's best sports stories. Pick up your copy in Eason's, or order it here today (€10):