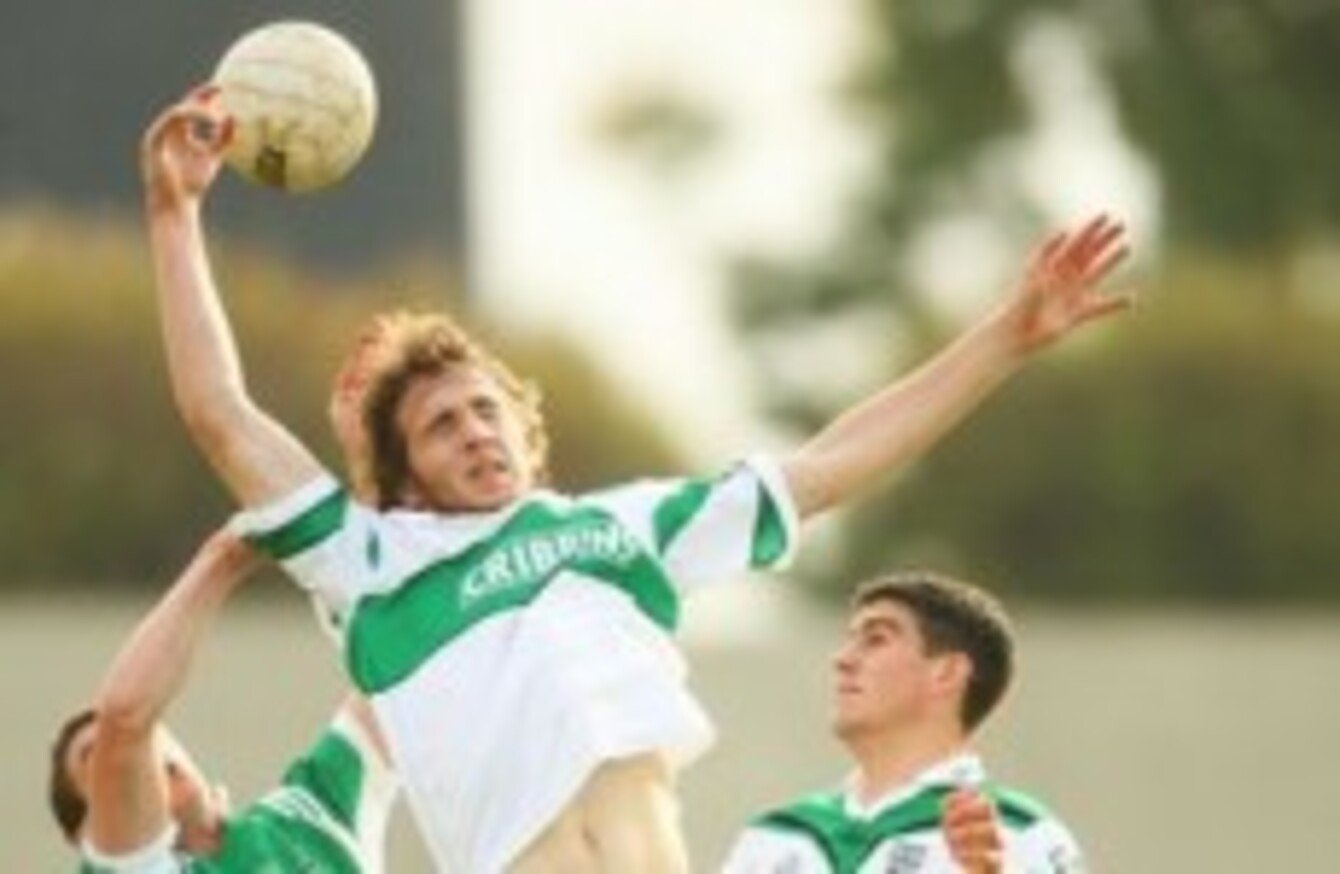 Tuohy (centre), in his GAA days displaying some Aussie Rules-esque skills
Tuohy (centre), in his GAA days displaying some Aussie Rules-esque skills
WHILE THE EYES of those in Laois may be focused on Croke Park this weekend, where the county footballers take on Dublin, one former player will have his own hands full.
Zach Tuohy, who rose through the ranks of underage football for the county, will join a small group of Irish players who have made the transition from GAA to Aussie Rules.
The 21-year-old will be making his debut for Carlton, in what is only his second year in the system, against Port Adelaide in the AAMI stadium.
Tuohy has been putting in impressive performances for the Northern Bullants in the Victorian Football League, a competition in which AFL teams tend to blood their less experienced players, and his performances of late have been enough to warrant a place in Carlton's AFL side.
Tuohy only joined the club in 2009 having caught the attention of Aussie Rules scouts and subsequently impressed during a four-week trial with Carlton.
Speaking about Tuohy's remarkably swift development, Carlton manager Steven Icke said:
"His improvement over the past two years has been rapid. He has genuine speed, is an elite kick and his selection this week is well deserved."
He continued: "The good thing about that though was Zach had a football back in Ireland and at every opportunity he was out kicking the ball, so he's become an elite kick on both sides of his body because he spent a year in Ireland just practicing.
"That hard work over there has paid off because in 18 months basically we're now seeing him play his first game of AFL football."
Tuohy also expressed satisfaction with his inclusion in the team, saying: "I can't wait to get over there and give it a crack. I'm too excited to be nervous now."
Tuohy's elevation to the Carlton team comes following an injury to first-team regular Luke Mitchell, who is likely to be out for the rest of the season.
Five other players who made the transition from GAA to Aussie Rules:
Jim Stynes

One of the very first GAA players to take part in what was known at the time as the 'Irish Experiment', Synes joined Aussie Rules football aged 18 in 1984, and went on to enjoy a hugely successful career in the sport. Stynes has been chairman of Melbourne football club since 2008.

Brian Stynes

Brother of Jim, Brian was another early instance of a GAA footballer whom made the transition to Aussie Rules. However, in stark contrast to his elder brother, he never quite adjusted to the sport, only playing two games in total for Melbourne FC.

Tadhg Kennelly

Kennelly is another GAA player who has blossomed abroad. In 2005 he became the first Irish-born footballer to win the AFL Premiership medallion and in 2009, he acquired the considerable distinction of being the only player to win both the AFL Premiership and All-Ireland Football Championship following his success with Kerry.

Setanta Ó hAilpín

One of the Irish players to enjoy mixed fortunes in Aussie Rules, Ó hAilpín initially struggled to get a game with Carlton. He eventually became a first-team regular however, but was subsequently dropped in 2010 and had been linked with a move away from the club. He is currently in favour again and is due to line up alongside Tuohy on Sunday.

Martin Clarke

Martin Clarke: Another player who showed signs of promise, but ultimately failed to make a major impact on the AFL, Clarke was quickly dropped from the Collingwood team despite a successful first season. He swiftly retired from AFL and reemerged as an impressive performer in Down's 2010 season. He is currently believed to be in Australia however, as he negotiates another move down under.