IF YOU COME across a skinny guy in his 40s carrying a washing machine on his back somewhere near Waterford City in the next 24 hours, don't be alarmed.
Enda O'Doherty is the man underneath the five-stone domestic appliance and he's doing it all for a very good cause.
If he's near his native county Waterford, it means he's almost there, having come from Belfast last Sunday, on a journey longer than nine marathons; 235 miles, or 379 kilometres in old money, to be exact.
It's all in aid of Pieta House — a charity close to his heart.
"The wife has to take the blame, I was having a coffee with her and she mentioned that as I had just done a few Ironman events, she was wondering what I was going to do next," he said.
"I said to her that I intended to do a charity walk and immediately she told me that was far too easy, so I was like, 'Okay I'll do it with a washing machine strapped to my back'.
"The idea of the washing machine is that it carries a heavy load, and so do people who commit suicide, but at the end of the day, the machine empties itself of the burden it is carrying and soldiers on.
"If more people could do that then perhaps we'd have less suicides."
Mr O'Doherty, a teacher in De La Salle College in Waterford, lost two students to suicide in recent years and that's a big reason for the undertaking and though he might be suffering, he knows it's nothing near what those who suffer depression and other related illnesses go through.
He was in Carlow when he spoke to us this morning… But knew he had a bit to do yet…
"It's amazing what seven consecutive marathons can do to your sanity," he laughed.
"It's been a crazy, crazy week.
"Last Sunday morning I left Belfast at 8.30am and after 30 miles to Banbridge, I'd made a fatal mistake; I came up 2000 calories short of what I needed and I went into hypoglycemia shock.
"It was the first time I'd gotten that so I got to a treatment room for physio but I couldn't function. I felt exactly like someone would feel in a car crash.
"But my physio is very experienced and he kept me cool. He wrapped me up and I was okay.
"I was just terrified I wouldn't be able to go on and it'd very embarrassing.
"It's been the hardest test I could have imagined.
"Day two I started hallucinating; the main road turned into a snake. It was very scary.
"The soles fell off my feet and my nails are gone. It's horrific.
"Day four I crashed, had really bad diarrhoea, fought it… I'm just about surviving. I've lost track of time and days."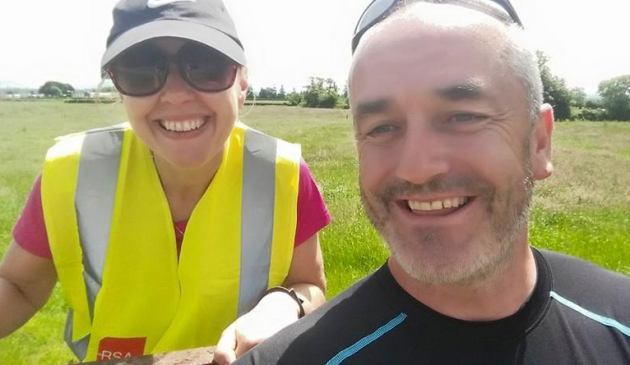 The week hasn't been without its high points, mind, and as well as getting the message out and raising funds, O'Doherty has been struck by the generosity of people.
'We had an a amazing day on Wednesday when we busked with John O'Shea.
"He was totally shocked when he saw what we are doing.
"He came down from training, gave us his jersey from the England game to auction and his generisty is typical of what were meeting.
"Please God we'll finish tomorrow evening.
"We're hoping to be in the plaza in Waterford around 5 or 6pm, but I must admit, I'm close to breaking now. I'm on edge.
"My kidneys are going, I'm peeing blood, I'm eating 9000 calories a day, but I want to finish it."
Interestingly, O'Doherty has been working closely with the county's hurlers since last September and it's hardly surprising their upturn in form has coincided with this man being involved.
He said he's never met a more determined bunch of individuals and when he stood before them last year, he issued them with two goals.
And without giving too much away, they've one achieved already…
"If a 47-year-old former alcoholic can do nine marathons in eight days with a washing machine on his back…anything is possible."
Check out pieta challenge on Facebook for this inspiring man's latest updates.
Text ph4 to donate €4 to 50300
All photos used with permission via pieta challenge Facebook
If you have been affected by any of the issues in this article, please contact one of the following helplines:
Samaritans 116123 or email jo@samaritans.org
Teen-Line Ireland 1800 833 634
Console 1800 201 890
Aware 1890 303 302
Pieta House 01 601 0000 or email mary@pieta.ie
Childline 1800 66 66 66