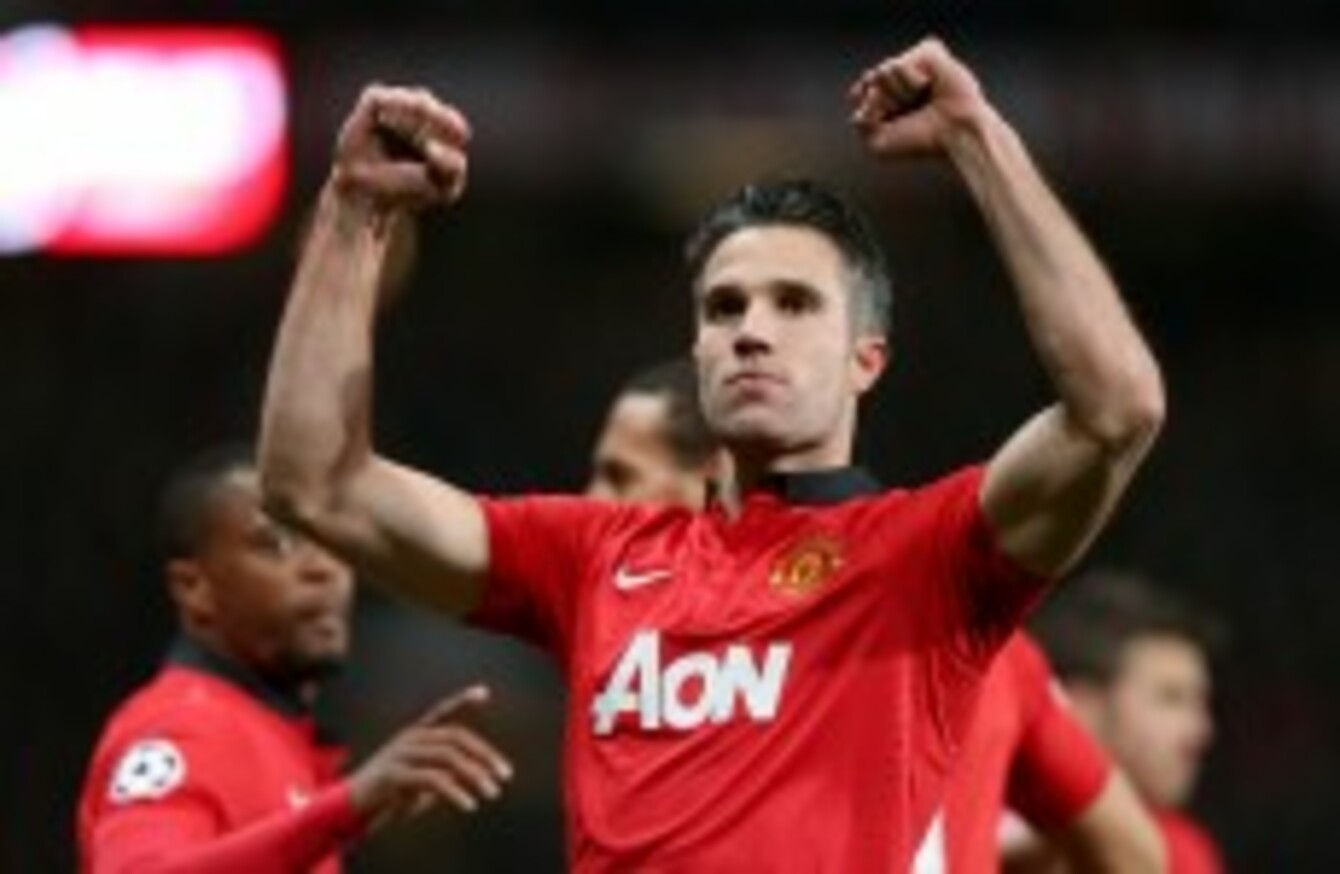 Robin van Persie scored a hat-trick as Man United defeated Olympiakos last night.
Robin van Persie scored a hat-trick as Man United defeated Olympiakos last night.
CAN A 3-0 win ever be described as "unconvincing"?
Manchester United beat Olympiakos 3-0 last night, and in Champions League statistical terms at least, they are currently among the top eight sides in Europe.
Now consider the following reactions:
"Moyes will now feel they are building momentum," "a win of great significance," "the striker typified United's spirit of togetherness," "the players are beginning to believe in his methods."
Moreover, contemplate these quotes:
"A statement victory by any European standard," "Moyes took another significant step forward in leading the club towards a new era of success," "this is a season that continues to bring steady improvement and Moyes will now look ahead to… Premier League football knowing his team have something to build on."
Sound familiar? None of the analysis referenced above was written after United's defeat of Olympiakos last night. In fact, they are thoughts expressed in various media outlets amid the aftermath of two rare impressive United wins earlier this season — the 1-0 home defeat of Arsenal and the 5-0 away victory over Leverkusen.
With the benefit of hindsight, those words are a telling insight, if anything, into the fickle nature of football and in particular, football management. One minute, you are building a side that looks set to be a considerable force in Europe, the next, you are a 'tactically inept' ex-Preston manager punching above your weight and creating 'the worst United side in 30 years'.
Yesterday's, at times, thrilling 3-0 win over Olympiakos was patently a huge relief to the beleaguered Moyes, but he will know better than anyone that significant work and a considerable squad overhaul still needs to be undertaken. Supporters would therefore be forgiven for suspecting that the victory is another false dawn. Olympiakos enjoy a near-monopoly on domestic success akin to that experienced by Celtic in Scotland, and the Greek league is arguably closer in overall standard to the SPL than the Premier League.
Furthermore, United's triumphant win over Arsenal was followed by a limp 2-2 draw with relegation-threatened Cardiff. After they beat Leverkusen in such an accomplished fashion, they proceeded to acquire just one point from their next three Premier League games.
That is not to dismiss last night's win entirely however. Under the circumstances, they could have easily crumbled, given the comprehensive manner in which they lost the first leg coupled with their humiliating defeat to Liverpool at the weekend.
To produce a performance of substance showed that the United camp is not as spiritless and disillusioned with life under Moyes as some have suggested. And more importantly, it was an instance of Moyes showing the type of bravery and tactical boldness that critics — not entirely unreasonably — have often accused him of lacking.
Some may have initially balked at the decision to play the 40-year-old Ryan Giggs in midfield, but the Welsh star put in an influential performance full of incisive passing and intelligent positional play, vindicating his manager in the process.
Last night's diamond formation was another adventurous endeavour that was difficult to reconcile with the functional, caution-first philosophy that Moyes so often seems keen to employ — the flat 4-4-2 with an emphasis on getting crosses into the box that many commentators have derided as outdated and which Liverpool had little difficulty combating on Sunday. It was undoubtedly a risky strategy to adopt against the dangerous Greeks, as United's vulnerable full-backs were occasionally left badly exposed, and the sudden compulsion to experiment may have been borne more out of desperation than conviction, but even the greatest sides in history have enjoyed supreme luck sporadically, and the Red Devils were indeed highly fortunate to find the intermittently flaky David de Gea in especially excellent form.
But is Moyes' increasing willingness to experiment and innovate a case of too little, too late? Starting from Saturday, United have three games in seven days, against West Ham, Man City and Aston Villa. The middle game, in particular, is crucial, even if the outcome is a virtual irrelevance in terms of the Old Trafford outfit's league placing. Should they draw a side of the quality of Barcelona, Real Madrid or Bayern Munich in the Champions League quarter-finals, then getting well beaten would surely be tolerated, given that Moyes' men would be talked of as a side that is plainly in transition playing against one of the top four or five teams in the world.
Nevertheless, a hammering by City — a second ignominious outcome against a bitter rival within the space of a month — would be bordering on unforgivable. Consequently, in contrast with the Olympiakos result, next Tuesday's game will surely serve as a truer reflection of how far United have come since that hapless Liverpool defeat.
Hence, 3-0 wins in the last 16 of Champions League generally are described as 'convincing,' however for Moyes and United last night, in the overall scheme of things, it was anything but.
Like football? Follow TheScore.ie's dedicated Twitter account @football_ie>