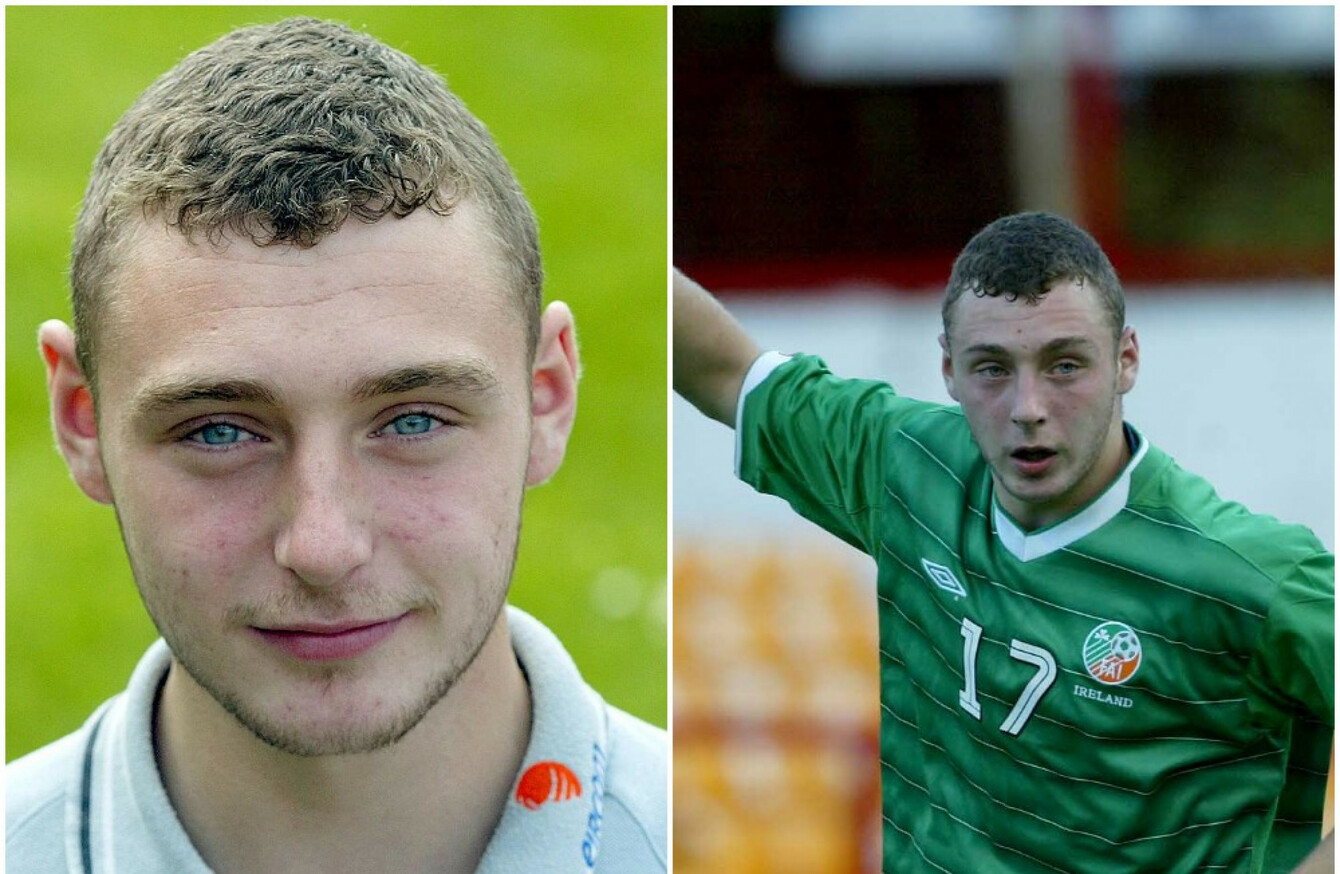 Mark Quigley pictured during his time as an Ireland U19 international.
Mark Quigley pictured during his time as an Ireland U19 international.
MARK QUIGLEY IS incredibly engaged when talking about his career in football; honest about all his achievements, the goals, the trophies, the big nights. But also reflective, sincere and authentic when talking about his journey and the hard times which made him the man he is today.
Representing Ireland at every underage level all the way up to U23s, winning every piece of silverware possible in this country, being named PFAI Young Player of the Year and following that up five years later with Senior Player of the Year — all fitted in after a four year stay with Millwall — he admits that he packed a lot in.
The striker achieved incredible heights in the domestic game; winning the Premier Division, FAI Cup, EA Sports Cup, Setanta Sports Cup, two Leinster Senior Cups and a President's Cup. The entire collection on offer.
Dispelling any notions of just being part of great teams, he balanced that with individual merits, too, winning both editions of the League of Ireland's player of the year accolade and also being included in five Premier Division Team of the Years, during his eleven seasons playing in the SSE Airtricity League. It's quite a feat, isn't it?
"I suppose I had a good run at it," he laughs speaking to The42.
The final couple of seasons were tough to endure, the Dubliner admits. Painful back surgery to correct bulging and prolapsed discs, a loss of the lightning quick pace which was his hallmark during teenage years as a prolific off-the-shoulder striker, and niggling injuries meant he was forced to hang up his boots the day of his 30th birthday. As a result, making his trophy haul all the more impressive considering he might have had another four or five years in the game.
"I'm proud of the fact that I did it all," he says now in the midst of his first managerial position in charge at Sheriff YC, arguably one of the greatest junior football sides this country has ever produced.
"I do think I had a good run at it. I crammed a lot in during a short space of time considering I retired at 30. Lads play a lot older than me, but I think I did achieve a lot and had a good career. I did what I set out to do."
It might not have always turned out that way, he admits. Quigley actually began his football career with Sheriff YC as a kid, before moving to Belvedere and then being snapped up by Millwall when a host of English clubs like Leeds United and Arsenal were in the hunt for the 15-year-old.
He returned to Ireland after being released in 2005, playing firstly for St Patrick's Athletic under Johnny McDonnell, and then taking in stays with all of Bohemians, Dundalk, Sligo Rovers, Shamrock Rovers, St Pat's again, Derry City and finally a short second spell with Bohemians in 2016.
Growing up in the north inner city, the chance to go down a bad path was ever-present, he says. The opportunity to be led astray across into a different route in life was a real one growing up.
Surrounding him were some of the most kind, generous, warm and — particularly — funny friends and neighbours a person could ever ask for in Liberty House. But young lads with nothing to do and a lot of spare time on their hands can naturally get up to trouble, with that trouble potentially escalating, he says.
The people were so welcoming in the flats," Quigley beams. "I absolutely loved growing up there.
"Doors were always left open and it was just a time when you could pop into your neighbour without an invitation if you ever needed anything: a sup of water or a drop of milk for your tea. It was a really amazing place to live and there are stories that will stay with me forever. I wouldn't change where I grew up for anything, to tell you the truth. It made me the person I am today."
"Sometimes I miss it, to be honest," he sighs. "My mam sometimes brings my kids down to the flats where I grew up, because I still have family that live down there. It's funny to see my children running around where I used to at their age. It comes full-circle, you know? I wouldn't change it for the world."
Quigley was a highly-rated youth prospect entering his mid-teens at Belvedere. A move across the water came as no real surprise, but a pleasant one nonetheless. He admits that it just felt natural to move to a Championship club. The next step in his life and in his progression, nothing more to it.
But while his extraordinary talents scoring goals and outclassing other players two, three, four years older than him earned a dream ticket to London before he even turned 16, some of his friends did not have the same opportunities to live out their own fantasies.
"Some of my friends that I grew up with and went to school with just went down the wrong path," he reflects. "Some of them took drugs, some of them are in prison for doing bad things. Some of them are dead.
"Then I've some friends that I'm actually managing now at Sheriff. They were still my friends growing up, regardless of anything. They were amazing, the funniest people I ever knew. They just went a different way than me. They didn't play football, they didn't get the chance to go to England.
Some of them stayed in Dublin and just got in trouble with the police and stuff like that. And I think that's what it's like in every area. Not everyone you grow up with is going to be a professional footballer or is going to have a great job, or stuff like that. I don't think there's many groups of friends where that actually happens.
"Certain friends of mine, they did get in trouble but they'd still be best friends of mine to this day. We just went different ways, and I'm sort of glad it worked out that way for me, because if I stayed in Dublin at the time things might have turned out differently.
"I might not have stayed playing football and gone into the League of Ireland. I probably would've… you know if you hang around with the wrong crowd… not the wrong crowd… but if you're seeing stuff happening, you're probably going to do it as well. So I got out at the right time, to tell you the truth. For me football was always an escape."
It's an awful cliché, but football was life for Mark Quigley growing up. The 32-year-old says there isn't any motivational story of spendings hours and hours after training trying to earn his move to England. More than that, football was a 24/7 presence in his life as a child and as a teenager on Railway Street in Mountjoy.
"I just loved playing football, it was all I knew. I used to come home from school and get straight into a tracksuit. Where I lived in the flats there was a tarmac pitch two seconds across the road.
"Every single day I would go there and just kick the ball and play on my own. There was never anything else I was going to do. I remember being in school when I was about 14-years-old, the teacher asked us all what we wanted to be when we left school, you know: 'what's your job, what career are you going to do?'
I said that I was going to be a professional footballer, and the teacher laughed at me. And I was like 'eh no, I'm serious, I'm going to be a professional footballer'. It wasn't about proving people wrong or anything. It was just something that I knew I was always going to do, because I loved it so much. And I knew that I had a talent for it on some level."
"For me it wasn't even about putting in extra hours," he adds. "Where we lived, everyone just played football all the time. There wasn't a lot else to do. We would come home from school, play football every evening. Weekends were the same, play football all day. Play it at the youth club too. So it wasn't really got to do with extra training or anything — I literally played automatically from morning until night.
"It was just a natural part of your daily routine, you didn't even think about it that much. It wasn't a chore either, it was just second nature. I loved doing it, and still love doing it now, to tell you the truth.
"When I'm taking sessions with Sheriff I still dive in when I can if we're missing a player or there's odd numbers. I love getting involved. It's my passion, and when it's your passion it's not a job or a chore — it's something you love doing, and that's the way I've always been with football. Even still today. It's how I've always been."
The striker has some brilliant memories from his days growing up in Liberty House. The tarmac pitch across the road from the flats was a hive of sporting activity and the kid's stage to live out their dreams of being footballers.
Wes Hoolahan was there too, he says. The former Ireland international's rise from League of Ireland starlet for Shelbourne, through Livingstone, Blackpool and Norwich all the way up to the Premier League is well known.
However while most people just saw a gifted footballer swing in a beauty of a strike to put Ireland ahead against Sweden at Euro 2016, there are many who don't know about the playmaker's grit, determination and remarkable dedication to claw his way to the top of the game as the ultimate, born-and-bred street footballer.
Me and Wes used to play against each other in five-a-sides. We would play tournaments with each other and against one another and stuff like that. I know exactly what type of footballer Wes Hoolahan is because I've seen it first hand. We used to play against each other in a tournament held every summer in the flats.
"I even remember him getting chased around the flats one time because he was so good and after dishing out a hammering that five or six of these lads got pissed off and actually chased him out of the park," Quigley laughs.
"He was only a few years older than me, but I always thought he was an amazing player. I was going over to England and he was still at Shelbourne at the time. I remember saying to one of the coaches at Millwall 'you have to get this fella over, Wes Hoolahan. He's one of the best players I've ever seen, how he's not across the water, I don't know'.
"But then he ended up getting his chance when he was 24 or 25 at Livingstone. The one thing you can say about Wes is that he worked hard for his career. He worked hard for the life he's made for himself. He started right at the bottom. He was playing in the First Division in Scotland at the time and he worked his way up through the lower leagues in England.
He did work hard for it, to tell you the truth. He started at a low level and ended up getting to the Premier League — and was really good with Norwich and was amazing for Ireland. He was a brilliant player, Wes, and a brilliant person."
Quigley's own career got up and running with that move over to London. He actually signed for Millwall four months early, he says. Players normally sign their first contract when they turn 16, but the Championship club's officials were keen to get the young player out of Dublin, where the potential to get in trouble was a real worry.
In total the forward played 10 games for the club, making his Championship debut at 17-years-old before repeated back injuries which would haunt him later on in his career, combined with manager Mark McGhee being replaced with Dennis Wise, meant it was only a four year stay.
He loved every single minute of it though. Quigley would jump out of bed each and every morning, realising even as a teenager that he was given an extraordinary opportunity to make his dream to be a professional footballer into a fully-fledged reality.
There were funny times, too. Richie Sadlier had joined Millwall in 1996 and was an established figure in the squad. The striker took a young Quigley under his wing and took care of him, even making the new recruit look after his house so he would not be tempted by the English capital's glowing nightlife.
"He definitely looked after me," he says of Sadlier. "As soon as I went over — I hadn't even signed my contract, I was still on trial — he brought me to an Oasis concert, which was amazing. Stuff like that was brilliant, you're going out meeting other Irish lads. I was only 16 at the time but you're finding your way around London, getting the Tube around, having nights out.
"Guys like Tim Cahill and Paul Ifill and Steven Reid, really top footballers were all around you, and I'm just there in the middle of it mixing it with the lads. Richie really did take me under his wing and helped me get to know all the other lads and fit in with the squad. He really looked after me over there.
You have to watch out for each other when you're away," Quigley says. And older lads like Richie have been through it. Like you, they've come over at a young age and left their life and their family back home in Ireland. They know how tough that is, so when you have an experienced person like that — even the English lads as well — they all helped me along and took a liking to me, which felt good."
And the stories of minding Sadlier's gaff in London?
"Yeah… it was to keep me in," Quigley laughs. "He made me mind his house so I wouldn't go out. But I used to sneak a few cans in on the sly and would be sitting on the floor happy out drinking by myself.
"And I'd stay up and wait for him and all the Millwall lads to come home from their night out. It was like that for the first few months I was over there, because I had only just turned 16. But then after a while Richie said: 'right Mark, come on, you can come out with me', which was amazing."
Unlike a lot of Irish footballers who get their move across the water as a young teenager only to return back to these shores a few years later burnt by their experience in English football, Quigley laments his time at Millwall.
The Championship was physical and demanding, and instead of getting into mischief or enjoying London's various clubs, pubs and bars with a new lease of independence, the player just went to training and slept afterwards, woke up and repeated the cycle for his first two years at The Den.
"To be honest I just thought it was the next stage of my life," he says. "I thought it was something I wanted to do and I believed it was something I had to do. I did miss home and I tried to get back to Dublin as much as I could. My girlfriend used to visit as much as she could too. It was tough, I'm not gonna lie. It was, but at the same time I was loving doing what I was doing. I wouldn't have changed it.
"I would have much rather been living where I was in London playing football at 15, 16, 17-years-old than back in Ireland. I probably would have been getting into trouble if I had stayed. But I'm glad I went, and it was an amazing experience being over at Millwall for four or five years. I'm thankful for the experience I had. Every coach, every single player and team-mate were amazing to me.
But it was literally just training and going home to bed," he laughs. "That was it. I literally slept for the first two years over there. I used to just finish training and be home by 1.00pm and go to bed. I know you're young and there's places you want to go, but honestly you're just so tired… your body isn't used to training every single day at that intensity, training during pre-season as well.
"Your body isn't used to doing that. Back in Ireland you're only training maybe twice a week and then have a game at the weekend. The tempo isn't as high either and the intensity is so much bigger in the Championship, so you need your little power naps. But I was turning power naps into five or six hour sleeps! But after awhile you get your bearings and you start to leave your digs and you get out into the city. London is a big place and was a great location for a young fella to live."
Leaving Millwall was almost a mutual decision, he says, owing to a slight sense of homesickness and knowing his time at the club had reached its conclusion. He had come as far as he would at The Den and would need to progress his career back home.
"It was more of a mutual decision," he says speaking about his exit. "There was an offer there for me on the same terms, but I was sort of missing home at the time and only had a couple of months left on my contract. I was dying to get back home, so I just sort of said to them: 'listen, can I go back to Dublin?' They said I could, but said that I couldn't sign for another English club.
"They weren't going to just let me go and then have me snapped up for free by a rival. But I did end up sneaking over to Leeds for a training session. Not many people know this, but I did sneak over to Leeds after I told Millwall that I wanted to go home.
An agent just happened to meet me out of the blue, I think I was drinking the night before and I got a phone call that night at like 10.00pm saying 'would you fancy going to Leeds in the morning?' So I stopped drinking and went home and got ready to go to Elland Road. I can't remember his name, but this agent picked me up at the train station, drove me to Leeds. I trained with the first team, Kevin Blackwell was the manager at the time. I did well, I did really well, enjoyed it.
"But I had already made up my mind that I wanted to go home. So I literally jumped into the shower, got changed, jumped into the car and just told the agent to quickly drive away before anyone saw me sneaking off. But Blackwell spotted me running off and said 'hey, where are you going?!' I was just honest with him and told him that I was going home.
"He told me that they wanted me to stay for longer, but I said that I just wanted to go. I was there before, I was up at Leeds for a few Milk Cup games when I was 15, but I chose to go to Millwall. So, you never know what could have happened — could have had a great career with Leeds," he smiles.
It was like starting from scratch back in Ireland, he says. With hindsight, the chapter after Millwall is the beginning of an immensely successful League of Ireland career which would take in every single domestic honour up for grabs, night's in Europe, individual honours, playing in Berlin's 74,00-seater Olympic Stadium, and scoring goals for fun en route to repeated success.
But arriving back from London he was not to know what lay ahead, instead wanting to just return to where it all started — Sheriff YC — to just play football with his friends back where he felt at home in north Dublin.
His obvious talent wouldn't allow that, however, with a coach at Sheriff urging St Patrick's Athletic boss Johnny McDonnell to snap up the 19-year-old immediately. McDonnell seeked the approval of Brian Kerr — Quigley's manager at Ireland underage level — and the Saints boss signed the striker without even watching him play a minute of football.
"Aw I absolutely loved it at Pat's under Johnny," Quigley smiles. "Johnny is probably the best manager I enjoyed playing under.
He just knew how to treat me and how to deal with me. Other managers probably didn't know how to deal with me, because I was a bit of a character — I'd be flying around and I would by hyper and I'd be joking and messing with the lads.
"But Johnny just knew how to take me, and he got the best out of me because of that. I probably played my best football under Johnny. I was only 19 or 20 at the time when I won the PFAI Young Player of the Year, but it was amazing.
"I remember when I signed for Pat's in 2006 I was training with Sheriff and the League of Ireland wasn't even on my radar one bit. I just wanted to train with my mates and, to be honest, I thought I was just going to sign with Sheriff when I came back from Millwall and play junior football. I wasn't really bothered playing in the league, I was just happy enough to train with my friends.
"But the manager at Sheriff knew Johnny very well and he told him: 'he can't sign for Sheriff' So Johnny talked to Brian Kerr about me, because Brian would have been my manager with the underage Irish teams.
"Brian spoke highly of me, Johnny rang me straight away and offered me a contract without even watching me play. So that confidence was a great boost, and I just thought 'alright, gowan I'll give it a go'.
"I wouldn't have been a starter in my first year. I was competing with amazing guys like Gary O'Neill and Joseph N'Do up front. I was confident though that I could break into the team and in my second season scored something like 25 goals in all competitions. It was a really good season for me in 2007 for a young lad. I won Young Player of the Year and got in the Team of the Year as well, which was brilliant."
One goal cannot be unmentioned, and Quigley is more than happy to provide the narrative. St Pat's had drawn 2-2 away to highly-rated Swedish side Elfsborg in the second qualifying round of the Uefa Cup after a thrilling first leg.
In the second leg the visitors snatched the lead, going 3-2 ahead with a goal from playmaker and Sweden international Stefan Ishizaki. A finish from Jason Gavin with four minutes remaining put the Dublin club ahead on away goals. But Quigley's injury time goal when Pat's were backs-against-the-wall clinging onto their advantage is easily one of the club's most iconic moments. A sold-out Richmond Park erupted into a sea of red and white noise as the striker walked the ball into an empty net with his arms in the air after rounding goalkeeper Johan Wiland.
It was absolutely amazing. The place was packed, I had my da there, my cousin too. They came and watched it. Elfsborg ended up taking the lead. They scored first and went 3-2 up on aggregate. Jason Gavin scored late to make it 1-1 on the night, so we were ahead and would have went through on away goals.
"But it was still nervous in injury time because if they had nicked a late goal, that would've been it. We were winning on away goals but if they scored again it would have been 4-3. So late on we had them on the break… actually I don't think we were even on the break, Alan Kirby had a hopeful punt up the pitch, their defender left it and didn't realise I was behind him.
Source: St Patrick's Athletic FC/YouTube
"I snuck in out of nowhere and just knew, in my head, that I was getting there before their goalkeeper no matter what. So I managed to get a toe to it and the goalkeeper was gone — all I had to do was walk it into an empty net. And I remember not knowing what to do, I was going to bend down on the line and roll it in all cheeky with my head," he laughs.
"I had so much time after I rounded the keeper I didn't know what to do. So in the end I just started celebrating before I even put it in the back of the net, sticking my arms in the air. The fans… jesus the place was absolutely packed. It was one of the best feelings I've ever had on a football pitch, definitely top five.
That whole European run, I think we played six games and I was lucky to have scored three or four goals. I did well during those games and I just remember Keith Fahey having an amazing campaign as well that year and he ended up getting his move to Birmingham, which was just unbelievable and the whole career he had afterwards too.
"I would've been very close with Keith at the time and it was so great playing with him. I think he probably assisted more than half of my goals at Pat's that season. We were a good partnership, we would've been on the same wavelength.
"It was good times under Johnny, the only downside of it was that we never won anything in terms of trophies. And I think for the squad of players that we had… I don't know how we didn't win anything. We had a really, really top squad — one of the best I've probably played in throughout my career. It was an amazing Pat's side, but at the same time competing against us was that incredible Bohemians team around 2008, 2009 that just always seemed to pip us."
After St Pat's came a year at Bohemians in 2010, followed by a season at Oriel Park with Dundalk. Many would point to the 2012 title-winning campaign with Sligo Rovers as Quigley's greatest, but the striker maintains that he played some of his finest football for the Louth club.
Source: BoyleSports/YouTube
His form with Dundalk earned him the move to Sligo, and that 2012 campaign is where so many of his career highlights lie. Quigley scored a dramatic injury time penalty against title rivals and former club St Pat's to clinch the Bit O'Red's first Premier Division title in 33 years. He describes that goal, apart from his wedding day and the birth of his kids, as one of the greatest moments of his entire life, and without a shred of doubt the greatest feeling of euphoria he has ever experienced on a football pitch.
Ian Baraclough's side — boasting stars like Quigley, Joey N'Do, Rafael Cretaro, Gavin Peers and Danny North — stormed to the title in a heated battle with St Pat's. The fact that the victory which secured the title came against their title rivals was a script which Quigley was happy to complete when his side were handed a dramatic penalty in the final minute, when Conor Kenna was judged to have handled the ball.
Some players would wilt under the pressure of a penalty to hand a club like Sligo their first league title since 1977. But Quigley had no doubts, none whatsoever. Listening to the away supporters and listening to the jibes of St Pat's players trying to put him off as he prepared to take the spot-kick, he soaked it all up. Every single ounce of it. 
Quigley says that he never understood the stick that he received from Pat's fans during the game, but that it might have only been natural. "If they're booing you and giving you stick, you must be doing something right as an opposition player," he says. "It means they see you as a threat."
Quigley stood over the spot-kick, a league title in the balance, and calmly and cooly dispatched the ball past goalkeeper Barry Murphy — winning Sligo their first title in three and a half decades in the final minute at an electric Showgrounds.
"It was the best feeling I've ever had on a football pitch by far," he says. "When anybody is ever playing football with their mates or talking about football, they always talk about getting a peno to win a final or to win a league — and I actually did it. I can tick that off the bucket list. I've went on a pitch and walked off it having scored the penalty to win a league, which is unbelievable. I still think of it to this day.
"I was confident. I remember just grabbing the ball and saying 'yeah, lovely stuff, I'm going to win the league for us now here' — that is honest to God what was going through my mind at the time. I was like 'lovely, I'm going to get all the glory here, I'm going to win us the league', he jokes.
"And that's the way it was. I thought to myself, 'there is no way I'm missing this'. And I didn't, I went up confident. I think if you are confident taking penalties, 99% of the time you'll score. That's the way I always thought about it.
"I had a few small little mind games with Barry Murphy the Pat's goalkeeper. I think he thought I was cocky enough to go and chip it panenka-style down the middle! I was confident but not that confident. Murphy and Sean O'Connor and a few of the Pat's lads were giving me a bit of stick as well trying to put me off. But I just played along with it, you know?
I knew that no matter what they said to be, this ball was ending up in the back of the net. It did and it was an amazing feeling. It was amazing as well because it was against my old club Pat's. I used to get a lot of stick, and I don't think I deserved it really having played for four seasons beforehand.
"I tried my hardest for Pat's and we had some amazing nights in Europe together and had some brilliant cup runs. But obviously they took offence at me going to a rival by joining Bohemians the following season, but it was just something I had to do at the time.
"I was getting a lot of stick off the fans during that game against Sligo, so it was really good to score that penalty to win the league… and celebrate in front of them," he laughs. "To tell you the truth though, the stick from fans didn't overly affect me throughout my career. When fans gave me stick, it motivated me more to go out, play well, play better and prove them wrong. 
Source: Trevor Coen/YouTube
"I think when the fans go quiet on you as an opposition player, then you're probably not doing what you're supposed to be doing. In a weird way I was lucky I got that bit of stick throughout my career… it reminded me that I was still relevant and had something to offer, that I was still a threat to opponents. I would take it as a compliment."
"It is like something you dream about when you're a kid," he adds on the league-winning penalty. "There were so many things going on with that goal… scoring in injury time, scoring against your former team who are battling you for the title too, scoring to win the club's first league in 35 years. Pat's were second in the table at the time, so if they hung on for a draw or if they had beat us then the league was right back open.
We needed to win that game to win the league, which we did. It was amazing… amazing. And I was delighted I won it with Sligo, because it was over three decades since they'd won a league title, so it was very special. It was a great place to play my football, I loved every minute of it there."
Quigley was named PFAI Player of the Year in 2012, a satisfying feeling to follow up his Young Player of the Year accolade five years beforehand. He says that being in a small band of Irish footballers to win both makes it an achievement he is particularly proud of. Not only for the awards themselves, but because it showed a level of consistency across a number of years, and not just having a lucky campaign. It was evidence of a proven footballer who had reached a sustained level of success, both as a team player and as an individual goalscorer.
After Sligo came spells at Shamrock Rovers, St Pat's, Derry City and Bohemians. None of those final four seasons came close to capturing the magic of previous years, even though Quigley did pick up six trophies during that time — an EA Sports Cup, Leinster Senior Cup and Setanta Sports Cup in Tallaght, an FAI Cup with St Pat's the second time around, as well as another Leinster Senior Cup and a President's Cup in Inchicore.
He says that he regrets not picking up another league title after achieving it with Sligo. The teams he was part of at both Shamrock Rovers in 2013 and St Pat's in 2014 were good enough to go all the way, he says. But it just was not to be.
On a personal front, injuries hampered his progress. The striker also turned down an offer from FC Dallas after his successful time in Sligo, instead choosing to sign for Shamrock Rovers in order to stay close to his wife and newborn child in Ireland rather than move to the United States.
Injuries persisted, and after a stop-start final campaign under Keith Long at Dalymount Park, he called it a day — his final League of Ireland match being played away to Finn Harps on his 30th birthday in October 2016.
My final few years in the League of Ireland is a strange one," he says frankly. "I had surgery on my back after an FAI Cup quarter-final with St Pat's against Bohs in 2014 and was just never the same afterwards. I lost that bit of pace and it made all the difference to my game.
"Your brain is going a hundred miles an hour, but your body can't keep up. I was like that towards the end. The surgery took about 10 yards of pace off me. I just couldn't believe how slow I was after getting. I could still do the technical stuff, that area of the game. Any balls that were fired at me I could control it just like before, my passing was still not a problem. But that little bit of sharpness and that change of pace, that quick burst of acceleration was just missing. I just didn't have it anymore and I had to alter my game because of it."
It is quite incredible the level of success the Dubliner achieved having retired at just 30-years-old. He is happy to state that he claimed every honour up for grabs, but admits that perhaps another league title or two could have happened with the incredible teams he says he was thrilled to be a part of.
Source: John Rainey/YouTube
But another area he says he is particularly proud of during his career was pulling on the green shirt and representing his country. A senior cap eluded him, despite Giovanni Trapattoni name-checking Quigley after coming to see an U23 game against Northern Ireland.
Discussing his international career, where he shared the pride of the green jersey with the friends and family who had been there to support him throughout his career, he comes back to growing up in Liberty House as a kid in north Dublin.
"Lads coming from the inner city… it doesn't happen very often that guys like me get to play for Ireland," he reflects.
"It was amazing playing for Ireland at all the levels I was fortunate to. I remember Brian Kerr gave me my first caps when I was around 16, he was the U18 manager at the time. I think I started all three games at a particular tournament and did really well. Off the back of that Brian picked me for the U19 squad as well a month later. We had an away game in Hungary and I started that aged 16.
"So Brian rated me, and it was just an amazing time being in squads with older Ireland lads like Glenn Whelan and Paul Keegan and Stephen Bradley. Really, very technical players. Then we had players at my own age group like Mark Yeates and Willo Flood and Richie Ryan.
A lot of us didn't progress to senior level. I played at every level up to U23, but I never got that senior cap, which I just would've loved to get. It just never happened. I remember Trapattoni coming to see a game with the U23s against Northern Ireland and he was impressed.
"But he was never really going to play somebody from the League of Ireland. He sort of spoke about me and said I was a good player and that he liked me and stuff like that. But I was never confident in him giving me the chance to actually do it. I think he was more just saying it to please people, showing people that he'd actually gone to an underage game.
"But playing for Ireland was unbelievable. I'm proud to say I got to every level up to U23. At U21 level I got a couple of caps and got play against Portugal (led by future Barcelona and Inter star Quaresma).
"At that age lads like Stephen Elliot and Richie Ryan and Glenn Whelan were really, really top players. Amazing players. Sometimes it annoys me when a lot of Irish fans batter Glenn Whelan a bit. I remember playing with him thinking 'this fella is just unbelievable. His passing was always perfect, he never gave the ball away. He was a player I loved knowing would be by your side and that you could reply on as a striker to put the ball in the right spots for your runs. He's a good fella, as well. I saw him only recently and he said hello. I was hoping he still remembered me," Quigley laughs.
I played with a lot of really good technical players around that age group with Ireland, but just never really progressed. Certain things happen when you get to a certain age. I don't know what happened, to tell you the truth, but at that age 16, 17, 18 — we were a very good bunch.
"A lot of lads made it, but some of us didn't, you know? Sometimes it comes down to a bit of luck, a goal not going in or a certain injury knocking you back. Some things happen that are just beyond your control, and that's frustrating. You can get injuries at the worst possible time, you can get a manager that comes in that mightn't pick you. Stuff happens."
Not getting a senior cap is a regret, he says. But he doesn't have too many following a career in which he achieved every single domestic honour, backed them up with consistent individual awards, represented his country for a number of years, played and scored in European competition, consistently made Team of the Years and squeezed four years in England at the very beginning of it all.
Quigley is still just 32-years-old, but says that he temporarily lost a love for the game following the end of his own playing career. Being disconnected so suddenly from something he had done every single day competitively from the age of 15-years-old at Millwall was incredibly difficult.
But taking over at Sheriff YC as manager, the club where his journey began, coaching young players and trying to help them realise their potential by bringing in new ideas alongside his own experience in the game is incredibly rewarding, he says fondly.
For Mark Quigley, football was just such a natural process from a very early age. A process that became a devotion which he still prides to this day. In an utterly ruthless industry which uses talented young players as assets, where the line between failure and success is the width of a post, he has maintained an incredible love for the game and one which is clear to see speaking with him for any period of time.
Coming home to Liberty House as a kid, quickly getting changed into a tracksuit and heading out to the tarmac pitch across the road to play, football was a 24/7 obsession right from the very beginning. Most players aren't fortunate to make it to a single cup final, let alone boast the riches which the Dubliner has collected throughout a glittering career.
"I think I did achieve a lot and had a good career," he says. "I did what I set out to do. I became a professional footballer like I told my teacher I would when I was 14 in school, and that's it really. Once you win everything you can win in this country, that's all you can ask for."
The42 is on Instagram! Tap the button below on your phone to follow us!