LEINSTER WOULD HAVE loved to play at the RDS last weekend when the Sharks were in town but The Boss was busy wowing his fans in Ballsbridge.
So Leinster had to host their URC quarter-final at the Aviva Stadium, where they limited the capacity to 19,000 and had fewer than 15,000 present in the end to watch them run five tries past their South African opposition.
"We knew it was going to be like that at the start of the week," said Leinster back row Max Deegan of the experience against the Sharks.
"It was always going to be the case with how many games we had in a row in the Aviva. People aren't going to be able to go to every single one every single week, it's just not going to happen.
"So we said just drive the energy from within for this week and then try to bring as much energy to the crowd even though it doesn't matter how much there is in the ground because we're used to playing in crowds of similar size in the RDS."
Tomorrow, things should be considerably more lively and louder as Leinster welcome Munster to Dublin for the semi-final. This time, the capacity has been set at 29,000 and Leinster are excited for things to go up a level.
"We're hoping for as many as we can because we know Munster are going to bring up bucketloads from Munster, so we're just hoping for as many fans as we can possibly get cheering us on," said Deegan.
Even with the expectation that they'll rest their frontline players ahead of the Champions Cup final next weekend, Leinster will be favourites once again as injury-hit Munster look to pull off a surprise win.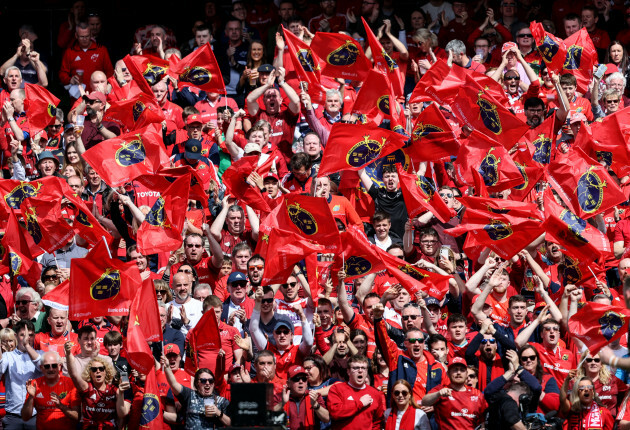 Dan Sheridan / INPHO Munster fans in Dublin at last year's Champions Cup quarter-final. Dan Sheridan / INPHO / INPHO
But there's real respect for Munster within the Leinster ranks, insisted Deegan.
"I thought they were savage over in South Africa [where they recently beat the Stormers and drew with the Sharks]," said the Ireland international. "You know, doing what they did over there is really difficult.
"We went over there and we found it very tough, they were going up against two class outfits in Stormers and Sharks and to get the results they needed takes a lot of guts.
"The way they played, they were really abrasive, physical, the Munster of old, but taking into account the new attacking style they are trying to bring in."
He believes that Munster will go to another level this weekend with little pressure on Graham Rowntree's team.
Leinster have had to get used to teams lifting themselves in Dublin.
"Stuart [Lancaster] would talk about when teams come to play us, they are going to bring their best performance because they know they're going to need that to beat us.
"So we're always expecting that in the teams we play and it's nothing different for Munster. Sure it's Munster-Leinster, you don't need anything else than that old rivalry to get going."
Billy Stickland / INPHO Deegan scoring against the Sharks. Billy Stickland / INPHO / INPHO
In the back row battle, Deegan is looking forward to coming up against Munster number eight Gavin Coombes, who has been named in the URC's Elite XV for this season.
"He has played well," said Deegan. "I think they look to him a lot in attack.
"They'll feed him the ball as much as they can because they know he's a really good ball carrier and he is a very good ball carrier.
"You know his size and strength, really that's his kind of game. He is not the most unbelievably quick but it's unbelievably effective because of how big and strong he is. He is playing really well at the moment. So you're going to tip the cap to him."