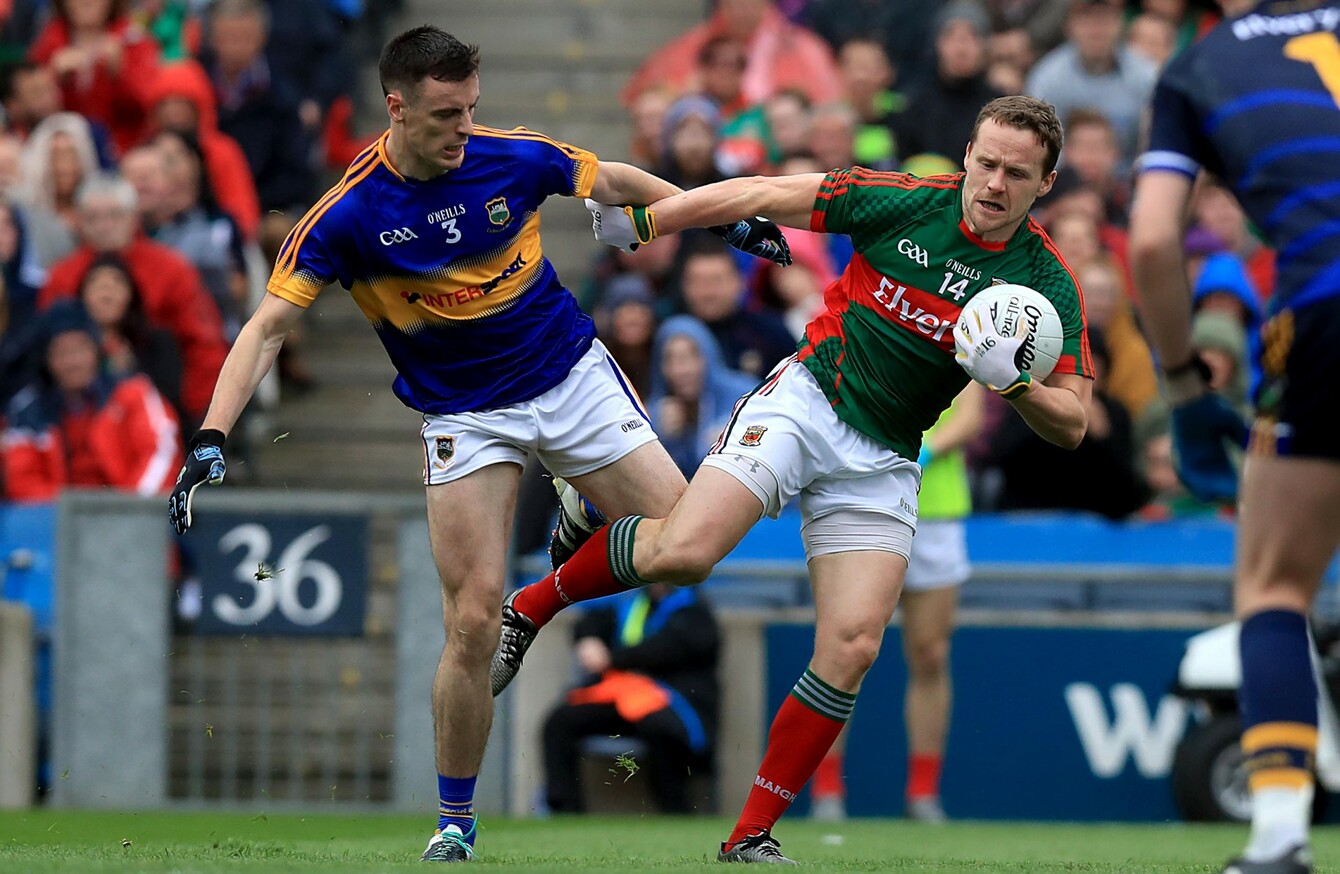 Mayo's Andy Moran and Tipperary's Alan Campbell in opposition in Croke Park.
Image: Donall Farmer/INPHO
Mayo's Andy Moran and Tipperary's Alan Campbell in opposition in Croke Park.
Image: Donall Farmer/INPHO
THE LAST TWO years Mayo have been involved in All-Ireland semi-finals that will be remembered for generations to come.
After those classic games, they were praised for the football they played but it didn't get them victories and they bowed out of the championship.
Semi-finals are there to be won and that was the critical thing Mayo aimed to achieve yesterday in Croke Park. They weren't convincing – just like they haven't been all year – but they're getting the job done. That might not be a bad thing before the big one next month.
We didn't really see enough quality on a consistent basis from Mayo yesterday. Lee Keegan, Colm Boyle, Aidan O'Shea, the O'Connor's are all great players but we only saw them in spells yesterday rather than in full flight.
Andy Moran was fantastic. He's always busy, always hungry for the ball. I watched him very closely against Kildare earlier this summer and the runs he makes to get free for the ball are just brilliant. We saw that again yesterday.
He'll make three or four really hard runs, then all of a sudden he's got away from defenders to provide an outlet for the deliveries from outfield. He's a real worker which these days is so valuable in Gaelic football. At 33, Andy looks to me like a guy who is playing every game like it's his last. He's been to the well so often and keeps going.
The little things didn't go Tipperary's way yesterday with Mayo getting that bit of luck. The second goal killed off the game but there was plenty fortune to it. The black card to Robbie Kiely was another massive setback for Tipperary, he was so impressive for them against Galway.
Before the game I had wondered would we see Tipperary tweak things and go a little more defensive. They didn't do that and I was impressed that they stayed true to themselves in that way. Several aspects of their game were good but the big difference was in front of goal. They created plenty chances but needed to convert a high percentage of them, which didn't happen.
Tipperary have been a revelation this summer. They played open expansive football and provided great entertainment value. They were breath of fresh air. I hoped they'd do themselves justice yesterday and they did just that.
The big task for Tipperary football is trying to get back to that stage. We've seen with Fermanagh in 2004, Wexford 2008, ourselves in Kildare and Down in 2010, that there are no guarantees teams will return to that stage.
Their captain Peter Acheson is going travelling now – something he's well entitled to do – and he'll be a major loss. I found with Kildare that when expectation grows after a good season, it can be difficult to rise to it. In Kildare, we pushed so hard each year but then slipped back and regressed.
When they went six points down yesterday, I was concerned that Tipperary could be in big trouble. But in fairness, they have proven consistently that they are a team that don't lie down. They fought back and made a real game of it in the second-half.
From playing point of view, yes they will be very, very disappointed. It was a massive opportunity to reach an All-Ireland final and of course no one knows what next year will bring. But still when they consider this game and the season in a couple of weeks time, they will take a lot of satisfaction from 2016.
Even with all the players they lost this year, Tipperary never made any excuses and ploughed on. That attitude to me was refreshing. They stuck with who they had and never worried about who they didn't have. It gave an opportunity for other lads to stand up and make a name for themselves.
I always felt if you're a weaker county, that there's a lot to be admired in going down fighting against a bigger county. Tipperary definitely did that yesterday. In time Tipperary will know they did something really special in contesting a Munster final and an All-Ireland semi-final this year.
There's a lot to build on for 2017 and getting to Division 2 will be their first priority. I think their achievements will also be a lift to other counties who will strive to emulate Tipperary.
Mayo will head back home and know that they are in a good place. They're sitting quietly and back where they want to be. It's a massive achievement for them to reach another final, no doubt about it. That consistency they've displayed over the last number of years has been really impressive.
You have to give Mayo huge credit, they keep coming back. Certain people will mainly point to the fact that they have fallen at the final hurdle. I don't buy into that, it's not easy to be there every year pushing hard in August and September. The players shipped criticism as with the change in management.
They put themselves under big pressure – and that pressure increased when they lost to Galway – but they've stood up to it. Nobody would deny Mayo an All-Ireland title but they'll be focusing on how they can manage to land that big prize next month.
The42 is on Snapchat! Tap the button below on your phone to add!