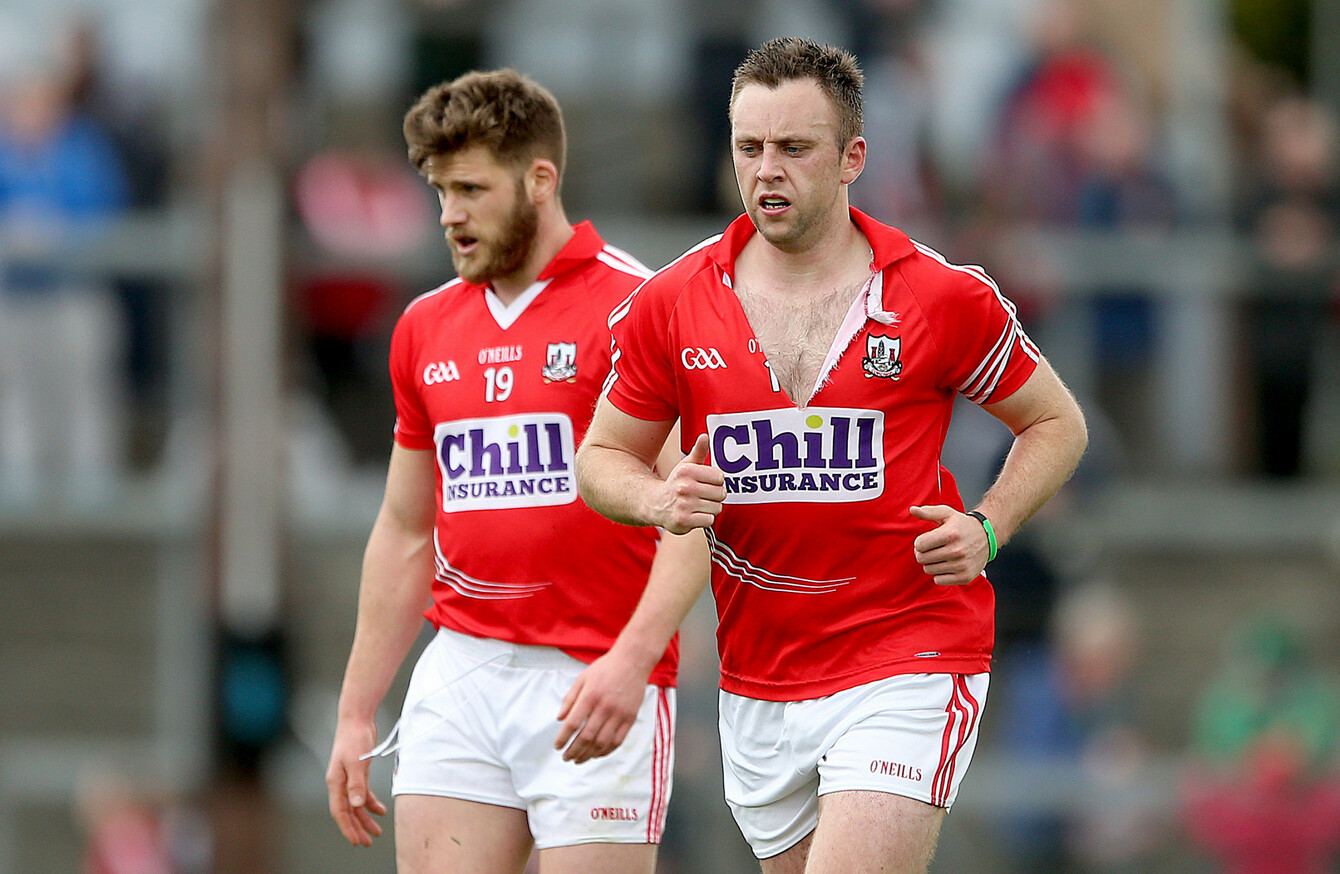 Image: James Crombie/INPHO
Image: James Crombie/INPHO
CORK FOOTBALL CAPTAIN Paul Kerrigan says the beaten Munster finalists will 'give it a good lash' when his side square off with Mayo in Limerick tomorrow.
In an interview with Lisa Lawlor which was broadcast on Cork's RedFM this morning, Kerrigan said of the Round 4A draw, "We're going to have to face the top teams at some stage, and this is as good a round as any to try catch them."
First, however, the Nemo man reflected on Cork's rather paltry offerings in Killarney almost three weeks ago, with he and the Cork squad having already reviewed the 1-23 to 0-15 defeat and 'driven on', per Kerrigan.
"I suppose, in very simplistic terms, we had just as much chances as Kerry looking back on it," he said. "We just need to, in one way, just take our chances when they come.
There have been plenty of teams creating chances against Mayo – the likes of Derry and Clare and that – so hopefully when the chances come, we're going to have to take them. And in another way, we'll probably have to bring that bit more intensity around the middle third, and maybe not let them play like we probably left Kerry play."
Kerrigan admitted that Cork had found themselves working on their fundamentals since their expected and emphatic defeat to the old enemy, and that in spite of having numbers back at Fitzgerald Stadium, Cork probably stood off Kerry too much. Their wides, too, proved costly, and so it was back to the drawing board in recent training sessions.
"Definitely a lot more shooting practice has been done," he says, "as well as our work rate around the middle of the field as I said. We had plenty of bodies back, but when we were back we weren't as effective as we could have been.
"So it's about getting more physical and hands-on, and being a bit tighter as well maybe on their key forwards, whereas the likes of [James] O'Donoghue and [Paul] Geaney – we probably weren't as tight on them as we could have been."
As for team knows, which will be released on Friday evening, Kerrigan all but ruled out St Jude's adoptee Niall Coakley, before adding of Cork's battles with injury: "It's not as bad as last year, to be honest with you. There's always one or two casualties, like. We have more or less a full deck, I'd say definitely 33 or 34 to pick from.
"In all of our games, even Kerry, we've gotten a good reaction off our bench," Kerrigan continues. "If we can go toe-to-toe for 55, 60 minutes, hopefully our bench can come on and finish the job."
As for the general state of the Cork team, Kerrigan remains adamant that they'll turn the corner eventually, and suggested Mayo are likely under more pressure than Cork this weekend.
"Fellas are doing an awful lot right. I think it'll come right one day, and hopefully now that'll be Saturday. It's an opportunity for us to have a good go off it.
"We played them last I think in 2014, and it was a pretty close game. We've played them in the league a couple of times since, and we've beaten them, they've beaten us, and we've drawn with them as well. So, it has been pretty close.
We've a hard draw but look, they're under a bit of pressure. Time is probably running out for a lot of their fellas to get their All-Ireland medal that they've been pushing for. So hopefully we can start well, maybe quieten their crowd, and that might put a bit of doubt into them.
"We're going to go out and give it a good lash anyway."
The42 is on Instagram! Tap the button below on your phone to follow us!
Problems with goal scoring have hurt Cork all year, it'll be key to their hopes against Mayo