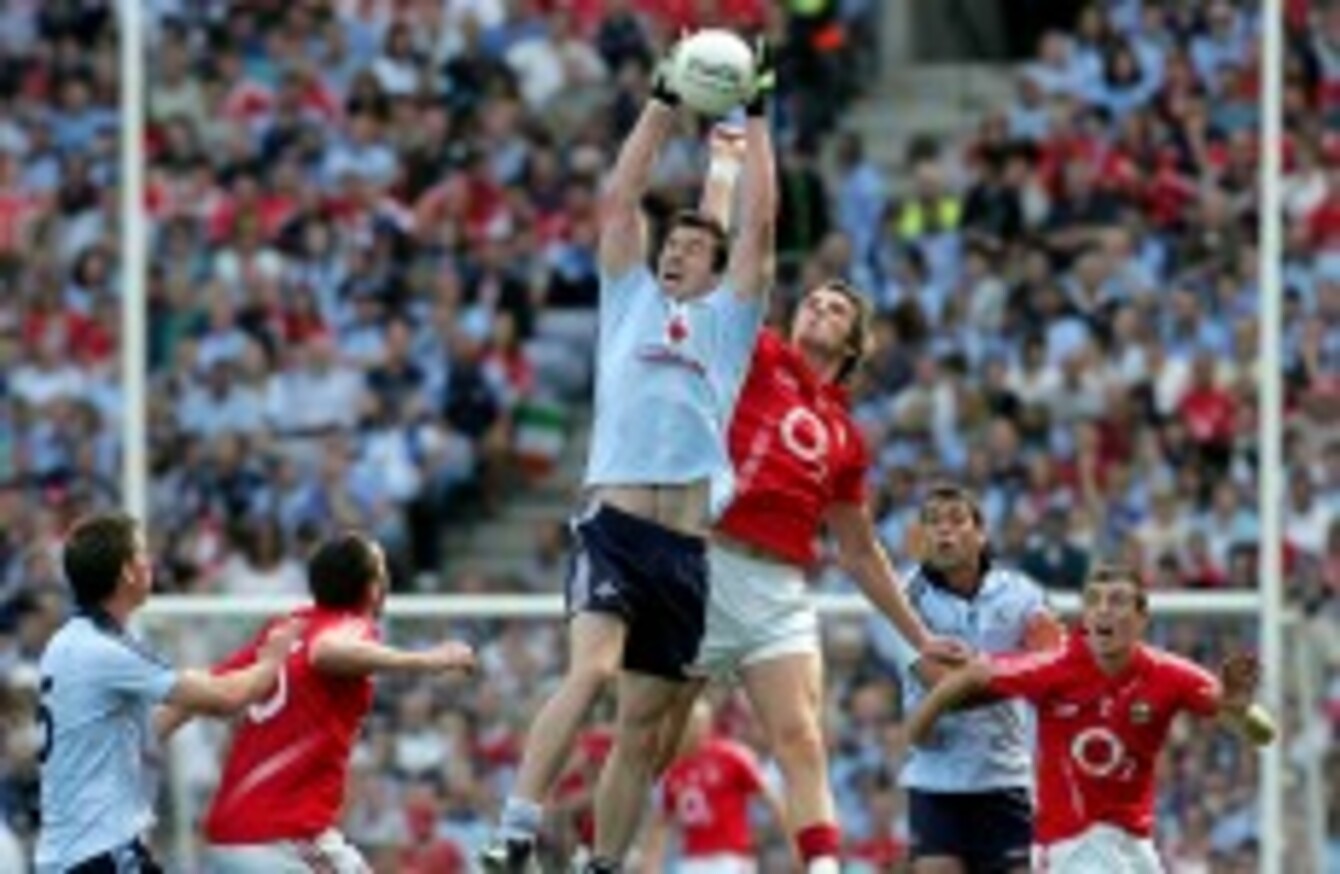 Cork's Aidan Walsh and Dublin's Michael Darragh MacAuley.
Image: INPHO/Ryan Byrne
Cork's Aidan Walsh and Dublin's Michael Darragh MacAuley.
Image: INPHO/Ryan Byrne
TWO OF GAELIC football's leading midfielders have voiced their opinions on the proposed introduction for a mark in 2014.
The proposal is to go forward to GAA Congress in Derry in March.
If passed it will then be implemented for the 2014 campaign.
A mark will be awarded if a kick out is caught cleanly on or past the 45-yard line. The player will have the option of playing on immediately or if he intends to avail of the mark, he must indicate this to the referee.
If an opposition player deliberately blocks or impedes the player taking the kick, the referee will penalize the opposition and bring the ball forward 30 metres.
Dublin midfielder Michael Darragh MacAuley, speaking this week at Setanta Sports launch of their Allianz Leagues coverage, is eager to promote high fielding but is concerned it may slow down the game.
"I think they should start looking at it, how the high fielding aspect is gone out of the game. I suppose lads just go in swinging fists now, with no intention of catching the ball.
"But it's a hard one. Talking to Ciaran Kilkenny, he didn't like the mark in the AFL, he felt it slowed down the game, I felt that too playing International Rules for Ireland. But maybe we need to hold onto it as it's one of the best aspects of the game."
Cork's Aidan Walsh offered similar views to MacAuley.
"It probably would improve the game a small bit because when you catch ball now you are kind of smothered and surrounded. I suppose the mark would be something that could be looked into. For midfielders it would be a small but beneficial
"The one thing that people probably would be afraid of is fellas would take a mark and then stop instead of taking it on. That could slow up the game a small bit."
Meanwhile Walsh has termed the new experimental black card rule as 'ridiculous'.
"I think it's ridiculous to be honest and it puts a lot of pressure on referees to make the right decision. A tackle that gets a yellow card now – if they brought in that rule would you have to do something worse to get a yellow card?
"Especially in the intensity of a big game you could easily make a rash decision and a bad tackle and be gone for the whole game then and it just seems a bit extreme. I think it should be the way with every rule that they trial it first in the league."