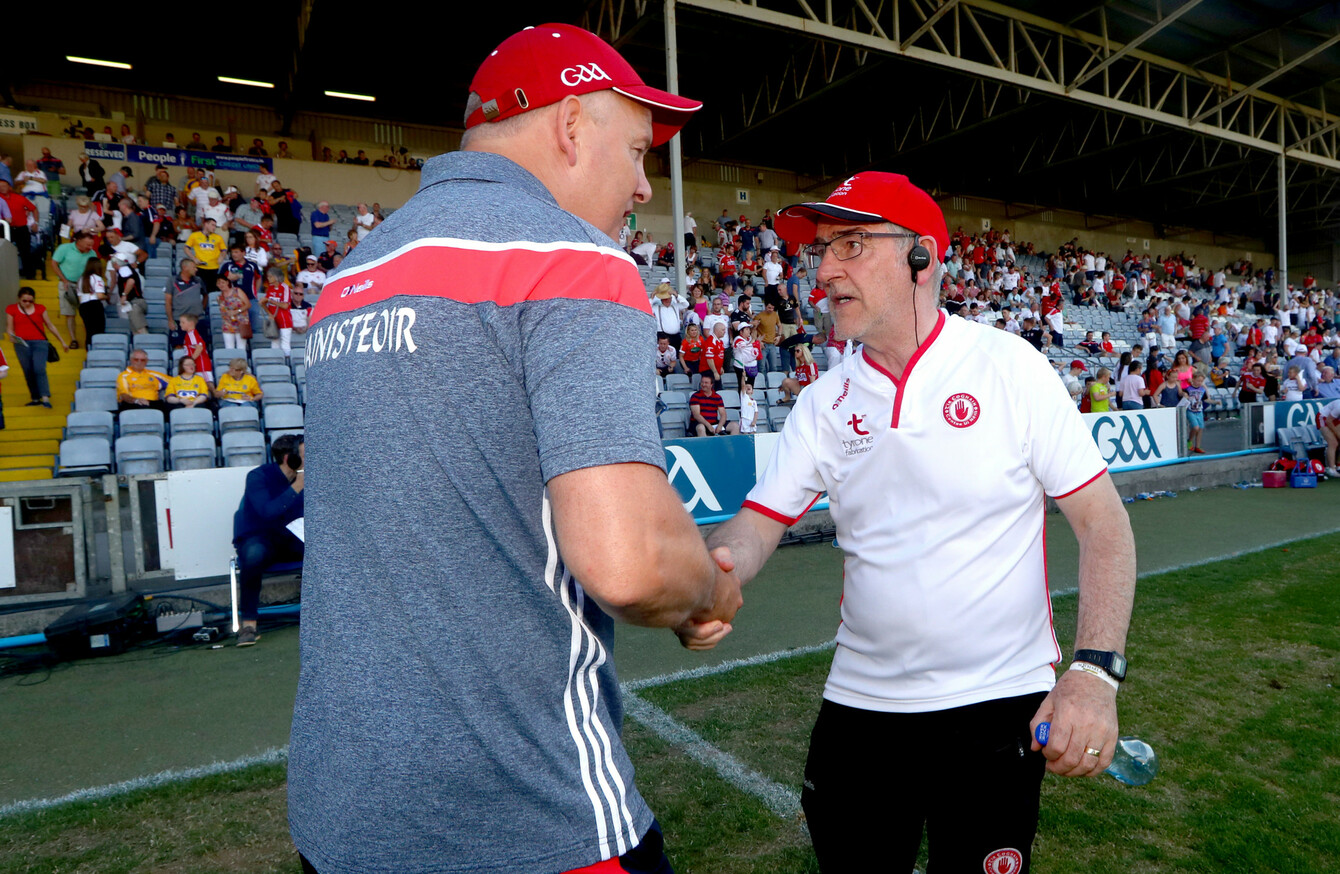 Tyrone manager Mickey Harte with Cork boss Ronan McCarthy after yesterday's game.
Image: James Crombie/INPHO
Tyrone manager Mickey Harte with Cork boss Ronan McCarthy after yesterday's game.
Image: James Crombie/INPHO
ONCE AGAIN TYRONE'S consistency in finding a way to reach the business end of a summer has served them well.
For the 14th time in 18 seasons, they have booked an All-Ireland quarter-final spot with yesterday's dismantling of Cork confirming their passage to the last eight.
This year the prize is different though. It's not just a single knockout game that awaits them, instead a series of big and marquee tests with Roscommon in Croke Park, Dublin in Omagh and Donegal in Ballybofey, the dates to enter into their diary.
The middle match in particular is a standout as they will welcome the All-Ireland kingpins to Healy Park.
"Absolutely, the prize was massive today," reflected Tyrone boss Mickey Harte.
"It was not just about a single game, it was about ensuring your entry into a bit of history in the GAA. This game was so, so important but so were all our qualifier games.
"We were playing under huge pressure in all those games because if you had one bad day, you were gone from something exciting to be part of. We would not have been happy with the team that we have watching others being there who felt we were better than.
"It is going to be something different and really special. Dublin have had so many championship games in Croke Park and they have lit up the place so now we are going to see them up in Tyrone and people are going to be very excited about that.
"It is something to look forward to as long as we play to the best of our ability. It won't be very exciting if they
come up and hammer us like last year."
After a storm of debate about the choice of venues for Dublin's Super 8 games, Harte does believe the issue needs to be revisited.
"I think that's the point that maybe people have to look into – the authorities that set this all up. You have a home game, an away game and a Croke Park game.
"And for Dublin to get two in Croke Park does seem like two home games, whether they think it or anybody else thinks it or not, that's where they play all of their championship matches.
"I'm sure if people look into that they might try to make a different adjustment in the seasons ahead."
The Tyrone manager acknowledges that next weekend's opener against Roscommon is a key target.
"It sets you on the road to either a chance of qualifying or it puts you under extreme pressure right away again. We don't want to be under any pressure for just a little while.
"But I'm sure Roscommon are no different. They had a huge performance today, played some hugely exciting football from the bits I saw in the first half. They are a very good side, a lot of very good underage players, had a good performance against Galway in the Connacht final so they are a formidable outfit."
Nine years after seeing his team lose to Cork in an All-Ireland semi-final, Harte witnessed a major shift in the relationship between the counties as Tyrone cantered to an easy win.
"I think Cork have plenty of good footballers, I suppose they're lacking a bit of confidence at the minute," stated Harte.
"I think they need to work at getting out of Division 2, I think that's a prime objective because you don't meet the same quality of teams week in and week out that you do in Division 1."