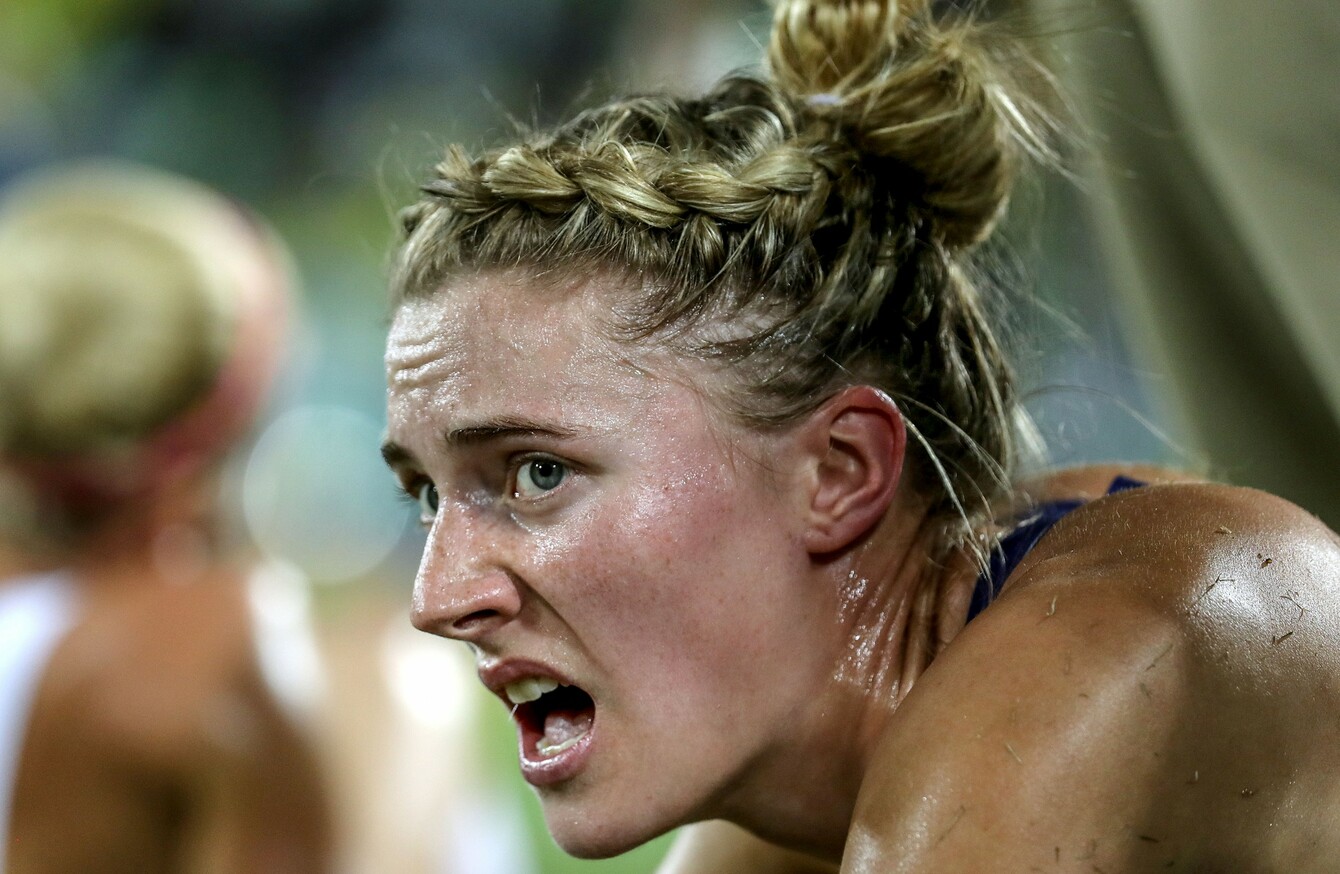 Coyle has kept busy after returning from her second Olympics.
Image: Dan Sheridan/INPHO
Coyle has kept busy after returning from her second Olympics.
Image: Dan Sheridan/INPHO
SHE DOESN'T REALLY need reminding, but you'll find Natalya Coyle doesn't mind when you bring it up. A two-time Olympian, two top-ten finishes. It's not a bad way to be known.
It's exactly six weeks since she collapsed over the line at Deodoro Stadium, physically and mentally consumed having expended every last sinew of energy in finishing seventh at Rio 2016. A lifetime best, no less.
"I hit the ground and had no idea where I was," Coyle recalls. "I just thought I was top ten maybe, I honestly didn't know."
After exhaustion had struck, euphoria followed. The modern pentathlete's training partner, Sive Brassil, was first on the scene, primarily to check on her welfare, but mainly to deliver the news.
You see Coyle prefers to completely zone out. It's a formula she's used for quite some time and one which has served the 25-year-old pretty well. Forget about positions, points and podiums, with the help of her sports psychologist, Kate Kirby, Coyle likes to focus on the process rather than the number.
"I don't need any more external pressure," she explains. "I have this ability to switch off.  I didn't know what position I was in until I walked out [for the shooting/running combine].
"After my warm-up I got my coach to put my stuff by my bag and it was only then when I entered the arena I suddenly realised 'oh god I'm in fifth'. I had over 12 hours and I didn't want to dwell over where I was and what it could mean."
It's one of the valuable lessons Coyle learned from her experience after London. On her Olympic debut, the Meath woman finished ninth and was suddenly catapulted into the sport's upper echelon and the nation's conscience. She belonged at that elite level and as a 21-year-old, the world was at her feet — but it was a double-edged sword.
"I came home thinking I was going to win so many medals," Coyle says. "I didn't take any time off and literally tried to hit the ground running again. I was a bit over-exuberant and that's probably the right word for it. I came back from the best performance I've ever done and I just went back too quickly.
"I ignored a lot of people after London and I ran myself into the ground. I got injured and burnt myself out. I had to take time off because everything just took its toll. The 2013 season was a write-off."
This time around is a lot different. Not only has her level of performance improved in the four intervening years but everything she does is done for a reason. She knows the sport, her body and what is now required.
Over a month has passed since that memorable evening in Rio and Coyle hasn't even considered what is next on the agenda. As a professional athlete, there is always that uneasiness at 'doing nothing', so a couple of gyms visits has kept things ticking over.
But, if truth be told, Coyle has had very little time to dwell on what's next. She was part of RTE's Paralympics coverage for the best part of a fortnight and appearances at the National Ploughing Championships and the Huddle Sports Conference underlines her growing profile.
Filling the weeks and months in the aftermath with commitments other than training is often essential for any athlete after the high of competing, and experiencing, an Olympic Games. For two weeks, you're pushed into the spotlight, fulfilling more interview requests than in the previous four years and suddenly being watched by thousands of people.
Then, there's the come down. From such exhilarating highs to the descent back into relative obscurity, returning to everyday life back home and the task of starting all over again. For so many, it can be a difficult hurdle to overcome.
"I have returned to some sort of normality again," Coyle admits. "I think I'm lucky I've never suffered from it [soul-searching], touch wood. This is my second one and I don't think I have it.
"It's difficult to understand. Your whole world is centered on two weeks and if you're lucky enough to qualify for it amazing and then suddenly you get to compete in this world-class thing that no one else can experience and no one else can understand.
"No one else can comprehend what you're going through and you'll go and do well, mediocre or bad and then you come home and it's all gone away. People forget about it pretty rapidly as you have the Paralympics, GAA finals and everything else and people don't understand it's everything you've worked for four years, eight years or 12 years.
"Yes you can try and go to another but it's very difficult and I think that's what happens to so many athletes. You ask yourself what it all really means but my Dad has always said you always need to just keep moving on, you never know what opportunities could be on the horizon. You can't dwell on how amazing something was in the past; you have to move on and fill that gap with something else.
"We always talk about mental health and it is a big issue for athletes and sportspeople when it's all over, not just the Olympics."
To get a better understanding of the type of person Coyle is, just read back over what she just said. The Trinity graduate speaks with such intelligence, practicality and conviction. She's made mistakes, learned from them and isn't falling into the same trap again.
But there will inevitably be a period when everything dies down and the mind will naturally reflect. Reflect on the last four years, reflect on her performance in Rio and reflect on what might have been.
If you offered Coyle a seventh-placed finish, she would have snapped your hand off for it. Given the field and the stage, there's no question of that. But there's also no question that she is an athlete, and person, who strives for perfection. There are days when she thinks back six weeks and wonders maybe, just maybe she could have finished higher and won a medal. Maybe.
"I am really, really happy but I often do think about the fact I started in fifth and I could have got a medal," she says. "It's natural to think like that because it's so close you really want it. If I went from 12th to seventh I would have been delighted but I went from fifth to seventh. I was passed by some world-class athletes who are amazing and I'm surprised didn't win a medal but I was so close and that's something I'll always think about.
"At the same time there are too many what ifs, particularly in modern pentathlon. If you dwell on every aspect of your performance and what happened all day everyday it will just eat away at you.
"Instead I like to keep myself reminded of the achievement of it. Yesterday I was organising my wardrobe and I was hanging up one of my kit jackets and saw my one from London too and just thought 'God, that's pretty cool.'
"It's something I've worked hard for and really proud of and certainly not something you get to do everyday. You have to remind yourself of that."
So with an appreciation of what she's achieved and a determination to do it all again, Coyle is already primed for Tokyo, focused on what she needs to do in order to progress again in another four years.
"I'll always have a goal, I'll sit down maybe in the next week and reassess," she says. "The fact I know I can do better. I enjoy what I do, not every morning is great but most of time I go to training smiling because I know I can get better. I'm lucky.
"Both of my lifetime bests have been at Olympics and it's obviously something I'm really good at peaking at. Rob Heffernan knows how to peak and I remember talking to him and he told me that nobody will remember what you do in the middle, but as long as you know how to peak for the big thing then you'll be remembered. The Olympics is the pinnacle, the holy grail of sport.
"When I was running the last lap in Rio, one of the Italian girls was there and I just remember thinking I'm not letting her overtake me. I know what I can do and what's possible.
"I don't need to peak for February or next summer, it isn't going to make my Tokyo. It's still a long time away and I have plenty of other things between now and then but people will only remember your Olympic performances."
If Coyle's career, and legacy as an athlete, will be defined by what she does every four years, then she's doing a good job of forging a reputation for herself. A big stage performer. Ninth in London, seventh in Rio. Tokyo?
"At this rate I'm going in the right direction," she adds. "I'm pretty close to a medal now and I should be in my prime in four years."
Natalya Coyle is an ambassador for leading Irish sports nutrition brand Kinetica Sports. Kinetica provides top athletes with a range of nutritional products aimed at helping maintain high performance, be it in the gym, on the training field or at the competition stages. For more information, see: www.kineticasports.com or www.facebook.com/KineticaSports
The42 is on Snapchat! Tap the button below on your phone to add!