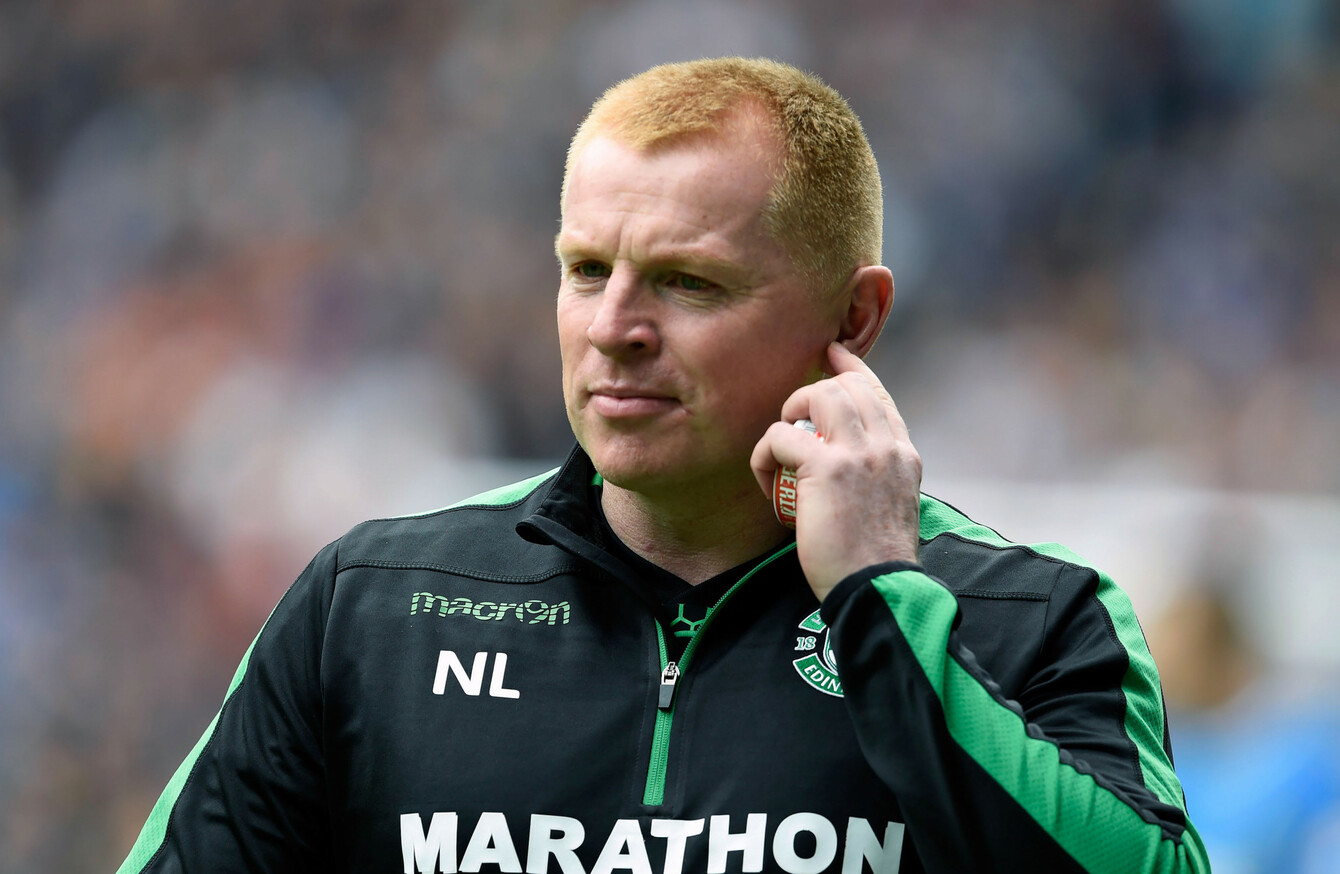 Neil Lennon currently manages Hibs.
Image: Ian Rutherford
Neil Lennon currently manages Hibs.
Image: Ian Rutherford
NEIL LENNON SAYS he is not the biggest fan of mobile phones and social media, claiming modern footballers and young people in general lack communication skills owing to this recent phenomenon.
The former Celtic, Leicester and Northern Ireland player is currently manager of Hibernian in the Scottish Premiership, and has addressed the issue by banning mobile phones in the training ground at his club.
"The new generation of player now socially are different from my generation," he says. "It's the age of technology. If you're speaking to a young player now, a lot of the answers would be monosyllabic. 'How are you?' 'Alright.' 'How are your family?' 'Good.' But you put a phone in front of them and they'll write War and Peace."
He continues: "They don't communicate and communication in football is very important. This is why people are saying now that 'there aren't enough leaders out there'. I don't think they've the communication skills, because you've got these devices in front of them, they don't need to communicate verbally.
"You could sit in a room and send text messages all day, but what I've done, I've banned mobile phones from the training ground at Hibs. Any issues they have they get it dealt with before they go to training. They leave the phone, leave Twitter, leave Facebook in the car. And they go and sit with each other, and talk on the pitch. It's still vitally important and we don't see enough of that anymore."
The issue comes up after I ask Lennon about his former manager at Celtic and Leicester, Martin O'Neill. O'Neill comes across as old school in the sense that he won't hesitate to have a go at players if required in the dressing room after matches, whereas there has been a trend towards a less aggressive approach among some modern managers. Lennon, however, is not convinced that this softly-softly approach is the way to go.
I think Wenger's very much like that, and I'm not convinced it works. I would say Mourinho would get pretty upset if his team aren't playing the way you want him to play.
"I don't think he'd be too shy in coming forward. Guardiola looks pretty passionate on the touchline as well and I'm sure he'd be getting stuff off his chest."
Having spent a substantial part of his career working under O'Neill, there are few better people in football than Lennon to assess what makes his fellow ex-Northern Ireland international tick.
During those days at Celtic and Leicester, O'Neill and Lennon were part of sides that routinely overachieved, and indeed, that quality has been a recurring theme of the former's managerial career in general.
First of all, he's very intelligent," Lennon says of O'Neill. "And when I say intelligent, not only academically, but football-wise, he's got a vast knowledge of the game.
"He looks at his squad and he knows how to get the best out of the group of players at his disposal.
People might criticise Ireland for their style of play, but they're unbeaten in a very difficult group at the minute.
Be part
of the team
Access exclusive podcasts, interviews and analysis with a monthly or annual membership.
Become a Member
"Serbia, to go there and draw 2-2 was a fantastic result. They all get stronger as the group goes on. But I think these next two games are pivotal for him.
And they're unbeaten as well, which considering you've lost Robbie Keane, that's like Barcelona losing Messi, Real Madrid losing Ronaldo, they make a big difference — trust me. And they're still grinding out results, which is a credit to the manager. Georgia away is not easy. Scotland got stuck there during the Euros. And Ireland — they don't have a divine right to qualify.
"I've lived in Scotland for a long time. I've not seen them qualify since '98. They're a great footballing nation — Ireland to do it as consistently as they've done is fantastic."
And finally, what is O'Neill like in the dressing room before games? Is he one for rousing speeches?
Sometimes, but not long. He keeps everything very succinct and in bullet points really. His mantra would be — if you speak 15 minutes, they forget the first 14. They will, because they've got so many other things going on in their mind, the adrenaline is flowing, they're thinking about their own game.
"If he has a point to make, he'll go bang, bang, bang and that would be it. 'This is the way I want us to play, look out for this,' and he keeps it at that. But at the same time, you're going out there highly motivated as well."
With Chelsea, Tottenham, Man City, Man United, Liverpool and Celtic all battling it out in the UEFA Champions League Group Stage, Tuesday nights will be bigger than ever.  TV3 will have the pick of Tuesday's live game as well as comprehensive highlights and analysis.
Subscribe to The42 podcasts here: