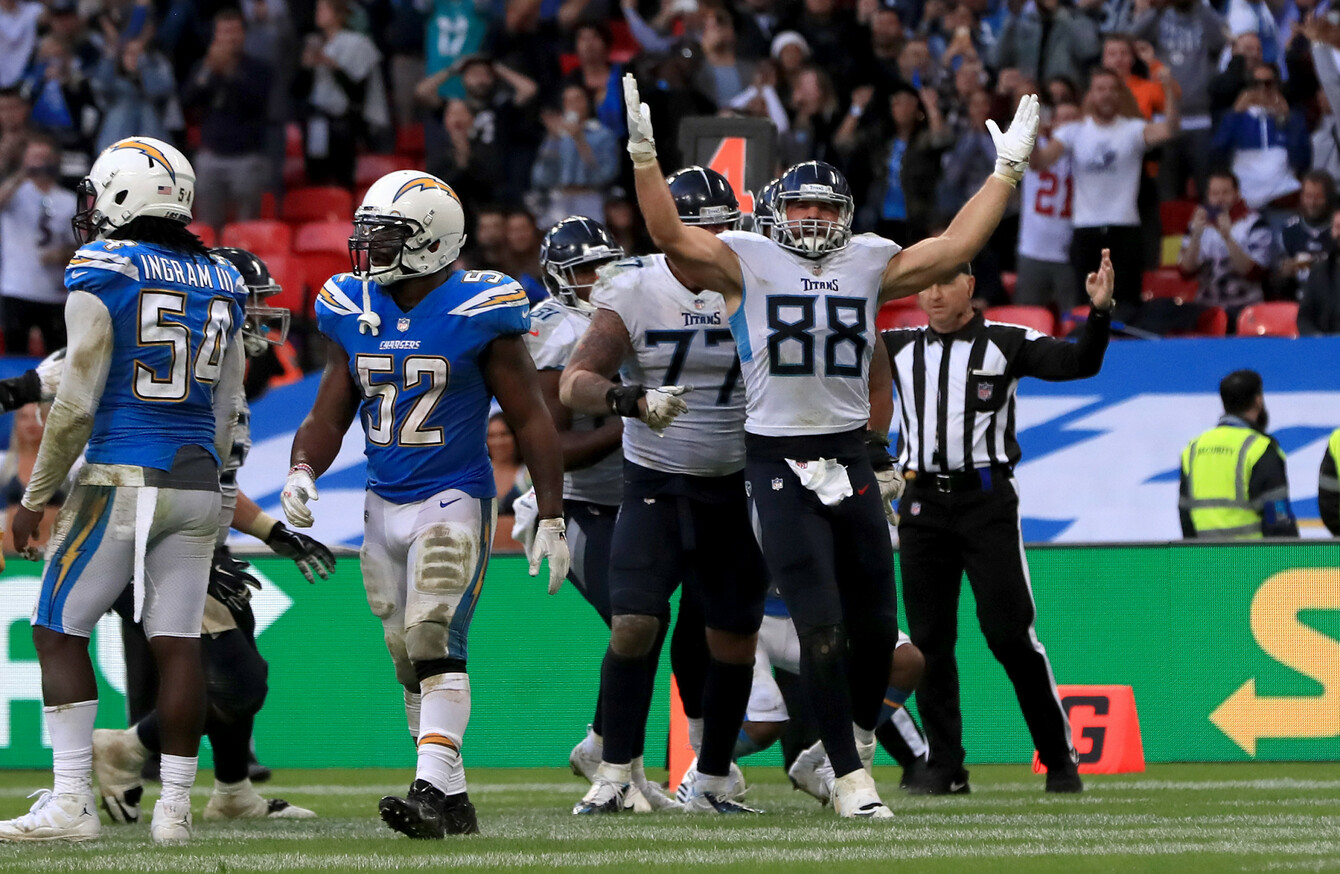 Tennessee Titans' Luke Stocker (right) celebrates a touchdown at Wembley.
Image: PA Wire/PA Images
Tennessee Titans' Luke Stocker (right) celebrates a touchdown at Wembley.
Image: PA Wire/PA Images
IN 2004, SERENDIPITY was voted one of the 10 hardest to translate words in the English language.
This is, in part, because it is one of those rare English words that doesn't derive from Latin or Greek but was invented by a historian named Horace Walpole in 1754.
In a letter to his friend, Walpole explained an unexpected discovery he had made about a painting by referencing a Persian fairytale, 'The Three Princes of Serendip' — Serendip being an old name for Sri Lanka.
In the story, the princes were always "making discoveries, by accidents and sagacity, of things which they were not in quest of" wrote Walpole. And so serendipity was born.
What also makes it so hard to translate is that people often use 'serendipitous' as a synonym for a happy coincidence.
For example, I wrote an article for The42 at the weekend in which I used the NFL London game — with its glitz and glamour — as a contrast to the altogether more humble surrounds of Navan Rugby Club for the Irish Wolfhounds' match-up with the Belgian Barbarians.
Both are examples of American football's global growth despite, seemingly, being a million miles removed.
But, by happy coincidence — and not serendipity — both games finished with exactly the same scoreline and in almost exactly the same way.
Pete McMahon's TD run for the Wolfhounds. That's Irish football. #GoWolfhounds 🏈☘️ pic.twitter.com/RyKdvS8TQR

— Irish Wolfhounds American Football (@WolfhoundsIAFA) October 22, 2018
With Ireland leading 20-13, Belgium scored with just 30 seconds left on the clock. Instead of kicking the field goal to take the game to overtime, the Belgians opted to go for two points and win the game outright.
The Irish defence stood firm and claimed a history-making win.
On Sunday in London, the Tennessee Titans scored late on against the LA Chargers to make the score 19-20 and, instead of kicking the field goal to head to overtime, they also opted to go for two points and victory.
But just because the result — a failed pass — was negative, that doesn't mean the decision was incorrect.
NFL teams are notoriously conservative. Head coaching and coordinator jobs are not easy to come by so, when in the position, most coaches coach their team not to lose rather than to win.
But the thing is, smart coaches don't punt.
We've known for years that going for it on fourth down — particularly fourth and short — is the wise move, but the majority of NFL coaches have typically steered well clear of this aggressive approach.
There are, of course, a number of notable exceptions with yesterday's Ravens v Saints game — where the teams combined for seven fourth down attempts — being a massive statistical anomaly.
The Titans case is particularly interesting, however.
As -6.5 underdogs, going for two points and gaining a one-point lead with little to no time left on the clock gives them a much better chance to win than kicking an extra-point — which Justin Tucker found out in the aforementioned Ravens game is not automatic even if you've made 222 in a row — and going to overtime.
Of course, the downside, as Belgium and Tennessee both found out to their cost this weekend, is that failure gives you no chance to recover.
But the numbers are usually in favour of being aggressive. A 2013 study found that, having first-and-goal from the one-yard line gave teams an 85% chance of scoring a touchdown.
Though a two-point conversion is slightly different in that you only have one attempt, with a mobile quarterback in the shape of Marcus Mariota, plus multiple options in the run game, the Titans probably still had a greater than 60% chance of winning the game on a single play.
Why Mike Vrabel chose to pass the ball in that situation, I'll never understand. I wouldn't mind if they were clever about it, but the Chargers knew a pass was coming the moment Tennessee sent Dion Lewis in motion.
With Derrick Henry on the team, not to mention Taylor Lewan blocking for him, I'm can't understand why the Titans opted not to run the ball.
And while some coaches will point to the result of the Titans game and pat themselves on the back for playing it safe.
But just like selecting a player in the draft, the result of a decision is not always the best evidence on which to judge the decision to take it in the first place.
Subscribe to our new podcast, Heineken Rugby Weekly on The42, here:
Source: Heineken Rugby Weekly on The42/SoundCloud