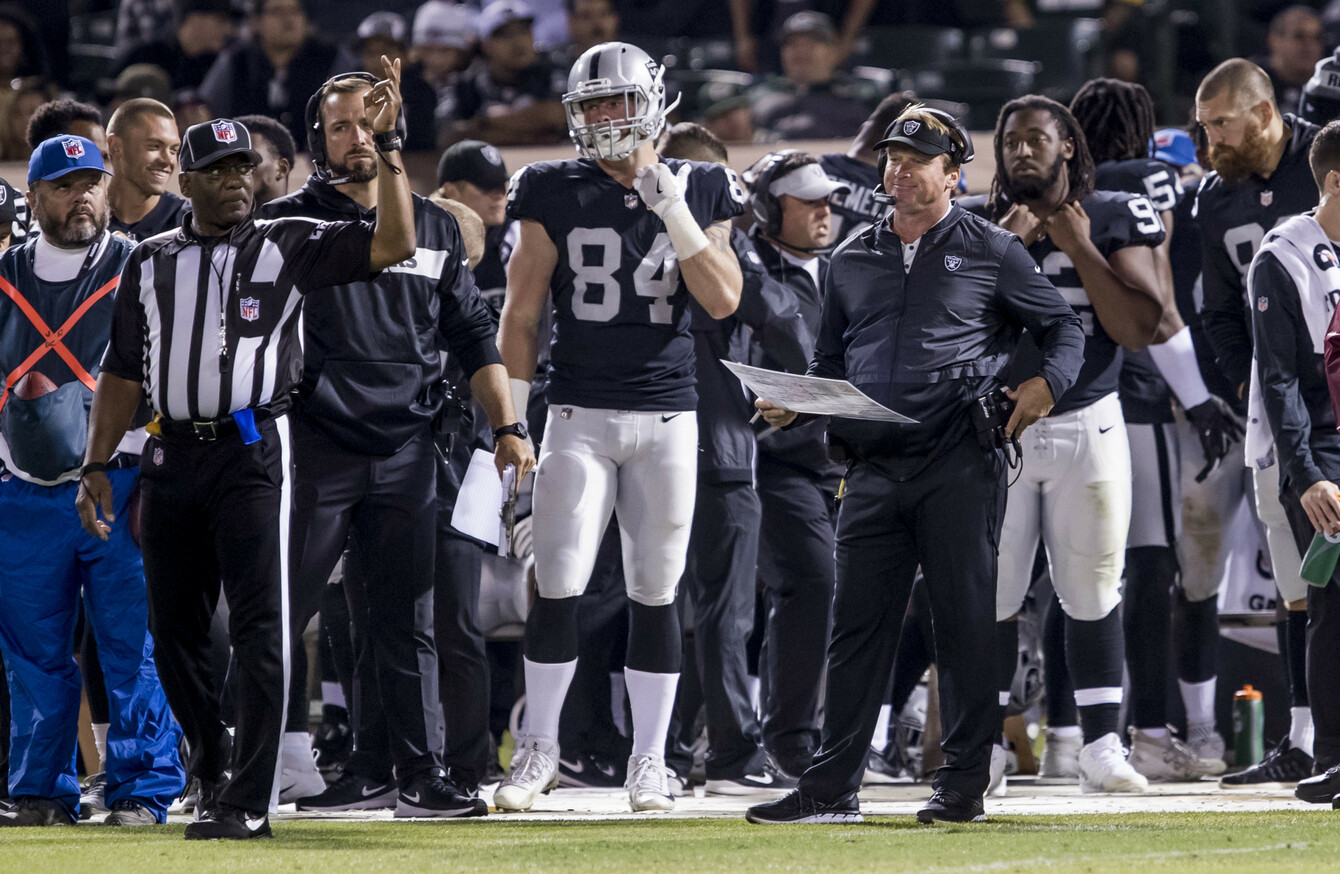 Oakland Raiders coach Jon Gruden.
Image: Bob Kupbens
Oakland Raiders coach Jon Gruden.
Image: Bob Kupbens
WITH APOLOGIES TO Karen McCullah and Kirsten Smith, writers of 90s romcom 10 Things I Hate About You:
1. I hate the way you roped me in with that cool gear you wear
2. I hate the way you're treating Carr
3. I hate the whole damn Mack affair
4. I hate your big, dumb Gruden deal as if you've lost your mind
5. I hate you so much it makes me sick — it even makes me rhyme
6. I hate that the Tuck Rule was right
7. I hate it when the defence bites
8. I hate it when you make others laugh — even worse when you make me cry
9. I hate it that you're leaving town and most of the plays you call
10. But mostly I hate the way I don't hate you — not even close, not even a little bit, not even at all
I can't remember the magazine that put me on to NWA's Straight Outta Compton, which is a shame, as it's an album that changed my life.
Not in any profound, steered me from a life of crime, sort of way. There was, after all, only so much trouble you could get into in smalltown Kildare.
But in addition to learning the power of subversion and getting an early introduction to extra-judicial police brutality towards members of the black community — and look how that has changed in all these years — NWA taught me about the LA Raiders.
Later, I would learn that the Raiders, Ice Cube, Dr Dre, MC Ren, Eazy-E, and DJ Yella actually mirrored each other perfectly. Al Davis had spent a lifetime fighting back against the oppressive nature of the NFL in the same way NWA did against American society as a whole.
Davis, for all his faults as an owner, was a champion of civil rights and supporting minorities. From refusing to play a preseason game in Alabama in protest at the state's segregation laws, to becoming the first NFL owner to hire an African-American head coach, Art Shell, and female chief executive, Amy Trask, Davis was way ahead of his time.
And much like the response to players like Colin Kaepernick and Eric Reid taking a knee today, most of the outcry over Fuck tha Police was not so much about the police brutality the song highlighted, but the fact anyone dared shine a light on it in the first place.
NWA knew 30 years ago that, when those offended by protests say all lives matter, what they really mean is some lives matter more.
But, not for the first time, I digress, as most of this knowledge would come to me later. At the time it was amazing music and, well, the Raiders' gear they were wearing that struck a chord. The silver and black washed over me like an Autumn wind and I was hooked.
Unfortunately, my fandom coincided with two and a half decades in which mediocrity was seen as an achievement.
Until I first took an interest in the Raiders, they were one of the most successful franchises in NFL history, winning three Super Bowls.
And in the 23 years since I co-opted them as my American football team of choice, they have had exactly four seasons with a winning record. Three of those four came between 2000 and 2002 when they reached the AFC Championship twice and the Super Bowl once and suddenly Raiders gear was cool again.
Since then, 2016's brilliant 12-4 season stands out like a rose blooming from a heap of compost and, with no geographical or familial ties to the Raiders, you're probably thinking I could just walk away.
But that's not what fandom is. Or, at least, that's not all fandom is.
The truth is there's a terrible beauty in supporting a bad football team, in watching them find new and increasingly bizarre ways to lose.
Sure, Super Bowls are nice, but have you ever watched your team lose an AFC Championship game to an, until then, barely heard of NFL rule?
And yes, having a winning season is great, but have you ever had your best season in well over a decade only to see your MVP-candidate quarterback break his leg on Christmas Eve?
And of course, reaching the playoffs is brilliant, but have you ever lost a crucial game because a referee used an index card to determine whether or not the opposition had gained a first down?
And, I guess, expecting to win more than a handful of games a season is probably fun. But, honestly, it can't be as enjoyable as going into a season knowing your hope is hopeless, and watching every snap of every game regardless.
Week 6 picks (season record 44-32-2)
Sunday – 6pm 
Seattle Seahawks (-3) @ Oakland Raiders – London
While the Raiders are just as bad as I thought they might be coming into this season, the Seahawks have actually exceeded expectations. Oakland's defence struggles against play action and there is no better quarterback in the league when using play action than Russell Wilson so this could get ugly.
Pick: Seahawks
Arizona Cardinals @ Minnesota Vikings (-10.5)
The Cardinals finally got a win on the board last week but it's much easier to cause a surprise in-division than in-conference. The Vikings already have one stupid loss on their CV this season and if they hope to be serious Super Bowl contenders, they can't afford to let another game like this slip.
Pick: Vikings
Buffalo Bills @ Houston Texans (-8)
Considering he has one of the worst rosters in the NFL, Sean McDermott has probably already surpassed season's expectations with two wins. A friend in Houston messaged me earlier this week that all may not be what it seems with Deshaun Watson and, if he misses this game, Buffalo could have a third win.
Pick: Bills
Carolina Panthers @ Washington (-1)
Carolina needed a record-equalling field goal to beat the Giants last week, and their opposition in week six is another NFC East team. Washington put in one of the worst performances I've seen in a prime time game in a long time on Monday Night Football but I expect them to bounce back on Sunday.
Pick: Washington
Chicago Bears (-3) @ Miami Dolphins
Miami had a disastrous second half last week. Going in 17 points up at the break, they failed to score in the final two quarters, conceding 27 in the process. The Bears are coming off a bye week and, before their break, looked to be clicking on offence as well as defence. Chicago could well be 2018's surprise package if that continues.
Pick: Bears
Indianapolis Colts @ New York Jets (-2.5)
While there are obvious glimpses that things are getting better for the Colts, the cold hard truth is that they've now lost three games in a row and never really troubled the Patriots last week. The Jets had a good win over Denver last week, but can they repeat the feat?
Pick: Jets
LA Chargers (-1) @ Cleveland Browns
We live in a world where the Cleveland Browns could be 5-0, 0-5 or have five ties. The most important thing is that they're competitive. The Chargers benefited from some soft defence against the Raiders last week, they'll have a very different match-up in store in week 6.
Pick: Browns
Pittsburgh Steelers @ Cincinnati Bengals (-2.5)
The Steelers own this rivalry. As well as winning the last six straight, they've won nine of the past 10 match-ups. But a Bengals team that would have, for the last two seasons at least, wilted and died when in a hole against the Dolphins showed a lot of character last week. It's time for them to step up in a key divisional game.
Pick: Bengals
Tampa Bay Buccaneers @ Atlanta Falcons (-3.5)
The last time we saw the Bucs they were shipping six touchdowns to Mitchell Trubisky. There's no doubting that Matt Ryan is a better quarterback but the Falcons have found out this season that it doesn't seem to matter how many points they score, their defence will concede more. I still expect them to win this one, however.
Pick: Falcons
Sunday – 9.05pm 
LA Rams (-7) @ Denver Broncos
The Rams are the best team in football and are in the midst of a five-game win streak during which they've beaten opponents by an average of more than two touchdowns. Denver, on the other hand, just put in a brutal display against the Jets where they were outplayed in all facets of the game. This could be a trap game for the visitors.
Pick: Rams
Sunday – 9.25pm 
Baltimore Ravens (-2.5) @ Tennessee Titans
The Ravens and Titans both suffered losses to teams they would expect to beat if they are playoff contenders last week. Worse still, they only scored a combined 21 points. While this was never likely to be a shootout — neither defence will allow that — expect increased offensive production from both on Sunday night.
Pick: Titans
Jacksonville Jaguars (-3) @ Dallas Cowboys
You know how I feel about Blake Bortles but, as we've seen this year to date, without a top-class offensive line in front of him, Dak Prescott is no world beater either. With the Jacksonville defence obviously better than the Dallas one, this is a comfortable road win.
Pick: Jaguars
Monday – 1.20am 
Kansas City Chiefs @ New England Patriots (-3.5)
Two weeks after I wrote New England off for the year, they've secured back-to-back high-scoring wins. Against a Chiefs defence that exists in name only, they should run up a score here too. But I'm backing Patrick Mahomes, Andy Reid, et al to out-score them in a game where you should definitely take the over.
Pick: Chiefs
Tuesday – 1.15am 
San Francisco 49ers @ Green Bay Packers (-9.5)
Kickers eh? Mason Crosby had one of the worst kicking performances in recent memory last week as he cost his team the game with the Lions. How long the Mike McCarthy/Aaron Rodgers relationship can last will not depend on the result of games like this but reaching the playoffs. Still, I'd be surprised if McCarthy is coaching in Green Bay next year.
Pick: Packers
– A version of this article, including a preview of Thursday night's match, was originally published on 11 October.
Subscribe to our new podcast, Heineken Rugby Weekly on The42, here: