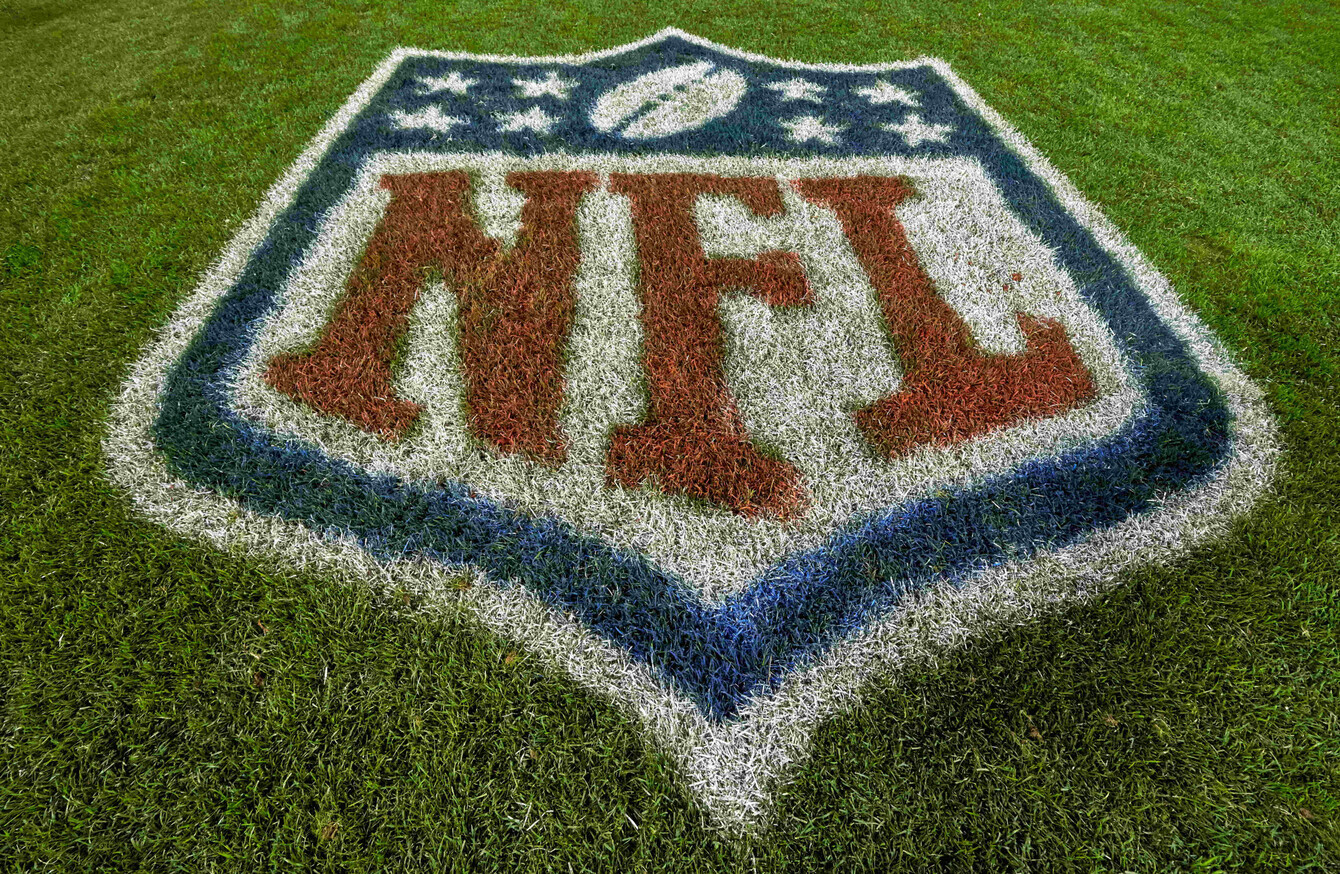 File pic.
Image: Robin Alam
File pic.
Image: Robin Alam
A FACEBOOK MEMORY popped up this week which showed a much younger, less hairy, version of me shouting orders from the sideline during a Tullamore Phoenix training session.
I spent two seasons as offensive coordinator with Phoenix, the first of which saw us win a national title, going undefeated until the final game of the season.
As much as I enjoyed my time there, I never really considered Tullamore an American football stronghold. But a chance conversation following a game pointed me in the direction of the Tom Furlong.
Tom was one of four brothers — alongside Mickey, John, and Martin — from a famous GAA family whose story was told by Irish journalist Pat Nolan in his 2014 book 'The Furlongs.'
Like many of his generation and subsequent ones, Tom Furlong emigrated to America in search of a better life but he found it hard to leave some of his old habits behind and soon found himself kicking frees for New York GAA.
While training, Furlong used to bring along an American football and — once he'd finished honing his GAA skills — would try his luck at splitting the uprights with the pigskin.
At the same time, the New York Football Giants — the baseball team of the same name having only recently relocated to the west coast — coaching staff were bemoaning their special team's performance in an Irish bar, when another Offaly native overheard them and suggested Furlong could be the answer to their kicking woes.
During a trial in front of some of the coaching staff and the team's owner, Furlong nailed 27 of his 30 attempts, and an assistant coach told him he would likely start against the Chicago Bears the following Sunday. However, head coach Allie Sherman wasn't so sure.
Furlong, you see, kicked the ball with the inside of his foot — like almost all kickers do now — while at the time the style for the majority was, essentially, a big toe.
He was, however, signed to the equivalent of the practice squad and earned $200 per game over the final four weeks of the 1965 season — about $1600 per game — for sitting on the bench.
He expected to be part of the Giants' plans the following season but when they signed Pete Gogolak from the Bills — a move (for a kicker remember) that is said to have triggered the AFL-NFL merger — Furlong found himself surplus to requirements.
Undeterred, Furlong found interest from other teams, but limited his options to the Boston Patriots — now New England — and Atlanta Falcons, a brand new franchise about to take part in their first season in the NFL.
Eventually, Atlanta signed him to a $12,000 annual salary — about $93,000 today. It might not seem like a lot but it was about four times the average industrial wage in the US in 1966.
Sadly for Furlong, an injury in training camp, when his holder fumbled a snap and left the Offaly man kicking fresh air, put paid to his time with Atlanta and, ultimately, his chance of making it in the NFL.
Since Furlong's failed attempt at the professional game, only three Irish-born players — Adrian Young (1968-73), John Sinnott (1982), and Neil O'Donoghue — have played in the NFL.
Surely we'll see another one before too long?
SEE SPORT
DIFFERENTLY
Get closer to the stories that matter with exclusive analysis, insight and debate in The42 Membership.
Become a Member
Week 7 picks (season record 60-45-2)
Sunday – 1.30pm 
Philadelphia Eagles @ Jacksonville Jaguars – London
Blake Bortles was, finally, benched last week but has been reinstated for the Jags as they return to London. That may be because the has thrown eight touchdowns and just two interceptions while going 3-1 in the UK. Philadelphia just needs to put four quarters together.
Pick: Eagles
Sunday – 5pm 
Baltimore Ravens @ Carolina Panthers
Tom Furlong would have loved to go 222 for 222 on extra points but, as Justin Tucker proved last week, all good things must come to an end. The Ravens, however, do have a stiffer defence than the Eagles so I suspect the Panthers can't afford to get off to another slow start this week.
Pick: Ravens
New York Jets @ Chicago Bears
The Bears came a yard shy on a Hail Mary last week but are now on a two game losing streak after a better than expected start to the season. The Jets provide a nice opportunity to return to winning ways.
Pick: Bears
Tampa Bay Buccaneers @ Cincinnati Bengals
I'm not sure how the Bucs beat the Browns last week, but they did. Meanwhile the Bengals horrible record with Andy Dalton on Sunday Night Football (0-6) continued. I do, however, believe Cincinnati will continue to be in playoff contention until late in the season but they need to win games like this.
Pick: Bengals
Seattle Seahawks @ Detroit Lions
Seattle is coming off a two-week break — the facile win over the Raiders before their bye week hardly counts as a game — to face a Lions team that appear to have solved their running back dilema with rookie Kerryon Johnson. But will we get the Detroit team that beat the Pats and Packers or lost to the Jets and 49ers?
Pick: Lions
Denver Broncos @ Kansas City Chiefs
The Kansas City Chiefs are a lot of fun to watch. The Broncos are not. Patrick Mahomes threw for over 300 yards, a score, and no picks when these two met back in week four but expect Kareem Hunt to be the focus against a run defence that has given up nearly 600 yards in its last two outings.
Pick: Chiefs
Cleveland Browns @ Pittsburgh Steelers
The Cleveland Browns have played a full extra game of football this season having gone to overtime in four of their outings. That they're playing teams so close is obviously a boost for a franchise that has struggled for so long, but they need to start registering more wins too.
Pick: Steelers
Washington @ New York Giants
We know the Giants are tanking and we know, at 1-6, they're one of the worst teams in the NFL. Washington, on the other hand, sit atop the NFC South and are coming off a divisional win against the Cowboys.
Pick: Washington
Sunday – 8.05pm 
Indianapolis Colts @ Oakland Raiders
Speaking of tanking, Oakland revealed their hand this week when they sent Amari Cooper to the aforementioned Cowboys for a first round pick. This is going to be a long, painful rebuild but, as the Browns have shown, collecting those first round draft picks can eventually pay off.
Pick: Colts
Sunday – 8.25pm 
San Francisco 49ers @ Arizona Cardinals
These two teams are a combined 2-12 and have a negative point differential of minus 152. Can two bad teams make a great game? Absolutely not.
Pick: 49ers
Green Bay Packers @ LA Rams
It says a lot about how good the Rams have been this season that Green Bay, with Aaron Rodgers at quarterback, began the week as 9.5 point underdogs. The Rams are great and I don't think anyone would be disappointed in an LA v Kansas City Super Bowl.
Pick: Rams
Monday – 12.20am 
New Orleans Saints @ Minnesota Vikings
New Orleans beat the Ravens with Drew Brees for the first time last week and face another tough out this week with just two wins on the road to Minnesota in that time too. Expect the over/under on mentions of the Minnesota Miracle to be set at about 35.
Pick: Vikings
Tuesday – 12.15am 
New England Patriots @ Buffalo Bills
Since 2003, the Bills are 3-23 against the Pats and, while their defence is among the better units in the league, their offence is so inept they just don't stand a chance in this one.
Pick: Patriots
Subscribe to our new podcast, Heineken Rugby Weekly on The42, here: