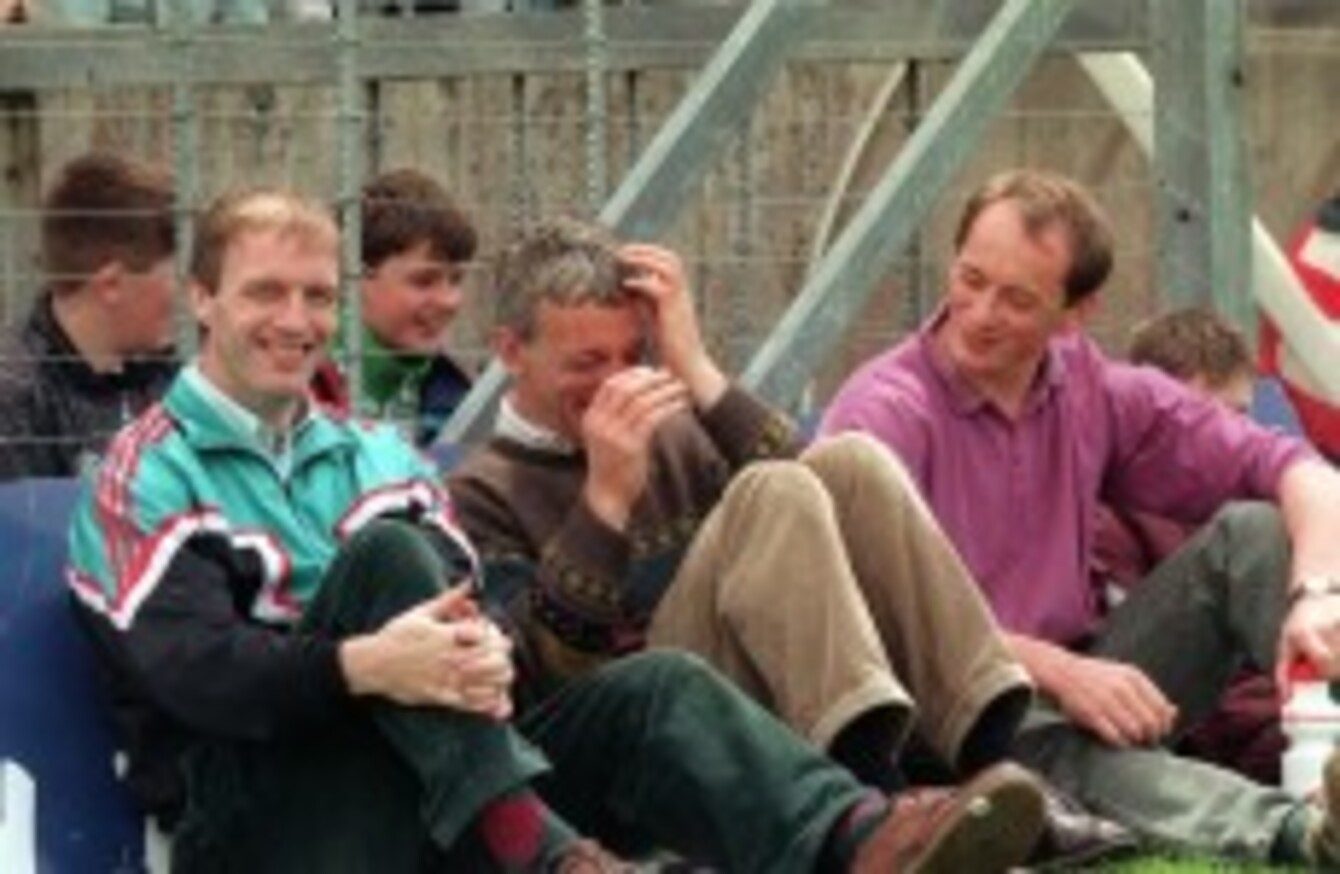 Niall Cahalane (right) pictured with former Cork teammates Larry Tompkins (left) and Conor Counihan (centre) in 1993.
Image: INPHO
Niall Cahalane (right) pictured with former Cork teammates Larry Tompkins (left) and Conor Counihan (centre) in 1993.
Image: INPHO
IT'S QUITE A statement from Niall Cahalane – two-time All-Ireland SFC medallist, winner of seven Munster medals, twice an Allstar.
You could pick a career highlight from that lot but there's one that stands tall above all others – and it's not from his days in the blood and bandage of Cork.
Instead, 52-year-old Cahalane remembers with great fondness, as do many who were lucky enough to be there, the classic 1994 county final between local rivals Castlehaven and O'Donovan Rossa.
To put this rivalry into context, and the significance of that famous win 21 years ago, Cahalane outlines the geography involved.
"Where the GAA pitch is in Castlehaven is no more, I would imagine, than a mile and a half from the centre of Skibbereen town.
"The nearest point from Castlehaven to the town is no more than a mile."
Cahalane was captain and 'Haven won the replay by two points.
The neighbours, All-Ireland club champions in 1993, were slain.
"Skibb (O'Donovan Rossa) had been All-Ireland club champions less than 24 months before that," Cahalane recalls.
"Fair play to them, they deserved to win it and at the time beating Skibb was huge for us.
"It was very tense prior to it, but played in great spirits.
"I'd say it was the main highlight of my career, end of story, full stop.
"That's not by any matter of means because it was O'Donovan Rossa or anything, it was just a huge occasion.
"I'm not sure what record crowds are for club games in this country but that would have to go very close to it or beat it.
"You had a stadium at the time capable of holding 40,000 people and it was almost full, or as good as.
"It's testament to both clubs – if you put the population of Skibb and Castlehaven together, it wouldn't be a lot more than 4,000.
"I'd say every man, woman and child from the area was there, and anybody from the rest of Cork and beyond who had an interest in it."
SEE SPORT
DIFFERENTLY
Get closer to the stories that matter with exclusive analysis, insight and debate in The42 Membership.
Become a Member
It was a vintage era for Cork football, and Cahalane recalls: "What I remember of it, and what would stand out in my mind, was that Cork football was strong in those years.
"We were coming off the back of the 1980s and '90s, when we were All-Ireland champions and while we weren't dominating, Cork were still a serious force in football, back then.
"For two local clubs down in West Cork, for a local parish and the nearest town where we both went to secondary school, to make a county final was a bit unusual because football had been dominated by St Finbarr's and Nemo Rangers, along with a few of the divisions.
"When we played in that county final, the drawn game, if I'm not mistaken, drew a crowd of 27 or 28,000.
"The replay was in excess of 30,000. Now you're struggling to get 30,000 at a Munster football final between Cork and Kerry.
"Walking into Páirc Uí Chaoimh, everybody was either family, cousins or neighbours.
"And you're representing your parish in front of a captive, huge audience.
"For fellas at the time, club players, who made a huge effort to be good club players but never got the chance to play intercounty, it was the closest thing to the real gig."
Castlehaven won, but they didn't rub it in too much, Cahalane smiles.
"You move on, for the love of God. A lot of people in Castlehaven are married to Skib' people and vice versa.
"The father of the Hurleys, Haulie, played football with Skib' and came to marry a girl from Castlehaven, living in Union Hall.
"The Cahalanes, not my brothers, Seanie and a gang of them, would have played football in Skib', are married in Castlehaven and living there now."
Ahead of Sunday's latest renewal of a close rivalry, in Sunday's county SFC semi-final, Cahalane is anticipating another mammoth encounter.
"It's a local derby, anyone's game, there won't be an awful lot in it either way I'd imagine," says Cahalane.
"I would say, knowing the people involved in both sides, that they will be very well prepared and nothing will be left to chance.
"I don't think there has been any time since both of them played senior football, never anything more than a kick of a ball in it either way."
Same as it ever was.