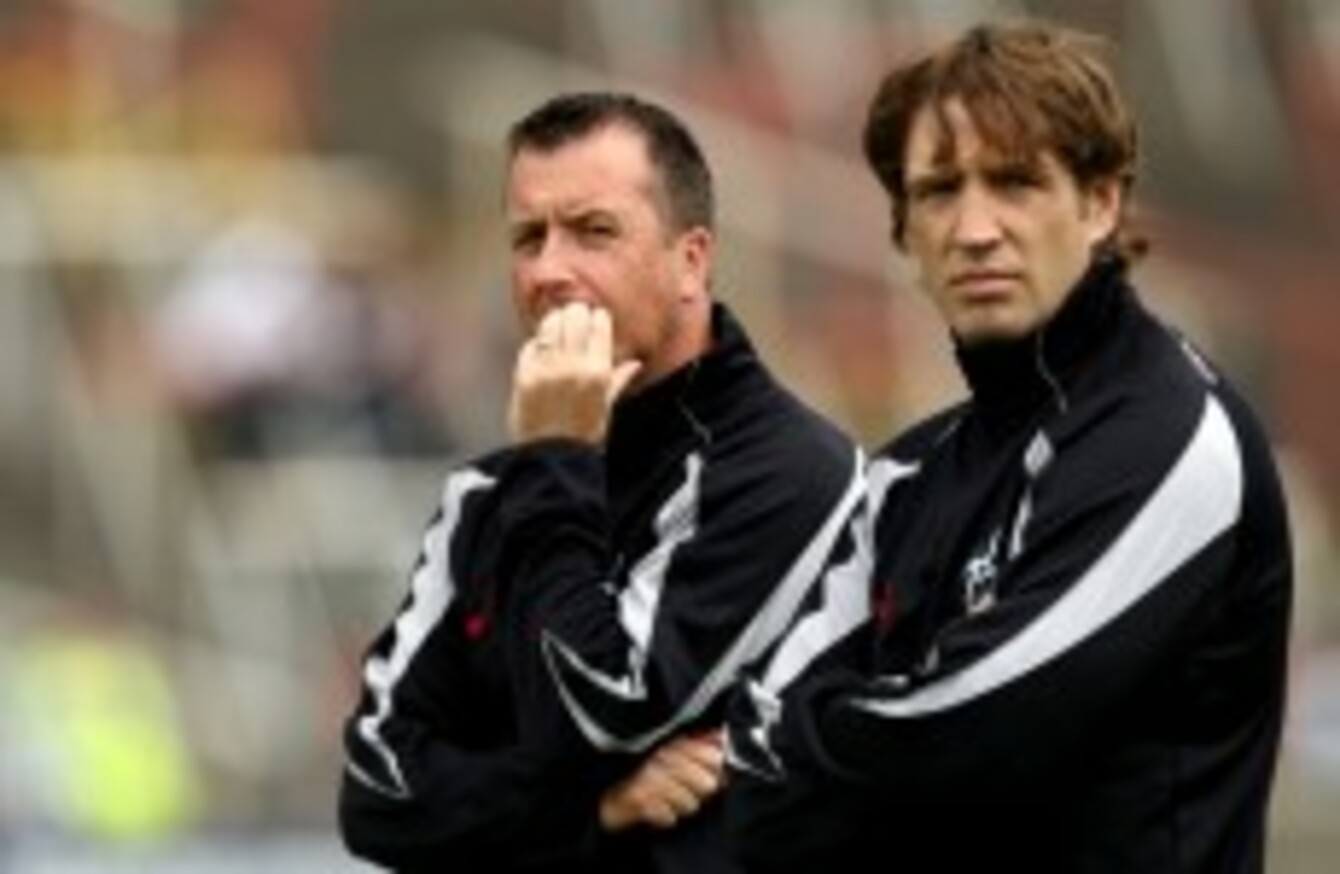 Kieran McGenney and selector Niall Carew in 2011.
Image: INPHO/James Crombie
Kieran McGenney and selector Niall Carew in 2011.
Image: INPHO/James Crombie
FORMER KILDARE SELECTOR Niall Carew has echoed Johnny Doyle's claims that the decision to remove Kieran McGeeney as the Lilywhite's senior football manager is a 'black day for Kildare GAA'.
Carew, who was part of the backroom team under McGeeney from 2008 to 2012, believes that it is one of the worst decisions in the county's history.
"For me this is on a par with Seamus Aldridge's failure to keep Larry Tompkins and Shay Fahey in Kildare back in the 1980s," Carew told TheScore.ie this morning.
"I have heard the county board chairman come out in support of 'Geezer' this morning but to be honest he should have done that long before this. We in Kildare had one of the most sought after managers in the country and we have let him go."
Carew left Kildare last year and subsequently took up the reins as manager of the Waterford senior football team and he revealed his disgust at the way the Armagh man was treated and how the feelings of the current squad were dismissed by club delegates.
"None of us know what will happen next or what the next manager will bring but there were no alternatives offered whatsoever. From what I can see this was a completely anti-McGeeney vote from delegates who hold personal grievances against the man and who may have never talked to him in their lives."
"I can't believe that no-one took on board the feelings of the players at all in this whole thing. Certain clubs expressly went against what their county players said on the matter and that is very disappointing. The players are the people who are closet to the set-up, they are the ones that are sacrificing their social lives and nights out to play for Kildare. I can't understand why their opinions were not taken into account."
Carew pointed out that McGeeney would have walked away from the job after their run in the qualifiers ended against Tyrone back in July but he stayed due to the support of the players.
"I'm devastated for Geezer on a personal level. I had said to him that I thought it might be tight (the vote), but he said he had to let it go to a vote out of loyalty to the players. They asked him to stay and he said he would but this vote obviously changes all that."
With so many of the squad backing McGeeney, Carew had a stark warning for Kildare fans as well. "I would not be in the least bit surprised to see a lot of retirements on the back of this decision," he warned.
The implications of the move to jettison the former International Rules star are wider ranging than just in a footballing sense Carew also pointed out.
The now former Kildare manager was one of the driving forces behind securing Brady's Ham as the replacement sponsor for the county after Tegral ended their two decade long association with the Lilywhites last year. Asked could it hurt Kildare's earning potential Carew believes it could have a major impact on the already debt-ridden coffers of the county board.
"In fairness to Geezer not alone is he a super coach but he is a major commodity as well. He is very high profile and that is what has helped the county as well," he says.
"You want as much profile as possible and Kieran McGeeney brings that but not alone that he has backed it up. Yes we were beaten by Tyrone in the qualifiers but there was just the kick of a ball in it and they went on to contest the All-Ireland semi-final so it's not like Kildare were that far away. The team got to the semi-finals of the National League as well let's not forget.
"I think it is a major mistake to let 57 people in a committee room decider the fate of the county and not have the say of a single player. Some of those players have been there the last six years and yet they were not listened to."
Whoever succeeds McGeeney will have a very tough role to follow his former selector points out and will have to quickly win over the players as well as manage the expectations of
"It will be very hard for the next man in. The players had so much loyalty to the last regime that it will be hard to come in and Kieran has big shoes to fill. Who am I to say the next manager won't be a success though? I know I am a personal friend of the man but when I take a step back, or when anyone takes a step back and evaluates what he brought to the county you have to admit he did a great job.
"He dragged us to the dizzy heights of five quarter-finals and a semi-final in 2010 after years of getting beaten in the first round by the likes of Wexford and Offaly, and getting trimmings off those teams as well. I just think it is a crazy decision to let him go."
"I am devastated for the players in all this as well, but you have to question the decision on a football basis too. I'm back with Waterford in two weeks, we are sitting down to work out our plans for the year, and here you have Kildare without even a manager in place. How will they expect to compete with the likes of Dublin and Mayo and Kerry and the likes when they have yet to even appoint a manager? You are trying to get the players to the most professional level you possibly can to challenge and yet the county doesn't even have anyone in place."
He was quick to rule himself out of the running for the position and believes that the level of expectations in the county may scare some candidates away from the job.
"I am committed to Waterford and I want to do my best for the team down here but even aside from that, out of loyalty to Kieran I wouldn't dream of going in there now.
"It (the level of expectation) will turn a lot of people off. We've won three Leinster titles in the last 60 years, people in the county need to have a reality check. The pressure on the next manager will be severe. Kieran got the county to five quarter-finals, one All-Ireland semi-final and a Division One semi-final this year and it wasn't enough. People have to realise that only one team can win a competition at a time."
Carew also dismissed the rumours about McGeeney's expenses crippling the county board.
"He got the same expenses as any other manager out there. People throw figures around and we've all heard the sums but people will say a number off the top of their head and next thing you know it's fact. I remember buying a new car and I was told that I got it off the county board! Whoever the next manager is, he will get the same expenses as Kieran and it's as simple as that," he says.
"Whatever Geezer got anyway you have to remember he brought it back in 10-fold through fund-raising and sponsorship. The problem he had was that he wasn't two-faced, he wasn't going around being everybody's friend. Maybe if he was more political and put his arm around these delegates shoulders and had a chat with them, he would still be in the job."