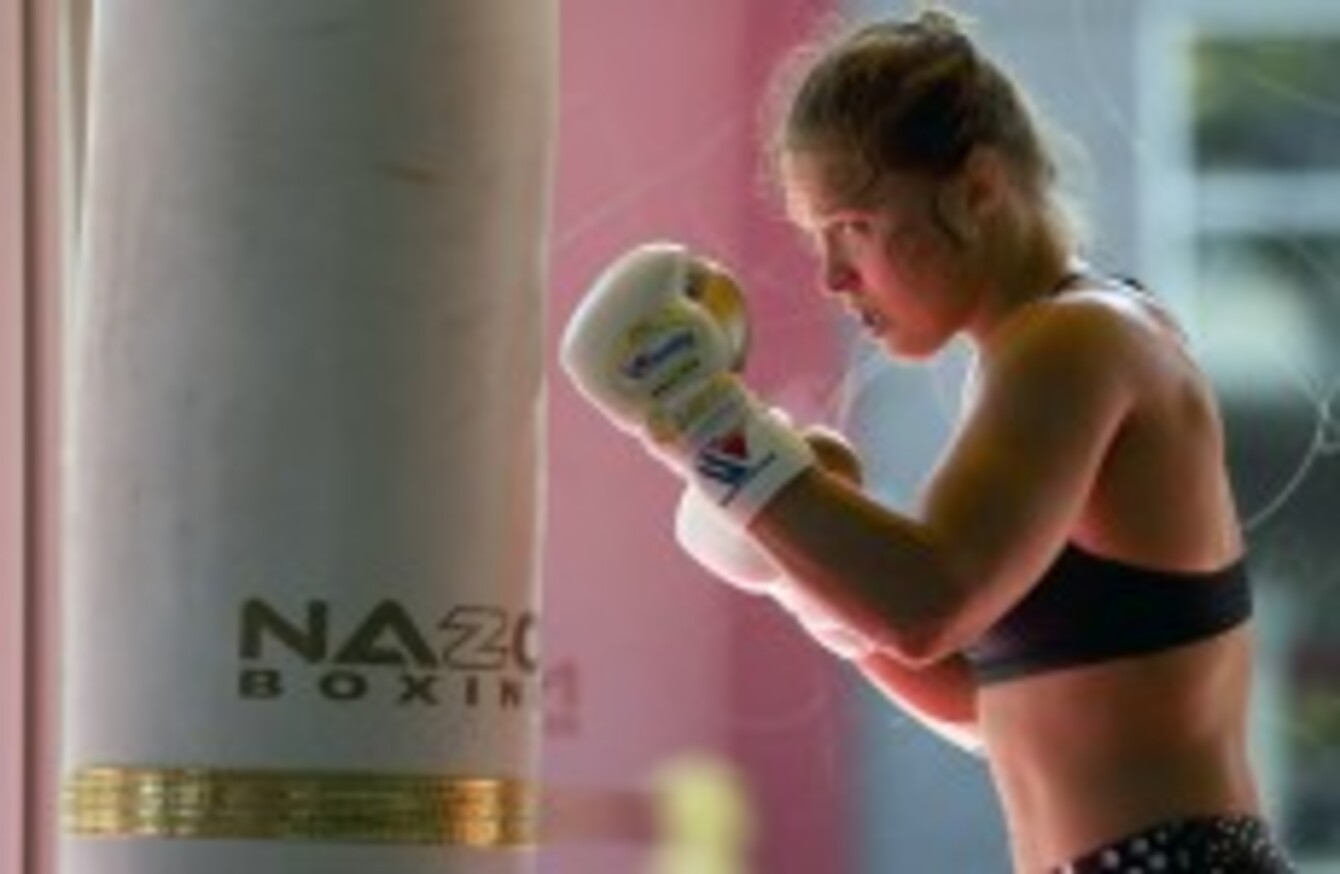 UFC star Ronda Rousey in training earlier this summer.
Image: AP/Press Association Images
UFC star Ronda Rousey in training earlier this summer.
Image: AP/Press Association Images
EARLIER THIS WEEK, UFC star Nick Diaz has been hit with a five-year suspension by the Nevada State Athletic Commission in relation to a failed drug test in January.
And at a UFC 193 press conference in Australia last night, women's bantamweight champion and friend of Diaz, Ronda Rousey, slammed the commission over their controversial ruling.
This is the NAC's harshest punishment on a fighter to date, with Rousey adamant that a positive marijuana test should never be an issue in the first place.
"I'm against them testing for weed at all," she said. "It's not a performance-enhancing drug. It has nothing to do with athletic competition. It's only tested for political reasons. They say, 'Oh, it's only for your safety to keep you from hurting yourself because you're out there.' Why don't they test for all of the other things that could possibly hurt us?"
The ban relates to Diaz's headliner fight with Anderson Silva on 31 January at Las Vegas' MGM Grand Garden Arena, as a result of which the Brazilian too was suspended for just a year for testing positive for steroids. The imbalance in suspension lengths is another aspect of the ban which Rousey strongly disagrees with:
"Nick is a very close and dear friend of mine, so of course I'm going to defend him, but it's so unfair if one person tests for steroids that could actually hurt a person and the other person smokes a plant that makes him happy and he gets suspended for five years."
Rousey went on to describe testing for marijuana an "invasion of privacy." The legalisation of the drug has become a hot topic in US political circles in recent years. Colorado and Washington both passed initiatives to decriminalize and legalise cannabis by popular vote in 2012, with many states expected to soon follow suit.
Source: tyler clarke/YouTube
This was Diaz's third marijuana offence in Nevada. He also tested positive in 2007 and 2012 and was suspended each time. However, the former Strikeforce champion also passed two fight-night tests at UFC 183 when he fought Silva in the main event. The commissioners did not address the negative tests at all in deliberations despite compelling evidence provided by Diaz's attorney Lucas Middlebrook at the NAC meeting Monday.
UFC President Dana White hasn't commented in-depth on the suspension, but he did admit that five years "seems a little rough", going on to speculate that "…if they suspended him for five years and [fined him] $150,000, it's more than just the marijuana. That just doesn't make sense." The NAC could have gone even further with their suspension, with one commissioner, Pat Lundvall, recommending a lifetime ban for the fighter.