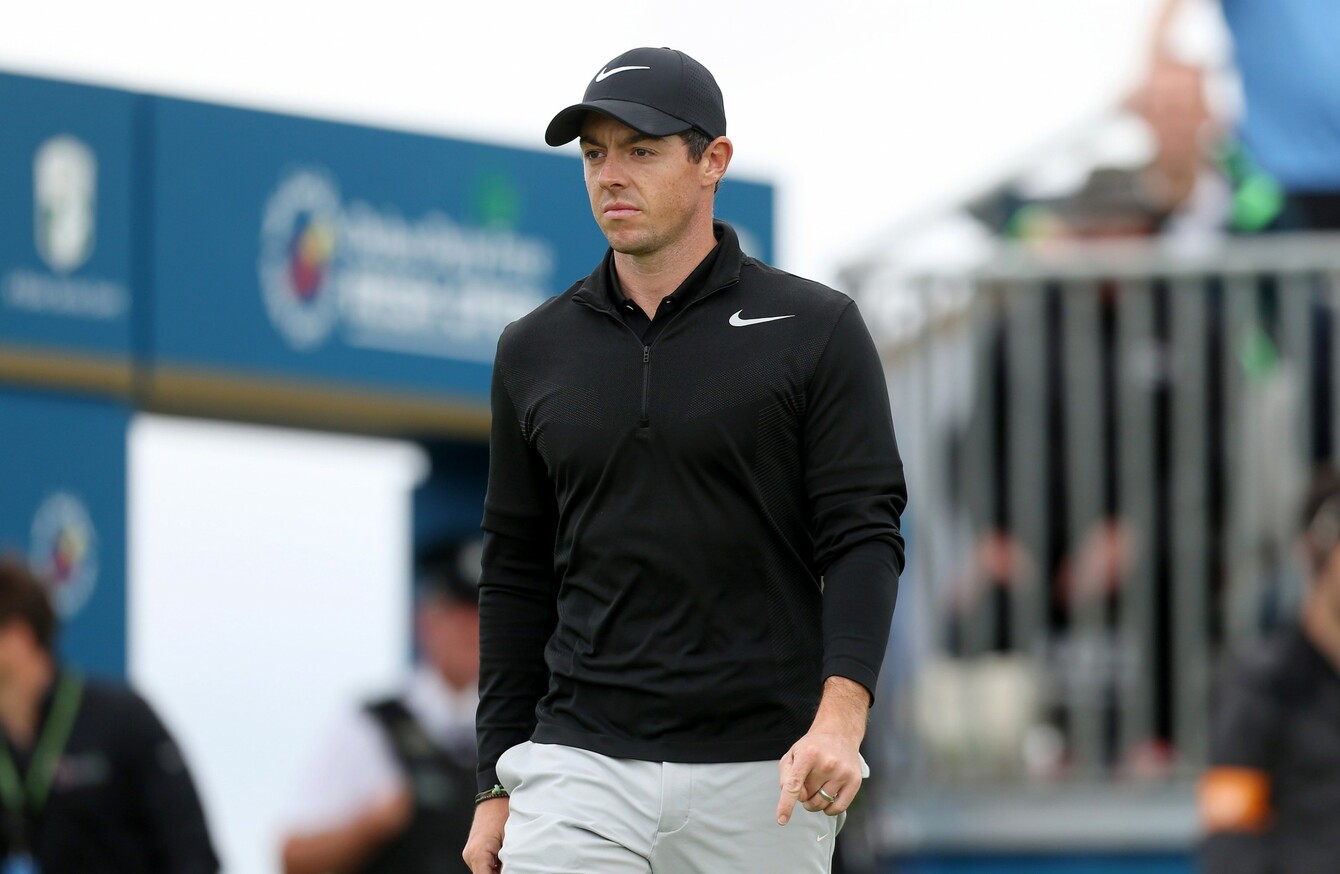 The presence of Rory McIlroy has helped boost funding for the Irish Open.
Image: Presseye/Matt Mackey/INPHO
The presence of Rory McIlroy has helped boost funding for the Irish Open.
Image: Presseye/Matt Mackey/INPHO
WHILE MANY ON both sides of the border are dubious about the possibility of a united Ireland, a subject which Brexit has pushed back into political discussion, you won't find many Irish golf fans questioning the value of cross-border cooperation.
This weekend's Irish Open sees one of the highest profile fields in its history contest its biggest ever prize fund in a spot on the calendar which, as Shane Lowry put it this week, could only be better if it was a week later.
All that just six years after its lowest ebb, Killarney in 2011, when, shorn of a title sponsor, it offered a relatively piddling €250,000 to winner Simon Dyson, some way short of the €1,000,000 bonanza due to this Sunday's leading man.
While the crowds that came to the Irish Open even in the tough post-boom years suggested it always had a future, it is fair to say that the Northern Irish influence has helped make it what it is today. Rory McIlroy acting as host helped lure Dubai Duty Free as title sponsor, while the rotating of venues north and south of the border was a no-brainer given the major-winning pedigree and quality courses in the province.
The example of the Irish Open underlines the developing reality of cross-border sporting cooperation, a sleeves-rolled-up practicality that is far from the uncertainty and posturing of the post-Brexit landscape.
Ambivalence in the south about a united Ireland is all about the bottom line. Put simply, it would cost a fortune. "The Union has been an economic disaster for both tribes in Northern Ireland," wrote David McWilliams in the Irish Independent last month, pointing out how a region that boasted 80% of the industrial output of the entire island at the time of partition now accounts for just a tenth of that produced by the Republic.
Northern Ireland's dependence on a £10bn annual subvention from the UK government has seen economists like McWilliams brand it a 'subsidy junky', a helpless wretch surviving on regular hits of Westminster fiscal methadone. Many in the Republic are therefore less concerned at the prize of Irish unity, than the price.
Except, that is, when it comes to sport — one area in which Northern Ireland undoubtedly pays its way. Whether it's the aforementioned golfing heroes, or world champion boxers like Carl Frampton and Ryan Burnett; an international soccer team that reached the second round of Euro 2016 and this week leapfrogged their southern neighbours in the Fifa rankings; a GAA culture that is famously vibrant and a rugby set-up which impresses in every way apart from the lack of a few trophies here and there.
And all that ignores the historical legacy of George Best, Pat Jennings, Alex Higgins, Willie John McBride, AP McCoy etc, etc.
Northern success always presents us in the south with a dilemma as to just how much we feel we can share in it. Cases in point are the agonising over Rory McIlroy's Olympic identity and the charge that Frampton is not given his due in the Republic, while the grappling between the FAI and IFA over player eligibility seems to reinforce a sporting hard border.
But in reality that border is ever more frictionless.
To the case of the Irish Open already mentioned, you can add the men's and women's Rugby World Cups: the bid for the 2023 men's event is a solidly cross-border initiative, with Northern Ireland contributing three of the 12 proposed grounds and both governments sponsoring the IRFU's efforts. Hell, they even got Liam Neeson to voice the promotional video. Next month's Women's World Cup meanwhile sees the pool stages hosted in Dublin, before moving to Belfast for the knockout rounds.
And the cooperation goes much deeper than co-ordinating big events. Of the 77 Team Ireland athletes competing at the 2016 Rio Olympics, 21 were either from or based in Northern Ireland, while just eight competed for Team GB. The Irish contingent included many from the Unionist tradition, suggesting that a de facto sporting unification exists in many of the High Performance sports concerned.
While the practical reason for this is that most sporting governing bodies operate on an all-island basis, it is also true, as Paul McDermott, Director of High Performance with Sport Ireland tells me, that most athletes "tend to put their sport before their politics," and find the integrated set-up of supports and facilities on this island suits their prospects better than the more distant British system.
Sport Ireland and Sport Northern Ireland worked closely to manage the needs of athletes like Ciara Mageean, Paddy Barnes and Michael Conlan within the High Performance carding system which funds elite athletes. "There would be an open line of communication between us and Sport Northern Ireland to make sure that precious resources are distributed fairly and there is no 'double-funding'," says McDermott, whose SNI equivalent Dr Shaun Ogle sits on the Sport Ireland High Performance Committee.
Athletes from both sides of the border draw on facilities and resources available at the Sport Ireland Institute in Abbotstown and its northern equivalent at University of Ulster in Jordanstown, with those in charge being alert to the sensitivities involved. McDermott mentions Sommer Lecky, a promising high jumper from Strabane, Tyrone, who competes with Finn Valley AC in Donegal and who it's expected will represent both Ireland in international competition and Northern Ireland in the Commonwealth Games.
There is one final irony in this story of successful cross-border cooperation.
Part of the reason for Northern Irish sporting success in recent years is the fact that it has been remarkably well funded — the positive spin-off of 'subsidy junky' status. Sport Northern Ireland's budget for 2011-12, the start of the last Olympic cycle, was £31.3million, compared with the government allocation to the Irish Sports Council (Sport Ireland's predecessor) of €44.5million. Adjusting for exchange rate and population base, this means that sport in the North was funded twice as well as in the South.
This funding wasn't all in the form of direct state handouts. In 2015, the UK National Lottery celebrated 20 years of funding sport at all levels in Northern Ireland, in which time it had paid out over £128million in almost 3,000 grants, with the likes of McIlroy, Frampton, Barnes, and Jason Smyth among those benefitting.
But austerity measures by the last Tory government have bit hard. As the Westminster subvention was reduced, so too was SNI's budget: in 2016, it was slashed to £21.29million, while Sport Ireland's has remained steady.
Now that the DUP has managed to turn the tap back on again, perhaps their hard bargaining will see funding restored to an area which had been a fine example in a post-Brexit world of how interests on both sides of this island are best served by the softest of borders; could a deal that strengthens the Union inadvertently help one aspect of Irish life that is increasingly united.
The42 is on Instagram! Tap the button below on your phone to follow us!