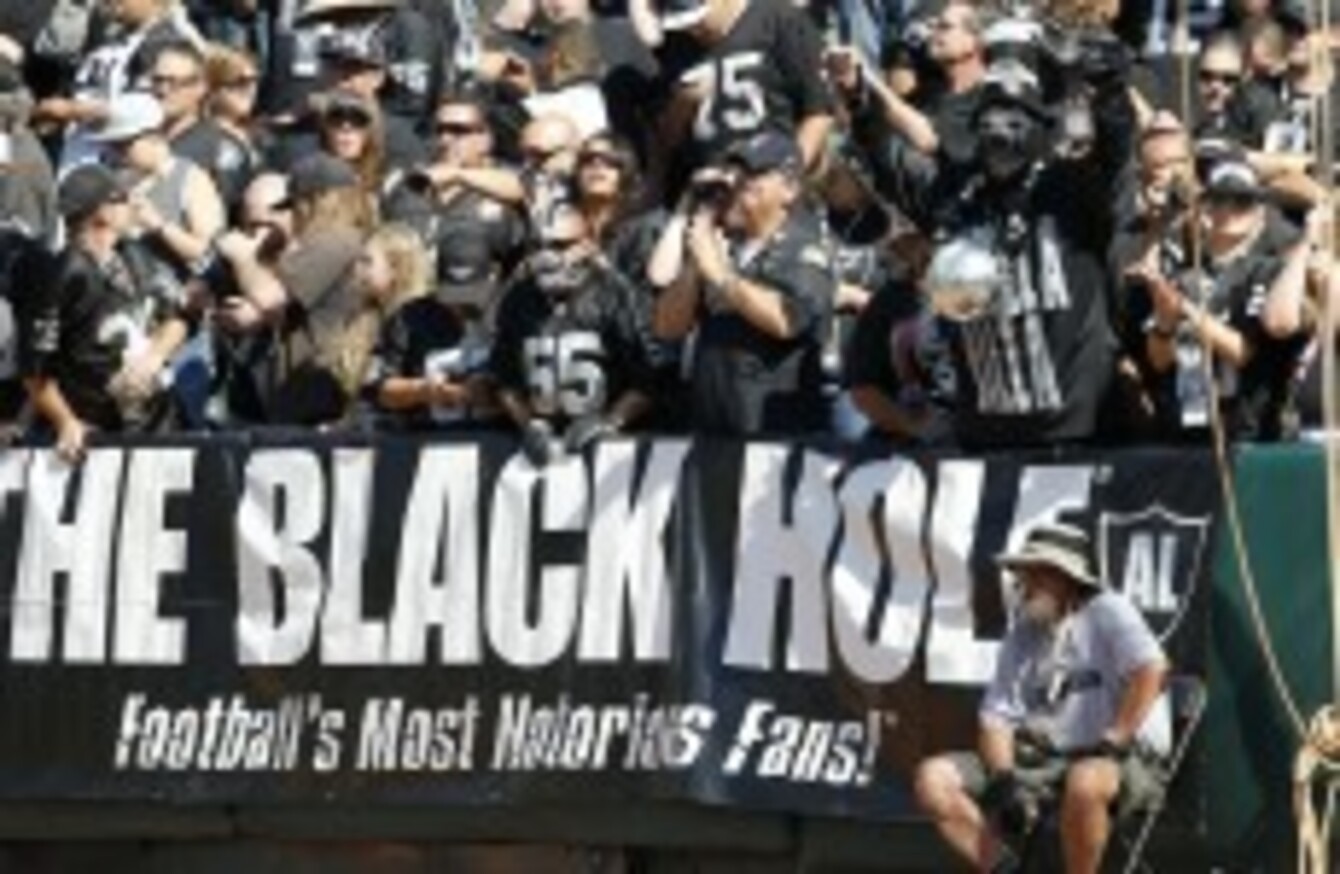 Most of Oakland's problems in one picture.
Image: Tony Avelar/AP/Press Association Images
Most of Oakland's problems in one picture.
Image: Tony Avelar/AP/Press Association Images
FINALLY, EVERYONE ELSE had a chance to share my pain.
Last night, as the Miami Dolphins ran up the score on the hapless Oakland Raiders in the first of a record-breaking three Wembley games this year, Sky Sports ensured that everyone got to see just how terrible the silver and black are, something I'm forced to live with every week.
The broadcaster, clearly hell-bent on inflicting the worst kind of cruel and unusual punishment on its subscribers, opted not to allow people watch Redzone (the NFL service that allows viewers see every game at once), forcing them to watch what unfolded in Wembley.
It wasn't pretty but, then again, very little to do with the Oakland Raiders is. As a long, long, suffering fan, I can only apologise for what the team did to your eyes yesterday. I can't imagine how the poor souls who forked out well over €100 a ticket (on average) to watch it in person must feel.
As always with these things, it's the hope that kills you.
Not just last night when the Raiders went seven points up before losing 38-14 but, in general, my 20 years of supporting the silver and black has seen one false start after another.
Since I started supporting them in 1994 – influenced by a pirate logo and NWA – the Raiders have made the playoffs three times, the last of which came 12 years ago.
Between 2000 and 2002 was actually a glorious time to be a Raiders fan:
2000: 12-4 record, lost the AFC Championship game
2001: 10-6 record, cheated of a spot in the AFC Championship game by the 'tuck-rule'
2002: 11-5 record, lost Super Bowl XXXVII
After that, things got real ugly, real fast:
2003 – 4-12; 2004 – 5-11; 2005 – 4-12; 2006 – 2-14; 2007 4-12; 2008 5-11; 2009 – 5-11; 2010 – 8-8; 2011 – 8-8; 2012 – 4-12; 2013 – 4-12
When owner Al Davis died during the 2011 season, it looked like things might change as the team was finally released from his vice like grip. That season, the Raiders knew a win in the last game would see them into the playoffs and post a winning record. Of course they lost.
This season, after a decent draft by their standards, the Raiders made some major moves in free-agency, signing up Lamarr Woodley, Carlos Rogers, Justin Tuck and Maurice Jones-Drew to name a few. If anyone was going to win the 2008 Super Bowl, it was the 2014 Oakland Raiders.
They are, without doubt, the worst team in the National Football League; the Kilkenny footballers and Cavan hurlers all rolled into one. Last night you had to endure it for three hours. I've had over 175,000 hours of this.
I get that somebody has to support bad teams. I've watched friends endure two decades of Liverpool not winning the Premier League and like everyone from Kildare I've been living off 1998 for far too long.
But sport is supposed to be cyclical, the good times are supposed to come around again. Instead every joy that came with being a Raiders fan seems to have been sucked into Oakland Colosseum's infamous black hole.
What's the solution? It has been suggested that I could just stop supporting them but that feels like quitting. Others have hinted I could just change teams when they inevitably move from Oakland again but anyone I pick would inevitably see me accused of glory-hunting.
The thing is, I don't want to stop supporting them. These horrible, dark, utterly miserable days will, surely, someday be rewarded with a modicum of success. It doesn't have to be Super Bowls. I'd take a winning season or a play-off spot.
Anything that doesn't involve watching a team get out-played, out-fought and out-thought every given Sunday.
The problem for Oakland is that new owner Mark Davis is basically Al part two, and utterly handcuffed to the idea that the Raiders need to be this rag-tag bunch of outlaws and renegades not afraid to stick it to some fictional man rather than, oh I don't know, a half-competent football team.
Raiders fans, those that populate the black hole at least, only add fuel to that fire but the type of football they hope will win them Super Bowls – stick the ball up your jumper on offence and hurt people on defence – died out thirty years ago.
When Dennis Allen is inevitably fired the temptation will be to once again to go for a coach in the image of John Madden when really, the Raiders should be looking at one in the mould of Jon Gruden.
Until then, I'll continue to feel like I need to apologise every time the Raiders are foisted upon innocent viewers.