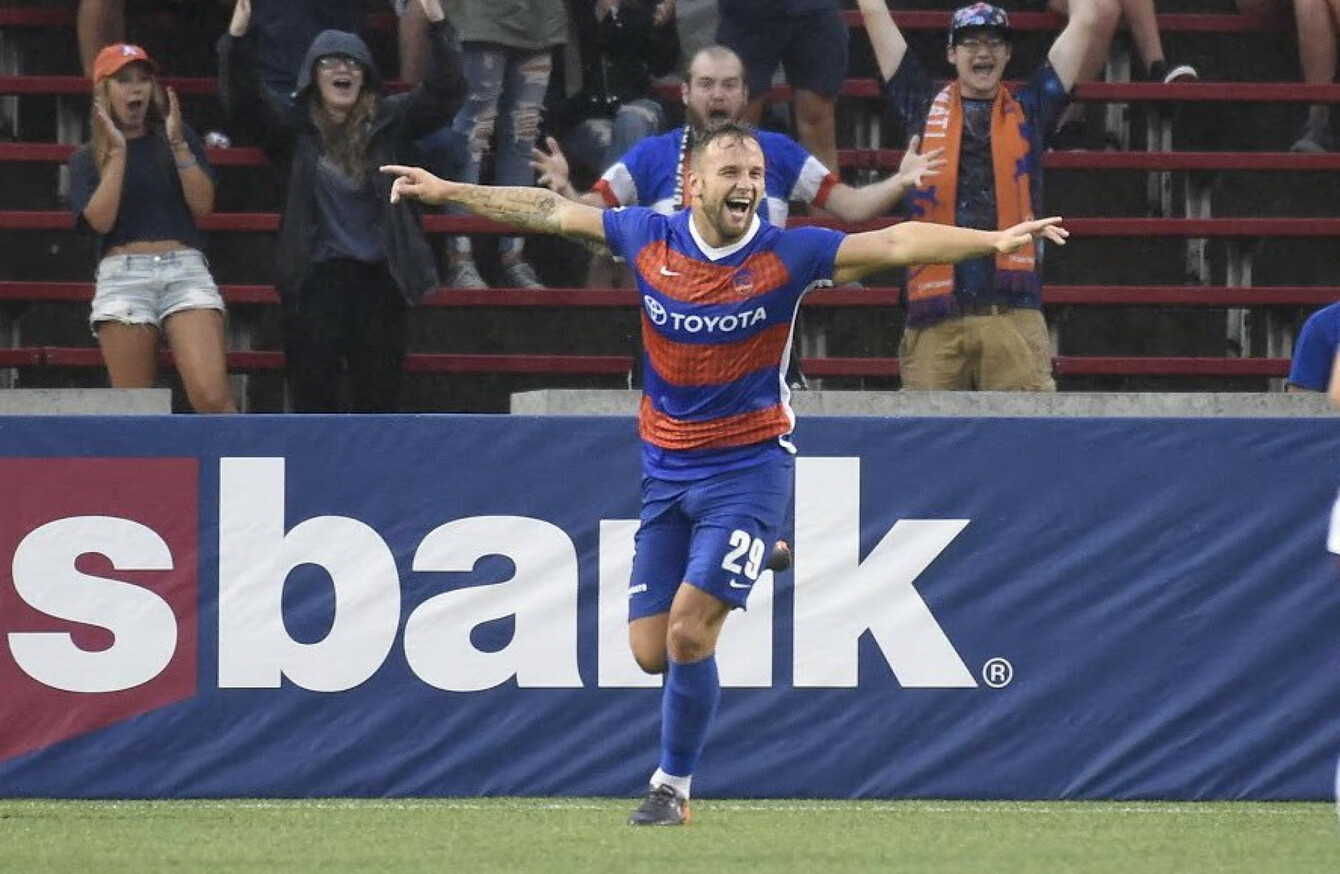 AS OPENING GAMBITS go, it certainly sets the tone. 
"I'm down here in Florida", says Paddy Barrett. 
"And I'm dying with the heat, to be honest with you."
Other than the searing temperatures, he's acclimatised pretty well to life in the United States.
Playing there always seemed a great idea but it was late last year when things really started to develop. There was a Premier Division and FAI Cup double in his first season with Dundalk and then another title in 2016. He was involved in the club's European adventures in the Champions League and Europa League. But, minutes began to dry up and he went back to hometown club Waterford on loan. The mind started to wander and he contacted an old team-mate from his days with Dundee United to get a steer on what it was like in North America.
"I spoke to Richie Ryan and he said that he would've come over earlier if he could have," Barrett says.
It was a twist of fate.
Ryan was figuring out his own future at the time, owing to the collapse of the NASL. Barrett was mulling over a few different US options. But, within a few weeks, both were team-mates at FC Cincinnati.  
"It was a bit crazy the two of us ending up at the same club in the middle of America," Barrett continues. 
"I was texting him before Christmas and he had no idea where I was going and I didn't know what he was doing either. Even when I did sign, he was texting to see if I was settling in well and if I needed anything he was always just a phone-call away. And then a few weeks later he signed too. It's great to have him here. He's probably the only one that can understand me. He's the only one I don't have to repeat myself to ten times. He's an unbelievable professional, an unbelievable player. He's out injured at the moment and we miss him, to be honest. The sooner he's back the better for him and us."
As much as Ryan is a crucial ingredient, the side have still managed to blitz through games without him.
The United Soccer League is, effectively, the second-tier in the North American pyramid, though there's no promotion-relegation. Major League Soccer – the top-flight – is a closed environment and for teams to make the step up, they need to tick a couple of boxes. Most importantly, an ownership group has to secure upwards of $150m as an MLS buy-in fee. Usually, a soccer-specific venue is a must but because of Atlanta United's recent success playing in the Falcons' state-of-the-art Mercedes Benz Stadium, there appears to be some wiggle room on that front. Finally, there needs to be a proven soccer market and enough of a fan culture to build on before MLS will commit.
For FC Cincinnati, it's been a remarkable tale. It was only March 2016 when they played their first game but supporters have been there – and in their droves – from the very start. In their debut season, they averaged crowds of over 17,000. To put that in context, they had better attendance than five MLS franchises. For a summer friendly against Crystal Palace, 35,000 showed up.
It's only got better. The following campaign, they brought in over 30,000 for a league game against New York Red Bulls' reserve side, averaged gates of almost 22,000 and reached the semi-finals of the US Open Cup (the American version of the FA Cup).
It didn't go unnoticed and earlier this year, FC Cincinnati were announced as an MLS expansion team for 2019.  
"It's unbelievable," Barrett admits. 
People from back home and in other parts of Europe probably don't understand how big a club this is. They only started three years ago. We get 27,000 each week at home games. The club is massive and getting to play in MLS now as well…"
"I wish people did know how big it is. I had the opportunity to go to a few teams but the manager – Alan Koch – came to Dublin and I met him there. He sold the dream to me. I couldn't turn it down although I did have a few offers. This was most appealing to me, especially with MLS and how big the club was and how big the fanbase was and you couldn't turn your nose to it." 
"It's unreal to have the chance of playing in MLS next year but the club have an option on me so it's in their hands. Still, it is an exciting time for the club and the city. It just goes to show the magnitude of FC Cincinnati and how they've got there so quickly. They're getting a new training ground and building a stadium of their own because at the moment we play in a college ground. It's incredible to see how far they've got in such a short period and the owners don't mess about. If they say they're going to do something they'll do it. It's exciting to see the club grow and hopefully I can be a part of it."
But, the USL is a curious place. Certain MLS teams use the league as a development space for reserve sides and only a handful of USL outfits don't have an MLS affiliate. It means that a small group – among them FC Cincinnati, Indy Eleven, Louisville, Nashville, Sacramento – are truly independent and exist within their own soccer culture. It also means that while certain teams can boast impressive attendances, others struggle to attract much attention.
"We played at home last Saturday night in front of 27,500 and then we played midweek and there was about three or four hundred people," Barrett says. 
"It goes to show the differences in some places that you go to. We played Bethlehem Steel (affiliated with MLS side Philadelphia Union) and there wasn't even 50 people there. It's easier to go out in front of 27,000 because they drive you on and it's exciting but it shows the character we have too – to go out and perform on the road even though the surroundings may not be quite what we're used to in Cincinnati." 
Inevitably, the early days were tough for Barrett. He arrived in mid-winter and knew nobody. The vastness of the place wasn't something he was quite prepared for. It was pre-season and days were long.  
Be part
of the team
Access exclusive podcasts, interviews and analysis with a monthly or annual membership.
Become a Member
"I'm here eight and half months now and I still don't know where Cincinnati is," he says. 
I have no idea where anything is in America. It's too big for my liking. I only know where Waterford is and that's about it."
"Through January and February we were getting minus-16 degree weather. It was bad. I was thinking, 'Right, one season over here will do me – at least I tried it'. But then March came along. The season started. The weather picked up. And now I love it. I could stay here forever. It's funny how the weather changed so much. It changed my whole outlook on the city and the people too. Because nobody is really happy walking around in minus-16 degrees. Nobody wanted to speak to anybody. But it's been 25 degrees-plus for the last five months. Everyone's delighted going around and it's easier to get to know people and chat to them. At the start, it was me on my own and nobody likes that. Modern technology is a bonus – you get to speak to friends and family as much as you want. My Mam rings me ten times a day to make sure I'm alive." 
Another @USL attendance record falls... you're the largest midweek crowd in league history! #JoinTheMarch | #CINvCLT pic.twitter.com/2s9rHfU27q

— FC Cincinnati (@fccincinnati) July 19, 2018
It's also helped that Barrett's team have been rampant this season. They've lost just three times from 26 league games and top both the Eastern Conference and the overall standings. After being eased into the league, Barrett has featured more regularly since the summer and has enjoyed himself in recent weeks. 
There was a first goal for the club against Red Bulls and then a few games as captain, including the team's most recent outing against Tampa Bay Rowdies.   
big one tonight ⛽️⛽️⛽️ #LFG pic.twitter.com/FksGzOk9If

— Spencer Richey (@spencerichey18) August 18, 2018
"I was a little bit shocked, to be honest – obviously just being in the door and with a lot more experienced players in the team," Barrett says. 
"But for the gaffer to give the armband to me shows the faith he has in me and shows that he believes in me." 
Barrett is part of an interesting squad that includes former Arsenal and Middlesbrough defender Justin Hoyte and one of his ex-Boro team-mates Emmanuel Ledesma. But, for all the quality and all of the wins and all of the big crowds, domestic US soccer will always have its detractors and Barrett is acutely aware of that too. 
"I understand people back home judging the league when they see some of our away games and there aren't many fans in the stadium," he says. 
But if they watch our games against top clubs like Louisville or Nashville, they'd see the quality of the league and there are a lot of teams here that would smash League of Ireland clubs, without a doubt. But there are teams that would struggle in the First Division too. It's crazy. Some sides would dominate the League of Ireland but fans obviously don't see that side because they don't take much interest in it. The USL is such a far-away league, nobody really cares about it back home and a lot more people would be tuned into MLS. But we have a lot of MLS-standard players in our team and they will go to MLS with the club next year and getting to train and play with them week-in, week-out improves me as a player and improves the standard of play overall."
Some of the early irritations are no more and Barrett has found his stride. He's even got used to the travel. 
"Back home, an away trip is a few hours drive on the day of a game.
With this team, we flew out on a Tuesday this week and we're gone for six days. At the start I was like, 'Wow, this is a lot' and it was taking a lot out of me. Travel-wise, I was getting tired easily. But now I've got used to it. I like it – getting away and seeing new cities. Doing the travelling, it's great. It's amazing to see so many places. And getting to do it while playing football is a bit surreal."
And, in times of need, the local community have rallied around him.  
"I was only here six weeks and I did an interview," he says. 
"They asked a question – 'What do you miss most?' And I just said, 'A cup of Irish tea and a bowl of porridge in the morning' or whatever. And I got back to Cincinnati and there were boxes and boxes of Barrys Tea and Flahavans and I still have them in the house. That's eight months later. I have a year's supply of them. I'll have to mention a few other things in the next interview I'll do."
Barrett is happy that he backed himself and made the switch, even if he does end up waving goodbye to Cincinnati at the end of the season.  
At the start I was over-thinking things. 'Will I do it, will I not?' I've always said I'd like to go to America to play but when clubs started contacting me I was like, Oh, shit' because it got very real. But I'm glad I made the decision because I know a lot of Irish players want to go. It's just actually doing it. They think America is a million miles away and they can never go back home." 
"But it's one of those dreams….'I need to go to America'. Getting to see New York City and all these places. The chance came up that I could travel around America while doing what I love. And it was something I could have regretted if I never tried it." 
The42 is on Instagram! Tap the button below on your phone to follow us!