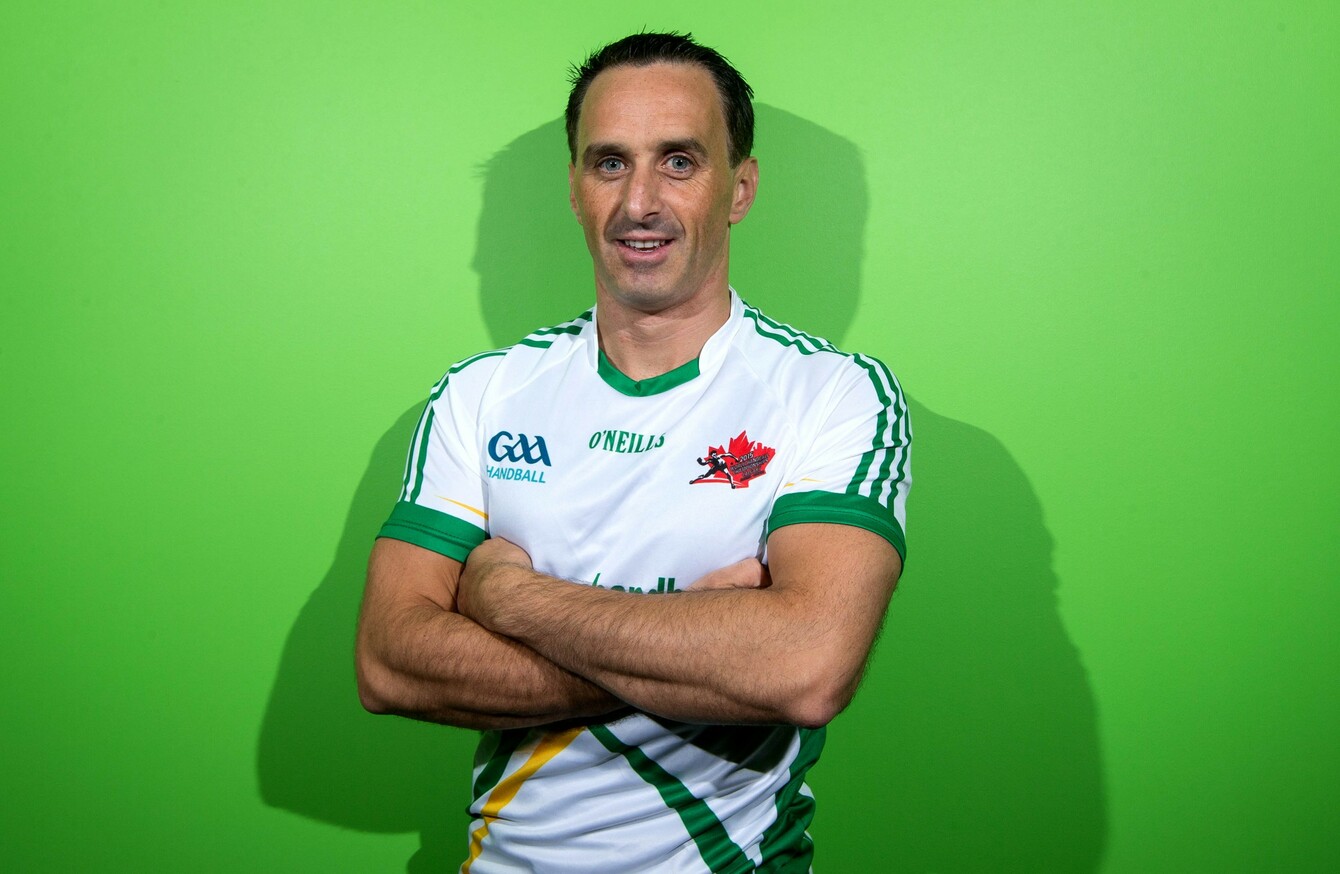 Cavan handballer Paul Brady.
Image: Ryan Byrne/INPHO
Cavan handballer Paul Brady.
Image: Ryan Byrne/INPHO
AS PER USUAL, Paul Brady's future is in his hands. But for once, uncharacteristically, he's unsure about his next move.
The world's greatest handball player is in limbo at the moment, you see.
He's wrestling with his thoughts. Does he put his legacy on the line by making one final push, in the hope of bowing out as a champion? Or does he call time on the most decorated career in the history of handball and decide he's happy with his lot?
Right now, the Cavan man still doesn't know what to do.
He may have won a record five successive men's Open World Championship crowns (2003-2015), 10 Irish National titles and 10 US National titles but there's a part of Brady that still wants more.
He's hurting at the moment. A tie-break loss to up-and-coming Mallow handballer Killian Carroll at the US Nationals in June cut him deep and made him question whether his time was finally up.
He is adamant that his career at world level is over, ruling out a tilt at a sixth successive world crown in Alaska in 2018.
But a reflective Brady, who turned 37 fewer than three weeks ago, is slowly coming around to the idea of attempting to win a record-equalling 11th title at the US Nationals next year and possibly another in 2018.
"I'm having a dilemma," Brady tells The42.
"I had a loss in June that hurt me pretty badly. It was just a one-point loss. And the main reason that I continue to play is just that US Nationals tournament.
"It was so close. I actually outscored my opponent, it was just that he got the main points. I served for the match a few times.
I suppose I feel like I want to take a break and I'm kind of in the process of that but I wonder that at this stage if I do take a break, will I come back?
"It's a bit haunting because I've seen players come back, even in other sports, and ruin whatever legacy they might have had by taking a beating.
"Earlier on in the summer I was leaning towards leaving it and as time has gone on and I suppose the rawness of the defeat isn't as bad, I'm giving staying on more thought."
The primary school teacher had been having doubts about his future in the game he loves for quite a while; a 25-year itch if you will.
He's come a long way since being introduced to the sport as a 12-year-old by Fr John Gilhooly, a teacher in St Patrick's College, Cavan.
Juggling the travel on the professional circuit, his day job and a masters degree in sports and exercise psychology was starting to take its toll.
Over-tired and over-committed, he found himself questioning his motivation for the first time in a long time while on a flight to Salt Lake City in May.
"The main thing is I just wasn't enjoying it at the end. It was just getting too hectic, the travel and I was doing a masters, I was doing a bit of teaching too.
On that flight in May I was thinking I don't actually like this sport particularly much at this point in time.
Brady knows his next decision is a big one and one that he can't afford to rush. But on the other hand, the clock is ticking on his elite career.
"I can't take a long break or obviously I wouldn't go back. It's a precarious position I'm in at the minute.
"If I leave it too long it's gone from me, and if I go back too quickly I'll just jack it in altogether.
"I'm just reflecting at the minute, I haven't had a critical stage like this in a long, long time."
Brady lost to Boston-based Carroll for the first time in May, at the Players Championship in Portland, Oregon.
In doing so, the Corkonian, who Brady defeated to win his fifth world crown in Calgary last year, became just the third player to beat the Cavan man in 11 years.
At 23, Carroll is 14 years Brady's junior and that is something which bears weight.
Brady had felt the next wave of talent nipping at his heels and now he finds himself on the back-foot. But the champion in him is desperate to fight back and prove he is sill the standard-bearer for the game.
With his masters now out of the way Brady feels he could perhaps re-focus some extra energy on the game that has seen him travel the country and the world representing Cavan and Ireland.
"Part of you will always feel, 'OK, do I want to end on a loss or do I want to go back and play that guy again?'.
"Instead of being the hunted, I'm now the hunter which alleviates some of the pressure.
"I'd say some of that pressure has been there for about 12 years, if not maybe 15 years, where you were the one everyone hunted.
There's some part of me that finds that challenge attractive. Also to come back from defeat is a challenge as well.
"As the rawness of the defeat is easing it's becoming that bit more enticing but it's just not enticing enough yet at this stage. But I'm hoping that maybe further down the line that will change."
September was a busy month for Brady; he submitted his thesis to UUJ on the stressors in GAA inter-county management before taking up a full-time contract in a learning support role in a Cavan town primary school.
As the dust settles, he finds himself in a period of deep reflection but he insists he won't consider sitting back and admiring his trophy cabinet until his mind is made up on his next move.
You don't need a masters in sports psychology to know he's found himself between a rock and a hard place.
He openly weighs up the pros and cons of a return to the circuit, rambling from one to the other, it's a constant mental tussle.
A tough call looms, but with his track record you'd back him to make the right decision, time and time again.
The42 is on Snapchat! Tap the button below on your phone to add!