FORMER ARMAGH MANAGER Paul Grimley has slammed Joe Brolly's "poisonous" criticism of his former selector and current Orchard County supremo Kieran McGeeney.
Grimley believes that RTÉ should call Brolly to task after he claimed that McGeeney "hasn't a clue" and openly questioned his managerial credentials during the station's coverage of last Sunday's Ulster SFC quarter-final defeat to Cavan.
Grimley also urged GAA chiefs and the GPA to take a stand and help to ensure that inter-county players and managers are not set for "another summer of being torn apart and discredited."
And he insisted that a number of Crossmaglen Rangers players have valid reasons for not committing to the Armagh squad at the present time.
But Grimley, who was replaced by McGeeney in the Armagh hotseat, reserved real anger for Brolly and accused the former Derry star and outspoken pundit of double standards when his charitable work is taken into consideration.
Grimley said: "I think poisonous would be the word to use with Brolly.
Because of the picture he paints of himself in other areas, he probably thinks he can get away with some of the very poisonous remarks he makes, during and after games about managers and players.
"Brolly made a remark about Marty Morrissey last year which was wrong but it was clamped on right away by RTÉ.
"When he makes remarks about players, managers and county chairmen, calling them spineless and stuff like that, are RTÉ happy enough to let that play out?
"They have to be asked the question: where are their barriers? Where do they draw the line?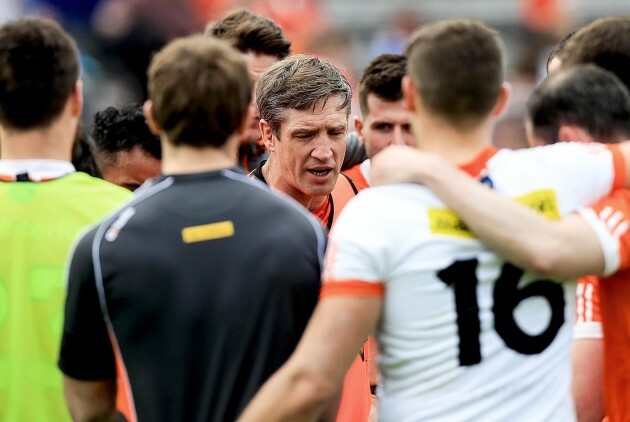 Donall Farmer / INPHO Donall Farmer / INPHO / INPHO
"It is only when one of their own is attacked that they draw the line or do they let it run because the viewing public are following the likes of what Brolly says like sheep?
"The question also has to be asked of the GAA and GPA – are they going to sit back silent and let another summer pass where players and managers are being torn apart and discredited by comment on TV, radio and in the written press?
"Don't get me wrong, being in that position, nobody is saying here they don't expect to be criticised, pulled over the coals whenever their team loses or asked hard questions by the media when the team loses but when you're not given a right to reply in interviews, there's something a bit sneaky about that.
"If you're watching a soccer match and somebody's interviewed after the game, the interviewer would say that somebody made a comment in studio and the person being interviewed has the right to reply on site.
But The Sunday Game is the Joe show, that's the way he wants it and RTÉ use him for ratings. That's just the way it is.
Exclusive Six
Nations Analysis
Get Murray Kinsella's exclusive analysis of Ireland's Six Nations campaign this spring
Become a Member
"Joe Brolly's comments should have been relayed to Kieran there and then.
Morgan Treacy / INPHO Morgan Treacy / INPHO / INPHO
"You can do all the charitable work you want but it doesn't give you a pass to behave like that. His charity work is admirable but I'm angry that the GAA are happy enough to take RTÉ's money to see their players and managers slandered on TV.
You can walk around loaded down with All-Ireland medals, All-Stars and stuff like that but the one thing that rates any person is decency. If you haven't got that, you can throw your medals, All-Stars and other achievements in the bin. The rest of what you have is made of glass.
Grimley added: "It's a cowardly thing to do, when people are at their most vulnerable, to take another lump out of them.
"This is the same guy who sits in studios and cries his eyes out over different things.
"People say what a great lad he is and he's been reduced to tears talking about donating a kidney and everybody in the country is on the same page as him regarding things like that, no doubt about it.
But to go from that to the lad on the TV screen criticising players and managers is a complete and utter contradiction.
"I don't get it and I don't get RTÉ either to be quite honest. They're saying their experts have their own opinions but that's rubbish. They provide a platform and are ultimately responsible."
Grimley also insisted that players who choose not to commit to the county set-up shouldn't be blamed for not doing so – but he insisted that Aaron Kernan retired prematurely.
Grimley added: "Jamie Clarke is a great lad and a great footballer but he has chosen a different life path. Paul Hughes is away travelling and Kyle Carragher, who I had on my team and is a fantastic player, was building a house and pre-occupied with other things, Paul McKeown likewise.
"Aaron Kernan, another great lad and fantastic player, chose to retire, in my opinion, prematurely but he took that decision and publicly outlined his reasons.
"Talk of a feud between Cross and Armagh is a complete and utterly false smokescreen."
Originally published: 06.30
The42 is on Snapchat! Tap the button below on your phone to add!