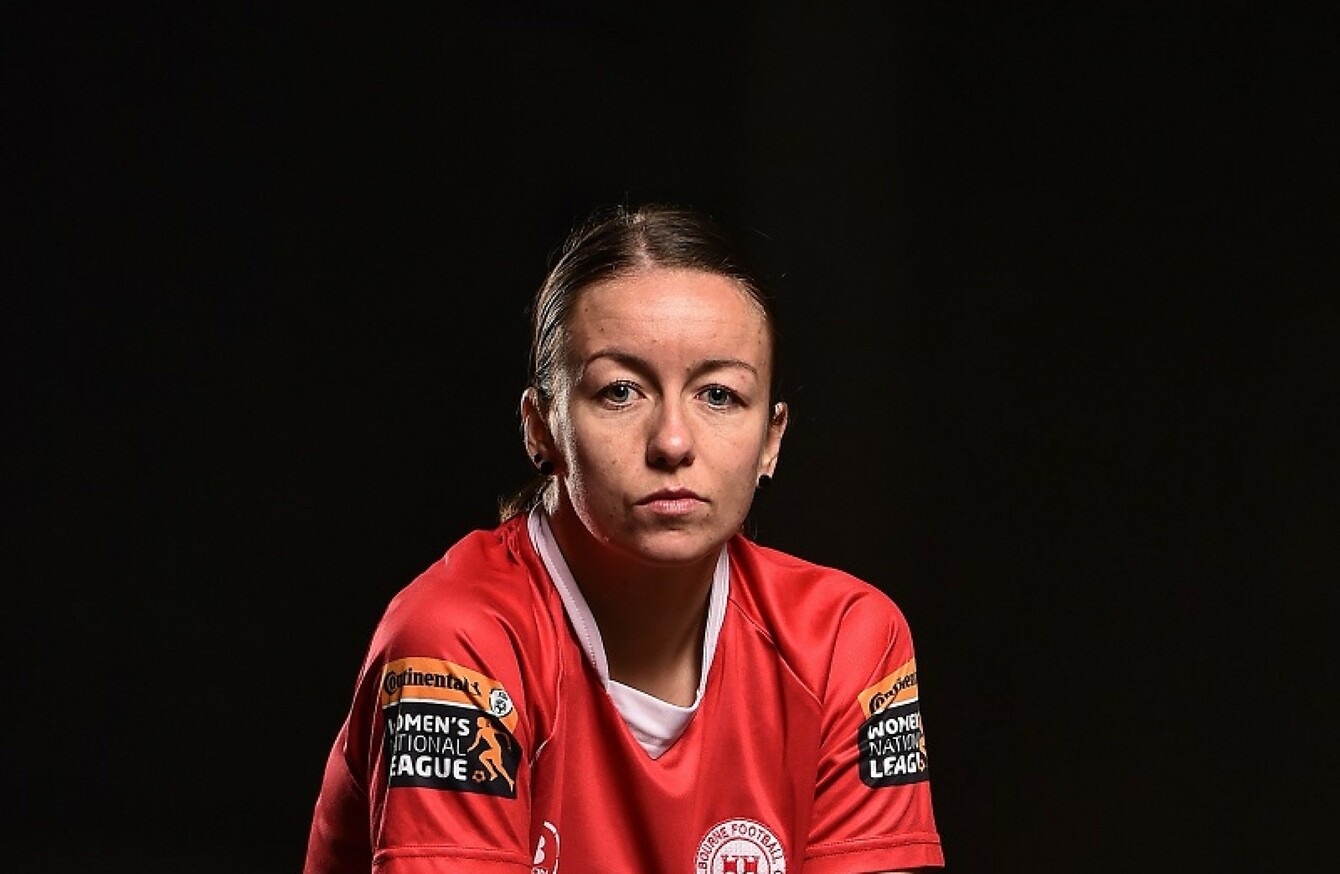 Image: Seb Daly/SPORTSFILE
Image: Seb Daly/SPORTSFILE
TATOOES ON THE RIGHT arm of Shelbourne's Pearl Slattery tell a number of stories about her life.
There's images of birds, that embody the spirit of her grandfather and sister, who have passed away. On her shoulder sits a depiction of Dublin's skyline, which represents a time when she was abroad.
There's illustrations to commemorate her mother's work as a playwright on the underside of her arm. And of course, her skin art also contains a picture of a football for obvious reasons.
"It was just what I wanted, I didn't want just a load of rubbish," she tells The42 at the season launch of the 2017 Continental Tyres Women's National League (WNL).
The next chapter of her life is about to begin, as Shelbourne look to a new season with league and cup honours to retain.
They begin their league defence with a clash against Cork City on 18 March, and Slattery insists that they will be adopting a game-by-game approach to the season.
"You have to want to do what we did last season but obviously you have to be realistic and take it game by game.
I think you have to want to go and win it all again and that has to be our aim every season. That's why I get up in the morning and go training at night."
There's also Champions League football on the horizon, and Shelbourne will be hoping to match Raheny's last-32 finish in 2014, a campaign which Slattery featured in, before the clubs merged.
She believes that having players with that experience on board, will be key for Shelbourne's chances this time around.
"I think it's huge when you have people who've done it before. It's like playing in the Aviva, it's great to have people who've done it.
"We'll definitely want to win the group and do our best. We've a brilliant squad so there's no reason why we can't give it a good go."
Be part
of the team
Access exclusive podcasts, interviews and analysis with a monthly or annual membership.
Become a Member
Shelbourne will be without prolific striker, and WNL Senior Player of the Year Noelle Murray this season, who has transferred to Glasgow City.
She admits that Murray's impending absence will be a "huge loss," but doesn't begrudge any individual who wants to ply their trade outside of Ireland.
At the same time, she hopes that the Irish league will one day expand into a product that entices homegrown players to stay in the Irish club system.
Source: FAI TV/YouTube
"It's a bit of both. Personally, I'm delighted for them because that's what they want and they want to push on.
But it'd be great if this league gets to a stage, maybe not this year, but I think they're trying to build it that you keep the big players here and create a big league like in England. I don't know if it will ever get to that stage but I'm sure it's the plan for the way forward."
The WNL is switching to a single-calendar format this season, in an effort to emulate the structure of the SSE Airtricity League.
Slattery welcomes the adjustment, and believes that playing fixtures in the summer weather will help to reduce the gaps between games.
"I think it's really good. Last year we got away with the short season but the one before that was very frustrating. We were going six to eight weeks without a game because of the weather. It'll be nice to play in the summer."
"It's really tough because there's only seven teams in the league and every team will have a week off and then when that matches up with International break, you can go four to five weeks without a game.
"It definitely doesn't help, when you're trying to get game time and get everyone playing consistently."
The42 is on Instagram! Tap the button below on your phone to follow us!