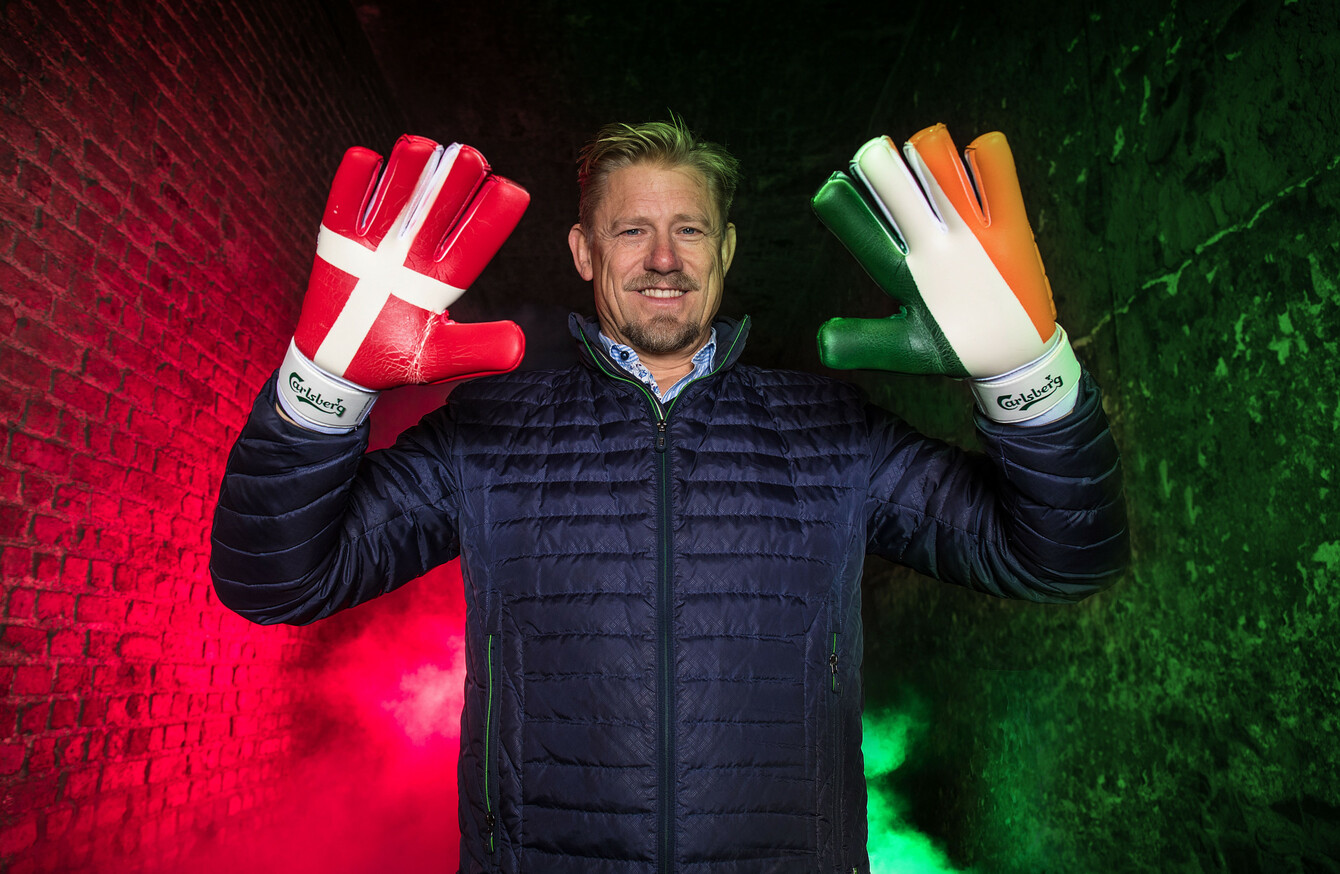 Image: Dan Sheridan/INPHO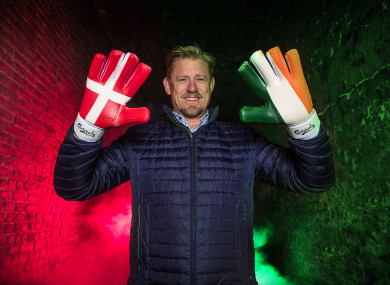 Image: Dan Sheridan/INPHO
FORMER DENMARK AND Manchester United goalkeeper Peter Schmeichel is of the opinion that his compatriots, and not Martin O'Neill's Ireland, are the more abrasive side as the nations prepare for their World Cup play-off first leg in Copenhagen this Saturday. Schmeichel, whose son Kasper is likely to start between the sticks for the Danes, would have rathered a Scandinavian derby with Sweden en route to Russia next summer, but maintains Ireland's optimism in drawing his native country was reciprocated back home. 'The Great Dane', in Dublin to reveal Carlsberg's plans to support 'Probably the Best Football Fans in the World' – the Irish, that is – admits he's finding it exceedingly difficult to separate the two sides, naturally suggesting Christian Eriksen will have a major say as to which set of supporters will be celebrating on the streets of Dublin come Tuesday night. Neither Irish tea nor Danish courage, however, can ease his angst ahead of Saturday. "Two weeks ago I was very confident. I thought we would be favourites to go through," he says. "But as the game is closing in, you start to think about all the things that a player would think about: the doubts, and how you approach the game. "You've got to stay in the game and not play yourself completely out of it after the first one. "There are so many things. These are fantastic games to play but they're also very difficult games to play. There are so many unknowns and things you can't do in these games that you can get away with in other games.
I've also got personal interest in that my son's playing. I kind of feel I'm part of it. I have the same kind of nerves if you like. Nervous is the wrong word – apprehensive. And the fact that I can't do anything about it is not helping.
"We wanted Sweden," Schmeichel continues. "We wanted Sweden because we wanted revenge. We were in the play-offs with Sweden before the 2014 World Cup, and now Zlatan is not playing. "We had the option of Sweden, Ireland, Northern Ireland and Greece, and Greece was the one team I didn't want. "The atmosphere in the second game in Dublin is going to be tough to deal with, but Athens? They go crazy – really, seriously crazy – but the thing with Greece is that you don't know what you're getting. You could get the best team in the world where you get no chance, or you could get an easy ride. You just don't know.
With Ireland, you kind of know exactly what you're up against, so that makes it a much easier approach. Not an easier game, by no means, but easier to sort of prepare yourself and understand what your job is. Northern Ireland is the same thing – you just know what you're going to get. But Sweden…Sweden would have been perfect.
When the play-off draw was made, the feeling in Denmark wasn't dissimilar to the consensus here: "I think people were quite OK with that," says Schmeichel. There, the point of contention didn't so much involve opposition, however, but more so the order in which the ties were scheduled; Denmark, in spite of being a seeded play-off side, face a trip to Dublin for the second leg – traditionally perceived as a more difficult route to reaching a major tournament. It was this which dominated the Danish discourse, but having partaken in his fair share of two legged ties throughout his illustrious playing career, Schmeichel dismisses such advantages as a fallacy. "The thing that we've discussed the most is: we've gone through the trouble of getting seeded – why are we not playing the second leg at home? Why did that have to be a draw as well?
Personally, I don't care, I've been involved with football all my life and played these kind of games where it's home and away. I cannot tell you what's better. I've no idea, because I've been on both ends and got positive results. It all depends on what you do in the first game.
"But that has been the biggest debate in Denmark: 'why do we have to play an unseeded team away from home in the last game?' Schmeichel's only involvement in a play-off wasn't overly dissimilar to Ireland's destruction of Estonia six years ago; in 1999, a Jon Dahl Tomasson brace inspired the Danes to a 5-0 first-leg victory over Israel in Tel Aviv, putting the tie to bed before their return to Copenhagen. If Martin O'Neill's Ireland are to ensure a place in Russia remains up for grabs in Dublin next Tuesday, they'll have to marshall Denmark's latest attacking icon in Christian Eriksen; the Spurs star has broken a Danish record in registering six goals in his last six qualifiers, adding three assists to his own strike in the Danes' impressive 4-0 annihilation of Poland in September. Schmeichel, though, doesn't believe O'Neill should double down on the 25-year-old, maintaining his intuition without possession is as likely to influence proceedings as his stellar ability with it. "He's evolved fantastically under the stewardship and guidance of Pochettino. He's made Eriksen – who was really good before he started to work with him – into a world-class player. "He's a rare breed of football player. Someone who's incredibly creative, who can see passes no-one else can see, his kicking [set-piece ability] is incredible, and he works really hard on it as well. His vision… "But at the same time as being a creative player, he's also a physically strong player who can run and run. When you look at the stats, he's one of the guy's who runs the most in every game. And he plays every game. "You don't get many players like that. I have to say he's really stepped up for Denmark as well.
I've seen the bit Martin O'Neill was talking about, where he says you've got Ronaldo and Messi and then the Hazards, Neymars and Eriksens of this world on the next level, and I completely agree with that.
"When you have players like that, they will attract a lot of attention. Just the fact that Martin O'Neill – a week before the game – is out there talking about him is proof that he's someone who really plays on his mind. 'What do I do with Eriksen. How do I stop him?'
I wouldn't try to specifically stop him because you would have to allocate players, which leaves a lot of space for other players to take advantage of. This is what Eriksen does so well for Denmark. He does attract a lot of attention and the other players finding themselves in better positions with more space.
"Over the last three or four months that's built up their confidence, so they perform at a very high level when they play for Denmark. "The fact that the new manager [Age] Hareide is giving so much freedom to his forward players, it's given them freedom to roam the pitch. Before, you had to stay in certain positions and the system was very strict. "Eriksen is key to this because not only is he great with the ball, and can produce chances for himself and his team-mates, he's on a six or seven-game scoring streak as well. No-one has ever done that for Denmark before.
As for the supporting cast for whom Eriken's movement and distribution is so beneficial, Schmeichel warns that one player in particular might have slipped Ireland's radar ahead of Saturday's first leg. Mind you, given his name, he'll likely attract plenty of attention from the casual Irish observer when the teams are named in 48-or-so hours' time. "We've got a midfield player called Thomas Delaney who came from FC Copenhagen. At the time when they had a lot of success in Europe he was on the bench and played a little bit. "He's one of those players that you can see has got so much, but he didn't have the ability to do all the things that he was able to do at the right time. "So it took a long time for him to find himself and once he did – wow. "He plays in Germany in the Bundesliga now for Bremen and even before he started I knew there were clubs in the Premier League who would have bought him off Werder Bremen when he was still playing for FC Copenhagen. "He became very good all of a sudden.
He's scored a lot of goals as well, from midfield, which is unusual, and has benefited greatly from the space Eriksen leaves around [him], and the interaction – the way he can play with a technical player like that – he greatly benefits from that.
Schmeichel's own experience of facing Ireland arrived at a bleak juncture in his nation's footballing history. The reigning European champions were twice held by Jack Charlton's side during qualification for USA '94, eventually finishing a point behind the Boys in Green and subsequently missing out on a World Cup berth – a Schmeichel error away to Spain during the final round of qualifiers crucial to Ireland's progression. It was a more prosperous time not only for Ireland's national team but for the Danes, too, who now find the majority of their key players ploughing parallel paths to those in O'Neill's squad. "I think it's very different to the situation we have now, because when you look at the Irish team, you have no six-foot-four, six-foot-five guys – they're not there anymore. Niall Quinn, Tony Cascarino – they were there.
It was different. The team wasn't really Irish back then! Jack [Charlton] was very clever, and he got the pick of the best that didn't play for England. So he had the best kind of players back then.
Be part
of the team
Access exclusive podcasts, interviews and analysis with a monthly or annual membership.
Become a Member
"Now, it's true Irish. You don't have that happening anymore. But it was a really strong team back then. Strong players – players playing at the highest level: Andy Townsend playing for Aston Villa back then; you had Niall Quinn, you had Tony Cascarino; you had Roy Keane, you had Dennis Irwin playing for us; Steve Staunton – Aston Villa, Liverpool; Ray Houghton as well – Liverpool.
You had players playing at the best clubs in England, whereas today, yes, you've got Premier League players playing for Bournemouth, Burnley, Southampton, but most of the players are from the Championship. Mind you, they're playing for good clubs – Wolverhampton – but it's just different, you know?
"For the Danish team, you've got Kasper [Schmeichel], Eriksen; you've got [Jonas] Lössl who's the other goalkeeper; you've got [Mathias] Jørgensen – who probably won't play. You've got some players in the Premier League, but then you have them spread around other kinds of clubs in Europe which, for me, are not better or worse than the Championship in England. "So it's very similar, the teams." And it's in keeping with this theory that Schmeichel suggests the Danish approach will align more with the modern perception of Irish football than the more technical approach Irish supporters have grown to fear over the past 15 years. "I actually think we are the more physical side," he says. "I actually think that. I'll tell you why: we have 'the towers'. We've got [Andreas] Cornelius, we've got Nicklas Bendtner, we've got [Yusuf] Poulsen – they're big, tall, strong players. [Henrik] Dalsgaard is injured – he's a right-back. He was very instrumental [in qualifiying]: he'd fly up the right flank, he'd get a pass, he'd head it in.
We have that kind of physicality. We put the ball up there, head it in if we could, and if not, we fight for the second ball. And that's the kind of style that we've been playing towards in the last couple of months, and it's been with some success as well.
"So yeah, I think on balance we're probably just a little bit more physical, and we've got William Kvist and [Thomas] Delaney there in midfield who are physical players – really hard, physical players. Our captain, Simon Kjær – he's a strong lad that will fight any ball. "We're not physically stronger, we're just the more physical side. Before the coach, Hareide, it was supposed to be like Barcelona: the smaller players, passing the ball, keeping the ball – something which is very difficult to do when you don't do it every day with the same players. "What the new coach has done is to simplify things. That's what I mean. It's more direct. You fight for the ball, so he's picked the types [of player] that are more capable of doing that rather than the little 'ball-players', if you like."
Indeed, Schmeichel, somewhat irked by the fact, claims the surface at Copenhagen's Parken Stadium may dictate that both sides opt for aerial bombardment – to varying degrees, naturally. Hostilities, however, will be confined to the pitch, with the great Danish 'keeper putting into context the country's relative apathy towards the national team in modern times, suggesting The Greatest Fans In The World will be required to play their part as far as the atmosphere is concerned. "Don't expect anything… Bring it!" he laughs. "Our team has not been very well supported for many years, and that is because they haven't delivered, so the novelty has sort of worn off. Other things have taken its place: handball has really sort of moved in on that space and grasped people's imagination. We've become world champions and won European championships, so as a nation now we've had something to celebrate.
The Danish team, the stadium holds no more than 37,000. We've played games in there for 18,000 fans. But that has obviously changed for this game, it has been sold out right from the first day.
"I watched the local derby – FC Copenhagen and Brondby – on Sunday, in the same place, and I know if Danish football fans want to create an atmosphere they can. That [the derby] was awesome, really fantastic. It was a full house but it didn't look like a full house because they like to stand, and they bunch in together so it looks like the corners are empty. "I hope they get the pitch right. It's had a week. Unfortunately it's a concert venue in there too, so every time they have a concert they have to re-lay the pitch, and that doesn't make for a good pitch. It's firm – it looked really, really bad on Sunday, so hopefully it's alright.
We had Rolling Stones last month, and after they had to re-lay the pitch. The pitch has always been a problem, and it's a great disadvantage to Denmark – it always has been.
"But other than that, I think it's going to be a very interesting Saturday evening."
As proud Energy Partner to the FAI, SSE Airtricity have given us a pair of tickets to the sold-out Republic of Ireland vs Denmark game to give away. You'll watch the Boys in Green (hopefully) seal World Cup qualification from your premium level seats after enjoying food and refreshments in the Vavasour Suite before the match. To enter simply email competitions@the42.ie with your score prediction for the away leg and we'll pick a winner from the correct entries on Sunday morning.
Subscribe to The42 podcasts here: