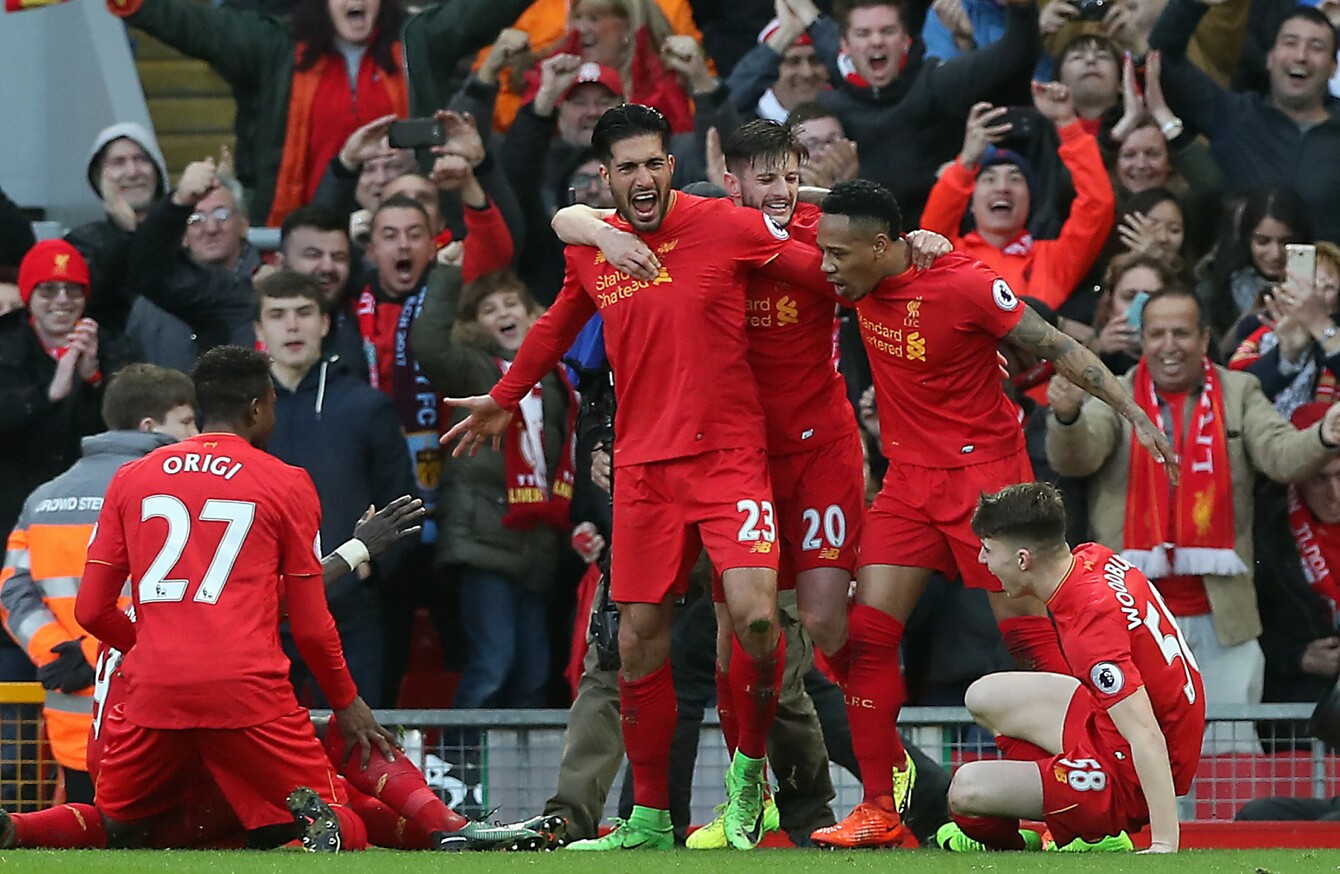 Image: Martin Rickett
Image: Martin Rickett
1. Judgement day for Liverpool
THE PERMUTATIONS ARE not exactly straightforward as the top-four race reaches its climax on Sunday.
Indeed, one possible scenario could see a playoff required to determine who gets the coveted fourth Champions League spot.
Nevertheless, Liverpool's fate remains in their hands. Should they beat Middlesbrough, they will secure a place in the Champions League regardless of what happens in the Arsenal-Everton game.
Either way, it hasn't been an entirely satisfying season for Jurgen Klopp and his side. Having been tipped as title contenders halfway through the campaign, a combination of shoddy defending and injuries to key individuals at important times means they are 17 points behind new champions Chelsea with one game to play.
The Anfield club's form has been erratic all season, often beating top-four rivals but stumbling against some of the league's lesser lights amid issues with creativity in the side.
A 4-0 win at West Ham last Sunday should leave them confident ahead of their final game at Anfield. And if they can't beat already-relegated Middlesbrough at home, then surely they don't deserve to play in next season's Champions League anyway.
2. Will Arsene Wenger finally come unstuck?
Since Arsene Wenger's appointment in September 1996, Arsenal have never finished outside of the top four in the Premier League. That could be about to change this weekend, however.
The club must beat Everton at home and also hope Middlesbrough do them a favour by overcoming Liverpool, who currently sit one point ahead of the Gunners in fourth.
So much like Man United and the Europa League final, for Arsenal, the whole complexion of the season depends on the outcome of one or — to an extent — two results.
Despite the endless talk of supporter protests and speculation surrounding Wenger's future, the Gunners could conceivably enjoy one of their better seasons in recent years, if they do ultimately finish fourth ahead of Liverpool and win their FA Cup final with Chelsea.
However, both these outcomes seem improbable and there is a greater likelihood that the aforementioned disharmony at the club will only grow louder come the end of their current campaign.
3. 'One of the world's best' Harry Kane set to claim Golden Boot
Harry Kane's incredible four goals at Leicester on Thursday night means he is now odds-on favourite for the Golden Boot.
Unless Romelu Lukaku can hit a hat-trick against the Gunners and Kane fails to score at Hull, then the England international will finish as the Premier League's top scorer for the second year running.
Mauricio Pochettino insists Tottenham will not be under pressure to sell Kane this summer, and the Argentine manager has described the 23-year-old "one of the world's best" — a claim that's hard to argue with given his current form.
Spurs, meanwhile, are set for their best-ever finish. It's a measure of how well Chelsea have performed that 86 points — the tally Tottenham will reach if they win this weekend — would have been good enough to win the league in 10 of the past 21 seasons.
4. Youngsters set to get rare chance to impress
Something very rare will happen this weekend.
Nearly all the games will be dead rubbers, meaning teams will feel more comfortable experimenting with younger players who would not normally get the chance to impress at Premier League level.
West Ham's Ireland underage international Declan Rice and 16-year-old Man United starlet Angel Gomes are among the players being talked about as possible debutants this weekend, as clubs finally get an opportunity to justify the many millions they plough into their academies.
But is it really that beneficial to play these youngsters in a game with almost nothing at stake? There may be a bigger crowd than the footballers in question are used to, but either way, there is no legitimate substitute for the pressure of playing when three points are sorely needed.
5. How good are Chelsea?
If Chelsea beat Sunderland this Sunday, they will finish on 93 points — just two behind the record tally of 95 points, which was set by the 2004-05 incarnation of the Blues' team.
Antonio Conte's side are likely to be remembered as being among the best-ever Premier League champions.
But to prove their greatness, they will need to do it again next season, while balancing the greater workload that the demands of European football will provide.
Only then will their legacy be secure and it is certainly a big ask — not since Man United in 2009 has a team successfully retained the Premier League title, and it's easy to see why, with the speed, physicality and intensity of English football constantly increasing.
The42 is on Instagram! Tap the button below on your phone to follow us!