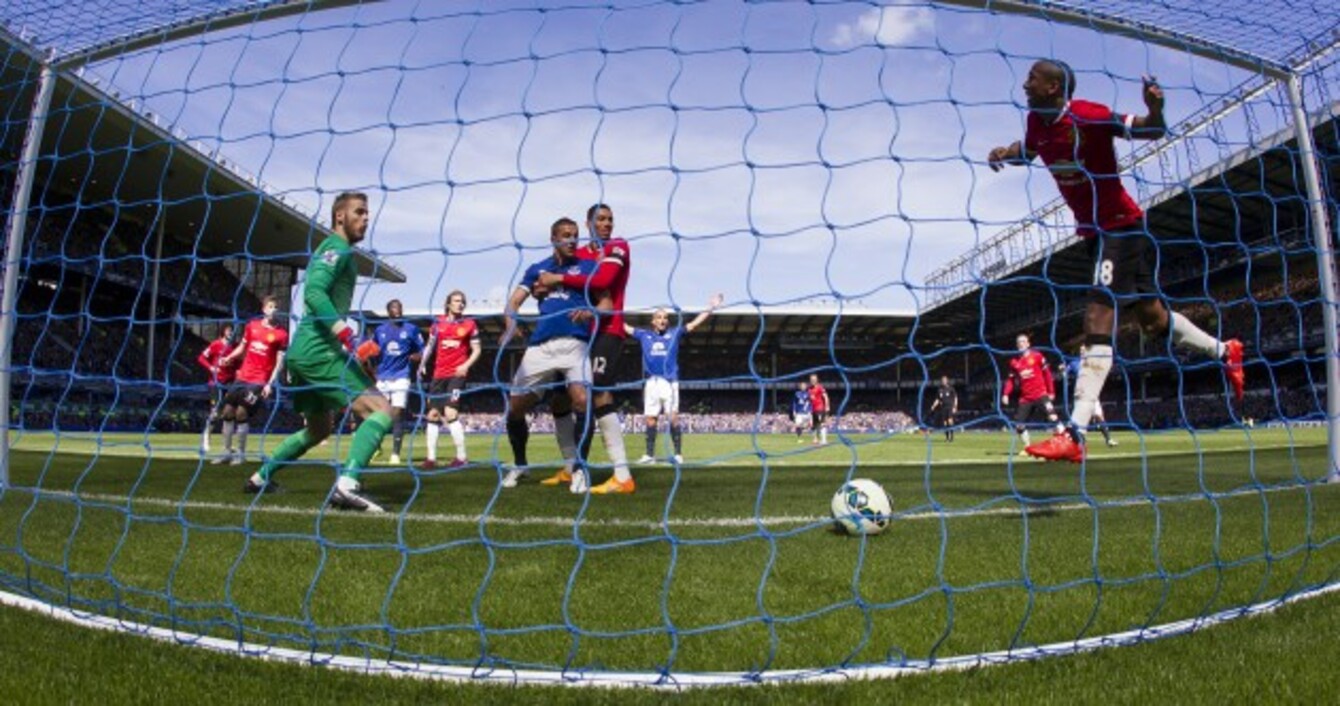 Manchester United's Ashley Young, right, attempts in vain to stop the ball entering the net as Everton's John Stones, out of frame, scores his team's second goal.
Image:
AP
/Press Association Images
Manchester United's Ashley Young, right, attempts in vain to stop the ball entering the net as Everton's John Stones, out of frame, scores his team's second goal.
Image:
AP
/Press Association Images
1. Lacklustre United soundly beaten
AFTER LAST WEEKEND'S 1-0 defeat at the hands of champions-elect Chelsea, Manchester United were handed a second consecutive loss by a team wearing blue as Everton continued their knack of prevailing in the fixture at Goodison Park.
Daley Blind came into midfield with Wayne Rooney pushed higher up the pitch and the Dutchman must shoulder some of the blame for the Toffees' opening goal, as he and Paddy McNair allowed James McCarthy to bustle his way through and score just five minutes in.
That set the tone for the afternoon as once again, United bossed the possession stats (65% to Everton's 35%) without making it count, while the home side added two more goals. Louis van Gaal questioned his team's motivation after the game and it is true that several players put in below par performances, but the absence of injured Michael Carrick is also key.
Their win ratio is 72% when the midfielder plays compared to the 37% when he doesn't, and you can see why. Radamel Falcao, Angel di Maria and Robin van Persie were all thrown on in the second half, but they were unable to muster up so much as a consolation goal between them.
Take no credit away from Everton though, as they were terrific from start to finish, while McCarthy's goal and man-of-the-match performance is a welcome sight from an Irish point of view.
- Ben Blake
2. Liverpool look set for the Europa League
Following a deflating 0-0 draw with West Brom, it now looks as if Liverpool will have to be content with a place in the Europa League at best this season.
Having sat 10th in the table after losing 3-0 to United last December, post-Christmas, a sudden improvement in form made it seem as if they were set for an improbable Champions League push.
However, with just one win in their last four matches — a run compounded by losses to top-four rivals Arsenal and Man United — means they have lost all momentum and are close to being out of the Champions League running.
Even if they win their game in hand, they will remain four points behind nearest rivals United with as many games to play, plus the daunting prospect of facing Jose Mourinho's Chelsea still to come.
For a club who finished second last year but lost their best player in Luis Suarez during the summer, it's a distressing but perhaps not entirely surprising development, given the degree of change that took place in pre-season at Anfield.
- Paul Fennessy
3. Football still has a concussion problem
https://vine.co/v/eWraJID7g03
The news that Oscar had been sent to hospital with suspected  concussion after half-time of today's encounter between Chelsea and Arsenal was more than a little alarming.
The Brazilian midfielder collided with Arsenal goalkeeper David Ospina in the penalty box after 15 minutes, before remaining on the field for a considerable period thereafter.
Oscar was eventually replaced by Didier Drogba at half-time and sent to the hospital, with Sky pundit Thierry Henry speculating afterwards that he may have only realised how bad the injury was while resting in the dressing room, with adrenaline enabling him to comfortably continue up until the break.
Nevertheless, the fact that he wasn't properly assessed until half-time is a worrying sign, and another indication of the sport's somewhat lax attitude towards concussion, which was also evident in a case back in November 2013 involving Tottenham goalkeeper Hugo Lloris.
More rigorous measures of testing potential instances of concussion must therefore surely be installed sooner rather than later for the sake of footballers' long-term welfare.
- Paul Fennessy
4. Sadio Mané in danger of earning an unwanted reputation
In front of the BT cameras, Tottenham and Southampton played out an intriguing and often entertaining 2-2 draw in Saturday's early kick-off.
However, an otherwise excellent, competitive game played with a decent spirit was spoiled somewhat by the behaviour of one individual.
It's obvious that diving has become an inextricable part of the game over the years, and it is increasingly being acknowledged as one of football's inevitable if not necessarily acceptable elements.
Nonetheless, the antics of Southampton's Sadio Mané were particularly conspicuous yesterday. Almost every time he got the ball, it seemed as if the winger's first instinct was to go down, with cynicism permeating the game as a result, as the referee was regularly fooled by his actions.
Alex Ferguson spoke recently about how certain established Man United players ordered Cristiano Ronaldo to cut out his habitual diving during the player's early days at Old Trafford, and his regular affectations yesterday would suggest Mané — who is only 23 and new to the Premier League this season — could do with a similar talking to.
- Paul Fennessy
5. Chelsea's methods deserve respect
There has been much negativity regarding Chelsea's approach to certain matches of late, and it's admittedly not always easy on the eye.
However, the Blues deserve respect for what they have achieved regardless. Today's game at the Emirates was the first time the Gunners have been involved in a goalless draw this season, and Arsene Wenger's men have now gone over eight hours without scoring a goal against Chelsea.
What Mourinho's men have done patently takes tremendous effort and skill — if it didn't, Arsenal would be much lower than joint-second with a game in hand right now.
Not many people complained at Italia 90 when Ireland adhered to a dull but effective style, and similarly, Mourinho and Chelsea are not obliged to entertain people while winning matches.
Consequently, in its own way, the work of players such as John Terry and Gary Cahill is just as commendable as the explosive attacking brilliance of footballers such as Alexis Sanchez, and for that reason among others, they will be worthy champions.
- Paul Fennessy