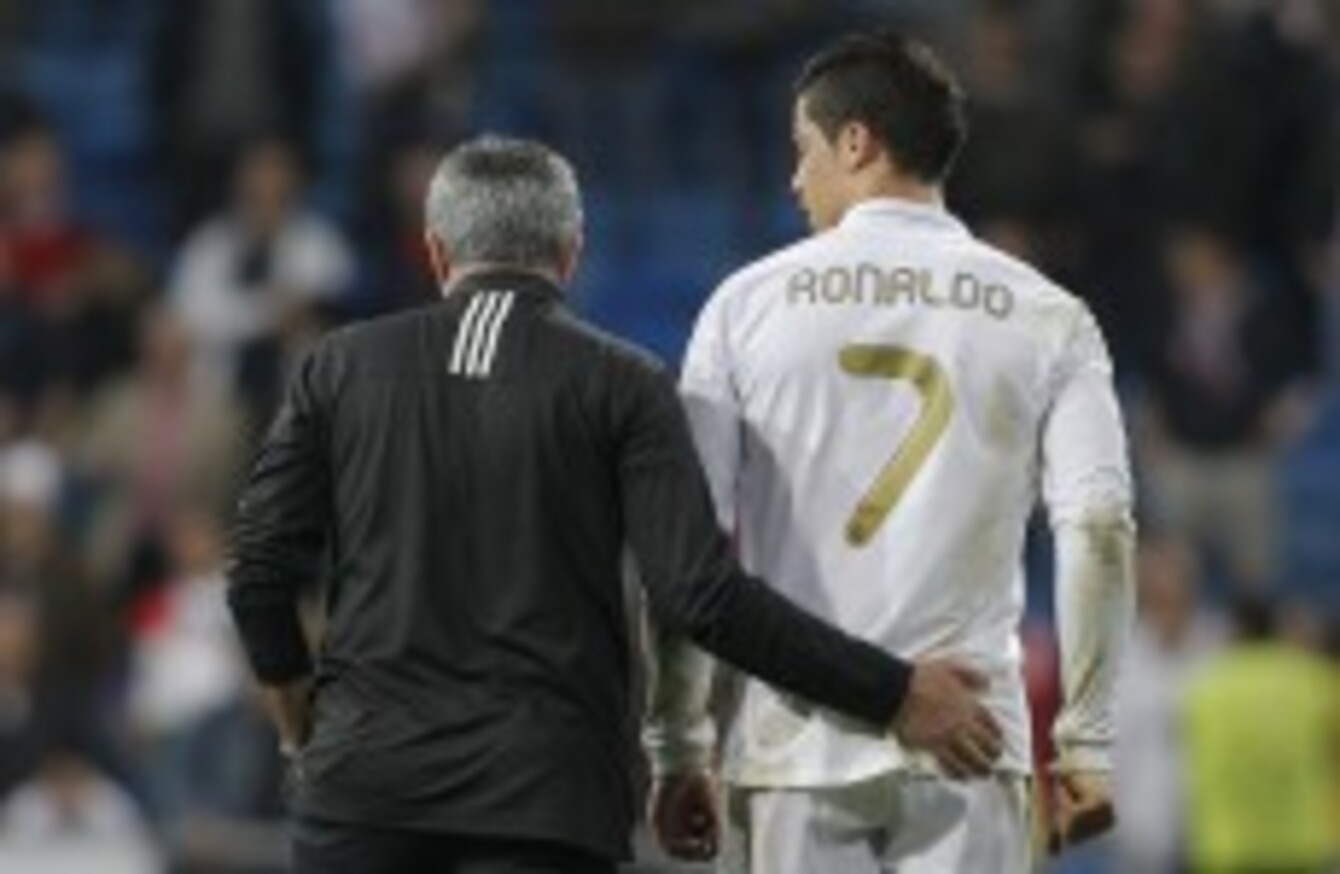 Jose Mourinho and Cristiano Ronaldo are wanted men.
Image: AP Photo/Daniel Ochoa de Olza
Jose Mourinho and Cristiano Ronaldo are wanted men.
Image: AP Photo/Daniel Ochoa de Olza
WHAT DID WE ever do before Qatari oil merchants and United Arab Emirate politicians came into the world of football?
Gone are the likes of Barry Hearn and Jack Walker from the tabloid headlines, only to be replaced with Tamim bin Hamad al-Thani (Paris St Germain) and Sheikh Mansour (Manchester City).
Speculation about a '£3.25m Matt le Tissier splurge by Blackburn'* has been replaced with semi-believable guff concerning Kaka and Ronaldinho moving to Manchester and Nigel de Jong costing £18m… wait, that one was true.
The latest rumour to soak up printing ink is the news coming out of Italy that Paris Saint-Germain are ready to shell out €100m euros for Real Madrid ace Cristiano Ronaldo and bring manager Jose Mourinho at the same time.
Gazetta dello Sport have reported this morning that PSG are ready to unleash 'an epoch-making change' on the footballing world next summer.
According to AFP, the sports daily claimed the two clubs have already opened negotiations on the joint move, with Ronaldo and Mourinho's agent Jorge Mendes in talks with the player, Real president Florentino Perez and PSG's Qatari owner.
The French giants are apparently prepared to break the bank to meet Ronaldo's wage demand of €18m euros a year, topping the €14m he picks up at Real and eclipsing the €14.5 million they are already paying star striker Zlatan Ibrahimovic.
The newspaper said Mendes was the key to the deal as he also represents Atletico Madrid's prolific Colombian striker Radamel Falcao, who could prove the ideal replacement for Ronaldo at Real with a price tag of €70m euros on his head.
*Mere speculation about 'Le Tiss' but Blackburn did have the chance to sign Zinedine Zidane in 1996 but Walker famously stated 'We have Tim Sherwood'.