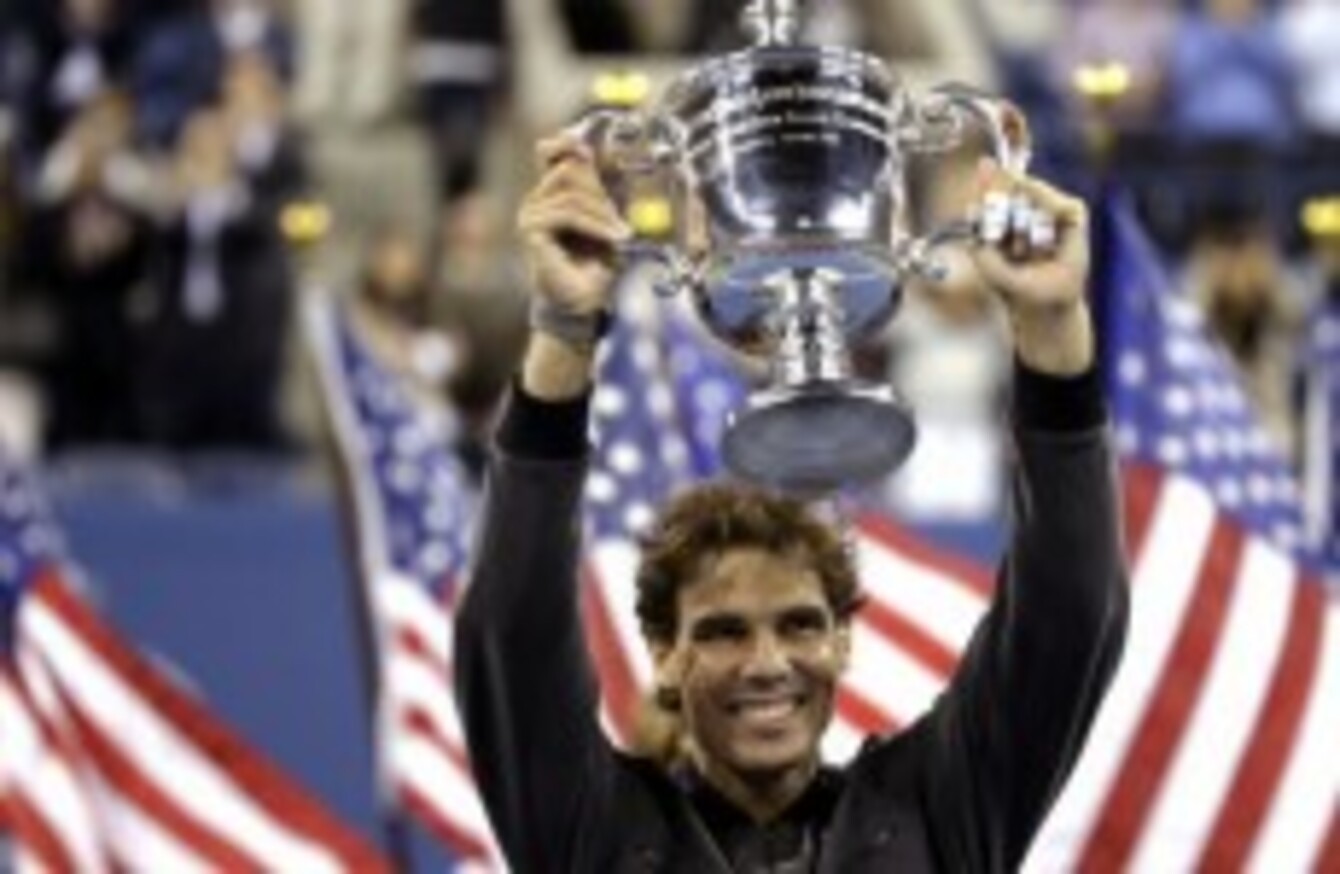 Image: David Goldman
Image: David Goldman
REIGNING CHAMPION RAFAEL NADAL will miss the US Open later this month due to a right wrist injury.
"I am very sorry to announce I won't be able to play at this year's US Open, a tournament in which I've played three consecutive finals in my last participations," he wrote on his official Facebook page.
A two-time champion in New York, Nadal also missed the tournament back in 2012 as he recovered from a knee injury.
"I am sure you understand that it is a very tough moment for me since it is a tournament I love and where I have great memories from fans, the night matches, so many things," he added.
Not much more I can do right now, other than accept the situation and, as always in my case, work hard in order to be able to compete at the highest level once I am back."
The world number two had already been forced pull out of the Toronto and Cincinnati Masters due to the injury he suffered in training last month.
The withdrawal continues an up and down season for the Spaniard as he has failed to match his achievements of 2013, despite claiming a 14th Grand Slam title at Roland Garros back in May.
A back injury bothered the 28-year-old as he lost to Stanislas Wawrinka in the Australian Open final and he was far from his supreme best early on in the clay court season as he suffered surprise defeats to David Ferrer and Nicolas Almagro at the Monte Carlo Masters and Barcelona Open respectively.
He also lost out to world number one Novak Djokovic in the finals of the Miami and Rome Masters, but exacted revenge by preventing the Serb from completing the career Grand Slam with his ninth French Open title.
However, his poor grass court form of recent seasons resurfaced at Wimbledon as he was shocked by 19-year-old Australian Nick Kyrgios in the last 16 in his last outing before being struck down by his latest injury.
Rafael Nadal's injury factfile:
2003: Misses French Open with elbow injury.
2004: Misses French Open and is three months off tour with left ankle injury.
2006: Left foot injury suffered in November 2005 means Nadal only starts 2006 season in February.
2008: Tendinitis in his left knee forces Nadal to retire from Paris Masters in the quarter-finals. Withdraws from Masters Cup and Davis Cup final.
2009: As four-time defending French Open champion, Nadal's 31-match winning run at Roland Garros ended by Robin Soderling in the fourth round. Withdraws from Queen's and Wimbledon, where he was defending champion, with tendinitis in both knees. Out for nine weeks in total, loses world number one ranking to Roger Federer.
2010: Retires in quarter-final of Australian Open against Andy Murray with right knee injury. Off tour until Indian Wells in March.
2011: Loses in straight sets in Australian Open quarter-final to compatriot David Ferrer, complains of left adductor problem. Off tour for two months.
2012: Loses to world number 100 Lukas Rosol in Wimbledon second round on June 28. Tendinitis in left knee sees him miss Olympics, where he was defending champion, US Open, World Tour Finals and Davis Cup final. After six months out, cancels plans to play in Abu Dhabi exhibition.
2013: Misses Australian Open with stomach virus. After a seven-month absence in total, Nadal returns to win 10 titles in career-high 14 finals and finish world number one for third time.
2014: Affected by back injury in his Australian Open final defeat to Stan Wawrinka and takes a month off. On July 30, Nadal withdraws from ATP World Tour Masters 1000 tournaments at Toronto and Cincinnati due to a right wrist injury and on August 18 reveals he also won't play at the US Open, where he is defending champion, because of the same problem.