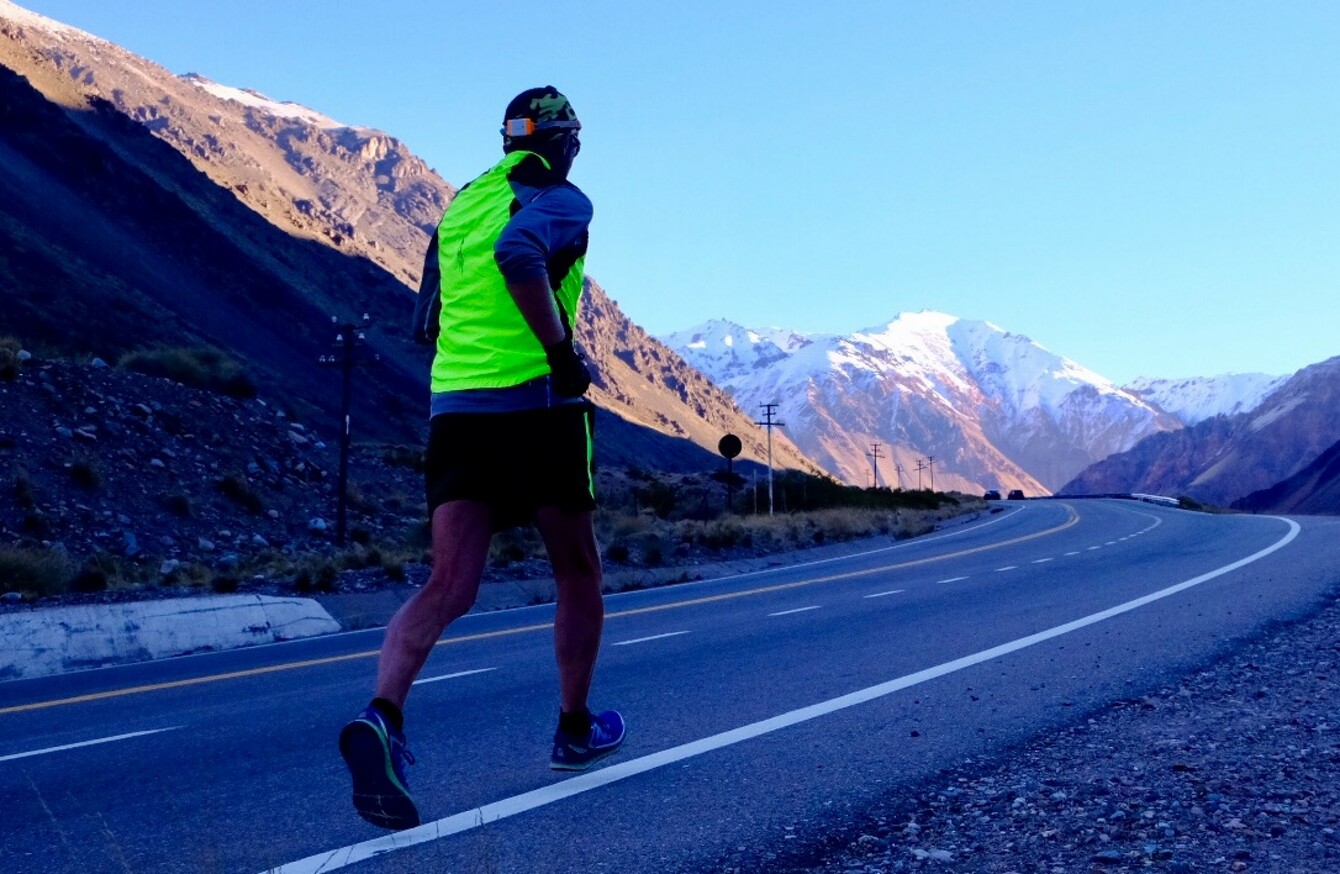 Richard Donovan runs, and organises, some of the world's coolest adventure races.
Image: Paul Grealish
Richard Donovan runs, and organises, some of the world's coolest adventure races.
Image: Paul Grealish
RICHARD DONOVAN IS a hard man to pin down.
When The42 first contacted him in February, Donovan was in Australia at the end of the World Marathon Challenge where competitors complete seven marathons on seven continents in seven days.
The timing didn't work out on that occasion but we tried again a month later only for Donovan to be in the midst of the North Pole Marathon.
Finally, this week, everything worked out, but only once Donovan had completed the 1800km of the Trans South American Run.
Starting on 27 April at San Clemente del Tuyú in Argentina, beside the Atlantic ocean, the Galway man averaged more than 55km per day, finishing up at Playa Las Conchitas, La Greda — on the Pacific Ocean on 31 May.
If you haven't guessed by now, Donovan is an ultra-runner.
Among his accomplishments in the sport include winning the South Pole Marathon, the Inca Trail Marathon, the Everest Challenge Marathon, the Antarctic 100km and the Himalayan 100-Mile Stage Race.
Oh, and in 2012, flying on commercial airlines, he finished seven marathons, on seven continents in four days, 22 hours and three minutes.
But the 51-year old is much more than just an ultra-runner, he's also the organiser of the of the world's most amazing adventure races.
The North Pole Marathon, Donovan. The Antarctic Ice Marathon, Donovan. The Volcano Marathon, Donovan.
A Slog of Fire and Ice
Source: Richard Donovan/YouTube
And while this slog of fire and ice must seem like a natural home for Donovan, there was a time he fell away from running — preferring instead to cheer on his brother — and was working an economist before his interest was piqued later in life.
"I ran as a schoolboy, but drifted away from the sport by the time I hit my twenties," Donovan told The42 this week.
"I maintained an interest in running, however, as my brother Paul was a top athlete who ran in two Olympics, won multiple NCAA titles in the USA, and a world indoor medal at 3000m.
"My father died in 1998 and my brothers Paul, Gerard and I decided to run the Marathon des Sables (MDS) the following year in his memory.
"The MDS is a multi-day stage race in the Sahara Desert and was probably the toughest footrace on earth at the time.
"I had never run a marathon before, did some moderate training, and went into the race not knowing what to expect either mentally or physically.
I immediately became hooked, the test provided by an ultra-marathon offered not only adventure but some great insight into myself. I was fascinated by having moments of enlightenment, 'epiphanies' of sorts, that resulted from being absolutely exhausted physically, reaching the point where there was no energy for thought except what mattered most.
"There is mental clarity from the simple act of putting one foot in front of the other long after the body has begged you to stop."
Just in the last two years, Donovan's running has taken him all over the world and he has completed the equivalent of 240 marathons — 10 a month.
"I ran in excess of 5000km across the USA from San Francisco to New York in the summer of 2015 and then I ran 3000km across Europe from Istanbul to the coast near Rotterdam last year.
"This week, I obviously just completed an 1800km run across South America from the Atlantic coast in Argentina, across the Andes, to the Pacific coast in Chile."
Remarkably, Donovan says that all that running means he's actually unfit every time he starts a new challenge.
I did very little training between these runs, starting each one relatively unfit.
"Among other things, my work as a race organiser of marathons in extreme locations involves a lot of travel and a lot of admin, leaving little time for training."
Donovan organised his first race in 2003, throwing himself into it 100% by giving up a career as an economist despite the risks that entailed.
"In 2002 I ran a series of tough events around the planet, winning several and becoming the first marathoner at both the North and South Poles.
"I found myself living an adventurous side to my life that had been lacking. I realised that just because you are good at something doesn't mean it's good for you, and I walked away from the economics profession."
'They're like my children'
In the past 14 years, Donovan has been organising events of ever-increasing complexity but he wouldn't change a thing. And while each event has its own challenges, they all have unique rewards.
"The North Pole Marathon [billed as the coldest marathon in the world] was the first event I began to organise, so there is certainly a strong emotional attachment to it.
"The idea of being able to successfully get people to the northernmost point on the planet and run a marathon in such a remote location 'on' water also makes it very fulfilling [there is no land at the Pole and the event occurs on the ice floes of the Arctic Ocean].
There are huge logistics behind it — I work with Russians — and paratroopers parachute onto the North Pole and tractors are airdropped so that a temporary runway can be constructed on the ice to enable a specialist plane to land.
"A small camp of tents is constructed and the marathoners subsequently arrive by plane, landing on an ice floe with only several feet separating them from the Arctic Ocean below.
"A lot of people's dreams are realised up there.
"It's also, of course, very rewarding to organise a complementary event in Antarctica – the Antarctic Ice Marathon – which is the only official marathon inside the Antarctic Circle and on mainland Antarctica, and the southernmost marathon on the planet.
"The location at Union Glacier is truly spectacular and a life changing experience for all who visit the seventh continent.
"Of course, the World Marathon Challenge is regarded as truly epic, where I bring people around the planet to run seven marathons on seven continents in seven days.
"The logistics are almost incomprehensible to many — travelling to all seven continents within 168 hours and running seven marathons during this time period, but I have a 100% success rate in making it happen.
"And, of course, the Volcano Marathon. That takes place in one of the world's most amazing landscapes, the Atacama Desert, and is the highest desert marathon in the world.
"I love going there every year, it never tires me.
"So I guess the answer to your question is that each race has its own totally unique merits and challenges as organiser and competitor alike. In a sense, they are like my children and I have difficulty picking one over another."
Run before you walk
From his experience both running these events and organising them, does Donovan think that anyone can become an ultra-runner with the right training or does it take a particular type of athlete?
"Ultrarunning is very much a mental sport, particularly when it comes to events over 100 miles. It also defies many people's preconceptions.
"The longer the distance, you'll find that women are as good as men and older guys can easily outperform younger guys.
The reason is that it's an endurance sport, not a power sport. It involves being able to push on when your body is screaming at you to stop
"I think if somebody wants to get into ultra-running they should just go for it. I don't think you need to start with a half marathon or a marathon, and only then move onto the longer distances of ultra-marathons.
"Ultra-marathon running is an entirely different sport than marathon running and in many respects it's less intensive. As I've mentioned, it's an endurance challenge with the mental aspect playing an even greater part than the physical aspect."
As for the future, there's one particular run on Donovan's radar and he's hoping it's something he can accomplish soon.
"I'd love to run across Antarctica. I've been working on it and the other runs to date are preparation for the endeavour."
The42 is on Instagram! Tap the button below on your phone to follow us!