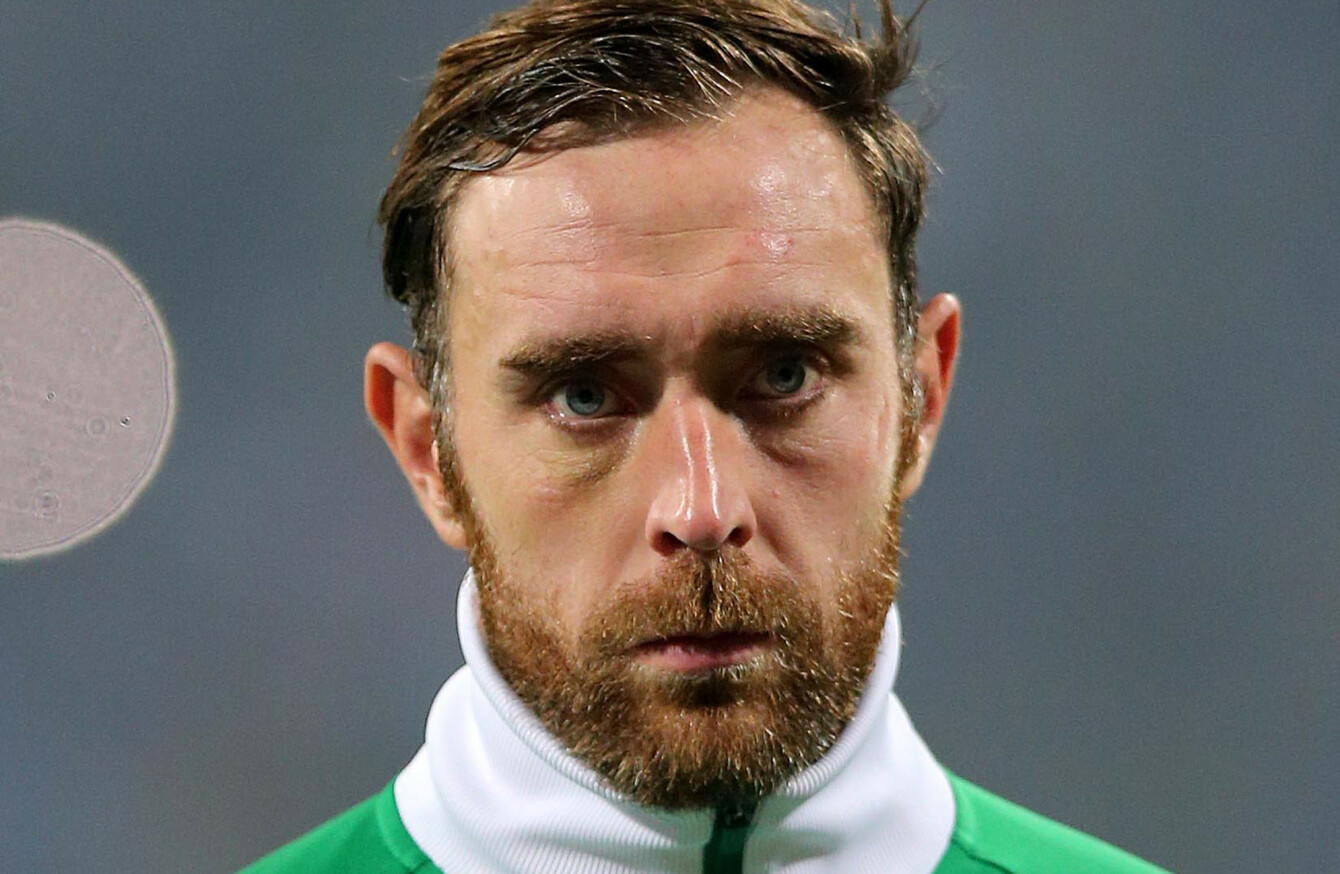 Richard Keogh has earned 18 Ireland caps.
Image: Donall Farmer/INPHO
Richard Keogh has earned 18 Ireland caps.
Image: Donall Farmer/INPHO
RICHARD KEOGH IS the kind of footballer you'd always want in your corner for a battle.
A natural leader, he is Derby's club captain while he has also been chosen to skipper the Irish side on more than one occasion. Tomorrow night, he is expected to lead his side out at Old Trafford in the FA Cup.
Yet the success Keogh has earned in the game did not come easily, with the player suffering plenty of lows as well as highs in his career.
He became engrossed in the game as a child while kicking a ball around the house and "breaking everything in sight". At youth level, he played for both Ipswich Town and Stoke City. After a two-year scholarship with the latter, he fulfilled a long-term ambition by signing a professional contract.
The club's owners at the time were from Iceland, and so that was where a teenage Keogh was sent for what was to become a formative footballing experience. It was a summer league, so his short stint at Víkingur was regarded as perfect preparation to steel him for the subsequent pre-season with Stoke.
The precocious teenage defender did not travel alone — a young striker on the books of the Potters at the time, Jermaine Palmer, also made the short-term move to Reykjavik. Palmer has not emulated the success of Keogh but still plays football at non-league level with Holbeach United.
I jumped at the chance and it was the best thing I ever did," Keogh tells The42, when asked about his Icelandic adventure. "Turning 18 out there, living out there with one other lad, fending for yourself, washing up and cleaning, it's all the little things that make you grow up very quickly. The standard of football is very good, it was exactly what I needed at the time. It definitely made me a better player. When I came back, I felt more comfortable in and around the first team."
The move went well and the loan deals were extended. Even though the side were relegated during the pair's time there, Keogh still has largely fond memories of the experience.
"We were quite lucky in the sense that the team I played for was quite young and our coach at the time was Sigurdur Jonsson, who'd been at Arsenal and Sheffield Wednesday (as a footballer), so he'd been in that culture already. For us, it was quite an easy transition coming in and the sessions he'd do, a lot of it he got from (his playing days in) England.
"You were up against players who had been to Europe and came back to play in Iceland, international players, so the standard was high and it was a nice experience."
Everything seemed to be going well at Stoke. Keogh won the club's Young Player of the Year Award at the end of the 2002-03 season, while he was also an important figure when the reserves won Pontins League Championship in 2004.
The young defender had even made the bench for the senior team, who were playing in the Championship at the time.
However, a shock was to follow. At the end of the 2004-05 season, Stoke opted not to renew Keogh's contract and the player was released from the club that he had grown up with.
"I thought I was progressing well," he recalls. "I travelled with the first team, had been on the bench, played for the reserves quite regularly. I felt like I was on the right track for sure, so it did come as a bit of a shock.
Sometimes, you have to take the setbacks. I definitely used it as motivation, 'I'll prove you wrong' kind of thing, and I think it helped. I've always been of that mindset really, when the chips are down, when people throw different obstacles in your way, it's about proving people wrong and showing them.
"When you're young and growing up, you think it's all rosy, but it's far from that. Going through that experience definitely opened my eyes to how cutthroat football can be.
"You just never know what's around the corner. I've never taken a day for granted in training. I'm lucky to be doing the job I'm doing. If you come away from that, that's when it can bite you.
(Being released) was a tough thing for sure. At the time, you're thinking: 'Where do I go from here?'
"But it's like anything really. If you work hard and keep giving as much as possible, you should be okay."
And indeed Keogh had no shortage of offers after leaving Stoke. Burnley and Bristol City were both interested in the defender, who ended up signing for the Robins.
Though he was part of a squad that earned promotion to the Championship, like his stint at Stoke, Keogh's time with Bristol City was not an unequivocal success.
Brian Tinnion, the manager who brought him to the club, was soon sacked following a 7-1 defeat by Swansea City, which Keogh played in. Under new manager Gary Johnson, he found first-team opportunities limited.
And so began a three-year period between 2005 and 2008 in which Keogh spent time on loan at four different clubs (Wycombe Wanderers, Huddersfield Town, Carlisle United and Cheltenham Town). It was not his happiest period as a footballer, though he eventually found a degree of stability after joining Carlisle on a permanent deal.
"Moving to Carlisle at the time when I left Bristol, it was the best thing for my career. I needed to go away and concentrate on football and fall back in love with it again really.
"My last year at Bristol was a tough year. I'd been on loan with a few teams, but nothing really (came of it), apart from Cheltenham, where we managed to stay in League One and I had a big part to play in that.
I was just getting a bit disillusioned. I felt like I was ready to play for Bristol and I was young and probably made a couple of bad decisions, which I learned from and the manager, for whatever reason, just didn't see my future there.
"It was a big decision, moving to Carlisle, but it was the best thing I ever did. Me and my wife went out there and I just focused on football, that was my sole purpose. It was nice to be able to do that, just to take a step back and concentrate on that. I managed to go to Carlisle and win Player of the Year there."
On his difficulties at Bristol City, he continues: "When you're younger, you're just frustrated, you want to play so much. You probably lose your temper a little bit too much. These are all things that are for the right reasons in general, but looking back now, it was probably at the wrong time at certain stages. Just for whatever reason, I couldn't get going really. I managed to go away, worked really hard that summer, got myself really fit, came back, hit the ground running and never looked back."
As he excelled at Carlisle, it quickly became apparent that Keogh was ready to play at a higher level. After two impressive seasons with the League One side, his contract ran out, and he moved up a division to join Coventry City in the summer of 2010.
Keogh's arrival at Coventry coincided with a troublesome period for the club. After two years there, the defender could not prevent them from getting relegated to League One. Yet he shone regardless, winning their Player of the Season award in two consecutive campaigns.
"Around that time, I was really on top of my game, I was really confident," he says. "I was playing well, made the step up to the Championship quite easily and I've been going from strength to strength (since then) really."
With Coventry going down, Keogh's departure seemed almost inevitable. Derby ultimately won the race for his signature, paying a fee believed to be in excess of £1 million for his services.
While the defender has been regularly outstanding for the club ever since, making over 200 appearances since moving there in 2012, it has not always been a smooth ride. Following Nigel Clough's sacking after a four-year stint in charge in 2013, the club has changed manager eight times (including three caretakers) in the intervening period.
The Rams have reached the Championship play-offs twice: in 2014, when they were beaten by Harry Redknapp's QPR in the final and in 2016, where they narrowly lost out to Hull in the semis.
In the QPR game, a 90th-minute Bobby Zamora goal saw the Steve McClaren-managed side beaten 1-0 in heartbreaking circumstances. An error from Keogh led to the game's only goal and the centre-back, who had been so integral to the club's success up to that point, left the field in tears.
As ever though, Keogh recovered from the setback admirably. While Derby failed to reach the play-offs the following season, the Irish defender was named in the PFA Championship Team of the Year and has been a virtual ever-present at the heart of the Rams' defence ever since.
Keogh is consequently philosophical when discussing the play-off disappointments.
I think you learn from everything really. The play-offs we've had and being close (to being in with a chance of promotion) the last couple of times. I think you learn (what to do) when certain situations arise, you know how to approach them."
The 31-year-old believes the current Derby side are as good as any he has played in, and the evidence on the pitch would back that up. After an inconsistent start, they have thrived in recent times, and are currently second in the Championship, with only big-spending Wolves ahead of them.
"We're going along nicely at the moment, but there's a long way to go, especially in the Championship, there's loads of games to play," he adds. "We're pleased with where we are at the moment but hopefully we can kick on even more and see where we end up."
Tomorrow night, they face Man United in the FA Cup third round at Old Trafford — the same opposition they came up against in the competition two years ago.
Keogh is optimistic the Rams are capable of emulating the recent exploits of his former side and current Championship promotion rivals, Bristol City, in causing a major upset against the Red Devils.
We'll go into any game hopefully trying to win it. With the run we're on, it's been going well, we're going up against a fantastic team and a fantastic manager away from home so it's going to be tough.
"It's quite nice that we get a breather from the league. We can go there full of confidence — it's a bit of a free hit in that sense and hopefully we can put on a good performance and see how the game goes.
"People will be thinking being at Old Trafford, they've got to try to take the game to us, so we've got to use that to our advantage.
"We've got to go there and play with confidence, bring our best game to the table, and hopefully it should make for a good match."
Source: FATV/YouTube
Keogh was in the starting XI for his side's previous game with United in January 2016, when Derby acquitted themselves relatively well at Pride Park, before the visitors' class ultimately told.
"I just remember it being a tough game. We played pretty well on the night and got the goal to equalise.
"They managed to get a goal from us in the end and took the game away from us a little bit, but that period when we scored, we were probably the better team.
But that's what happens with these players. They can produce magical moments at any split second. I remember Rooney's first goal. He got the ball, he's 30 yards out, it opens up, he puts it in the top corner — you're just like 'okay,' sometimes you have to hold your hands up.
"When they've got that calibre of player, you've got to be concentrated for the whole game.
"But what a game to play in, what a game to be involved in, you want to test yourself against these type of players — that's why we're in the game."
The United match was not the first time Keogh had come up against that level of player, however. Both before and since for Ireland, he featured in clashes against top-class individuals.
Despite being born in Harlow, Essex, Keogh says the decision to declare for Ireland was a simple one. It was Sean McCaffrey, the underage coach who sadly died just last week, that first identified Keogh as a talent worthy of international recognition at U19s level.
I got the call from Sean McCaffrey, he'd come and watched me play, and as soon as I got the call, I was like: 'Right, I want to play.' I managed to get my Irish passport and that was it. It was never really a decision. I wanted to play for Ireland and I managed to do that.
"From playing for the 19s to the seniors, it's been a bit of a rollercoaster really… (Sean) showed a lot of faith in me. (His death is) really sad news. I'll always be grateful to him for what he did for me. He gave me the opportunity to play for Ireland — that will always live with me."
And not only has Keogh played for Ireland, but he has also starred in some of the team's most notable recent victories, lining out as part of a defence that kept clean sheets against Germany, Italy and Bosnia among others. He was "gutted" to miss the recent Denmark World Cup play-off games through injury and confirms he will be available for selection for the forthcoming Euro 2020 qualifying campaign as "I feel like I'm coming into my best years".
Like so many members of the Irish squad who began in the League of Ireland (James McClean, Seamus Coleman et al) or who spent considerable time in England's lower leagues (Jon Walters, Harry Arter among others), Keogh knows what it feels like to play on muddy pitches with few people watching for little reward on a regular basis, having played as low as League Two level at one stage during a loan stint at Wycombe. The fact that he has overcome significant odds to line out against world-class stars such as Paul Pogba and Thomas Müller among many others is a testament to the value of hard work and persistence.
When I started out, my goal was to play for the senior team and I never gave up that hope. When I moved to Carlisle, that was always in the back of my mind, I always wanted to achieve that, I never stopped working towards that. And obviously, when I moved to the Championship, it was another step closer, because it's a better league, and because of my performances there, I did it.
"It's about how you approach (football). Work as hard as possible and you can achieve anything you want to achieve really if you put your mind to it. You need a little bit of luck for sure. I managed to get the call-up and have not really looked back since. To captain Ireland and play in the games I did, it's a dream come true. To actually experience it and go through with it will live with me forever and it's one of the highlights of my career."
The42 has just published its first book, Behind The Lines, a collection of some of the year's best sports stories. Pick up your copy in Eason's, or order it here today (€10):