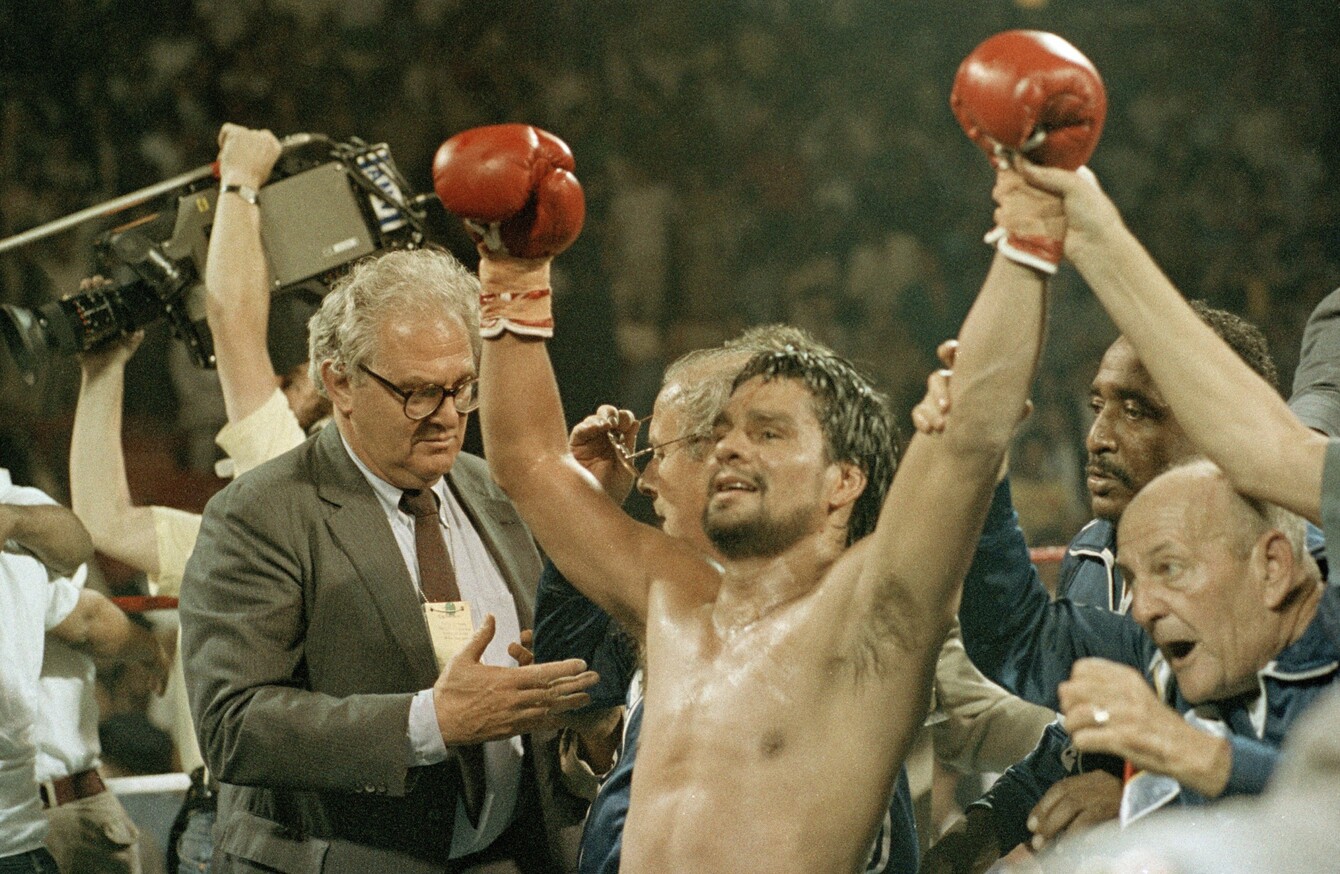 Roberto Duran raises his arms in victory following his junior middleweight WBA title bout against Davey Moore at New York's Madison Square Garden, June 16, 1983.
Image:
AP
/Press Association Images
Roberto Duran raises his arms in victory following his junior middleweight WBA title bout against Davey Moore at New York's Madison Square Garden, June 16, 1983.
Image:
AP
/Press Association Images
THE FOLLOWING IS an extract from I Am Duran: The Autobiography of Roberto Duran. 
Roberto Duran is a legendary Panamanian former boxer who competed in over 100 fighs between 1968 and 2001, and is widely considered to be one of the greatest fighters of all time, having held world titles in four weight classes—lightweight (1972–1979), welterweight (1980), light middleweight (1983–1984) and middleweight (1989).
A film about Duran's life, Hands of Stone, starring Édgar Ramírez, Robert De Niro and Usher Raymond IV, was released earlier this year.
In the section below, he talks about the serious car crash he was involved in during the early 2000s — an accident that finally prompted his retirement from boxing at the age of 50.
I died on an operating table in a hospital in Buenos Aires, Argentina. I was dead for 30 seconds. That's what I'm told, anyway.
On 4 October 2001 I was in a bad car crash with my son, Chavo. We'd left Panama the day before to go to Argentina for a music promotion my son was involved in. I wanted to help him out, even though I wasn't keen on going — I'd already arranged to go to Vancouver to see my friend José Sulaimán, the president of the World Boxing Council, and I was going to take one of my daughters, Irichelle, who I'd never really spent much time with over the last few years. But Chavo was persistent. 'Please, Papi!' he kept pleading.
'I don't want to go,' I remember telling him. 'I've got a bad feeling about it.' On the flight over, the ride got a little bumpy. I shook my head – 'Que te dije?' I said to him. What did I tell you?
In Buenos Aires we went straight to a nice restaurant and spent the evening doing the things I love most — eating, drinking, having a great time. My son watched a soccer game on the TV, and quite late on he suddenly got the urge to go and watch the second half live, and asked where the match was on. Just around the corner, he was told.
'Let's go!' said Chavo.
'Screw it,' I told him. 'I want to stay here with my wine and my champagne and my churrasco.'
'Vamos, vamos, vamos!'
The reason Chavo was so excited was because some soccer star called Ariel Ortega was playing — a midfielder, whose nickname was 'El Burrito'. I didn't know much about him, but I did know I wanted to stay in that bar and carry on drinking champagne.
'Please, Papi, please! It's not the same if you don't come! I want you to meet El Burrito!'
'I got your Burrito right here,' I said, grabbing my crotch. 'Go on your own.'
'It'd be much better with you,' said Chavo. 'We'll get in more quickly.'
So off we went. By now it wasn't just dark: it was raining hard too. I can't remember much of what happened, but before we got to the stadium we got hit by a car from behind and both cars crashed into a wall. Bang! Had our driver let up on the gas pedal I think we would have been OK, but he kept his foot down and the car went spinning along those wide streets they have in Buenos Aires. If we hadn't hit that barrier we'd have crashed into a bunch of other cars and died right there.
I braced my hand against the front seat and saw I was bleeding badly. I felt groggy. My other hand, that looked broken. But the worst part was that the guy sitting next to me had gone flying across the seat, and hit me very hard. I ended up with a collapsed lung and eight broken ribs. I was bleeding from my mouth too, which made it hard to breathe. At least all the wine and champagne I'd had to drink meant it didn't hurt so much.
They put me in a neck brace and rushed me to hospital. I was in a daze when we got there – one of the doctors in the corridor was screaming, 'I have Durán's watch! I have the watch of "Manos de Piedra"!'
I was mostly worried about my son. 'Where's Chavo?' I kept screaming. 'Where's Chavo?' Please, I prayed to God, it's okay to take me, but not him — please not him. Then I saw him, with an IV line dangling from his arm. He was hurt, too, but not as bad as me, although he pissed blood for three days.
In Panama, however, they killed me off. News had got around that I'd had an accident, and before I could say anything they were reporting that I'd been killed in the crash. The rumours sent the country into a frenzy. Because they thought I was gone they started selling sweaters, key chains, trinkets, souvenirs — all sorts of crap with my name or photo on it. Back in the hospital I laughed my ass off.
It wasn't so funny for my family back home, though. The day after the accident my brother Pototo opened the door to a neighbour who said, 'Are you watching the news about your brother? He's in a critical condition' – and from that moment they'd been desperate for news. Pototo didn't know what to do, so he called my wife, Fula. At least Fula was able to fly to Buenos Aires and calm everyone down.
It turned out one of the ribs had punctured my lung, which led to water on the lung, so the doctors kept me in to operate two days later once the bruising and swelling had gone down. And then I got an infection.
That, I was told later, was when I went into cardiac arrest for two or three minutes. If it had been anyone else, the doctor said, I would have stayed dead. But my good health and physical strength meant I didn't die, thank God.
When I came round, everything was white. Chuleta! I thought I had died. 'Am I in heaven?' I cried.
'Not yet, Cholo,' said an old guy next to me. 'Not yet!'
Source: The Weinstein Company/YouTube
That's when the doctor finally gave it to me straight: my lung had suffered a lot of damage, and I should consider myself lucky to be alive. 'Durán, no more fighting. You've got to retire.' I wasn't going to argue with the doctors.
I was finally able to come home on 16 November, nearly six weeks after the accident, and the doctors had told me I needed four months more to fully recuperate. It had been really, really rough — I'd cried with the pain.
And so, in January 2002, I retired. I guess I was OK with leaving the sport like that, though before that accident I'd never given any thought to retiring, not even a few months earlier when I'd lost to Héctor 'Macho' Camacho. If I hadn't been hurt so badly in that accident, I don't know if I would have carried on fighting. In fact, being in good shape from that Camacho fight is probably what saved me in the crash.
But even though I was 50 when I retired I would gladly have beaten the crap out of all the deadbeats in the sport. The same goes with the boxers today: Pacquiao, Mayweather – they're pitiful. I could have beaten all of them.
Throughout my entire boxing career – thirty-three years – I never thought anyone could beat me. I never thought bad things would happen to me in the ring. I was going to win, or I was going to knock someone out – I did a lot of that. Just look at my record. I beat the American idol, Sugar Ray Leonard. Knocked out Puerto Rico's hero, Esteban de Jesús. Wilfred Benítez. Iran Barkley – people thought Barkley was going to kill me. I nearly killed him. Remembering things like that makes me laugh.
My strategy was very simple. In my personal life I am not an animal, but in the ring there was an animal inside me. Sometimes it roared the moment the first bell rang. Sometimes it sprang out later in the fight. But I could always feel it there, driving me and pushing me forward. It's what made me win, what made me enjoy fighting.
The worst thing you could do with me was be scared, because I'd smell that fear. I never feared anyone, even when I was a kid. I grew up on the streets, and after the childhood I had, who the fuck was I going to be scared of? I fought in the streets before I ever fought in the gym. I'd go to the corner and tell Plomo, my first trainer, 'He hit me hard, but I'm going to hit him harder.' Plomo saw that instinct. The streets taught me everything I needed to know about life and boxing.
Source: edtam6/YouTube
Boxing has given me everything. I've met the rich and famous. Frank Sinatra, Bob Hope, Sylvester Stallone, Robert De Niro, Diego Maradona. I've travelled the world. New York, Las Vegas, Atlantic City, Montreal, London, China. Panamanians love me. They adore me. I'm an idol in my country, but sometimes I think the gringos love me even more. I've been honoured by presidents – great presidents like Nelson Mandela. Partied in limousines and private planes chartered by the government. I've slept in Panama's presidential palace. Dined and gotten drunk with Hollywood stars, played and sung with some of the Latin salsa greats. I've bought dozens of cars, drunk the best wines, eaten delicious steaks. Boxing gave me all that, and more. So I drink a lot sometimes — so what? Life's meant to be enjoyed, and mine's been a party. 'La jodienda,' Latin people call it.
Boxing is part of my life, but so are my family and friends. It's tough to keep it all in focus all the time from when you're a pelao, a kid, to when you're a man touching 50 who's still fighting for his family, for his pride, for all those fans — for the joy of being respected by the people he cares about.
I'm a family man who loves his wife, but I've also slept around and fathered other children. I make no apologies for that. As world champion, as one of the most famous and honoured men in Panama, I've been around temptation every day, and I'm not going to say sorry for the things I've done. Thank God I have a beautiful, intelligent, forgiving, loving wife. I also have five beautiful children with Fula — three boys and two girls. They're everything to me — gifts of God.
You'll always find me in a good mood. And if I do get in a bad mood, I'll snap out of it in an instant. Maybe that's why I've always struggled to make weight. When you're a world champion and have achieved all you want, it's hard to keep engaged. I'd fight, then drink, party and gain weight. I'd have to lose 20, 30 pounds in a month — it was like shedding tears of blood. And I'd still win. I loved to box, but I also loved the other things in life and I was never going to deny myself. It drove my trainers and managers crazy. But they weren't the ones out there busting their ass in the gym and winning all those fights. I was the one who made them famous, not the other way around.
Just look at my record. Over a hundred victories, 70 by knockout. Five world titles in four different divisions. I was a world champion at 21. A champion again at 37. I fought into five decades, from 1968 to 2001. People rate me as the greatest lightweight of all time. And why not? I think I am. 'There is only one legend,' as I've often said, 'and that's me.'
Manos de Piedra. Hands of Stone. El Cholo.
I Am Duran: The Autobiography of Roberto Duran is published by Pan Macmillan. More info here.
The42 is on Instagram! Tap the button below on your phone to follow us!