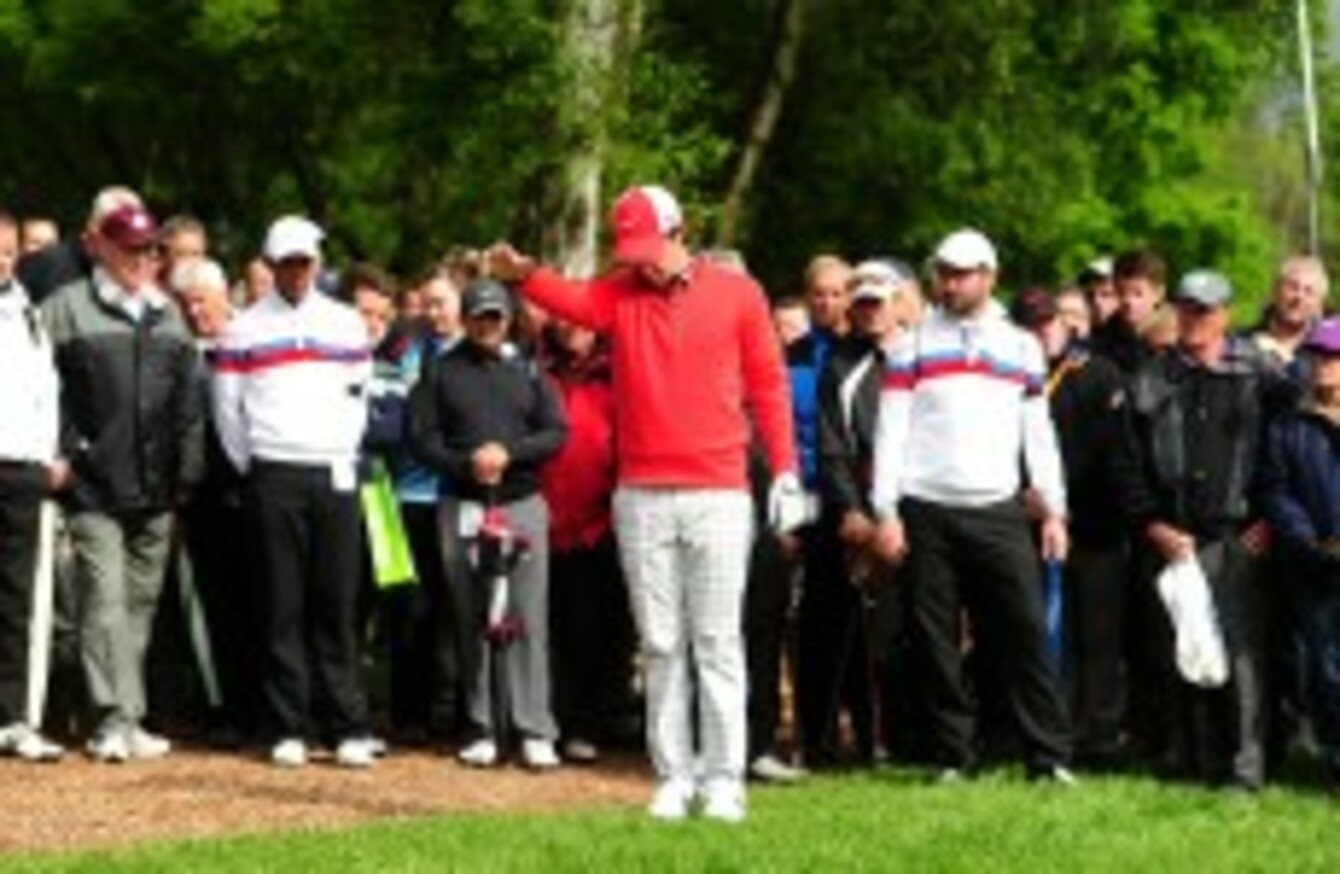 Rory McIlroy takes a drop during his round of 74.
Image: Adam Davy/PA Wire
Rory McIlroy takes a drop during his round of 74.
Image: Adam Davy/PA Wire
RORY MCILROY REFUSED to get too down on himself, or his game, following a meltdown late in his opening round at the PGA Championship in Wentworth.
The Northern Irishman cited 'cold and windy' weather conditions and a par 72 course that played long today following his round of 74 [+2]. McIlroy was -3 with six holes to play but his driving grew wayward and he made five bogeys down the closing stretch. Weather conditions worsened in the afternoon and play was temporarily suspended.
"I felt I was doing a pretty good job after the first 12 holes," he said, "but I let the round get away from me towards the end. The guys that are heading out this afternoon will find it pretty tough out there.
I hit a couple of loose tee shots on 13 and 17 but apart from that – well, I three-putted 14. I feel I got a bit unlucky on 18. I hit a really good drive that went through the fairway and I ended up taking an unplayable.
McIlroy added, "It was just one of those rounds that I let slip through my fingers. It could have been something that was really good out there and near the top of the leaderboard but, instead, I am where I am.
"The thing that's get me is the cold. My hands were cold and I was wearing mittens all day. It's tough. Your body doesn't feel the way it usually does when it [is cold]. You're so used to playing in warm conditions these days that it's a bit of a change."
James Kingston of South Africa is eight shots clear of McIlroy on -6. He agreed with McIlroy that the conditions were a stern test of the entire field but he was proud of the battling qualities he showed throughout the day.
"I hit some good iron shots and some clutch putts," he said. "I made the putts that counted."
Shane Lowry is leading Irishman on -2 and was delighted with 'playing my way right in there' and dropping five birdies in his round of 70. He said, "I hit a couple of good shots today and ended up making bogeys, that's the way this course plays… me and my caddy did as good as a job as we could, I managed pull off a few shots and make a few birdies."
Lowry played with McGinley [-1] and said while there was no talk of the Ryder Cup at Gleneagles next year, it is his ambition to make the team, which will be captained by the Dubliner.