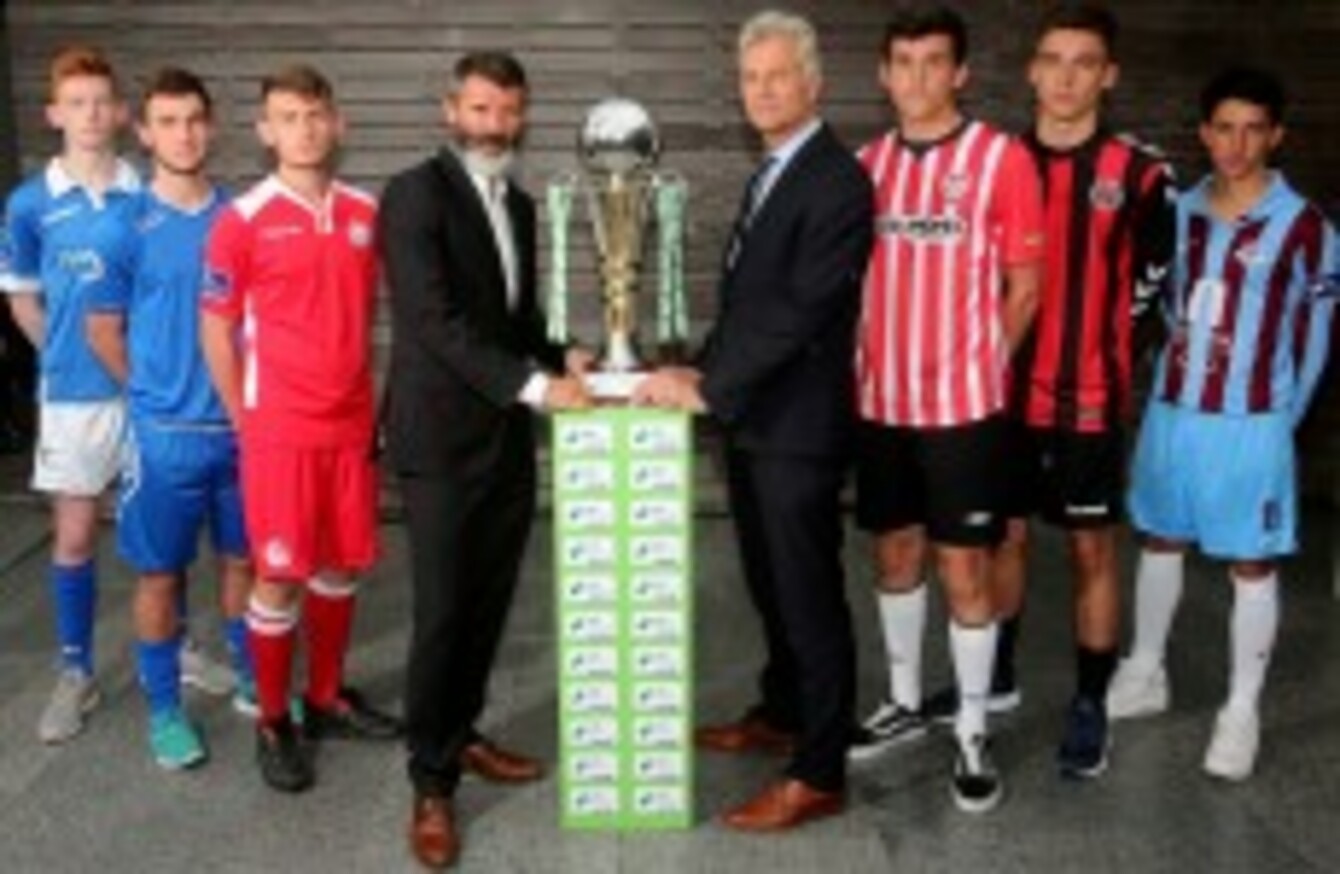 Roy Keane, FAI High Performance Director Ruud Dokter and players from the SSE Airtricity National U17 League.
Image: Donall Farmer/INPHO
Roy Keane, FAI High Performance Director Ruud Dokter and players from the SSE Airtricity National U17 League.
Image: Donall Farmer/INPHO
ROY KEANE HAS described the new SSE Airtricity National U17 League as 'a stepping stone' for young Irish players.
Keane was at FAI headquarters in Abbotstown yesterday for the launch of the league, which starts on the weekend of 9 August and will feature 22 clubs — 19 current League of Ireland representatives, plus Monaghan United-Cavan FP, Mervue United and Salthill Devon.
The new league is intended to act as a platform for U17 players — who haven't yet made it to clubs in England or elsewhere — to compete together in one place at home. In Keane's view, having the best young players in the country competing with, and against, each other on a weekly basis is essential in order to maximise their potential and development.
"I think it's a great idea and hopefully [the players] will enjoy it," said the Republic of Ireland assistant manager, who was joined at the launch by Ruud Dokter, the FAI's High Performance Director.
"It's not just for the players. Of course, it's for the coaches, referees, whatever… and hopefully everybody will get right behind it," Keane continued. "Some of these kids, we're hoping, the plan is that they'll be involved in international football over the next few years.
"They're 17 years of age. It's well documented that I didn't get across to England until 19, so hopefully the lads can use this as a stepping stone. Hopefully we can see some of these kids over the next few years playing at international senior level. Why not?
"When I look back on my own career, even at Rockmount, I always felt I benefited when I played with better players and against better players. Even as I got older, even when I went to England, and then even from [Nottingham] Forest to [Manchester] United.
"So you're just hoping that these players will, no doubt, improve by playing with better players and against better players, and they can find their way through to it."
In his own address to those present at yesterday's launch, Ruud Dokter pointed out that while winning games is the main objective for the players involved in the SSE Airtricity National U17 League, the priority for coaches is player development.
Roy Keane agreed with that brief being handed down to the coaches, but from the players' perspective? Well, you already know Roy's views when it comes to winning and losing.
"It is a balancing it. I know [Ruud] mentioned it more for the coaches than the players," said the former Manchester United and Republic of Ireland captain.
"I don't know anybody who doesn't like to win. Again, in fairness to him, I think he was making a point to the coaches about… don't be getting bogged down by results every week. It is about helping the players and making sure they progress.
"When did I first start thinking it was about winning? Truthfully… probably at about six or seven. I did. I don't ever remember going into a game of football as a young kid — even playing in the streets — thinking, well it's not the end of the world if we lose.
"I think your mindset has to be… again, I don't know anybody who likes losing. If you ask any of the players here today, they'll obviously be playing to win. Of course they will. But from the coaches' point of view, it's trying to look at the bigger picture and seeing which players are progressing and who are learning and who will be better in the next year or two from it.
"But from my own point of view, I went to Rockmount when I was eight, nine, and we were there to win. Definitely. Even at that young age. Whether that's right or wrong, I don't know."
Keane is obviously an advocate of the new U17 League and his passion for ensuring that young players are given as many opportunities as possible to develop was clearly evident, as he went to significant lengths to discuss the key role it could potentially play.
A vital point for the Corkman is that it should increase the likelihood of players continuing to compete at the highest level in Ireland should they fall at the first hurdle with their cross-channel ambitions, instead of throwing in the towel if things don't initially work out.
Having started his own career with Cobh Ramblers before joining Nottingham Forest — as well as currently being involved in a national team that has benefited greatly from players developed by League of Ireland clubs — it's no surprise that Keane recognises the importance of the domestic league for the future of Irish football.
Keane: "Trying to predict what might happen with some of these boys, that's the madness of sport. We've all seen players when we were younger going, well he's definitely going to make it… and they lose their way. Then lads you weren't sure about end up having decent careers.
"But at this age these lads are going to play at the best level they can. Whether that opens the door to get to England, fantastic. If not, then don't be so negative towards playing League of Ireland football. I've said from day one, whether it's from my own experience of playing for Cobh, and I know Cobh was a great experience for me; we weren't in the top league with Cobh, it's not as if I was playing the Cork Citys and the Shamrock Rovers'. It was tough.
"But change the mindset of the League of Ireland and say, lads, if you don't get to England — and there's a good chance you mightn't get to England or whatever country abroad — then look at League of Ireland as a positive. It's no bad thing.
"We keep using the word stepping stone. That's what it is. Some kids will find their own way, whether or which. And hopefully we'll get to see some of these lads getting across to England. They're 16 or 17 years of age, there's plenty of time for it.
"That extra year in the League of Ireland done me the world of good and it was a big part in me getting to England. And not just getting to England, obviously staying in England and trying to have a half-decent career.
"There have been lads over the last few years who have gone to England on the back of playing League of Ireland. I do believe there'll be players coming through in the next few years; lads that might be under the radar at the moment. That happens. That's the madness of sport, where we can all try and predict who might come through.
"Lads you might have seen with the U21s or in youth football. All of a sudden then they have an extra year in the league or they physically get bigger, and before you know it — like we found out in the last year or two — lads who have come under the radar are in the Irish senior squad. And we have to hope and believe that will happen."