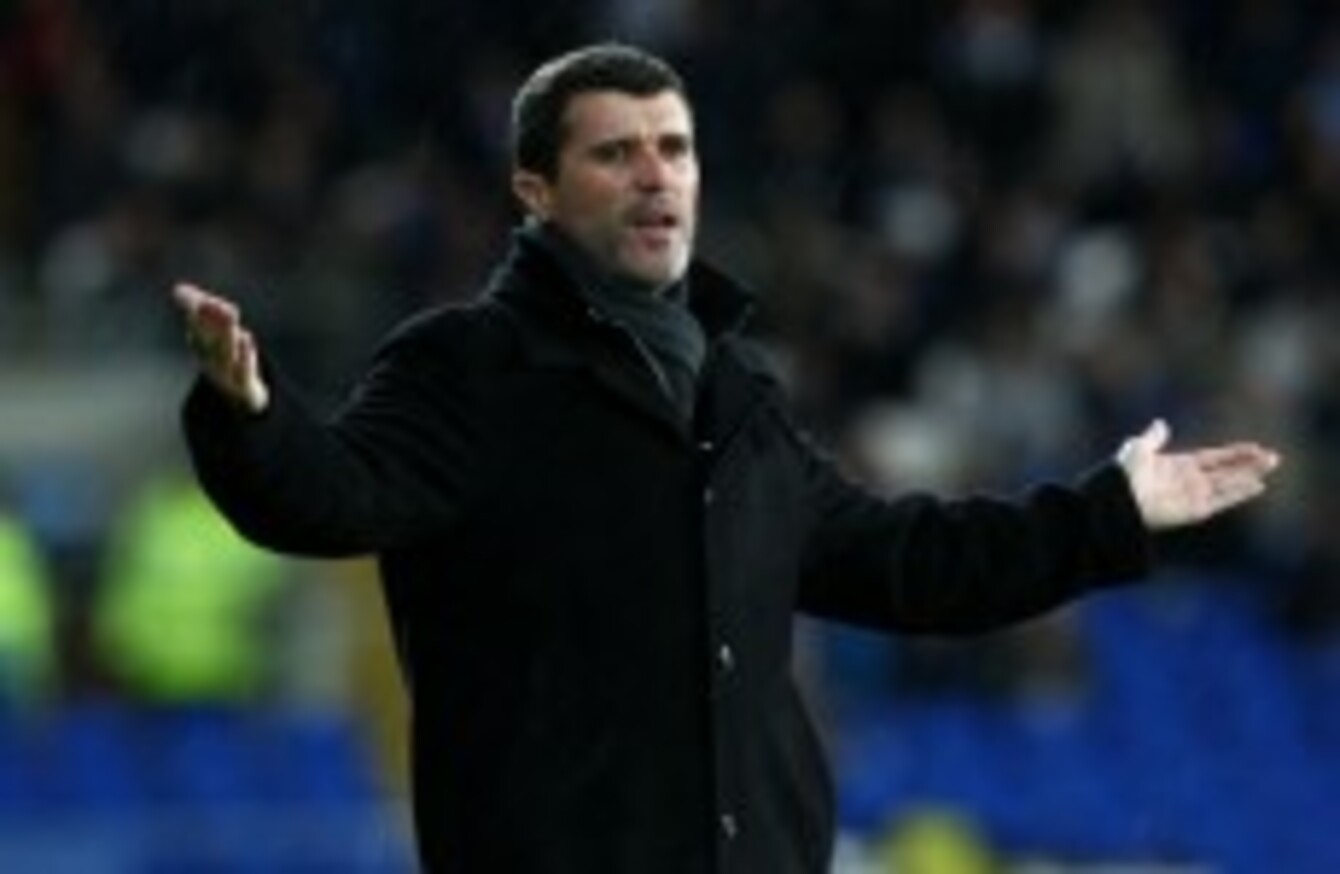 Updated 11.45am
SACKED IPSWICH TOWN boss Roy Keane has reacted to his Portman Road departure.
The Tractor Boys confirmed the decision to terminate the Corkman's contract this morning and Keane has now issued a statement through the League Managers' Association.
"I'm hugely disappointed to be leaving Portman Road," he said, "Results haven't been as good as I'd have hoped so far this season and when results aren't good the manager gets the sack, that's the game." He added:
However, I have a genuine belief that we were making progress and that the players have what it takes to turn this season around.   We were preparing well for our visit to Chelsea on Sunday and then our Carling Cup semi with Arsenal.

Getting to that semi proves what I know the team is capable of.  I was also working hard to build the squad during the transfer window, looking at our options to attract new players to the club.

I have loved my time at Ipswich, living locally to the club with my family, and have a massive respect for the club, its staff, the fans and the community and I wish them well.
Earlier, Portman Road chief executive Simon Clegg held an 11am press conference in which he confirmed that the Corkman had indeed left the club after almost two years at the helm.
Clegg says the club invested in new players but that "the results speak for themselves." He praised the former Ireland skipper's 'dignity in difficult circumstances' and praised him as an 'awesome individual'.
The Tractor Boys chief added that the club "is speaking to a number of people" over finding a replacement but would not be drawn on the suggestions that Gary Megson and Paul Jewell are the frontrunners.
Speculation
The news of Keane's departure leaked out of East Anglia last night with Irish Examiner sports editor Tony Leen the first to break the news on Twitter:
Word reaching us that Roy Keane and Ipswich are set to part company. Checked with club source who didn't seem in a rush to deny the claim.
He later added: "No there hasn't been a confirmation on the Keane thing, and I'm told there won't be tonight. Sat Ipswich head to Ancelotti's Chelsea. Irony."
And it seems that Keane
was indeed told of the decision by owner Marcus Evans at Portman Road.
Sky Sports reports that Paul Jewell
is the leading candidate to replace Keane in Suffolk.
Portman Road press officers would not comment when contacted earlier.
A club source told ESPN that "he will be well looked after" as far as the issue of compensation is concerned.
The former Manchester United
midfielder had been in charge at Portman Road since 2009, but now just short of two years later he has departed.
Ipswich have suffered seven losses in nine games and the 1-0 defeat by Forest left them 19th in the Championship table.
Keane's one-time ghost writer Eamon Dunphy thinks the Corkman is not suited for management and will not bother with coaching again.
Speaking on Morning Ireland, Dunphy said: 'The results have been very poor, and he has been sniping at the club for not giving him money to buy players.'
I don't think he is cut-out for management. His record at Sunderland was OK, but the constant stories of fights with players and his public denunciation of his own players are bad signs.

I don't think Roy Keane is cut-out temperamentally for management. You have to respect other people.
Richard Bevan, chief executive of the LMA echoed Keane's disappointment: "Roy is one of the most committed and dedicated managers in the game and without a doubt leaving Ipswich will be very disappointing for him," he said.
"Roy's departure though, typifies him, in his honest and forthright appraisal of his departure.   This season's run with the club in the Carling Cup is testament to his ability in getting the best out of his team in big games and it is disappointing that he has not been given the opportunity to lead out Ipswich in their first cup semi-final for 30-odd years."
It won't be a major surprise to the Mayfield man.  Speaking after the home defeat by Forest on Monday the former Manchester United and Republic of Ireland midfielder, said: "I'm doing my best and if my best isn't good enough, then I'll take the consequences."
"I don't expect you to be giving me phone calls if I do lose my job. It's the nature of the game," he added.
Ladbrokes are offering odds of 500/1 on Roy Keane taking over as manager of the Cork senior footballers and 16/1 to take over his first English club Nottingham Forest.
We'll have more as it develops.
Do you have any sympathy for Keane?