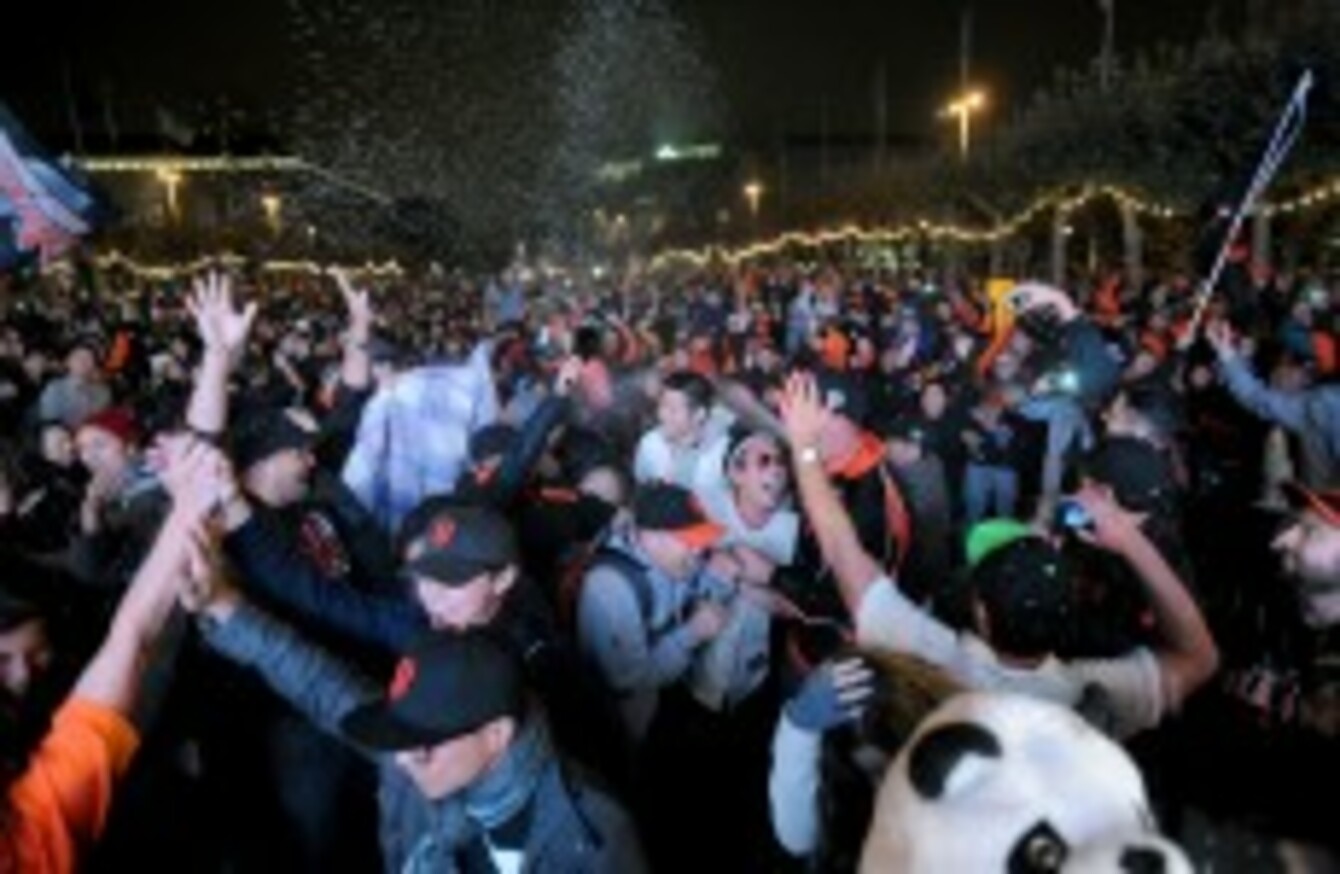 San Francisco Giants fans celebrate outside PacBell Park after their team won the 2012 Baseball World Series
Image: Noah Berger/AP/Press Association Images
San Francisco Giants fans celebrate outside PacBell Park after their team won the 2012 Baseball World Series
Image: Noah Berger/AP/Press Association Images
WORK CREWS BEGAN sweeping out the stadium rubbish hours after the San Francisco Giants edged the Detroit Tigers 4-3 in 10 innings on Sunday to complete their sweep of the 108th World Series.
The Giants captured Major League Baseball's best-of-seven championship for the second time in three years by humbling Tiger batters who went from roaring to toothless in the span of one series.
Detroit's Miguel Cabrera — who captured the Triple Crown of American League batting, home run and runs batted in titles — went 4 for 13 at the plate in the World Series. He homered in game four but then struck out three times.
Tiger slugger Prince Fielder was a miserable 1 for 14 against Giants pitching. "You don't visualise something like this," Fielder said. "It's hard when you can't get much started. It's hard to keep the energy up. It's tough."
It was as if the Tiger spent everything in a four-game sweep of the New York Yankees in the American League championship series, which gave Detroit a six-day layoff before the start of the World Series.
"I'm a little bit flabbergasted, to be honest," Tigers manager Jim Leyland said. "I never would have thought we would have swept the New York Yankees and I never would have thought the Giants would have swept us. But it happened. "It's a freaky game."
Delmon Young, who blasted a solo homer in Sunday's loss, said the team seemed to perform well in practice, only to struggle on the sport's most iconic stage. "In (batting practice) we look great, but we haven't been doing anything," he said. Leyland was not one to point the finger at his struggling sluggers.
There was plenty of blame for all after losing games three and four by 2-0 to become only the second World Series team since 1921 to be blanked twice in a row. "The Tigers talk about team. We don't talk about individuals," Leyland said. "A lot of people have struggled. We don't point fingers."
Leyland, 68, also tried to put the season in perspective despite the disappointment of the moment. "If somebody told me in spring training that we would be in the World Series I would have had to say I'll take that," Leyland said. "It was a weird way we got there because we were inconsistent all year.
"Then we played pretty good when we had to get the division (title) and through the first two rounds of the playoffs.
"We got to the World Series and we just sputtered offensively. But if somebody told me you were going to the World Series this year I would have had to say, 'Well, that's a pretty successful season'."
(C) AFP, 2012