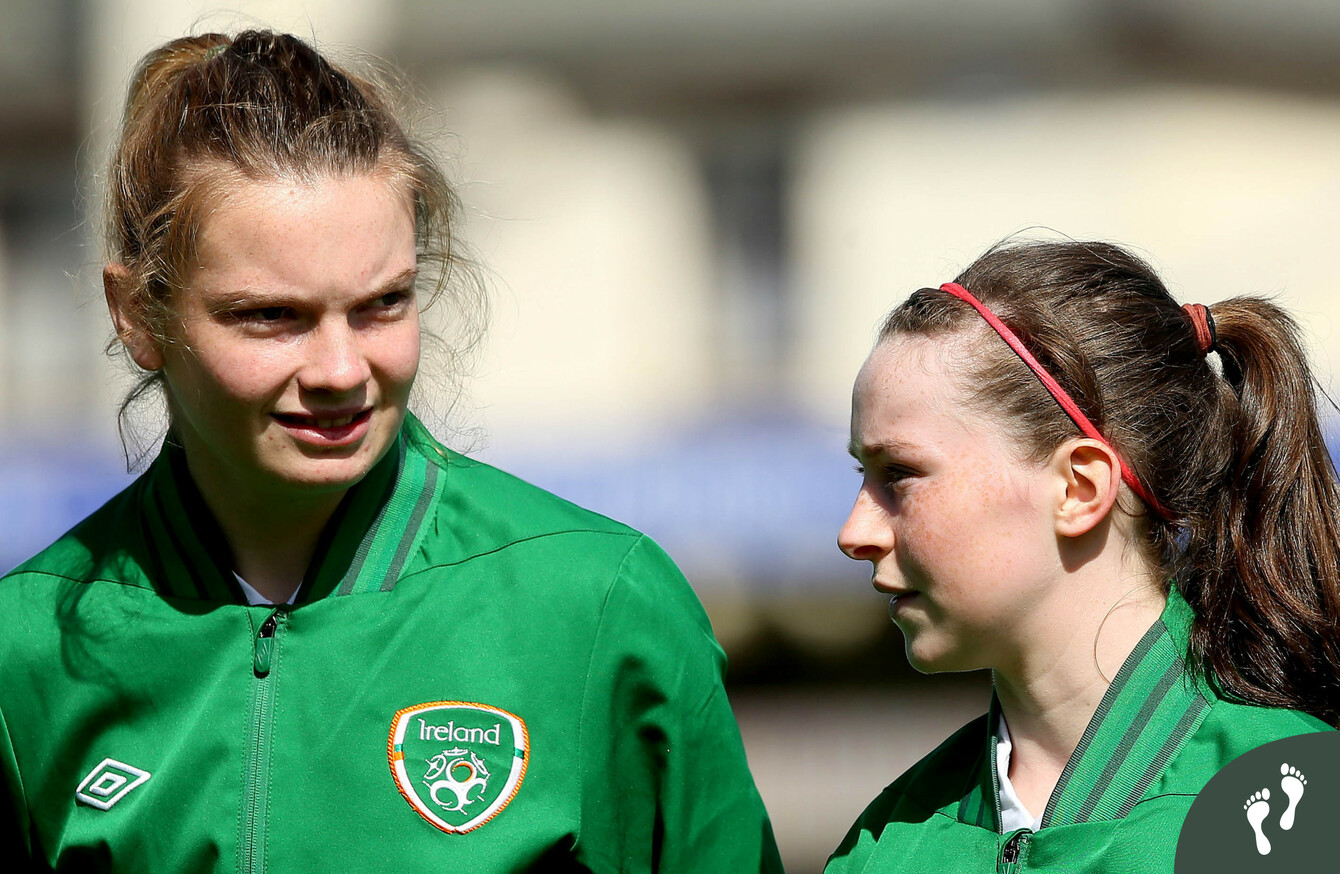 Saoirse lining out for Ireland.
Image: James Crombie/INPHO
Saoirse lining out for Ireland.
Image: James Crombie/INPHO
Over the next 12 weeks, Saoirse Noonan will be one of three leaders — including former Munster out-half Jonny Holland and The42′s own Ryan Bailey — taking part in our Follow Fitness series, supported by Avonmore Protein Milk.
While Jonny will focus on nutrition, Saoirse will look at combining multiple top-level sports and Ryan will train for his first triathlon.
If you've any questions for our leaders, be sure to use the comments section and you can sign up to follow one, two or all three leaders here. 
I'VE ALWAYS BEEN mad into sport.
Well, I suppose I never really had a choice. I come from a hugely sporting family and from the age of four or five, Dad would have always had us out kicking a ball. Saturday mornings spring to mind straight away.
My older brother, Eoin, played Gaelic football with the Nemo Ranger U10s. Dad was their coach, so myself — I was six — and my younger sister, Aoibhe, would be brought along, given a ball and left to our own devices until training was over.
I loved it though. I was just mad to play.
I remember going to watch Eoin play soccer for Matthew Hill. I was nine at the time, training away with Douglas Hall but not allowed play until I turned 10. I was sick that, just wanted to play.
That day, they were short players so I got the nod. The lads wanted to score goals and show off for the girls, like, and were having none of me coming on. Their faces fairly turned when I put the ball in the back of the net!
Playing with the boys was great… until I got the boot and was sent off to play with the girls. I hated it at the start, but look, I got used to it.
Soccer and Gaelic football are the two I play at the top level now but I also played quite a bit of camogie and basketball growing up. Basketball was actually my favourite for a while but it came to a point where it was a choice of it against the other three.
I used to get away with murder balancing everything. There were days where I'd play three matches — don't ask me how — but it all got too much as things got more serious.
Basketball went first, that was when I was 12 and I started playing dual for Cork as well as the soccer. Camogie went next, I was much more focused on the other two. And still am.
The goal was always to play Gaelic football for Cork. My older cousin Caoimhe plays so I knew it was possible. I never really knew how people got picked to play for Ireland. As I played more and more soccer, I thought maybe I could one day.
But still, I don't think I ever expected myself to play for Ireland or to get as far as I have. And I'll talk about that more in upcoming columns.
I'm always asked about how special it is to wear the Ireland jersey. It's actually indescribable, like. It's a weird feeling. It's scary, but great. You can't explain it.
Representing your country at Turner's Cross is something else. I remember watching the Cork City boys there, and Denise O'Sullivan against France too, and thinking that's the dream.
I've had plenty of success at underage level with Cork too and capped it all last August with another minor All-Ireland title. That's the last match I've played at that level because I decided I'd better focus on the Leaving Cert, and soccer with Cork City too.
I'm in sixth year in Christ King. Six weeks until the exams so it's really busy. My life at the minute is basically study, school, train. Every week is really different though. My teacher actually asked me the other day, 'Do you have a study plan made out?' and I was like, 'I can't tell you what I'm doing tomorrow so no I don't…..'
It all gets done. While I'm concentrating on soccer — so the National League and home-based training with Ireland — at the moment, I'm also hoping to join up with the Cork senior ladies after the exams.
I'm fairly pushed for time as of now but fitness is something I do have a big interest in. I love the thought of it and doing it but trying to fit it in with all of my other training is a bit of a nightmare.
That said, I can't complain. I love both Gaelic and soccer. I couldn't pick a favourite. They're both very, very different — the feelings, nerves, environment. I can't explain it but I'll attempt to over the next 12 weeks.
I'm hoping to give you a full insight into my life over that period — how I combine top-level sports and factor in the small problem of the Leaving Cert!
Any questions, make sure to leave them below.
You can follow Saoirse's journey over the next 12 weeks right here: