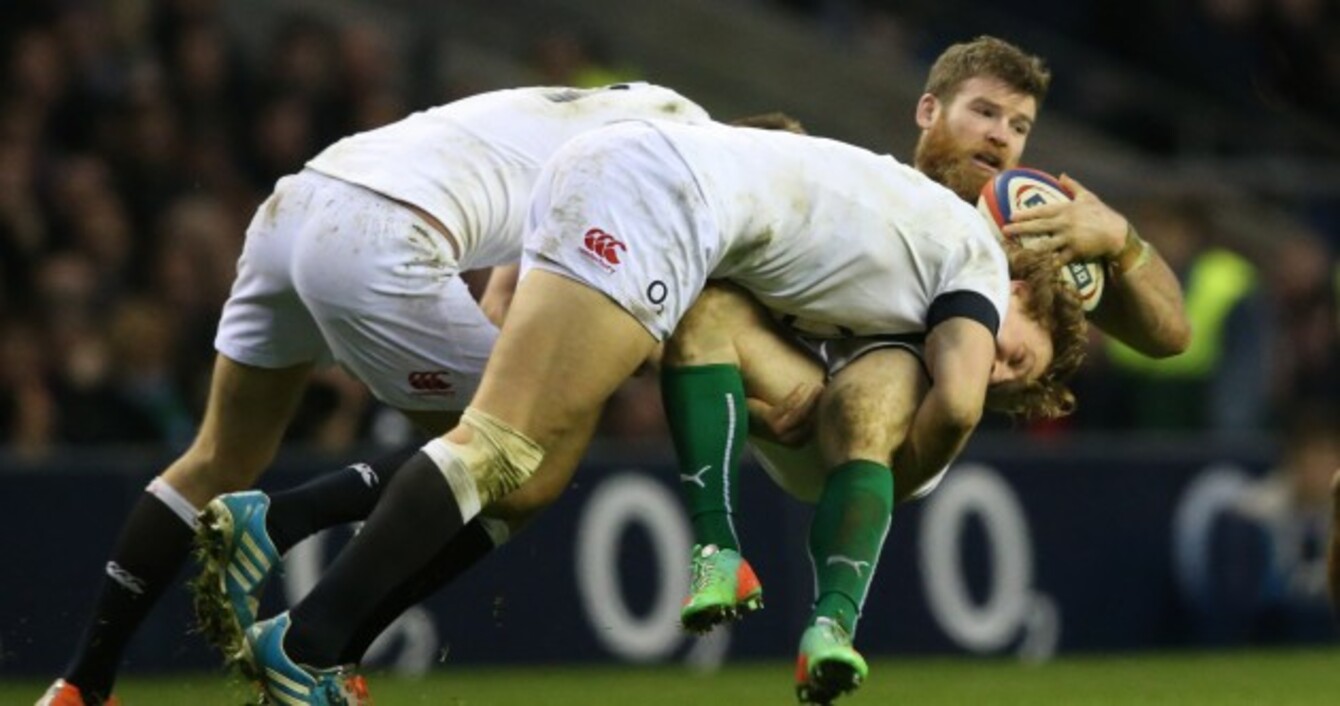 Image: ©INPHO/Billy Stickland
Image: ©INPHO/Billy Stickland
LAST THURSDAY, BEFORE he rushed up the Carton House stairs to pack his bags for London, Joe Schmidt made a prediction of sorts:
"You can go to a place like Twickenham, do the best you can, play really well and then not get the result…"
Unfortunately, his words proved prophetic. Despite the 13 – 10  defeat, and the autopsies and finger-pointing that inevitably follow, Ireland looked like a very, very good side in Twickenham.
Not good enough to beat England this time, sure. But had one or two slices of luck been cut on the green side rather than towards the red rose, then we would have spent the last three days praising the mettle and character of Schmidt's team against a watertight defence rather than bemoaning the absence of creativity against the same team. Fine margins; the fickle nature of sport.
"We went out there with a plan and I honestly felt the plan was reasonably well implemented," Schmidt, now with the benefit of hindsight, said yesterday.
"The plan looked really good for two or three phases, but the longer we had the ball, the more pressure they were allowed to put on us."
As always, the plan centred around quick ruck ball, but with the white shirts proving difficult to clear out, those seconds were invaluable in allowing defenders to fan out and set up a wall.
"There was a number of times that the ball was slow, they got their defensive line set and then you're running into big men it's very difficult to find space.

"He added: "We came out after half time with a really clear plan. We got in front on the back of that plan. Up 10 – 3, probably the disappointing thing is that we didn't maintain that advantage."
Schmidt once again took time to defend the Jonathan Sexton restart that provided a platform for the Danny Care's game-winning try. Schmidt insists his side wanted to keep attacking at 10 – 6 up and says that the risky drop-off was the best way to hit back after conceding a penalty.
That 53rd minute error was followed up by another couple more when Conor Murray was slow to join the defensive line and Chris Robshaw was able to offload out of a Gordon D'Arcy tackle to send Mike Brown haring through the middle.
That setback was still retrievable. Notwithstanding a couple of late refereeing errors in the English half, Schmidt's major concern after defeat was the manner in which his side lost structure in their first time chasing a game since the loss to Australia.
Frenetic
"There's a few things we did probably in the last 10 minutes where we became a bit frenetic, we lost a bit of shape, maybe tried a bit too hard in that last 10 minutes.
"69 minutes, we got that scrum turnover [against] I thought we were pretty unlucky there. There's a hand in the scrum and we didn't quite get reward for that. We had a maul soon after that we got a bit unlucky on as well, but there was a bit of structure about what we were doing there. Post that it became a little bit frenetic.
"We got a line break with Dave Kearney very late in the game, coming back across the field we ran into trouble, there was a fairly thick bunch of English defenders - we've got to be good enough to finish those."
At just three points down, some questioned why the visitors in Twickenham did not, when they were within 30 metres of the posts, keep the ball tight to play for a penalty or drop Sexton into a position to attempt at drop-goal.
"No, to be honest, I hadn't sent that message out," Schmidt says of the option to push his number 10 into the pocket.
"The one message we sent out was that if we got a kickable penalty we would certainly take the penalty and not go to the corner."
"I think there was a belief that we could win the game. It wasn't so much that we didn't consider the draw. If we'd got a kickable penalty in that last 10 minutes we certainly would have kicked it to go 13 all.
"We felt we maybe earned that opportunity a couple of times, but at the same time there wasn't any setting up for drop-goals. I think there was a belief that we could get over the line."
It has been a curious fallout from this game. There have been so many questions coming from Ireland's performance and selection. These are no more than you would expect for a Six Nations defeat against the opposition Ireland enjoys beating more than any other. Yet there has also been a thick silver lining of positives.
So, having long since prepared for the situation he now finds himself in, Schmidt chooses to accentuate the positives of topping the table in defeat after weeks of picking holes in victory.
"Disappointing as that was, if five weeks ago you'd said we'd have a 40-point differential and would have our nose in front at this stage; I probably would have grabbed it with two hands.
"But I suppose that's trying to console myself with the disappointment that we didn't manage to put the game away when we did get in front."