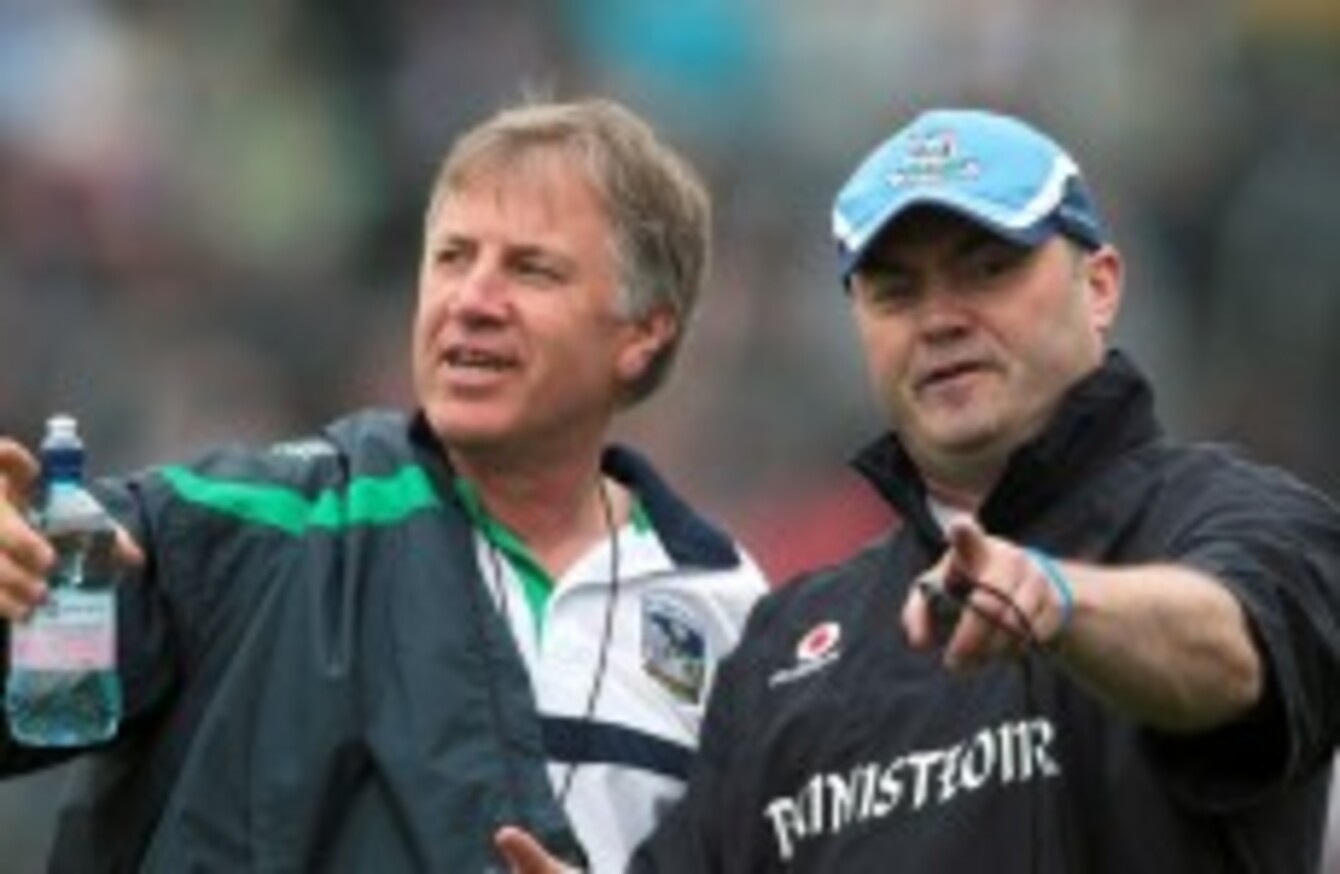 Anthony Daly talks to former Limerick boss Donal O'Grady in 2011.
Image: Inpho/Cathal Noonan
Anthony Daly talks to former Limerick boss Donal O'Grady in 2011.
Image: Inpho/Cathal Noonan
SEAMUS HICKEY ADMITS he was as surprised as anyone when news broke earlier this week that former Dublin hurling boss Anthony Daly had been appointed to two new roles within the Limerick set-up.
Daly, who captained Clare to All-Ireland glory in 1995 and 1997, stepped down as Dublin manager in early September following six seasons at the helm.
The 45-year old will now serve as Director of Limerick's underage hurling academy and coach the county's minor hurling side in 2015.
"Yeah, it was completely out of left field for me," Hickey said yesterday.
"I've been speaking with Anthony since he left Dublin and he's just a tremendous character. He's a great guy to be around. Even the book, I looked at the book and I thought it was great.
"We're here now today at the launch of the GPA Madden Leadership Programme and I would consider him a case in point of a great leader within Clare and what he's done for Dublin it's very hard to quantify.
"Away from the GAA, his charisma and what he's done for hurling in Dublin, I think it'll leave a very telling mark and for us we've had very positive strides in our underage hurling in Limerick.
"With the success of the minors in the last few years and falling short in the All-Ireland final this year, we were wondering where we could get the impetus to drive this programme forward and I think there's no better person.
"I'm really chuffed for Limerick hurling."
And, despite being 27, Hickey believes that even he can benefit from Daly's influence at underage level.
"Absolutely. Even the minors that played this year, you'll see the minors play U21. You'll see the U21s filter onto the senior panel.
"Even the mix of ages that we have on our senior panel at the moment is quite varied. It's only a good thing, bringing younger guys and in and you'll see that in Kilkenny where they bring them through the whole time.
"You'll see it in Tipperary where they had successful periods and Clare at the moment with their under-21 success. It's underage that really feeds a successful senior team and for Limerick it can only be a good thing."
But what of the inevitable clamour for Daly to become senior manager if and when TJ Ryan decides to leave the role.
"It's a discussion to be had but I would argue that any job that came up this year he was going to be a candidate for it.
"When he took himself out of Clare and put himself in that job in Dublin it showed an ability to step outside that comfort zone where he'd be familiar with his surroundings and really make hay.
"I speak very highly of the guy because I think very highly of the guy. I'd say where the Limerick set up goes after that, I have absolutely no idea.
"At the moment, at home we're blessed to have a Limerick man leading a Limerick team and we're delighted."