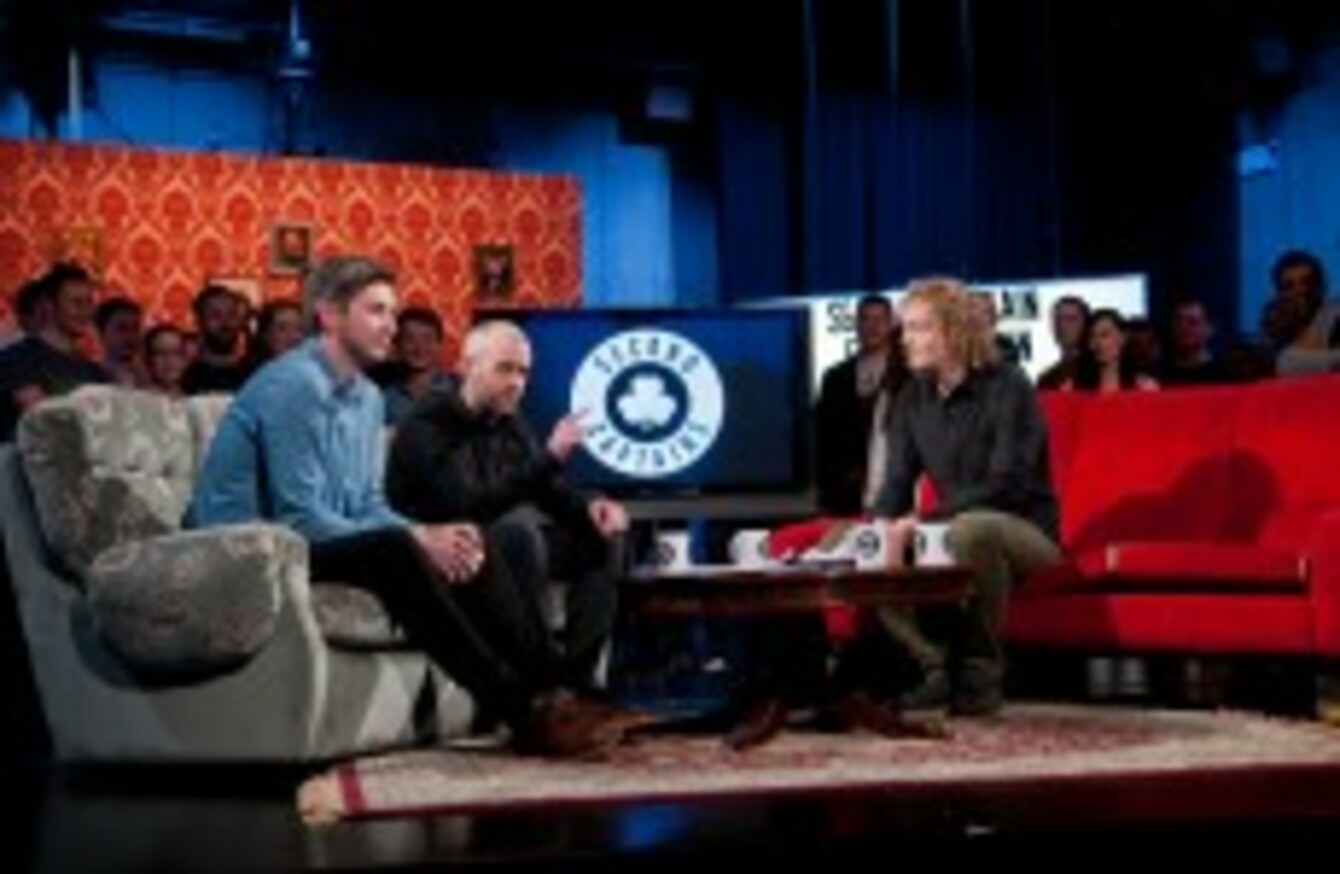 The Second Captains returned for a third RT
Image: Second Captains.com
The Second Captains returned for a third RT
Image: Second Captains.com
Updated at 17.35
SECOND CAPTAINS LIVE returned last night with its usual brand of quirky humour and intelligent sporting conversations.
It's essentially a chat show with a difference — in addition to in-depth interviews with A-list sporting figures such as Henry Shefflin, there are somewhat random clips of comedian David O'Doherty's Junior Cup days with St Michaels, among other WTF moments, that are played routinely for laughs.
The show has been relatively successful in transferring some of the best elements of The Second Captains' forays into radio and podcasts without sacrificing some of their zanier and more idiosyncratic elements merely for the sake of appealing to a wider TV audience, such as the quiz show-style setting whereby a major sporting figure competes with Ciarán Murphy as they each bid to show off their comprehensive trivia-based prowess.
Part of the show's strength lies in its presenters' personalities — their upbeat and unpretentious take on events is in stark contrast to the somewhat fake and humourless tone that affects many sports programmes and presenters. Whereas in certain instances in lesser shows, the 'banter' seems forced and uncomfortable, watching the Second Captains usually just feels like hanging out with a couple of friendly sports nerds, and the conversation flows as a consequence.
(Jason Sherlock took on Ciarán Murphy in the quiz show segment)
That said, there is also an obvious sense that the show is meticulously organised and the guests are usually informative and professional, so it's undoubtedly not as casually done as it seems, and thankfully there has yet to be any Fantasy Football/Brigitte Nielsen-style catastrophe.
Séamus Hickey, Emma Byrne, Jason Sherlock and David O'Doherty were all interesting guests, who made insightful points on Roy Keane, the difficulty in doing post-match interviews and the Ireland-Gibraltar game, among other topics.
Hickey, in particular, made a couple of intelligent points, revealing how he idolised Keane as a youngster and recalling how the former United star "didn't say much" as a player before going into management, while Sherlock memorably described how he was once on the end of a Keane "death stare" and Byrne also looked back on the time she provoked the United legend's ire, after being part of an Ireland women's team who produced a sub-par performance. Yet everyone involved did a good job refraining from painting Keane in the stereotypical manner that afflicts a substantial proportion of the media coverage focusing on him, with the guests noting that how his upcoming book is far more "introspective" and self-critical than some of the recent sensationalistic headlines would have you believe.
The main event was next, as the lads interviewed Kilkenny GAA legend Henry Shefflin.
One of the few complaints about the show is the fact that Ken Early's involvement tends to be limited by comparison to their other shows. His somewhat rambling but invariably interesting, prolonged anecdotes and observations on sport are naturally more suited to radio than TV. However, last night, he made some good contributions. Despite being renowned as being more of a soccer expert than a GAA one, Early asked incisive and original questions during the Shefflin interview, such as his query as to whether the star feels obliged to "step back" before a game and act in a more low key manner if he's named on the subs' bench.
(Shefflin made an appearance replete with fancy red pants)
Shefflin himself came across as affable and modest, sporting some eye-catching red trousers while making a number of perceptive points about Brian Cody and how he went about telling the star that he wouldn't be starting in the All-Ireland final, without saying too much or making any definitive announcement about the question on everyone's lips — whether or not he is retiring this year.
As ever, there was also some delightful archival footage — a clip of a young Cody explaining the rules of hurling in a long-forgotten RTÉ interview was priceless, but the undisputed highlight — for those who hadn't seen it before — was the inexplicable appearance of a "dude with a hawk" standing right beside Seamus Hickey during an emotional post-match interview following Limerick's gut-wrenching loss to Kilkenny in the All-Ireland semi-final, appearing at the most inopportune, awkward time and heightening the humour in the process.
The Twitterati also had their say on last night's episode, and largely approved…